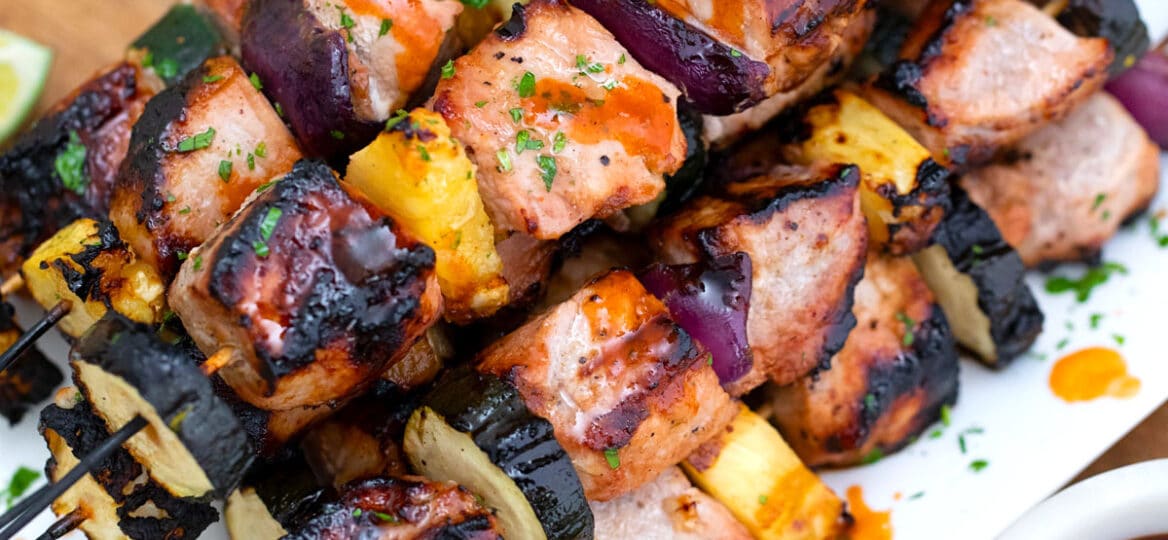 Grilled Pork Skewers [Video]
Grilled Pork Skewers are the ultimate dish for a great and delicious BBQ cookout! Make your outdoor events more vibrant with this lean, juicy, and flavorful recipe!
Having an outdoor party? Make sure to serve refreshing dishes such as a homemade Vanilla Hazelnut Scones, a crunchy Crack Corn Salad, and an invigorating summer drink such as the Peach Sangria.
Pork Kebabs Recipe
Grilled Pork Skewers, also popularly known as Kebabs, are the foundation of any great cookout. This classic staple has always been the main course in every outdoor party, most especially during the summer.
Learning how to make them is a must if you like having guests over and also not spend too much fussing in the kitchen. There really isn't any problem if you have no experience in grilling as my recipe is very simple to follow.
Not only is it delicious and savory, but it is also healthy. With a good amount of protein, this dish is both fun and nutritious, perfect to enjoy for lunch or dinner.
To make it even greater, you can pair it with a wide variety of side dishes. From rice, pasta, to salads, you can really never go wrong with kebabs.
What pork cut is best for kebabs?
I always go for the juiciest and tender parts. For kebabs, I recommend using pork loin as it more tender. Pork neck is also a great alternative.
How to marinate meat quickly?
If you are in a rush, the minimum amount to have well-marinated meat is at least two hours. Make sure to have it vacuum-sealed to get the same results as that of an overnight method.
How to make Grilled Pork Skewers
Marinate overnight. In a bowl, whisk together the following ingredients: pineapple juice, soy sauce, BBQ sauce, Worcestershire sauce, honey, lime juice, lime zest, minced garlic, liquid smoke, and seasoning. Place the mixture in a resealable bag with the chopped meat. Store overnight or for at least 8 hours.
Prepare the vegetables and pineapple. Cut zucchini and onion into rings with a thickness enough to hold itself on the skewer. Do the same with the pineapple.
Assemble the skewer. Skewer the marinated meat, sliced vegetables, and pineapple. Make sure to leave enough space between each ingredient for even heat distribution.
Grill. Heat your grill to a degree between medium to high heat. Lay your skewers and rotate every 2 minutes. Do this for about 8 minutes or until the meat is evenly cooked.
Serve. Let the meat cool down for at least 5 minutes. Garnish with desired herbs, preferably parsley. Afterward, serve.
How do you grill kabobs without burning vegetables?
Make sure to choose vegetables that are slow cooking, or those who need the same amount of cooking time with the meat. Zucchinis and onion are common choices, but you can also use mushrooms.
For potatoes and other vegetables that you want, I suggest cooking them at an earlier time before grilling it.
How long to soak wooden skewers before grilling?
Soak wooden skewers in warm water for a minimum of 30 minutes. This prevents them from burning over the grill. You can also soak them overnight if you want to be extra careful.
More delicious pork recipes:
Can't get enough of juicy and tender dishes? Check out my recipes for:
How to store leftovers:
When your meal is done, store the Grilled Pork Skewers in a tightly sealed container and place them in the fridge right away. Make sure to consume it within three to four days.
Recipe tips:
While using vacuum-sealed bags are great for a quick marinade, you can also use it when marinating overnight. I find that using a tight bag helps in making the meat even juicier, tender, and flavorful.
Having a hard time holding the skewer when cooking it? Wrap a foil around the end part where you can rotate it easily without burning.