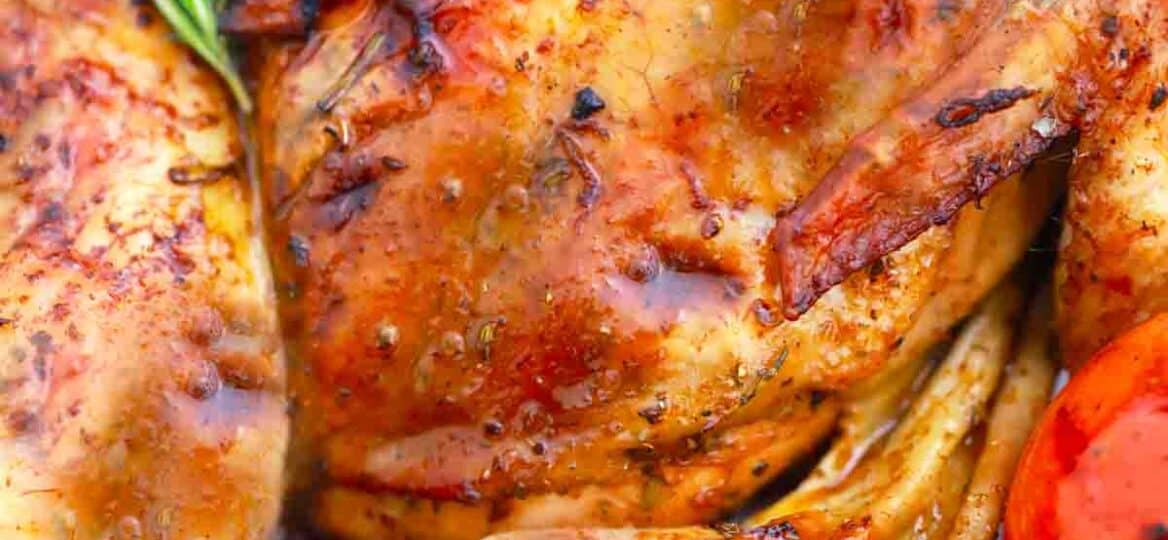 Grilled Whole Chicken Recipe [Video]
Grilled Whole Chicken is marinated in a tasty garlic marinade for several hours for maximum taste, so you get a burst of flavor in every bite. This grilled chicken can be made on the charcoal grill, gas grill, or using your grill pan in the oven.
Looking for more fresh recipes? Try our unique Cheesy BBQ Chicken Taquitos with sweet corn, yogurt, and barbecue sauce. Our Instant Pot Orange Chicken is also delicious with white wine, orange juice, and soy sauce.
The secret to grilling whole chickens is to use butterflied chicken. That way it lays flat enough for the chicken to cook evenly from both sides. The result will be a tender juicy chicken with crispy skin and amazing flavor in every bite.
When you grill a whole chicken, you are making a hearty meal for the whole family. Just add a couple of side dishes and dessert. Another way to grill chicken is with our savory Grilled Chicken flavored with red wine vinegar and red pepper flakes.
For similar recipes, try our garlic herb butter roasted chicken seasoned with fresh rosemary, lemon, and garlic or this juicy crockpot chicken with stuffing, carrots, and potatoes. For a faster chicken dinner, our instant pot whole chicken will show you how to cook it frozen or fresh.
Ingredients needed:
Besides the chicken, all the ingredients you need are for the marinade. Scroll down to our handy recipe card at the bottom of this page for the exact measurements and instructions.
Marinade:
Extra virgin olive oil: Any oil will do for this recipe.
Zest of two lemons
Fresh lemon juice
Dry oregano
Fresh thyme
Coriander
Paprika
Cumin
Kosher salt
Black pepper
Cayenne pepper: Extra if you want it spicy
Garlic cloves: Peeled and minced.
Fresh rosemary
Soy sauce
Brown sugar
Rice vinegar
For Chicken:
Whole Chicken
Butter: At room temperature.
How to make grilled whole chicken from scratch?
Spatchcock your chicken: First, when you buy your chicken, ask the butcher to spatchcock (or butterfly) it for you.

Trim your chicken: Next, trim away as much excess fat as you can.

Season the chicken: After, pat chicken dry with paper towels and salt the skin all over. Then, lift the skin on the breast and season it underneath.

Make the marinade: To make the marinade, whisk all the marinade ingredients in a large bowl.

Marinate the chicken: Next, rub the marinade all over the chicken, especially under the skin. After, add the chicken to the marinade, skin side up, and marinate it in the refrigerator for two to four hours.

Preheat the grill: When ready, preheat the grill to 400 degrees F on medium-high heat. Rub the grill surface with olive oil or your favorite grilling oil.

Cooking chicken: After, place chicken over indirect heat (direct heat will burn the chicken before the inside gets done) on the hot grill skin side up and cook for 45 to 60 minutes. Rotate the chicken as needed to keep the skin from burning. Flip after the internal temperature is 110 degrees F.

Let it rest: Lastly, remove the chicken from the grill and set it aside to rest on a prepared dish for 10 to 15 minutes.

Slice and serve: Finally, slice your whole grilled chicken and serve with your favorite side dishes.
How to make a slow cooker grilled whole chicken:
Spatchcocking the chicken: To begin, spatchcock your chicken using a sharp pair of kitchen shears, remove extra fat, and pat the chicken dry with a paper towel.

Prepare the marinade: Then, mix the marinade ingredients together in a large bowl with high sides and rub it all over the chicken. Make sure you get it under the chicken skin.

Marinate: After, place the chicken in the bowl, breast side up in the bowl, and make sure it is completely covered. Let it chill for two to four hours.

Preheat the oven: About 15 minutes before the marinating time is up, preheat your oven to 400 degrees F and prepare a grill pan with non-stick cooking spray or olive oil.

Bake the chicken: When the oven is hot, place the chicken skin side up and cook for 45 minutes to an hour. Check every few minutes after 45 minutes are up. Flip it after the temperature is 110 degrees F to finish cooking on the other side.
Rest and serve: Last, let the chicken rest for 10 to 15 minutes before slicing and serving.
Recipe variations:
Spice rub: Try using a dry rub of kosher salt, pepper, garlic powder, smoked paprika, and brown sugar before cooking.

Asian chicken: Make your chicken Asian style by adding some teriyaki and soy sauce to the marinade.

More spices: Feel free to add your own favorite spices like onion powder, poultry seasoning, or dry ranch dressing.

Drunken chicken: For a boozy flavor, add some wine or beer to your marinade.
Blackened Chicken: Grilled chicken tastes great when blackened. Try our recipe for blackened chicken made with Italian seasoning, thyme, paprika, and other herbs and spices.

Tropical chicken: Add some pineapple juice, crushed pineapple, and lime juice for a tropical chicken dinner.
Any juice: Actually, you can add any juice you like to the marinade to give it a different flavor. Try orange juice for a sweet and tangy taste.

Something different: For something completely different, add Coca-Cola or another soft drink to your marinade.
How to serve:
This fast and easy grilled chicken recipe is perfect for dinner tonight or any night of the week that you want a hearty meal. Making chicken on the grill is our favorite recipe for summer when we want some home cooking while enjoying the sunny weather. Try one of our unique serving suggestions or share one of your own.
Serve with a small bowl of your favorite salad. Try our recipe for sweet pear salad or a light mozzarella arugula salad.

This delicious chicken dish can be served with any kind of potato, pasta, or rice recipe.
Another perfect side dish that goes with any kind of chicken is this easy cranberry stuffing.

Sprinkle some chopped green onions and minced bell peppers on top for a great presentation.

Toss some ears on the grill so you can have freshly grilled corn on the side.

You can serve it with your favorite barbecue sauce, hot sauce, ranch dressing, or whatever your family likes.

Use leftovers to make chicken salad, sandwiches, or chicken casserole.

You can also serve this whole chicken with grilled veggies made with mushrooms, bell peppers, sweet potatoes, and zucchini.
Frequently asked questions
How do you butterfly a chicken?
First, lay the chicken breast side down on a cutting board and use sharp kitchen shears or poultry shears to cut along one side of the backbone. Then, cut along the other side of the backbone and remove it completely.
Next, with the chicken skin side up, press down on it to flatten before you flip it back over to remove the wing tips.
Should I leave the lid open or closed when cooking?
If your grill has a lid, it is best to keep your chicken covered when cooking. The meat will cook more evenly, and you will not have as many flare-ups to worry about. If you are using a charcoal grill, you can open the bottom vents if you want.
What does it mean to grill on indirect heat?
Grilling your chicken on indirect heat is important because it helps the meat cook properly. You do not want the breasts to get dried out while trying to cook the thigh meat properly. Just turn the burners on one side of the grill and place the chicken over the other side.
If you have a charcoal grill, this takes a little more creativity and skill. Use about 45 briquettes on one side of the grill and place the chicken on the other side. Another way to do this is to place a drip pan in the middle of the grill and the charcoal on the sides. Cook the chicken over the drip pan.
What is the nutritional information for this grilled chicken recipe?
With each serving of this delicious chicken, you get 350 calories, 1 gram of carbohydrates, 26 grams of fat with 9 grams being saturated fat, 119 milligrams of cholesterol, and 500 milligrams of sodium.
On the plus side, you also get 30 grams of protein, 320 units of vitamin A, 20 milligrams of vitamin C, and 16 milligrams of calcium as well as 2 milligrams of iron and 275 milligrams of potassium. The amounts will vary depending on the cut of chicken you eat and whether you remove the skin.
How to store leftovers:
Store: Unless you are having a big party or family gathering, you will probably have a lot of chicken left over. Once it cools, you can put it into zipper baggies or an airtight container in the fridge. Eat it within two days for the best flavor.

Freeze: If you know you cannot finish the whole bird in a couple of days, use freezer bags to freeze the meat for up to 60 days.
Thaw: Put frozen leftovers in the fridge to thaw out overnight before serving.
Reheat: When you are ready to reheat, brush the chicken with oil and wrap it in foil. Put it in the oven preheated to 350 degrees F for five minutes. You could also use the microwave to reheat it for about two minutes.
More grilled recipes:
Grilling tips:
Using a gas grill to cook the whole bird is easier since you can control the heat better using the settings on the burners. The charcoal cooking method is a bit trickier, using a large mound of charcoal on one side of the grill and a bit of trial and error.

The internal temperature should read 110 degrees F before flipping your chicken over.

The final temperature of your chicken has to reach 165 degrees F before removing it from the grill. Use a meat thermometer or instant-read thermometer inserted in the thickest part of the chicken for the most accurate results.
Check the temperature every few minutes after it reaches 140 degrees F.

If you do not have a meat thermometer, just slice the meat near the thigh to make sure it is not pink, and the juices are clear.

Cooking time may vary depending on the size of your chicken and the type of grill you are using.

If you spatchcocked your chicken at home, do not throw away the backbone. You can use it when making chicken stock some other time. If the butcher does it, ask him to give you the backbone to take home.

Put the chicken with the legs facing the hot side of the grill because they can handle more heat.

Let the chicken come to room temperature before grilling. If you put the cold chicken on the grill, it will dry the meat on the outside before the inside is finished.
Grilled Whole Chicken
Ingredients
3 1/2 - 4

lbs

whole chicken

6

tablespoon

salted butter
Marinade:
1/3

cup

extra virgin olive oil

2

lemons

juiced and zested

1/4

cup

soy sauce

1

tablespoon

rice vinegar

1

tablespoon

dry oregano

1

tablespoon

fresh thyme

1

teaspoon

coriander

1

teaspoon

paprika

1/2

teaspoon

cumin

1/2

teaspoon

black pepper

1/4

teaspoon

cayenne pepper

more if you want

4

garlic cloves

minced

1

tablespoon

brown sugar

2

sprigs fresh rosemary
Instructions
Mix the marinade in a medium bowl and set it aside.

Spatchcock/butterfly the chicken by placing it on a cutting board with the backbone facing you. Use a pair of kitchen shears to cut out the backbone by cutting along both sides of the spine, and removing it.

After that, push down on the breasts to flatten the chicken. Flip it over and remove the wing tips.

Next, pat dry the chicken and season it with salt all over.

Add the butter underneath the skin.

Add the chicken to a large baking dish. Add the marinade and rub it all over the chicken and make sure to get it under the skin as well. Cover and marinate in the fridge for 2 to 4 hours or overnight.

Preheat an outdoor grill over medium-high heat (400 degrees F) and lightly oil the grates.

Place the chicken over indirect heat, cover, and cook for 45 minutes to 1 hour or until the chicken's internal temp reaches 165 degrees F.

Rotate the chicken from time to time or as needed for uniform cooking.

Once done remove it from the heat and set it aside on a cutting board to rest for 10 minutes before slicing and serving it.

Serve it with grilled vegetables.
Deliciousness to your inbox
Enjoy weekly hand picked recipes and recommendations