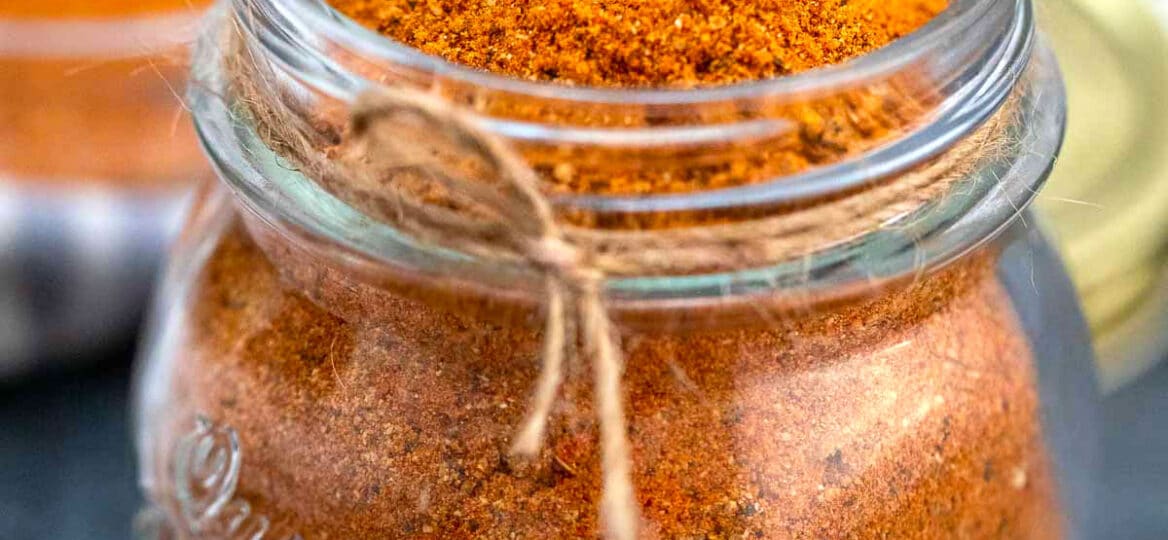 Homemade Dry BBQ Rub is the secret to stellar and flavorful meat! Made with basic ingredients, you can simply follow this recipe to make your own spice mix at home!
Spring is here, and the weather is nice to have some barbecue sessions for a weekend lunch for the family! And, this recipe is perfect for that! Get your Grilled Chicken Fajita Salad, Easy Macaroni Salad, and Instant Pot Corn on the Cob ready!
Barbecue Rub Recipe
BBQ Rub is so simple to make that you can make it from scratch at home. Everything that I used in the recipe may already be found in your pantry!
I love how the spices blend well resulting in an enhanced flavor that can be put on everything. Individually, the ingredients taste good but together, they are amazing.
The proportion is also perfect. I like the balance of saltiness and sweetness that is perfect for any BBQ! The smokiness is there, and it complements any kind of meat, may it be pork, chicken, or beef.
This seasoning is also great on veggies and tofu!
I also like the texture that results in using a dry rub. The surface crisps up which makes it even more fun to eat! The balance of flavors and crispiness add up to a great barbecue experience!
What goes into Homemade BBQ Rub:
caramelizes as the meat is cooked which provides crunch
both spices add a savory flavor
adds a nice balance to the sweetness
adds a bit of heat
adds spiciness, use as much as you can handle
you can choose if you want to add mild or hotter variants, this adds a smokiness that complements any BBQ
adds aroma and a bit of tang
slightly pungent and bitter
adds a sweet-spicy flavor
adds a sweet-nutty flavor
How to make the best BBQ Rub?
Simply gather and measure all the ingredients according to the recipe card at the bottom of this post. Then, mix everything in a bowl! Once ready, you can use it right away!
How do you use a BBQ Rub?
Simply coat the piece of meat that you will cook, whether it be rib, brisket, shoulder, chicken wings, or legs. This recipe is good for any kind of meat!
Just make sure that the surface is not overly wet. There is no hard rule as to how much you put on a piece of meat. You just want to coat generously, and any excess will simply fall off.
This is different from a marinade that has tenderizing properties. No marinating is required when using dry rubs, go ahead and cook shortly right after you put it. In barbecuing, you can use the oven, the Instant Pot, or a grill.
BBQ Rub Variations:
Extra Spicy:
Add more cayenne pepper, red pepper flakes, and chipotle!
Extra Sweet:
Just add more of the sugar.
Caribbean Style:
Add dried chives, ginger, cloves, thyme, and allspice.
Poultry Special:
If you like something tailored for chicken, add dried rosemary, oregano, and sage.
Oriental:
Use five spices in addition to salt and cayenne pepper.
You can use this seasoning mix in the following recipes:
How to Store:
Put the mixture in an airtight container, then, store it in a cool and dry place for up to 3 months.
Or, put in a resealable plastic bag to be kept in the freezer for a longer time.
Recipe Tips:
While barbecuing, you can brush the meat with a glaze or sauce for added flavor if you want. But, using this dry rub alone is enough if you want a certain crisp on the exterior.
You may use dark brown sugar for a richer flavor and kosher salt for the salt.
Make double or triple batches of this for you to use anytime you need that hint of barbecue flavor in your dishes.