Perfect BBQ Pork Chops [video]
BBQ Pork Chops are great for your next barbecue party this summer! They are juicy and flavorful, marinated in a tangy BBQ sauce that will definitely make your guests come back for more!
We love the grilling season, and usually pair this dish with Grilled Potatoes, Lemon Pound Cake, and Strawberry Spinach Salad!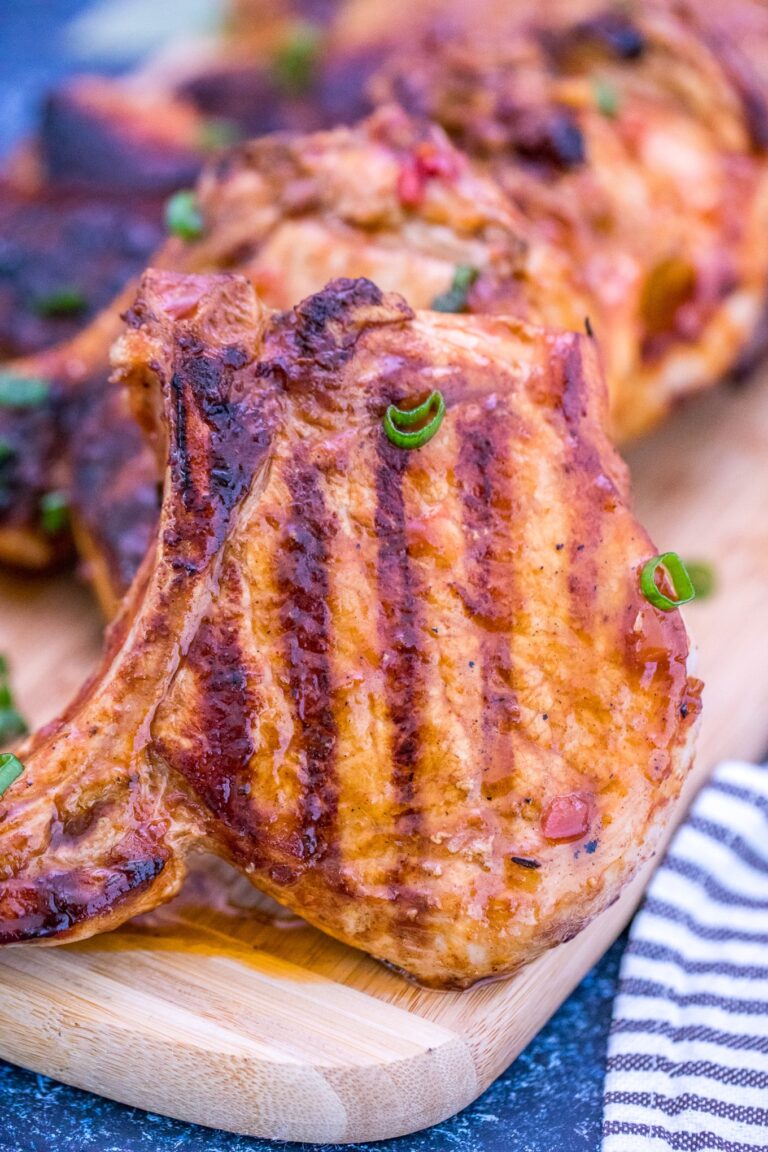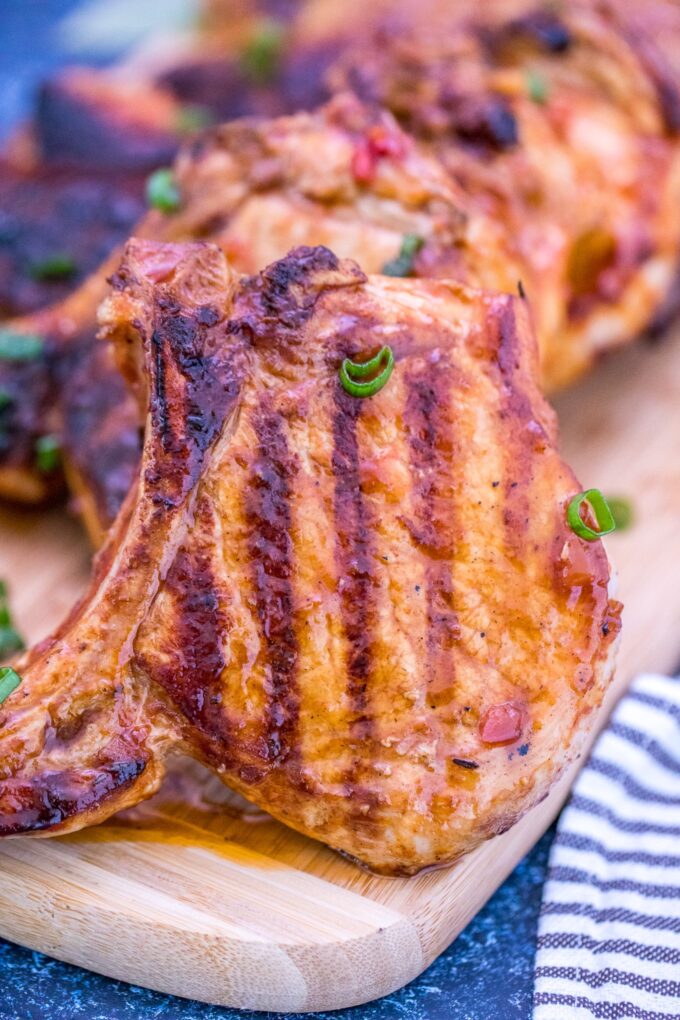 Easy Barbecue Pork Chops
BBQ Pork Chops are a great party dish with its flavor and uber juiciness! Generally, this type of meat could be bland. But with this easy recipe, we will teach you how to prep them to make the most of them in terms of flavor and tenderness!
We will be utilizing a great cooking technique called brining. We will marinate the chops in a watery mixture of several ingredients used to add flavor, as well as tenderize them. It is a super easy process that will add some extra time to prepare, but it is well worth it. It elevates this dish to a whole new level.
What comes out of this, is a sumptuous juicy dish full of meaty goodness! All you have to do is to fire your grill and cook them for a few minutes.
How to make a pork chop marinade?
The first step is to choose a bowl that is large enough to fit all the meat but small enough to fit inside your refrigerator.
In the bowl, mix together boiling water, cold water, and pineapple juice. Then, simply whisk together these other ingredients:
Kosher salt
Onion
Allspice
Fennel seeds
Whole peppercorns
Bay leaf
Garlic
Thyme
Sliced lemon
Submerge the meat and marinate (brine) for 6 to 24 hours, covered in the refrigerator.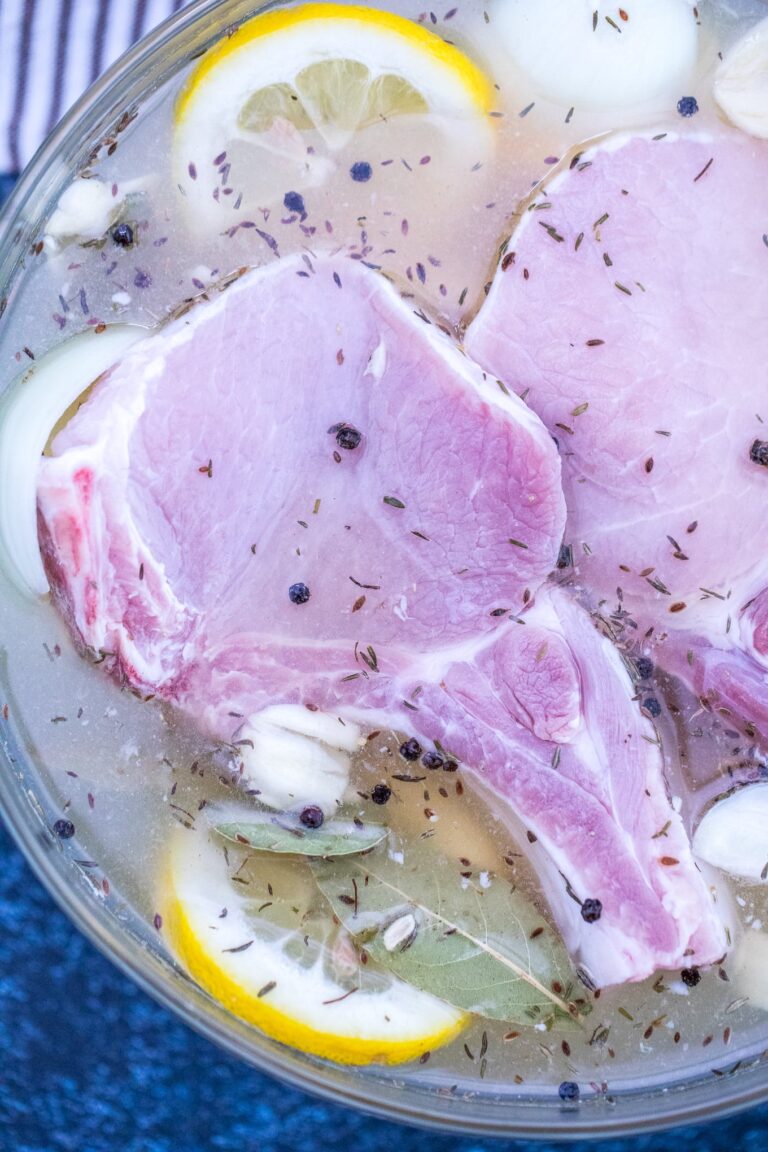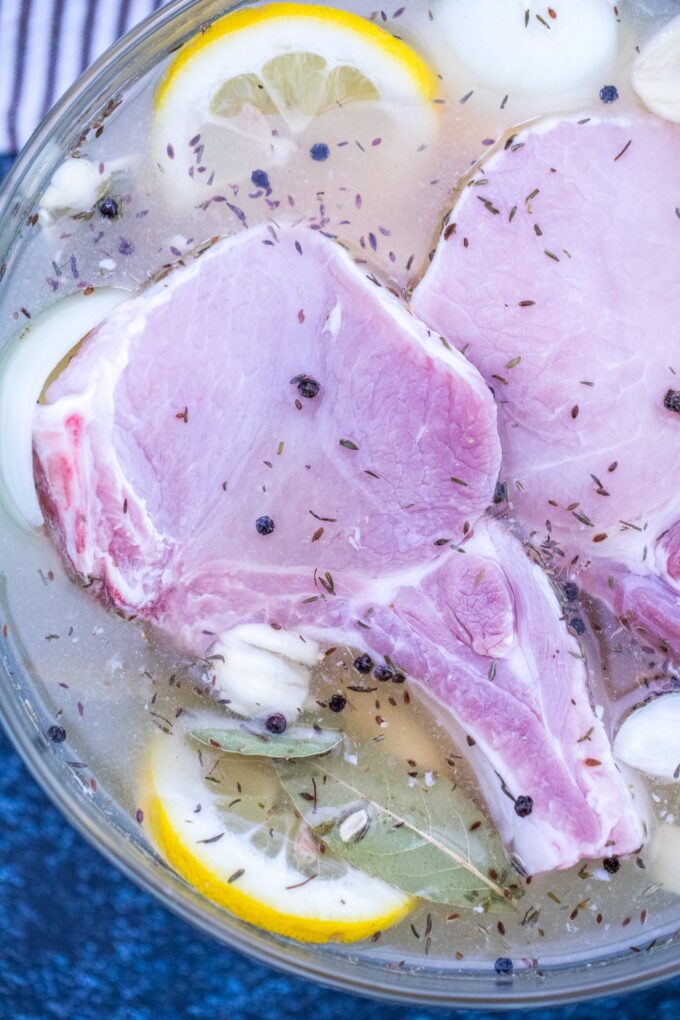 WHAT IS BRINING?
Brining is kind of like a marinade where usually the meat is brined with salt, water, and added spices. This process adds a lot of flavor to the dish, and also it makes it very tender and juicy. Also, it is commonly used when cooking chicken, turkey, and pork.
How to grill bbq pork chops?
After marinating, remove the chops from the brine and pat dry.
Preheat the grill and lightly oil the grates.
Then, cook each side for about 6 to 8 minutes.
Brush barbecue sauce on the meat and cook for another minute per side.
Remove the meat and set it aside.
Lastly, let the cooked meat rest for another 5 to 10 minutes before serving.
How long does it take to grill 1-inch pork chops?
The rough estimate would be 12 to 20 minutes. Each grill is made differently and so, actual cooking time may vary. It is advisable to use your grill often for you to gauge what works for you.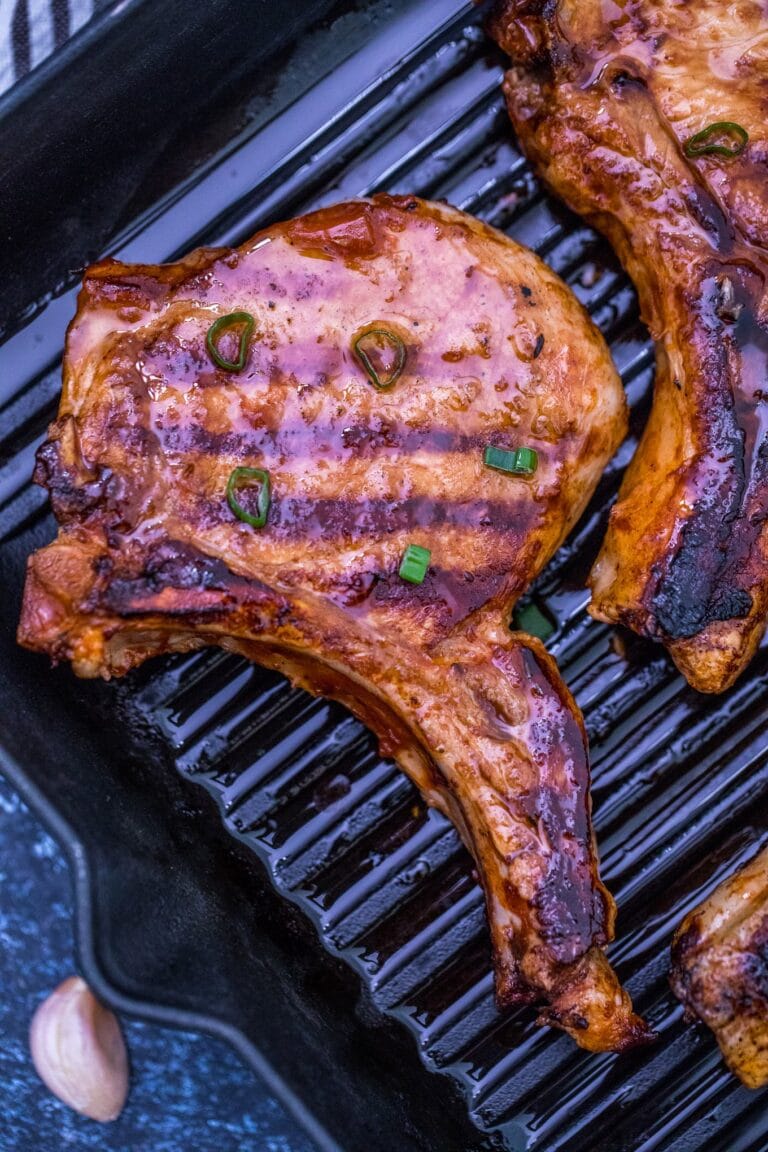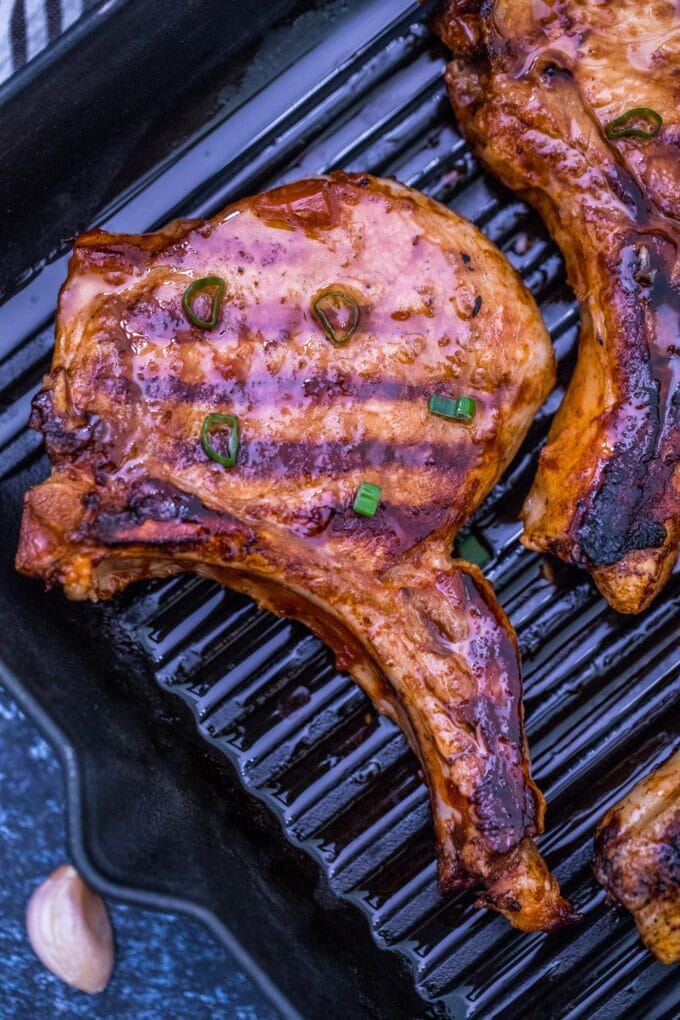 What temperature should Grilled Pork Chops be?
The internal temperature should be 145 degrees Fahrenheit. This must be measured by inserting the thermometer from the side, not from the top. Otherwise, the measurement will be inaccurate.
After cooking comes the resting period and at this point, the internal temperature will still go up. So, the minimum temperature at which you can take them out of the grill is 140 degrees F.
Can pork chops be pink?
Yes! With the recommended internal temperature lowered to 145 from the previous 160 degrees, this leaves them slightly pink but completely safe to eat.
How to cook bbq pork chops in the oven?
After the brining, place the meat in a baking pan and cover with foil.
Bake in the oven, preheated at 350 degrees Fahrenheit, for about 45 to 50 minutes.
Remove from the oven and remove the foil. Add in the barbecue sauce.
Cook for another 10 minutes.
Baste the chops again with the sauce, and then, broil for another 2 to 5 minutes.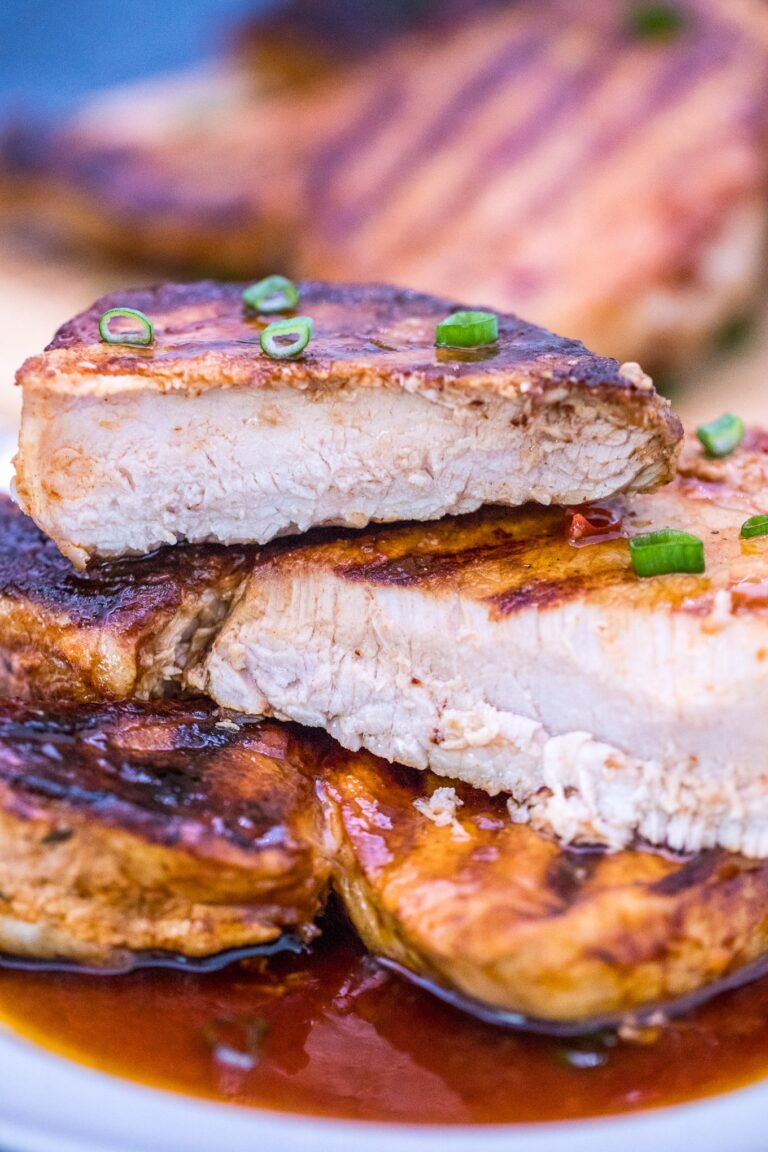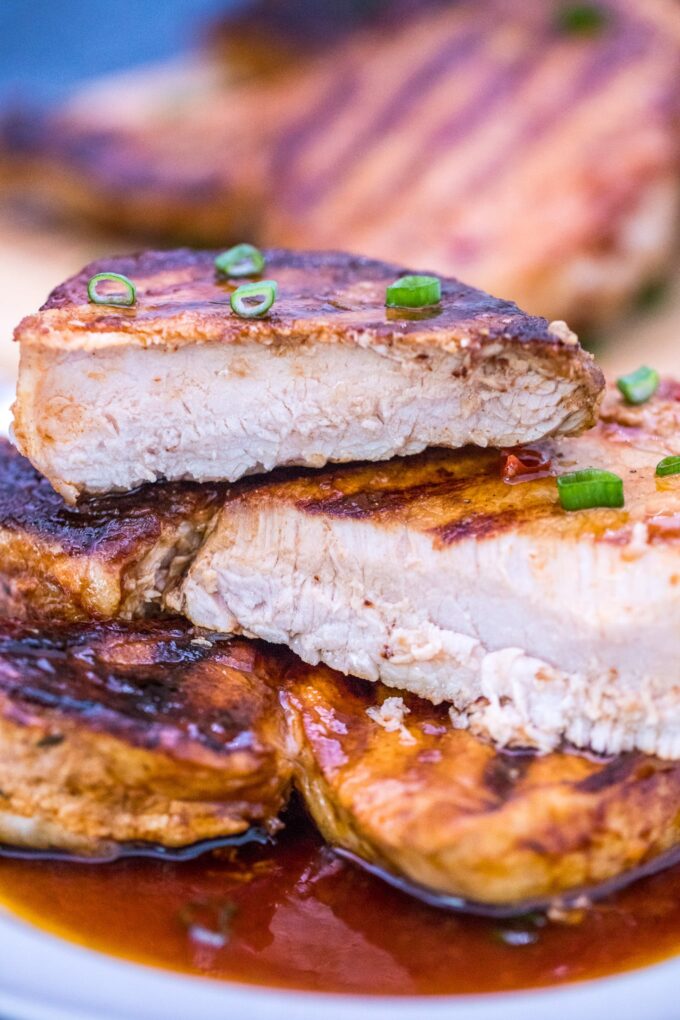 What goes with bbq pork chops
It goes well with dishes like Cheesy Potatoes and Scalloped Potatoes. Also, we like serving it with some salads such as Italian Chopped Salad, Creamy Cucumber Salad, or Strawberry Spinach Salad. You can also serve this dish with Rice.
Recipe Tips
This recipe calls for kosher salt and not to be substituted with the regular table salt. Otherwise, the resulting brine solution will become too salty. Kosher salt has longer grains, so, for the same volume, you will need more of this to equate with table salt.
Also, refrain from marinating the meat for more than 24 hours, or for what this recipe calls for. Otherwise, it will be too salty.
In choosing the cuts of pork, I recommend the bone-in ones which are more flavorful. Also, choose thicker ones as they hold more juice in them and dry out slower than thin ones.
To make sure that the barbecue sauce sticks, brush it on the meat at the perfect time. Put it too early and the sugar in it will caramelize and burn which will impart a bitter taste. Similarly, put it too late and the sauce will just sit on top of the cooked meat and not penetrate it for more flavor.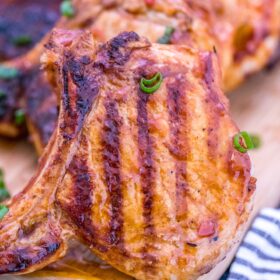 BBQ Pork Chops
BBQ Pork Chops are great for your next barbecue party this summer! They are juicy and flavorful, marinated in a tangy BBQ sauce that will definitely make your guests come back for more!
Save
Share
Print
Pin
Rate
Ingredients
6

bone-in pork chops

(boneless work as well)

1

cup

barbecue sauce
Marinade:
1

cup

boiling water

3

cups

cold water

4

cups

pineapple juice

1/4

cup

kosher salt

1

large onion

(peeled and quartered)

1/2

teaspoon

ground allspice

2

teaspoons

fennel seeds

(lightly crushed)

2

teaspoons

whole peppercorns

3

bay leaf

5

cloves

garlic

(crushed)

3

sprigs

fresh thyme

(or 1 teaspoon dried thyme)

1

lemon

(sliced)
Instructions
Marinade Pork Chops:
Pour 1 cup of boiling water into a large bowl that will fit all of the pork chops.

Add the cold water, pineapple juice and stir to combine. Add the rest of the Marinade ingredients and stir to combine.

Submerge the pork chops into the water.

Cover the bowl and place it in the refrigerator for at least 6 hours, or up to 24 hours.
Cook Pork Chops:
Remove the pork chops from the brine and pat dry with paper towels.

Preheat an outdoor grill to high, or grill pan to medium-high heat. Lightly grease with oil.

Place the chops on the grill or grill pan and cook for 6-8 minutes per side, or until the desired level of doneness.

Brush the barbecue sauce all over the pork chops. Cook for 1 minute more on each side.

Remove the pork chops from the grill or grill pan. Let the chops rest, covered, for 5-10 minutes, then serve.
Nutrition
Calories:
480
kcal
|
Carbohydrates:
44
g
|
Protein:
36
g
|
Fat:
16
g
|
Saturated Fat:
5
g
|
Cholesterol:
116
mg
|
Sodium:
5311
mg
|
Potassium:
978
mg
|
Fiber:
2
g
|
Sugar:
32
g
|
Vitamin A:
140
IU
|
Vitamin C:
27.9
mg
|
Calcium:
100
mg
|
Iron:
2.4
mg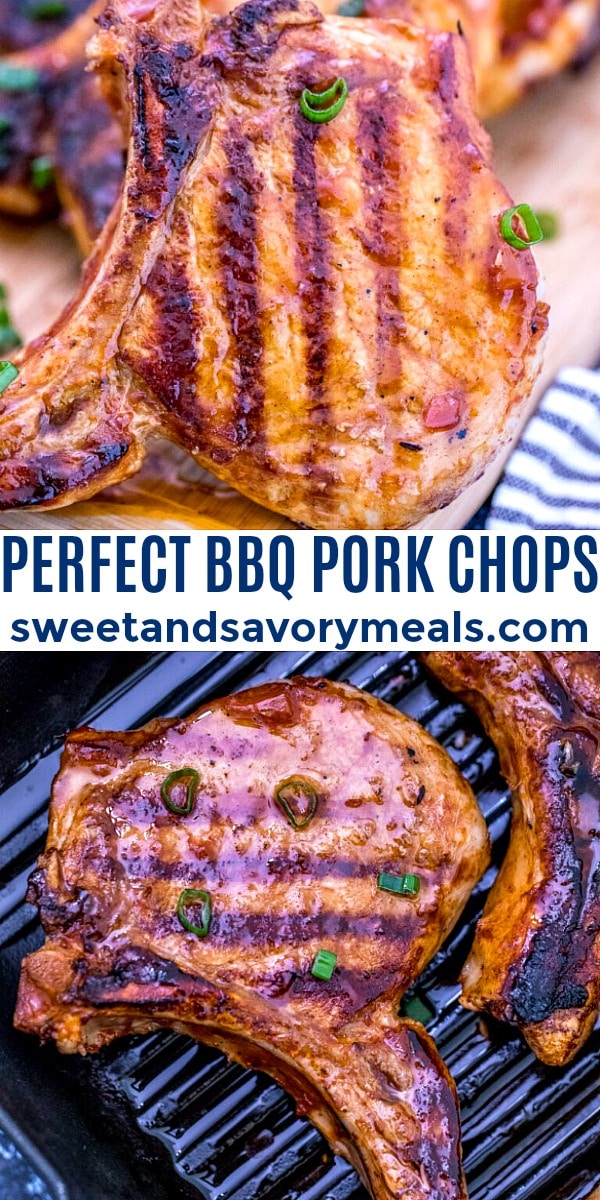 More recipes you might love