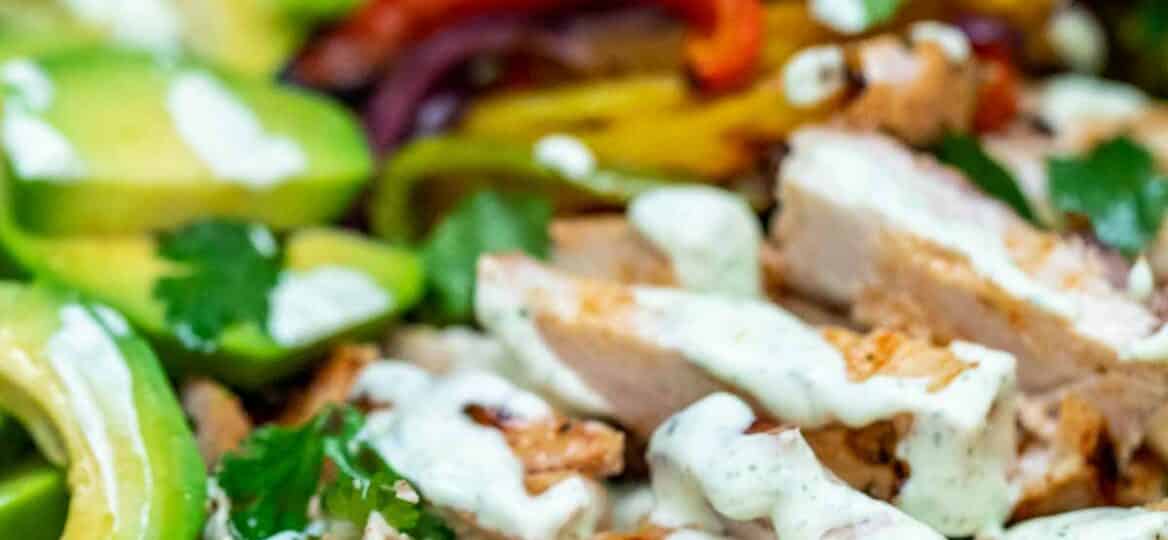 Grilled Chicken Fajita Salad [Video]
Chicken Fajita Salad is the answer to your Tex-Mex cravings! Made with grilled chicken, veggies and a creamy cilantro dressing, this a healthy and satisfying dish!
This salad is nothing but amazing with all its flavors and colors! Try it along with my other Mexican-inspired recipes like the Grilled Shrimp Tacos, Chicken Enchilada Casserole, and Instant Pot Refried Beans!
Grilled Chicken Fajita Salad Recipe
Chicken Fajita Salad is a meal on its own, not just the side dish that we usually associate salads with. This dish has protein in it mainly in the form of the white meat and fiber from all the vegetables in it.
It has avocados that are a rich source of good fat. This fruit also adds that Mexican vibe that you want in this kind of recipe.
The real star of this recipe, in my opinion, is the cilantro. You can taste that in the meat since it is used in the marinade and you will get to enjoy it in the dressing, too. This herb simply ties the whole dish together.
The colors that the combination of vegetables brought into the dish are wonderful, which makes this even more appetizing. Try this easy recipe now!
What is in a fajita salad?
There are three main components in this recipe, namely, the creamy dressing, the meat, and the vegetables.
Creamy Dressing: sour cream, mayonnaise, cilantro, lime juice, honey or maple syrup, salt
Meat: chicken breasts marinated in olive oil, lime juice, lime zest, orange juice, cilantro, garlic, honey or maple syrup, red chili flakes or pepper flakes, fajita seasoning (taco seasoning will do), smoked paprika, salt
Vegetables: a combination of various bell peppers, red onion, lettuce, avocado, and cilantro leaves
Should I grill the chicken breasts?
Yes! Grilling them gives them a nice smoky flavor that makes this dish tastier. You can do that using any kind of grill that you have or using a grill pan or skillet on the stovetop.
If you don't own a grill, you can use your pressure cooker. Just follow my Instant Pot Chicken Breast recipe.
How to make Chicken Fajita Salad
Marinate: Prepare the marinade by putting all the ingredients together in one bowl. Mix everything then, soak the meat in it for two hours.
Grill: Heat the oil on the grill pan or skillet. Then, cook the meat in batches. Make sure to cook each piece on all sides. Then, set aside. Allow the cooked pieces to rest.
Fry: Wipe the same pan clean with a paper towel, then, heat another teaspoon of oil. Fry the peppers and onions.
Assemble: Assemble the vegetables in a bowl. Top it with the slices of the fillets cooked earlier.
Drizzle: Drizzle the dressing all over it and garnish with more cilantro leaves if you like.
Recipe Variations and Mix-ins:
You can change up the ingredients to make this fit your choices more. See below equally delicious suggestions:
Meat: Substitute with beef, shrimp, or pork. Or, use other chicken cuts like skin-on thighs.
Dressing: Leave out the dairy and use olive oil instead. Add a bit of brown sugar if you wish.
Other mix-ins: Add crunch by incorporating almonds or tortilla corn chips, more herbs like oregano, other spices like cumin, and other vegetables like tomatoes or cabbage. You can even add more Mexican signature ingredients like black beans.
How long will Chicken Fajita Salad last?
Cover it tightly in the fridge for up to 3 days without the dressing. But, if you have added the dressing, it will only stay good for up to 2 days.
More delicious salads:
Recipe Tips
You can prepare this ahead by cooking the meat in advance, then, just reheat and serve with a freshly prepared bed of veggies and dressing.
Instead of a fajita seasoning, you can also use this taco seasoning recipe.
Do not slice the meat right after you take it out of the pan or grill. Let it rest so that the juices redistribute making the whole thing tasty.
Watch short recipe video: