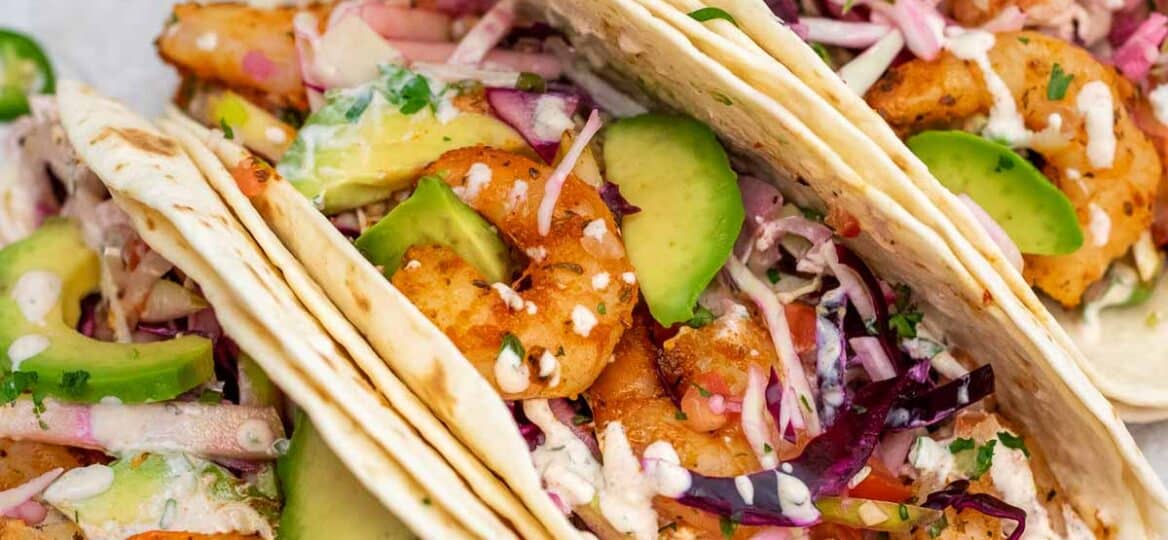 Grilled Shrimp Tacos
Grilled Shrimp Tacos are bursting with flavor from the grilled shrimp, tangy slaw, and spicy lime crema! Light, fresh, and easy to prepare, these are perfect for summer BBQs or a delicious weeknight dinner.
Want to really impress your family and friends? Make it a festive Tex-Mex feast by serving these with Mexican Black Bean Salad, Easy Chicken Quesadillas, and Horchata!
Grilled Shrimp Tacos Recipe
Grilled shrimp tacos are a tasty way to satisfy your Mexican food cravings without filling up on calorie-loaded, greasy dishes. Don't get me wrong. Mexican food is my guilty pleasure, but sometimes I want those fantastic flavors without the next-day bloat.
Aside from being lighter, this recipe is just so satisfying. Imagine juicy, smoky shrimp wrapped in soft tortillas, topped with spicy-lime crema, crisp slaw, and a kick of jalapenos. The fresh cilantro, creamy avocado, and pico de gallo make it pop!
Don't be fooled by the long list of ingredients – this recipe is as easy as they come! You can even prepare some of the elements a day before, so you'll only have to grill and assemble the next day. One bite and this will be your new favorite way to enjoy tacos!
Do I have to grill the shrimp?
It's hard to beat the smoky flavor of grilled seafood, so I highly recommend doing so. But if you don't want to fire up the grill, you may broil or cook quickly on the stovetop. Just make sure not to overcook it.
How to thaw frozen shrimp?
You may thaw it inside the fridge overnight if you're cooking them the next day. You may also put them in cold water to thaw them out faster.
Whatever thawing method you choose, never place the shrimp under running water for force thawing. Doing so can cause them to absorb moisture, turning their texture into too soft and mushy.
What are the Best Tortillas to Use for Tacos
You may use flour or corn tortillas for this recipe. However, burritos and quesadillas generally use the flour version. Corn tortillas, which are smaller in size, are excellent for tacos, taquitos, and similar dishes.
Corn tortillas tend to boost the flavor profile of Mexican food. As a whole grain, they have more fiber and fewer calories than flour tortillas that use refined starch. However, the best tortilla ultimately depends on what you prefer, and either is fine.
How to Make Grilled Shrimp Tacos
Prepare. Chop the ingredients, thaw and season the shrimp, and prepare your cooking equipment.
Heat the tortillas. Wrap your tortillas of choice in foil, and warm them up.
Make the tangy vinegar slaw. Whisk the vinegar, and toss the slaw vegetables. Let sit to infuse the flavors.
Make the spicy-lime crema. Whisk the ingredients for the spicy-lime crema together. Set aside.
Grill. Season the shrimp and brush with olive oil. Cook. Slide off the skewers.
Assemble. Divide the shrimp between the tortilla. Top with the slaw and crema. Garnish with the pico de gallo, avocado, and cilantro.
Serve. Serve immediately with your preferred sides and beverages.
What to serve with shrimp tacos?
This recipe is bursting with flavor, so you want something that complements it instead of competing. As an appetizer, warm tortilla chips with my homemade guacamole are a crowdpleaser. Add a tropical zing with pineapple salsa. Finish the meal with a refreshing margarita or mojitos!
More Taco Recipes:
Slow Cooker Beer Ribs Tacos
Recipe Tips:
Feel free to use frozen if you can't source fresh.
Simplify the prep work by preparing the ingredients in advance.
Remember to preheat the grill, and to oil and clean the gates before use.
Use a double layer of foil to wrap the tortillas and prevent them from burning.
Try grilling the limes to give them some of that smoky zest.
Deliciousness to your inbox
Enjoy weekly hand picked recipes and recommendations