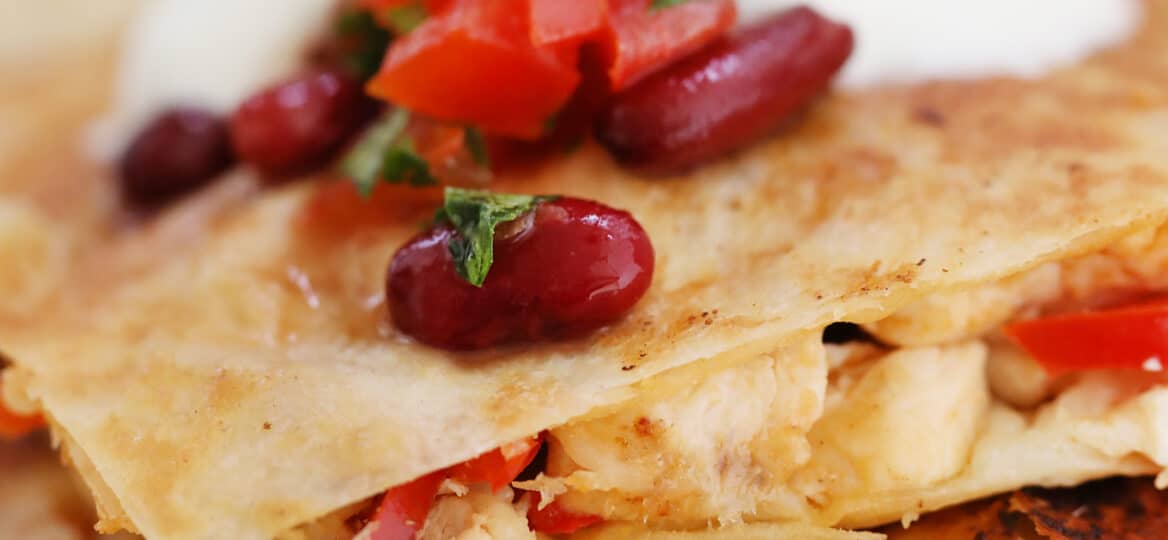 Easy Chicken Quesadillas Recipe
Chicken Quesadillas are the perfect mix of fast, easy, and crispy. With only a few minutes of total cook and prep time, this hearty meal will save you time and effort.
I love making these at home. I also really enjoy making other dishes that involve tortillas such as Slow Cooker Chicken Tortilla Soup and Tortilla Pizza because of how versatile they can be!
Chicken Quesadillas Recipe
Chicken Quesadillas are better than cheese quesadillas because they actually have more protein inside of them. The best kind of tortillas to use are flour tortillas because I think that they mix better with chicken and cheese. I prefer to use a rotisserie chicken so that I can shred it. However, using an uncooked chicken breast and then cooking and shredding it is a good way to go as well.
I love putting in cilantro and green onions inside the quesadillas because it adds a little boost of flavor and color. This is also the perfect party food, because of how easy it is to make, plus who does not like chicken and cheese quesadillas?
Be careful with them though, they tend to burn easily. Keep your eye on the tortillas to make sure that they cook thoroughly and do not get burnt. I have definitely found myself accidentally burning them. So be sure to keep them on the stove for a few minutes on each side. Once they are golden brown you are good to go and ready to serve!
How to make and season chicken for quesadillas?
To Make: Start by taking the chicken and shredding it, place it inside the flour tortilla along with some cheese. You can also use leftover or rotisserie chicken.
To Season: Season this dish by adding some paprika on top. Add some lime juice for the fresh taste and voila you have a beautifully seasoned dish.
How to make chicken quesadillas?
You can make it on the stove or oven.
Stove: Making this recipe on the stove is super easy! All you have to do is put all the ingredients inside of a tortilla and set the pan to medium heat. Be sure to coat the outside of the tortilla with unsalted butter to get that desired even golden brown crispiness to it.
Oven:
Preheat the oven to 450 degrees.
Place the tortillas in the baking tray. Add the rest of the ingredients and top with another tortilla.
Cook them for approximately ten minutes or until they are golden brown and enjoy!
How to make chicken quesadillas sauce?
By combining paprika, cayenne pepper, garlic powder, sugar, cumin, minced jalapenos, mayonnaise, jalapeno juice, and salt.
Mix the ingredients together in a small bowl and place them in a small serving bowl for dipping.
How to make chicken quesadillas like taco bell?
Stir together jalapenos, sugar, cumin, paprika, cayenne pepper salt, jalapeno juice, and garlic powder until it is mixed well and smooth.
Use American cheese and place it inside the tortilla with the chicken.
Place the tortilla with the ingredients inside over medium heat.
Cook the tortilla until all the cheese is melted.
What to serve with chicken quesadillas:
I really like serving these with salsa, beans, guacamole, and sour cream. This makes the meal complete and tastes really good. Also, I love to have a side of Pico de Gallo and Guacamole.
How to make chicken quesadillas with canned chicken?
Drain the excess liquid that comes inside of the can then take it out of the can.
Place it inside of the tortilla with cheese.
Cook the tortilla with all of the ingredients inside.
What's the Best Kind of Cheese for Quesadillas?
This is a very budget-friendly dish and can be made with pretty much any cheeses you like or have on hand. However, for the best results and texture, use cheese that melts well and has good flavor. Some of the most popular ones are:
Cheddar
Moneterey jack
Colby Jack
Mozzarella
Asadero
Oaxaca cheese
WHAT KIND OF TORTILLAS DO YOU USE FOR QUESADILLAS?
You can use either flour tortillas or corn tortillas for quesadillas. Also, if you are looking for a gluten-free version, then use gluten-free tortillas.
Size-wise, it is easier to find in the larger 9- or 10-inch size. This way, you can also fill it easier, and they get nicely crispy in the pan without breaking apart when cooking.
WHAT CAN YOU PUT IN A QUESADILLA?
This recipe is very versatile and adjustable, so you can put pretty much a lot of other proteins and vegetables. Some great ingredients to add:
Mushrooms
Beef or ground beef
Avocado
Chopped green or white onions
Sauteed peppers
Chopped fresh cilantro
Various beans
Corn
Lettuce
Jalapeno
Feta cheese
Other Mexican Dishes you will love: