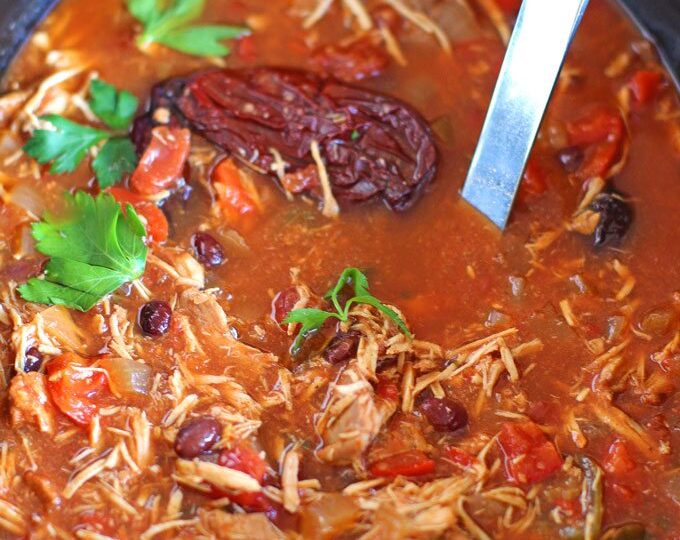 Slow Cooker Chicken Tortilla Soup [Video]
Slow Cooker Chicken Tortilla Soup is hearty and spicy and loaded with your favorite fixings! This easy meal is the epitome of comfort food.
Crockpot Soups are very easy to make and pure comfort food. They are great if you don't have much time to spend by the stove. All you have to do is add all the ingredients to the crockpot and let it do its magic. If you love the idea of slow cooker soups, you should definitely check out my other top recipes such as Baked Potato Soup and Creamy Tortellini Soup.
Easy Crockpot Chicken Tortilla Soup
Slow Cooker Chicken Tortilla Soup is one of the most comforting meals you can enjoy. If you have to choose one and only one recipe to make in your slow cooker, this is the one to go for!
This dish is incredibly easy to make, you just add all the ingredients to your crockpot and let it slowly simmer to pure perfection. This is the type of meal that you can add in the morning to the crockpot and you are rewarded with a royal dinner at the end of the day. It is perfect during colder winter days.
The soup is hearty and spicy, also healthy, until you start piling it with cheese and sour cream. But let's be honest, all those fixings are the best part of the soup anyway!
What is Chicken Tortilla Soup?
Classic tortilla soup originally comes from Mexico, which is simply good chicken broth combined with roasted tomatoes, onion, garlic, chiles, and tortillas, cut into strips and fried.
How to Make Slow Cooker Tortilla Soup?
Just like the Slow Cooker Chilli recipe, you simply put all the ingredients in the crockpot and let it do the work. Also, watch the short recipe video tutorial attached above.
First, cook onion, garlic, and jalapeno (or green chiles) in olive oil until they are softened. Then, add them to the Crockpot.
Next, place the rest of the ingredients in the pot, and close the lid. Set the cooking time on LOW for 7-8 hours, or HIGH for 3-4 hours.
Before serving, shred the cooked chicken and add back to the soup.
Serve warm with some tortilla chips, and/or some sour cream.
TORTILLA SOUP TOPPINGS
This is the perfect meal to add various toppings to it. It is our favorite Mexican inspired dish. Here are some of the best toppings that go with it:
Pickled Jalapenos
Sour Cream
Shredded Cheese
Diced Tomatoes
Shredded Lettuce
Crutons
Chives
Sliced Olives
How to make the soup thicker?
You can make the soup thicker by combining in a small bowl two tablespoons of cornstarch and water until fully dissolved, and add the mixture to the slow cooker. Let it simmer for another 20 minutes, or until it thickens.
Do I have to use boneless skinless chicken breasts?
You can use whichever meat part you like. Therefore, all types work great here. Also, you can go with rotisserie chicken. This will cut down on the amount of time the soup needs to cook in the slow cooker. Sub in an equal amount and cook until heated through.
Looking for more tasty soup recipes?
How long does the soup last?
This comforting soup gets even better with time as it sits. You can refrigerate it for up to 5 days in a resealable container.
Can you freeze Chicken Tortilla Soup?
Tomato-based soups tend to freeze and thaw the best. Do not store this soup in opened metal cans or containers. Let the soup cool completely before freezing. Transfer into freezer-safe containers or heavy-duty freezer bags.
Label with the date, and freeze for up to 3-4 months, or longer if you use a deep freezer.
How do you thaw frozen Chicken Tortilla Soup?
Transfer the frozen soup to your refrigerator the night before you wish to use it to allow it to thaw. Add the soup to a saucepan and reheat it to at least 165 F before you consume it. Microwave it or heat it up in the soup pan.
Recipe Tips:
This soup is spicy! If you prefer less heat, I would recommend cutting down the chili powder in half, and also add only one Chipotle Pepper in Adobo, you can always taste and adjust, but start adding the heat slowly.
You can make this soup on the stovetop, or Instant Pot.
The classic tortilla soup is made with oregano, I personally have family members that are not a big fan of it, we used parsley instead.
Also, use low sodium chicken broth, you don't want to end up with a salty soup.
You can shred the chicken less or more, based on your preference.
In addition, don't forget to rinse the black beans! Otherwise, the soup color won't be as pretty!
If you can stir the soup once or twice during the cooking process it would be great.
Go crazy with the fixings, the sky is the limit!
If you want the soup even more liquid, you can add one more cup of broth.
Deliciousness to your inbox
Enjoy weekly hand picked recipes and recommendations