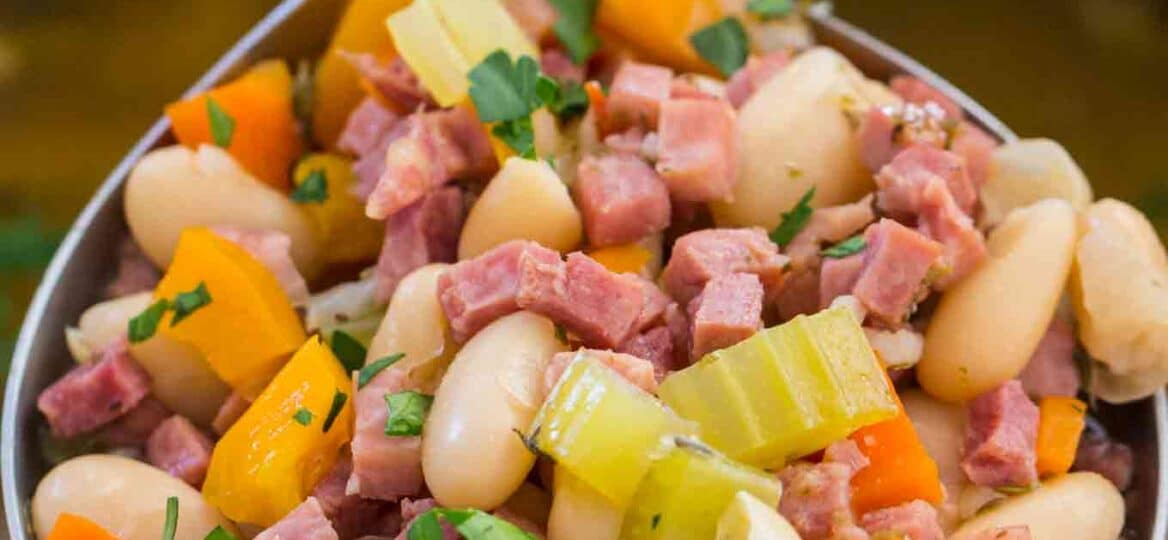 Instant Pot Ham and Bean Soup [VIDEO]
Instant Pot Ham and Bean Soup is the perfect budget-friendly recipe, that can be made in just a few minutes using your pressure cooker. This is a hearty, healthy, and delicious recipe with lots of flavors.
Making easy and comfort soups in the Instant Pot are a staple around here, like Pressure Cooker Lasagna Soup, Pressure Cooker Tomato Soup, and Instant Pot Baked Potato Soup.
Easy Instant Pot Ham and Bean Soup
Instant Pot Ham and Bean Soup is one of the best comfort and easy meals to make. It will warm up your soul and give your body the nutrients it needs, because it is full of protein and veggies.
This recipe can be easily made with leftover holiday ham, but you don't have to wait for leftover ham in order to enjoy it. I like to buy the cubed ham for this recipe and make it every time I crave a hearty and delicious meal.
This soup is made in a fraction of time when cooked on high pressure. I recommend using lots of veggies and herbs for this soup. It will make a huge difference and create a flavorful and aromatic meal.
what beans do you use for ham and bean soup?
You can use pretty much any beans available. However, I prefer to use cannellini beans as they work great, especially when cooked under pressure. They are white Italian kidney beans.
Herbs you will need to make the Instant Pot Ham and Bean Soup Recipe:
Adding the appropriate and right amount of herbs and spices to a meal can make the whole difference. Without these, the soup will still be good, but not great, more on the bland side. Adding the right mix of herbs will make the broth taste amazing and incredibly aromatic.
You can use fresh herbs as well, but I love to keep a stocked pantry of dried herbs. They blend well with this soup.
How do You Make Instant Pot Ham and Bean Soup using Ham Bone?
How to make Ham and Bean Soup in the Slow Cooker?
This soup can be easily be made in the slow cooker as well. You simply saute the ham and vegetables first. Then, dump all the ingredients in the pot and let it slowly cook for 8 hours. You can check out the full crockpot version of this recipe in this link.
How to make it on the stovetop?
Similarly, this soup can be easily made on the stovetop. The full stovetop version of this recipe can be accessed here.
What To Serve With Ham And Bean Soup?
I love adding some toppings to it. Some of my favorite ways to serve it is by adding a dollop of sour cream, chopped cilantro, shredded cheddar cheese, or crispy bacon. All these toppings compliment this soup well!
Similarly, this homemade cornbread or brioche bread is a must to serve with it!
As a side dish, you can serve it with an arugula salad or a cucumber salad.
What is a 10 Minutes Natural Pressure Release?
A Natural Pressure Release means that the pressure is released gradually. For a Natural Pressure Release, you click on Keep Warm, and wait 10 minutes, after which you open the valve and let any leftover pressure to release. Another option is to Turn Off/Unplug the pressure cooker, wait 10 minutes and after that open the valve.
A natural release is usually used when cooking soups, meat in a large amount of sauce, pasta or steel cut oats. This method prevents any foam from the dish to shoot out through the valve, which can happen during a Quick Pressure Release.
How to freeze Instant Pot Ham and Bean Soup:
I recommend using quart bags for this soup. First, use a cup to transfer the soup from the pot into the bag. Then, squeeze out excess air and seal the bags. The bags can nicely be stored in the freezer for up to 3-4 months.
To thaw the soup, remove it from the freezer the night before serving, or put the sealed soup bag in warm water to thaw it faster.
Heat in a soup pan and simmer for 5-10 minutes.
Recipe tips:
Feel free to swap or add other vegetables to it. Some great addition would be to add some spinach, kale, zucchini, peas, cabbage, etc.
Also, you could add potatoes to it. Just ensure to cut the potato into smaller cubed pieces.
I like using chicken broth. Alternatively, you could use turkey or beef stock. Vegetable stock will work as well.
To make it vegetarian, skip the ham altogether and use veggie stock.