Instant Pot Tomato Soup [Video]
Last updated on February 21st, 2022 at 06:16 am
Instant Pot Tomato Soup is a classic and comfort dish made with garlic roasted tomatoes for extra flavor. Super creamy and with a spicy kick, hands down this is the best ever tomato soup. Made with simple ingredients this great recipe will win you over.
We love making Instant Pot recipes as they are quick, easy, and delicious. I like the convenience of adding everything to the pot and let it work its magic. You should try some of our most favorite soups like this Tomato Bisque, Cheesy Lasagna Soup, and Loaded Cabbage Soup. Browse the recipes and you will definitely find something you like!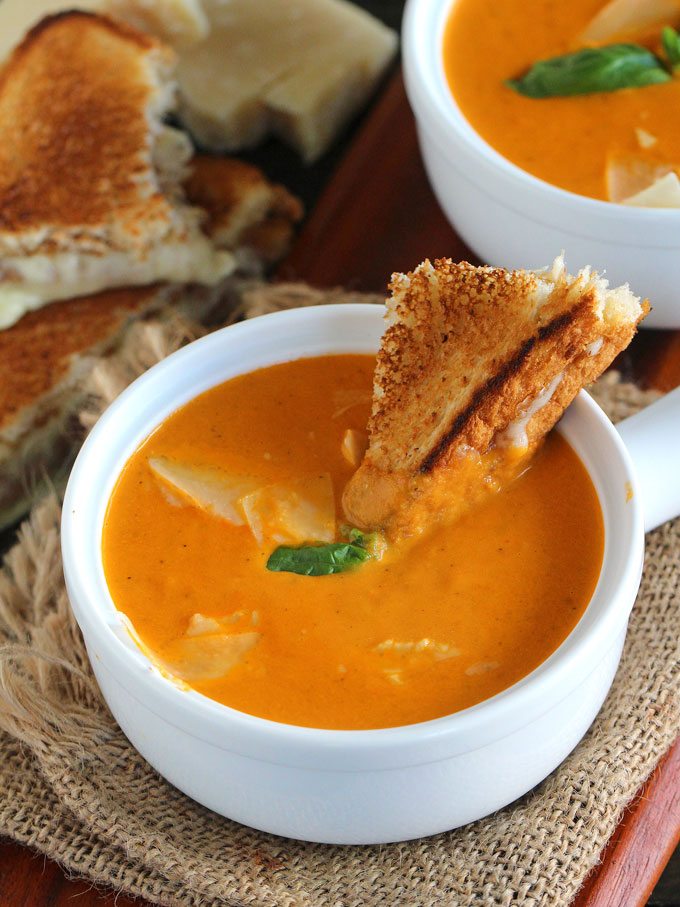 Creamy Instant Pot Tomato Soup Recipe
Electric Pressure Cooker Tomato Soup is made with spicy garlic roasted tomatoes for extra flavor! Red pepper flakes, bell red pepper, and celery create the most amazing flavor combo.
This homemade tomato soup is incredibly creamy, with a deliciously spicy kick. I like serving it during colder months, but it is truly great during any season of the year.
Given how easy and delicious this recipe is, it will quickly become your favorite soup. Watch the recipe video below and see how easy and delicious this is!
The Instant Pot makes it easy and cooks the comforting soup to perfection in 20 minutes! Now, that's a meal that I can commit to on a weeknight! My favorite way to serve it is with fresh bread or a grilled cheese sandwich for the ultimate satisfaction.
Ingredients Needed:
For the Garlic Roasted Tomatoes:
Whole tomatoes: We use cherry tomatoes, Roma tomatoes also taste great.
Whole garlic cloves: We use a lot of smashed garlic gloves to add a rich flavor to the tomatoes.
Seasonings: Salt, pepper, and red pepper flakes.
For the Soup:
Oil: Use extra virgin olive oil.
Veggies: Onion, bell pepper, and celery ribs.
Tomato paste
Broth: For a vegetarian soup make it with vegetable broth. For extra flavor use chicken stock or chicken broth.
Seasonings: Garlic powder, onion powder, salt, and ground black pepper.
Dried herbs: We use dried basil leaves, red pepper flakes. As an alternative, use fresh herbs if you have them on hand.
Diary: Heavy cream or half and half for a creamy soup.
How do you make Instant Pot Tomato Soup recipe?
Prep: First, add the tomatoes and garlic to a rimmed baking sheet. Then, drizzle with olive oil and season with salt, pepper, and red pepper flakes.
Roast: After that, roast the tomatoes for about 25-30 minutes.
Saute: Select the saute function on the Instant pot and once Hot add olive oil. Next, saute the onion, bell pepper, and celery. Also, add the seasonings and dried herbs.
Add the tomatoes: Next, add the tomato paste and the garlic roasted tomatoes, including the juices.
Broth: Afterward, add the broth and season with salt and pepper.
Pressure Cook: Cover with the lid, lock it, and point the valve to sealing. Finally, Pressure Cook the soup on high pressure for 10 minutes.
Natural Pressure Release: Once done cooking, do a 10-minute natural release.
Quick Pressure Release: After that, quick release the remaining pressure and carefully open the lid.
Diary: Select saute again and stir in the heavy cream.
Blend: Then, using an immersion blender puree the soup. Another option is to transfer the soup to a regular blender and puree it.
Serve: Serve the creamy tomato soup topped with parmesan cheese and fresh basil leaves. Grilled cheese sandwiches on the side are a must!
Recipe variations:
Sauté the tomatoes: If you want to skip roasting the tomatoes, just sauté them in the instant pot for a few minutes for extra flavor.
Canned tomatoes: in addition, replace the fresh tomatoes with canned San Marzano tomatoes and skip the roasting part.
Basil: Try adding lots of fresh basil for instant pot tomato basil soup.
Coconut milk: Keep the soup vegan and make it extra creamy by adding full-fat canned coconut milk.
Protein: Feel free to stir into the soup some chopped or shredded chicken. Also, you can add some beans.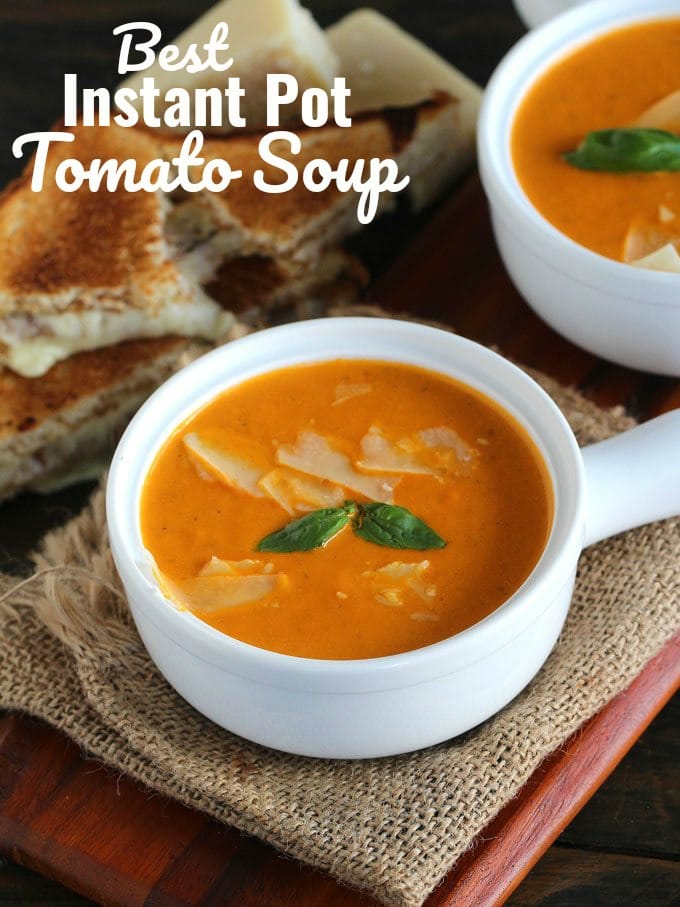 Crockpot version:
First, add the garlic roasted tomatoes and the remaining ingredients, except cream, to the bottom of the pot and stir to combine.
Next, slow cook for 7-8 hours or cook on High for 4 hours. Stir in cream during the last 30 minutes. After that puree and serve.
Or simply follow the recipe card instructions to make Slow Cooker Tomato Soup.
Stovetop version:
If you prefer the stovetop version of it, we have a delicious and one of the best recipes, check the Panera Bread Creamy Tomato Soup Copycat recipe.
Topping suggestions:
Grated parmesan cheese or fontina cheese
Fresh basil leaves
Cheese croutons
Drizzle of olive oil
Pretzels or goldfish
Pumpkin seeds
Crispy tortilla strips
Avocado
Sour cream
Jalapeños
Bacon bits
What are the best tomatoes for tomato soup?
I love using fresh tomatoes in this recipe. Cherry, Roma, or beefsteak will work the best as they are sweet, aromatic, and flavorful. Also, if you plan on using fresh tomatoes, roasting them and the garlic is key. It will add a layer of flavor that you just won't get otherwise.
You can use canned as well, but for the best taste, I would go for fresh.
What can I add to tomato soup to make it taste better?
This delicious soup is the best comfort food, also this great recipe is very versatile. Enhance the flavors of this easy instant pot recipe by adding fresh herbs like rosemary, thyme, and oregano.
For a punch of freshness add some lemon juice, lime juice, or lime zest. In addition, chopped chives and green onions add a bitter-sweetness.
As an alternative, fry some bacon, or some sage leaves in melted butter, to add some savory earthiness to the dish.
Sweet corn will add a great taste and also a layer of texture. Also, sauteing some veggies like zucchini, bell peppers, cauliflower or greens like kale and spinach will elevate the flavor palette.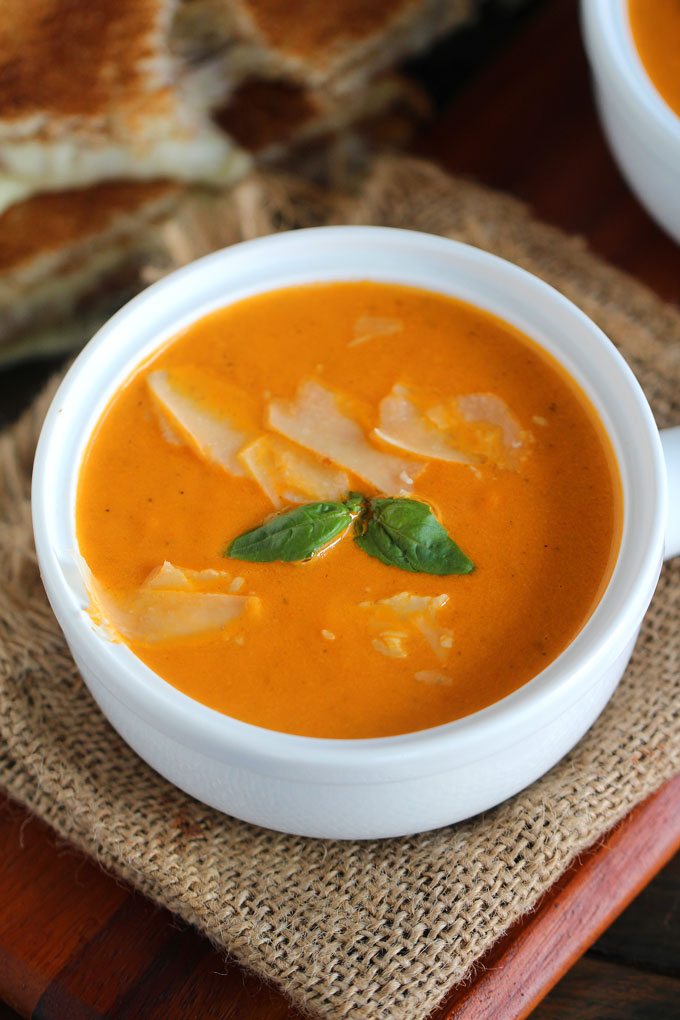 What is a 10 Minutes Natural Pressure Release?
A Natural Pressure Release means that the pressure is released gradually by keeping the pressure cooker on the Warm Setting or turning it off.
A natural release is usually used when cooking soups, or dishes that are saucy and creamy. This method prevents any foam or liquid from the dish to shoot out through the valve, which can happen during a Quick Pressure Release.
How to store leftovers:
Refrigerate: First, let the leftovers fully cool and after that add them to an airtight container. Store them in the fridge for 3-4 days.
Freeze: First, let the soup cool completely before freezing. Then, use a cup to transfer it from the pot into freezer bags. I recommend using quart bags. Next, squeeze out excess air and seal the bags. Lay them flat in the freezer and freeze for up to 3-4 months.
Thaw: When ready to eat, let the soup thaw overnight in the fridge or place the bag in a casserole under warm running water.
Reheat: Add it to a large pot, and heat it on the stovetop, or microwave it.
More Instant Pot Soup Recipes:
Cooking Tips:
I don't like adding too many other veggies to my tomato soup. I usually go for celery and red bell pepper as they compliment the tomatoes nicely.
If you still have to use canned ones, please use 2 cans of 28 ounces of fire-roasted crushed tomatoes.
Also, adding red pepper flakes is optional, but if you prefer your tomato soup on the spicy side, feel free to add as much as you want.
A cup of heavy cream was enough to make the soup super creamy. You can add less or more, as you please. Half and half or light cream works as well.
Instant Pot Tomato Soup
Instant Pot Tomato Soup made with garlic roasted tomatoes for extra flavor. Super creamy and with a spicy kick, made in minutes in the Instant Pot.
Save
Share
Print
Pin
Rate
Ingredients
Garlic Roasted Tomatoes:
3

lbs

cherry tomatoes

(halved lengthwise)

14

whole cloves garlic

(peeled and smashed)

2

tablespoons

olive oil

1/2

teaspoon

salt

1/2

teaspoon

black pepper

1/2

teaspoon

red pepper flakes
Soup:
2

tablespoons

olive oil

1

large onion

(diced)

1

red bell pepper

(deseeded and diced)

2

celery ribs

(diced)

3

tablespoons

tomato paste

2

cups

chicken or vegetable broth

1

teaspoon

garlic powder

1

teaspoon

onion powder

1/2

tablespoon

dried basil leaves

1/2

teaspoon

red pepper flakes

salt and pepper

1

cup

heavy cream or half and half
Garnish:
1/2

cup

grated parmesan cheese

fresh basil leaves
Instructions
Place tomatoes and garlic on a baking tray, drizzle with 2 tablespoons of olive oil, season with salt, pepper, and red pepper flakes, roast for about 25 minutes, or until soft and charred on the tops.

Remove tray from oven and set aside.

Set up the Instant Pot to the Sauté function and wait until it reads HOT.

Add 2 tablespoons of olive oil, once the oil heats up, about 30 seconds, add the diced onion, red bell pepper, and celery ribs, season with the garlic powder, onion powder, dried basil, red pepper flakes, salt, and pepper. Cook for 2-3 minutes, stirring occasionally.

Add the tomato paste and stir to combine. Add the garlic and roasted tomatoes with all the juices from roasting. Stir to combine.

Add the chicken or veggie broth, stir to combine. Adjust for salt and pepper and cover with the lid.

Cover with the lid, point valve to sealing, and Pressure Cook on High for 10 minutes.

Once the 10 minutes have passed, use a 10 Minute Natural Release (explained in the post) to release the pressure. After the 10 minutes natural release, open the valve and release the remaining pressure. When the valve drops carefully remove the lid.

Open the Instant Pot, select the Sauté function, stir the soup, and stir in the heavy cream. Taste and adjust for salt and pepper. If the soup is too thick, you can add more chicken stock, ½ cup at a time.

Using an immersion blender or a Vitamix, puree the mixture until it's very smooth. I transferred the soup in two batches into the Vitamix to puree it, but if you use an immersion blender you can puree the soup directly in the Instant Pot.

Serve garnished with grated parmesan cheese and fresh basil leaves.

Store in the fridge for up to 3-4 days. Read the post for freezer instructions.
Nutrition
Calories:
167
kcal
|
Carbohydrates:
16
g
|
Protein:
5
g
|
Fat:
9
g
|
Saturated Fat:
2
g
|
Cholesterol:
6
mg
|
Sodium:
586
mg
|
Potassium:
609
mg
|
Fiber:
2
g
|
Sugar:
8
g
|
Vitamin A:
1700
IU
|
Vitamin C:
62.3
mg
|
Calcium:
141
mg
|
Iron:
1.8
mg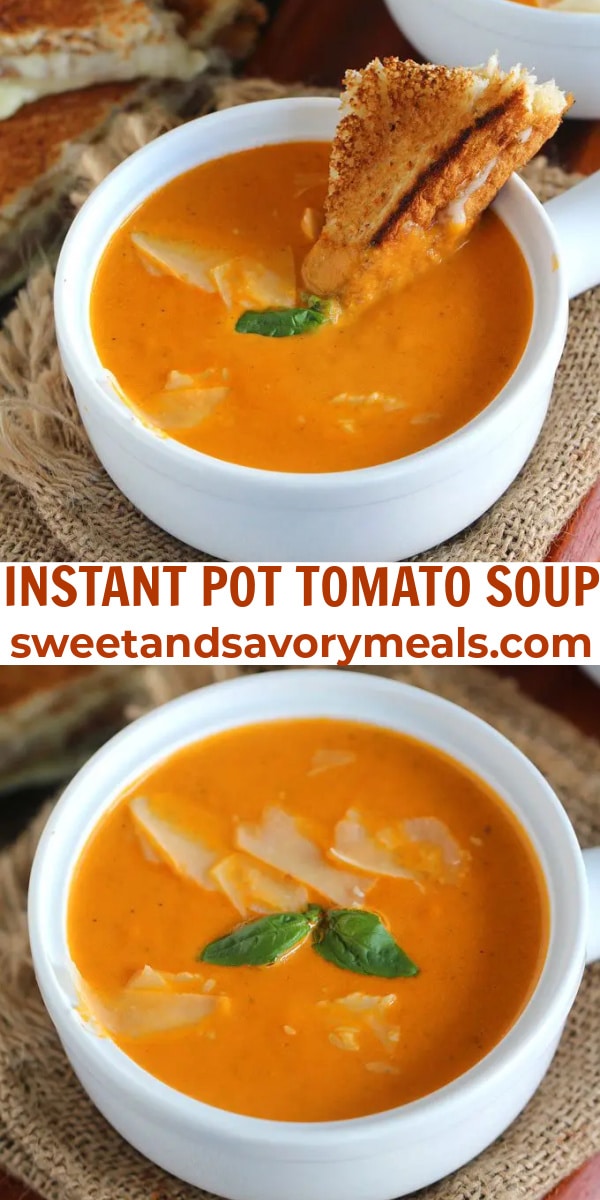 More recipes you might love