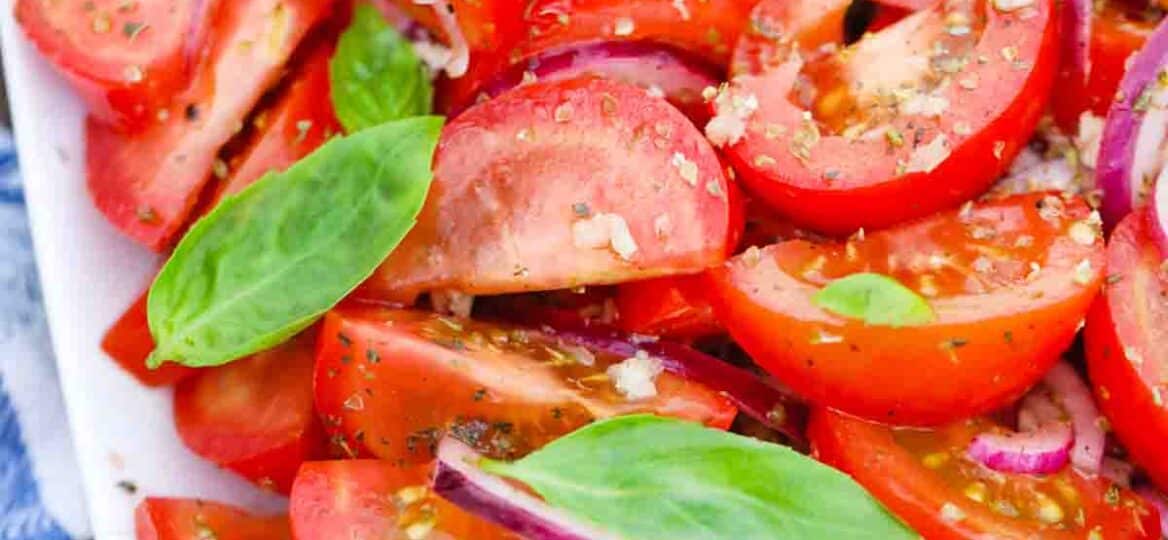 Italian Tomato Onion Salad Recipe
Italian Tomato Onion Salad is made with fresh ripe tomatoes, crunchy red onions, and a blend of balsamic vinegar, garlic, and Italian seasonings. Also known as Insalata di Pomodori, this marinated tomato salad has the fresh flavors of summer tomatoes, onions, and herbs. Speaking of fresh, did you know having a fresh salad every day can help your cardiovascular system? And it is gluten-free as well as dairy-free!
The idea of serving just onions and tomatoes as a salad may seem strange to many people. After all, some have grown up with salads that contain all sorts of ingredients like cheese, lettuce, carrots, avocados, beans, peppers, and corn. But this salad goes way back, and it was not the Italians who invented it. The Shirazi salad is an Israeli dish made with chopped onions, tomatoes, and cucumbers seasoned with spices and olive oil.
This simple salad recipe is great for those that have been growing tomatoes themselves and have too many leftovers. For this onion tomato salad recipe, all you need are a handful of ingredients like Italian seasoning, oregano, olive oil, balsamic vinegar, garlic, tomatoes, and onions. Toss gently in a mixing bowl and serve immediately for a fresh salad bursting with flavors.
Ingredients needed:
If you want to make this easy Italian tomato salad recipe, gather the ingredients listed below. After, find our recipe card at the bottom of the page for the precise measurements and complete instructions.
Large red onion
Ripe tomatoes
Minced garlic
Balsamic vinegar
Extra virgin olive oil
Dried oregano
Italian seasoning
Kosher salt
Fresh basil leaves for garnish
How to make tomato and onion salad from scratch?
Prep your veggies: First, cut your tomatoes into wedges and red onion into long thin strips, placing them in a large bowl.
Mix the veggies and garlic: Then, put garlic, tomatoes, and onion in a large salad bowl. Mix to combine.
Toss it all together: Next, pour the vinegar and olive oil on top and sprinkle on the oregano and salt. Toss gently to combine.
Serve: Finally, add a generous helping to each serving bowl and serve with other toppings such as croutons, shredded cheese, and some black pepper.
Recipe variations:
Hearty salad: For a heartier salad, serve on top of a bed of lettuce and fresh mozzarella cheese.
More veggies: Make this salad even more hearty by adding more veggies like olives, cucumbers, bell peppers, carrots, avocados, and whatever else you like.

Fresh herbs: Add your favorite herbs like thyme, rosemary, parsley, and sage.
Other oil: You can use whatever oil you like such as vegetable, canola, or grapeseed oil.
Other vinegar: Try apple cider, rice, or red wine vinegar for a different taste.
Make it a meal: Add some sliced chicken, turkey, or pork to your salad to make it a meal.

Sweeten it up: For a sweeter salad, toss in some chopped strawberries, mandarin oranges, and apples.
How to serve:
This simple Italian tomato salad is ready in minutes and can be served alone as a whole meal served on top of rice, noodles, or lettuce. Try one of these serving suggestions or share some of your own ideas with us and our readers in the comments section.
For a richer salad, add a dash of romano or parmesan cheese.

This is the perfect starter for delicious salads. Add some mixed greens or mix it in with this delicious arugula salad.

Serve with a side of crusty bread or garlic toast as a light meal or snack.

Why not go ahead and add some salad dressing too? We have a recipe for the best creamy parmesan dressing that would be perfect.

Everything is better with bacon. Toss some bacon bits or chopped-up crispy bacon on top of your tomato salad.

Use leftovers for a casserole, soup, or stew. These tomatoes and onions would taste amazing in this yummy Philly cheesesteak casserole.

For a bit of crunchiness, toss on some nuts or seeds such as toasted almonds or chia seeds.
Frequently asked questions
What are the best tomatoes for this salad?
There are so many different tomato varieties. We chose heirloom tomatoes, but you can use beefsteak tomatoes, plum, or cherry tomatoes. Others you may want to try are Roma, cocktail, or Campari tomatoes. Then there are green tomatoes, orange tomatoes, and yellow tomatoes too. Really, any kind of tomato you like is what you should use.
What is the best way to cut tomatoes?
First, using a sharp knife, preferably a serrated knife, cut them in half lengthwise. Then, chop them into about eight wedges. You should cut vertically to the core. If you are using small tomatoes like cherry tomatoes or plum tomatoes, you can just cut them in half or quarters.
How do I pick the best juicy tomatoes?
If you want really juicy tomatoes, get the large bright red ones that are soft but firm. Avoid those tomatoes that have pale spots near the stem and those that are hard. You also want to avoid those with cracks or bruises. A heavy tomato with a nice red hue is the best choice.
Why is my tomato salad watery?
Many people just chop their tomato and toss it into their salad. However, the juices from the inside of the tomato can add too much liquid to your salad. For a salad like this, you want to make sure to get rid of some of the insides of the tomato to prevent a watery mess.
What are the nutrition facts in this recipe?
Since it is a salad, you should not be too worried about nutrition, calories, and fat. Each serving has 114 calories, 9 grams of carbs, 201 mg sodium, 4 grams sugar, 8 grams fat, and 1 gram saturated fat. On the good side, you also get 7 grams monounsaturated fat, 1 mg polyunsaturated fat, 1 mg iron, 1,365 units of vitamin A, 25 mg vitamin C, and 22 mg calcium as well as 402 mg potassium, 3 mg protein, and 3 grams of fiber.
How to store leftovers:
Store: Your leftover onion tomato salad can be stored in an airtight container or gallon-size zip baggie for several days. Just remember, they will get softer the longer they sit.
Freeze: We do not recommend freezing your leftover Italian tomato salad.
More salad recipes to try:
Recipe tips:
Make sure you use good-quality olive oil for the best flavor.
Try to chop the onion and tomatoes about the same size for the best taste and uniformity.
You can use fresh oregano instead, chopped finely, and dried chopped basil instead of basil leaves.
Fresh ingredients are always the best option when it comes to getting all the flavors you want in your salad. Although you could use frozen chopped veggies to shorten prep time, they could make your salad soggy, and it will not have the fresh flavor you want.
Get local tomatoes if you can. They will always be fresher than store-bought for a delicious salad every time.
Put your phone in cook mode. Prevent your screen from going dark while you are working.

Looking for other tomato salads or more Italian cuisine? We have all sorts of Italian and salad cuisine on our food blog with new recipes every day.
Italian Tomato Onion Salad
Ingredients
8

ripe tomatoes

washed and cut into wedges

1

small red onion

peeled and sliced thinly lengthwise

3

cloves

garlic

minced

1/3

cup

olive oil

2

tablespoons

balsamic vinegar

1/2

teaspoon

kosher salt

or to taste

1/2

teaspoon

dried oregano

1/2

teaspoon

dried Italian herbs

Fresh basil

for garnish
Instructions
Prepare the tomatoes and onions, wash, peel, and slice as needed.

Next, add the tomatoes, onion, and garlic to a large bowl.

Add the olive oil, balsamic, salt, oregano, and Italian herbs. Toss gently to combine.

Spoon onto chilled serving plates and top with extra oregano and fresh basil.
Deliciousness to your inbox
Enjoy weekly hand picked recipes and recommendations