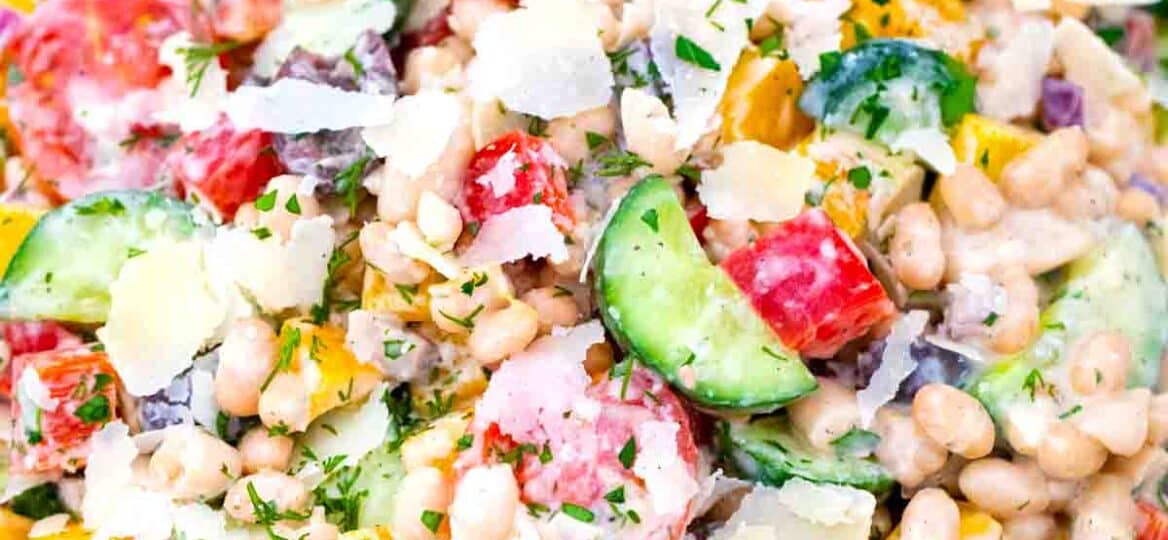 Crunchy Bean Salad Recipe
Crunchy Bean Salad is a refreshing dish made with canned beans, fresh herbs, and crunchy veggies, in a creamy yogurt dressing. If you like bean salads, try this one. You can add your own fresh veggies and other beans to make it your own special dish.
If you enjoyed this delicious salad, try our Crack Corn Salad made with sweet corn, bacon, cheddar cheese, and lime with our homemade ranch dressing. It is fast, easy, and scrumptious. For something a little different, this Southwest Ranch Pasta Salad can be an appetizer, snack, side dish, or dinner. Packed with rigatoni, beans, tomatoes, corn, bell peppers, and olives and topped with our ranch dressing mixture.
The most common bean salad in the United States is the three-bean salad. This delicious dish has been a popular barbecue addition since the early 1900s. It is made with kidney beans, wax beans, and green beans with chopped bell pepper and onions. Then it is marinated in a sweet vinegar olive oil. Serving it cold at your next barbecue will bring back memories for the older folks.
If you want to try this delicious salad, all you will need are white beans, cucumber, red onion, tomatoes, olives, and bell pepper topped with a honey lemon vinegar dressing. You can serve it cold or warm. Either way, it is delicious.
Check out some of our other great recipes for salads like this shrimp salad with shrimp, lemon, celery, and red onion tossed with Dijon mustard, garlic, lemon juice, dill, and mayo salad dressing. Another kind of salad you may enjoy is this tuna pasta salad with pasta shells, celery, bell peppers, green onions, sweet peas, and cheddar cheese with dill pickle dressing.
Follow us on Pinterest for more delicious recipes!
Ingredients needed:
What you need for this crunchy bean salad recipe are these ingredients. When you are ready to begin, find our recipe card at the bottom of the page for the complete instructions and exact measurements.
White beans: Rinsed and drained.
Sliced English cucumber
Finely diced small red onion
Ripe cherry tomatoes: Cut in half.
Yellow bell peppers: Seeded and diced.
Red bell peppers: Seeded and diced.
Pitted kalamata olives: Cut in half.
Fresh parsley: Roughly chopped.
Fresh dill: Chopped.
Freshly shaved parmesan cheese
For the dressing:
Mayonnaise
Greek yogurt
Honey
Minced garlic cloves
Lemon zest
Lemon juice
Apple cider vinegar
Sea salt
Ground black pepper
How to make crunchy bean salad from scratch?
Mix it all up: First, add all the salad ingredients to a large bowl.
Make the dressing: Then, mix the salad dressing ingredients in a small bowl. Use a whisk to get it thoroughly combined.
Add and toss: Next, pour the salad dressing into the salad and toss gently with a wooden spoon.
Garnish and serve: Last, garnish with herbs and parmesan cheese before serving.
Recipe variations:
Add fresh herbs: You can add your favorite spices and herbs such as thyme, rosemary, garlic powder, onion powder, smoked paprika, or whatever else you like.
Olive oil: Feel free to use extra virgin olive oil instead of mayo for the salad dressing.
Other colors: If you cannot find red or yellow bell peppers, you can use green, orange, or whatever color you can find.
Dijon: For an extra bit of sweetness and tanginess, add a tablespoon of Dijon mustard to your salad.
More veggies: You can also add other veggies for different flavors such as white or green onions, shredded carrots, chopped celery, and broccoli.
Add more crunch: Toss in some other crunchy chia seeds, flax seeds, quinoa, edamame, and tofu.
Spice it up: Spicy food lovers would enjoy some red pepper flakes.
More protein: For extra protein, add chopped hard-boiled eggs and bacon bits.
How to serve:
For a fast and easy side dish, toss these fresh ingredients together and you can have it ready in minutes. These are some of our serving suggestions you can try. Or feel free to share your ideas at the bottom of the page in the comments section.
For a richer flavor, sprinkle some romano cheese on top before serving.
Feel free to use your own favorite salad topping or try one of our homemade dressings like Italian or Catalina.
Slice some fresh avocado to add to the top of your salad.
Use leftovers for salads, soups, or stew.
Make your crunchy bean salad even crunchier by adding sunflower seeds or some chopped nuts.
For a heartier meal, add some meat like chicken. Try our easy recipe for grilled chicken.
In fact, you can add fruit to this salad as well. Toss some sliced strawberries or add a handful of blackberries on top.
Frequently asked questions
What other kinds of beans can I use for this crunchy bean salad?
You can use any kind of firm beans you like such as pinto beans, canned cannellini beans, white or red kidney beans, garbanzo beans, black beans, or even chickpeas and green beans. As long as they are solid enough to stand up to being stirred with the rest of the ingredients without getting too mushy. Feel free to use dry beans or cooked beans as well.
What is the best way to cook beans?
First, bring a large pot of water to boil. Make sure it has plenty of salt. Once it boils, add beans and let them cook until they are tender but still crisp, about four minutes. Drain and rinse under cold water for about 30 seconds. Shake off excess water and let beans dry on a paper towel. Let them cool completely before adding them to your salad.
Is this a good diet food?
Depending on your serving size, how much of each ingredient you use, and if you add anything, this crunchy bean salad is high in fiber, low in fat, and has no cholesterol. In fact, with all vegetables and beans, you cannot get much healthier than that. You can use primarily Greek yogurt instead of mayo to cut more fat and calories but everything else is good.
What are the nutrition facts in this recipe?
Every serving has about 200 calories, 5 grams fat, and less than one gram of saturated fat. There is no cholesterol, only 11 grams of carbs, 170 mg sodium, and just 3 grams sugar. You also get 5 grams protein, 3 mg iron, 424 mg potassium, 730 units vitamin A, and 412 mg potassium.
How to store leftovers:
Store: Keep leftover salad in the fridge in a sealed container. It will stay fresh for several days. If it already has salad dressing on it, the veggies may get soft, but they will also be more flavorful.
Freeze: You can freeze your leftover salad for about 90 days in a meal prep container or freezer bag.
Thaw: For the best flavor and texture, thaw your leftover salad overnight in the fridge.
More salad recipes to try:
Recipe tips:
Using a food processor or chopper to cut all your veggies for faster prep time. Try to get them about the same size so you get a burst of flavor in every bite.
You can use this recipe for meal prep and make-ahead meals. Just keep the salad dressing separate so it does not get soggy.
Prepare several hours in advance for your meal. Letting it chill before you eat it makes it taste even more delicious.
It is best to wait until serving to add the dressing or your salad may not be crunchy anymore.
You can always leave out the mayo and yogurt completely for those without dairy or a vegan diet.
Feel free to add or remove anything that makes this salad more flavorful for your family.
For a sweeter salad, leave out the vinegar.
The nutrition, calories, and fat numbers are approximate.
Crunchy Bean Salad
Ingredients
2

cans

15oz each of white beans

rinsed well and drained

1

long English cucumber

sliced

1

small red onion

finely chopped

2

cups

cherry tomatoes

halved

1

yellow bell pepper

seeded and diced

1

red bell pepper

seeded and diced

1/3

cup

pitted kalamata olives

halved

1/3

cup

fresh parsley

chopped

1/2

bunch fresh dill

chopped

1/3

cup

freshly shaved parmesan cheese
Dressing:
1/4

cup

mayonnaise

1/4

cup

Greek yogurt

2

cloves

garlic

minced

zest and juice of 1 large lemon

1

teaspoon

apple cider vinegar

1

tablespoon

honey

Salt and ground pepper

to taste
Instructions
Rinse and drain the beans, and add them to a bowl.

Chop the rest of the ingredients and add them to the same bowl.

Add the parmesan cheese as well.

Mix all the dressing ingredients in another bowl.

Next, add the dressing to the salad. Stir to combine.

Garnish with more parmesan cheese and herbs. Serve.