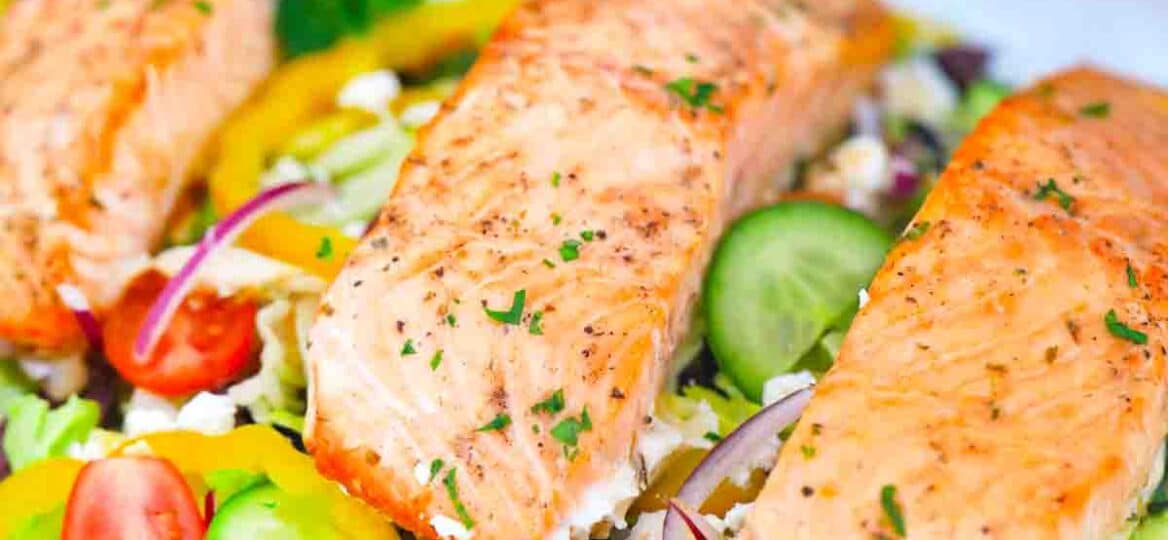 Greek Salmon Salad Recipe with Lemon Dressing
Greek Salmon Salad is made with juicy salmon fillets, crunchy vegetables, and creamy feta, all coated in a homemade lemon mint vinaigrette. The cooked salmon is perfectly seasoned and blended with soft feta cheese, olives, and other vegetables so it goes well with anything. Or you can serve this as a lunch or dinner meal on its own.
Looking for other salad recipes? Try our crunchy and sweet Arugula Strawberry Salad made with arugula, goat cheese, avocado, onions, radishes, and strawberries. Then it is tossed with our homemade balsamic vinaigrette with lemon juice, syrup, garlic, and balsamic vinegar. For a different kind of salad, this Mediterranean Couscous Salad is healthy and delicious with homemade couscous, sun-dried tomatoes, olives, green onion, cucumbers, cherry tomatoes, bell pepper, and feta cheese.
If you think the Greek salad came from Greece, you are correct. However, it was actually called horiatiki salad. According to Greek historians and foodies, it was first made by a restauranteur in Athens who was trying to pass it off without violating the salad tariff. There had been a cap on the sales price of certain essential items and salad was one of them. To be able to charge more for it, he added feta cheese, which was a non-essential item. And the Greek salad was born!
You can mix up this meal in a hurry and the salmon fillets only take a few minutes to cook so you could have them for dinner tonight! Greek salmon salad is just baked salmon with a Greek salad and tangy mint vinaigrette. You will get lots of filling veggies and spices like fresh dill, oregano, paprika, peppers, tomatoes, romaine lettuce, and red onion.
If you have been searching for other healthy recipes that also taste delicious, we have them! Our healthy honey lemon chicken recipe has just a few ingredients including chicken breasts, brown rice, and honey lemon glaze made from scratch.
Ingredients needed:
To make this Greek salmon salad recipe, gather these ingredients first. Then, go down to the bottom of the page to find our recipe card for complete instructions and measurements.
For the salmon:
Salmon fillet: Cut into four pieces.
Olive oil
Dried oregano
Garlic powder
Kosher salt and black pepper
Salad ingredients:
Greek feta: Crumbled.
Pitted kalamata olives: Halved.
Small red onion: Thinly sliced.
English cucumber: Chopped into rounds.
Red or orange bell peppers: Cored and sliced.
Cherry tomatoes: Halved or quartered.
Chopped romaine lettuce
For the dressing:
Fresh mint leaves: With stems removed.
Minced garlic cloves
Extra virgin olive oil
Honey or maple syrup
Red wine vinegar
Large lemon
Sweet paprika
Dried oregano
How to make Greek salmon salad from scratch?
Preheat oven: First, preheat your oven to 425 degrees F and move one of the oven racks to the middle.
Dry and season: While you wait, pat the salmon fillets dry on both sides and season them with garlic, oregano, salt, and pepper. Place them on a lightly oiled baking pan and brush the tops with olive oil.

Bake your salmon: When the oven is heated, cook salmon fillets for eight to 12 minutes or until it is easy to flake with a fork and has a golden crust.
Prep the veggies: In the meantime, prepare the salad by adding the olives, red onions, cucumbers, bell pepper, tomatoes, and lettuce in a large bowl. Do not add the cheese yet.

Mix up the dressing: Next, blend mint leaves, garlic, oil, vinegar, honey, lemon, and paprika plus a pinch of salt and pepper in a food processor.

Dress the salad: Now, pour approximately half of the dressing onto the salad greens and add the feta cheese on top.

Serve immediately: Last, add salmon to the salad and drizzle the remaining dressing on top before serving.
How to make grilled Greek salmon salad from scratch?
Heat the grill: Heat up your grill to medium-high heat and dry salmon fillets with a paper towel on both sides before seasoning them with salt, pepper, oregano, and garlic. Then, put them on a plate, brushing the top with oil.

Grill the fish: After the grill is hot, grill fillets for about four minutes on each side. Grilled salmon fillets should flake easily with a fork. If you want to cook inside, use a grill pan on the stove at 425 degrees F.
Mix the salad: As the salmon cooks, add all salad ingredients except the feta cheese to a large mixing bowl and toss.

Make your Greek vinaigrette: Now, put the salad dressing ingredients into a food processor and chop until it is all mixed. Pour half on the salad, add cheese, and toss while you let the salmon cool.

Dress and serve: Finally, place grilled salmon fillets on top of the salad and sprinkle leftover dressing over the top before you serve.
Recipe variations:
Herbs and spices: Add your other favorite herbs and spices like fresh dill, thyme, basil, or whatever else you like.
Lemon juice: Use lemon juice on your salmon fillets for extra citrus flavor.

Roast the peppers: Roasted red peppers would be a delicious idea instead of regular chopped peppers. You can buy them at the grocery store in a jar or make them yourself.

Marinated artichokes: Feel free to add some of your own favorite fresh veggies like marinated artichoke hearts, sliced ripe avocado, grape tomatoes, fresh corn, broccoli florets, grated carrots, or whatever you like.

Other cheese: You can use other cheese like gouda goat cheese, Humboldt fog, or ricotta.

Hot salmon: For some spiciness in your dish, add some red pepper flakes to your salmon when seasoning.

Different meat: Instead of salmon, try tuna or trout. You could also use chicken, turkey, pork, or beef.

No meat: Alternatively, you can leave out the meat and seafood completely for a vegetarian dish.
How to serve:
This is the perfect weeknight dinner with so much flavor, everyone will be asking for more, so you better make extra. It is a great recipe for summer when you do not want to spend your whole day in the kitchen cooking. Try one of these serving ideas or one of your own.
Sprinkle sunflower seeds, sesame seeds, or some other type of crunchy seed on top for extra protein, flavor, and crunch.

This goes great served on top of a bed of rice or pasta. Try it with our chipotle cilantro lime rice recipe.

Be sure to serve with extra dressing so guests can add as much as they like.

You should also set out small bowls of toppings like tomatoes, onions, shredded cheese, and even sour cream.

For a whole family meal, serve with our homemade Greek lamb burgers.

Whether you are making this for lunch or dinner, you will not need a side dish with all of the fresh veggies.

Chicken souvlaki is another tasty Greek recipe that would pair well with this Greek salmon salad.
Frequently asked questions
What are the best salad greens for this Greek salad recipe?
As long as you use fresh salad greens, you can use any kind for this recipe. From iceberg lettuce to romaine, kale, or spinach, anything green is good. Actually, it does not even have to be green. Toss in some red cabbage or leaf lettuce with crisp crunchy veggies and top it with flaky salmon for a totally delicious and healthy lunch or dinner.
What is in Greek dressing?
The classic Greek dressing you find in Greek restaurants typically contains dried oregano, minced garlic, dijon mustard, lemon juice, red wine vinegar, and olive oil. The dressing in this recipe has all of that except the mustard but also includes mint leaves, sweet paprika, and honey or maple syrup. You may also like our Greek salad dressing recipe.
Is salmon healthy?
Salmon has a lot of protein and tons of vitamins like selenium, potassium, and vitamins A, B12, and C. It is low in carbs and sugar too and gives you plenty of calcium, fiber, and omega-3 fatty acids, which have a lot of healthy benefits. This awesome recipe gives you all the benefits of salmon as well as fresh veggies and deliciously fresh herbs and spices to bring out the flavor in every bite.
What are the nutrition facts in this recipe?
For those worried about nutrition, calories, and fat, this salad is perfect! You get about 499 calories, 12 grams carbs, and 34 grams fat as well as 5 grams saturated fat. There is also 93 mg cholesterol, 980 mg sodium, and 5 grams sugar. On the good side, there is 40 grams protein, 3 mg iron, 70 mg calcium, 17 mg vitamin C, 2,700 units vitamin A, 170 grams vitamin B12, 5 grams fiber, and 1,344 mg potassium.
How to store leftovers:
Store: Refrigerate leftover salad and salmon in an airtight container for up to three days.
Freeze: To keep salmon even longer, just put it in a freezer-safe container or freezer bag and you can freeze it for up to three months. However, lettuce does not freeze well so you may want to remove that first.

Thaw: Be sure to thaw your frozen leftovers in the fridge overnight before serving.
Reheat: No need to reheat. However, if you want the salmon fillets warm, just pop them in the microwave for 30 to 60 seconds.
More salmon recipes to try:
Cooing tips:
Shorten prep time by using canned salmon. But make sure you get the best quality available.

You could also shorten prep time by chopping veggies the day before.
For easier mixing, add all the dressing ingredients to a jar with a lid and shake it.
To be absolutely sure the salmon filets are done cooking, use a meat thermometer. Fully cooked salmon should read 130 to 140 degrees F when finished.
Chop all the vegetables about the same size for better flavor and conformity. But make sure you thinly slice the raw onion, so it does not overpower the other flavors.
Wild-caught salmon has less fat, fewer calories, and a lot more flavor.

If you do not have a food processor, you can use a small bowl and a chopper or a blender.
Greek Salmon Salad
Ingredients
For the salmon:
1

lb

Salmon fillet

divided into 4 equal pieces

2

tablespoons

olive oil

1

teaspoon

garlic powder

Kosher salt and black pepper

to taste

1 1/2

teaspoon

dried oregano
Salad:
8

oz

Romaine lettuce

chopped

10

oz

cherry or grape tomatoes

sliced in half or quatered - depends how big they are

1

red bell

cored and sliced into rounds - you can use any color

1

English cucumber

sliced into rounds

1

small red onion

thinly sliced

1/2

cup

Kalamata olives

pitted and sliced in half

1

cup

Greek feta

crumbled
Lemon vinaigrette
1/2

cup

extra virgin olive oil

use high-quality oil

1

large lemon

1

teaspoon

red wine vinegar

1

tablespoon

honey

or maple syrup

3

garlic cloves

minced

15

fresh mint leaves

no stems - optional

1

teaspoon

dried oregano

1/2

teaspoon

sweet paprika
Instructions
Preheat oven to 425 degrees F and position a rack in the middle of the oven.

Place the salmon on a cutting board, pat dry it with paper towels o both sides. After that, season it with kosher salt, pepper, garlic, and dried oregano.

Arrange the fish on a lightly oiled baking pan and brush the top with extra virgin olive oil. Bake the salmon in the heated oven for 8 to 12 minutes, or until it's done.
Salad:
While the salmon cooks, prepare the ingredients for the salad, wash, chop, and slice as needed.

Add all the ingredients, except feta, to a large bowl.
Salad dressing:
In the bowl of a food processor fitted with the blade attachment, add the vinaigrette ingredients. Blend until smooth and season with salt and pepper to taste.

Pour about half of the vinaigrette over the salad and toss to combine. After that, add the feta cheese and toss.

Next, add the salmon and drizzle the remaining vinaigrette on top of it. Serve and enjoy.
Deliciousness to your inbox
Enjoy weekly hand picked recipes and recommendations