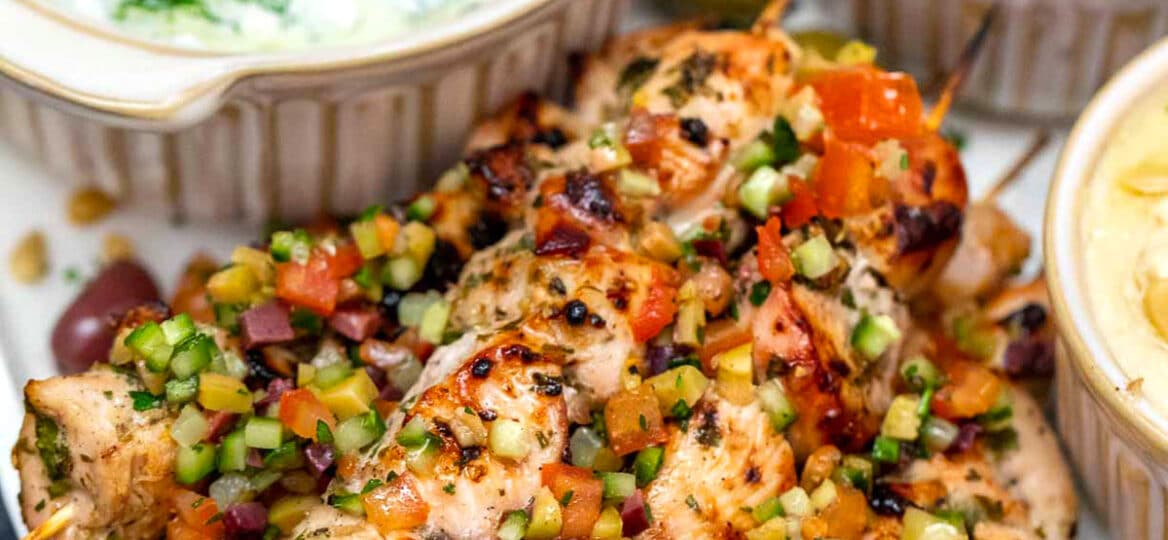 Grilled Chicken Souvlaki Recipe [Video]
Chicken Souvlaki is a tasty Greek dish, made with marinated chicken chunks, topped with a tomato olive relish and served with a creamy yogurt dip on the side.
Who else likes grilling? I do! It is so easy to cook and eating anything on skewers is fun! Try this recipe along with my other recipes like Grilled Shrimp Tacos, Grilled Chicken Fajita Salad, and Grilled Potatoes!
Greek Chicken Souvlaki Recipe
Chicken Souvlaki is one of the trademark dishes of Greek cuisine. It is a popular street food over there, and it makes sense why, as its healthy and delicious.
Grilling, as a cooking method, has been around since ancient times. And this dish is still around today! It is easy to prepare and in no time, you get a hearty meal.
Preparing it implies marinating the meat chunks which keeps them moist as you cook them on the grill. The marinade also imparts flavors from herbs, spices, and seasonings.
And my favorite part is eating it with the refreshing yogurt sauce and tomato, cucumber and olive relish! Both the sauce and relish add flavor and the creaminess pairs well with the grilled meat.
Serving it at a party is easy with the skewers. All you need to do is provide the guests with a buffet of pita bread, flatbread, and hummus to which they can help themselves out. Try it!
What is Chicken Souvlaki?
It is a dish made of marinated chicken chunks that are put on skewers before grilling. It is usually served with a yogurt sauce or Tzatziki Sauce.
Sometimes, it is served as a filling in a piece of pita bread and garnished with other vegetables.
What is the difference between chicken souvlaki and chicken gyro?
The gyro is highly similar as it is meat served on a piece of pita bread also. It is very similar to souvlaki, but the difference is how you prepare the meat.
In a gyro, you shred the meat from the skewered that is rotating mechanically, doner kebab-style.
How to Make Chicken Souvlaki
Marinate: First, combine all the marinade ingredients in a bowl or in a ziplock bag. Then, put the chunks of white meat in. Toss to coat each piece. Marinate for no longer than an hour.
Preheat: Prepare the grill, grill pan, or broiler.
Cook: Thread the meat onto skewers and grill all sides until thoroughly cooked and no longer pink. It may take 5 minutes per side. If you are going to broil them, it may take 8 to 10 minutes. While cooking, you may prepare the sauce.
Prepare the yogurt sauce: Mix all the ingredients in a bowl, season with salt and pepper to taste, then, garnish with olive oil and dill. Refrigerate for later.
Prepare the relish: Simply combine all ingredients in a bowl and mix thoroughly, then, season with salt and pepper.
Serve: Serve the souvlakia with the sauce and the relish.
Is Chicken Souvlaki healthy?
Yes! It is one of the healthiest Greek dishes out there. The meat itself is a good source of protein and marinating it with olive oil and herbs makes it rich in antioxidants, too.
Make it even healthier by eating it with vegetables for fiber and with whole wheat pita bread for carbs.
What to serve with Chicken Souvlaki?
Serve it with some pieces of pita bread, flatbread, hummus, and olives.
You can also serve it with greens, or some roasted vegetables, and another favorite, the Tzatziki Sauce!
How to Store:
Separate the meat from the sauce and the relish and refrigerate everything in separate containers.
The meat will stay good for up to 5 days while the sauce and the relish will only be good until the next day.
When ready to serve again, just reheat in the microwave or on the stove.
Recipe Tips:
Make this ahead by marinating the meat in advance then, freezing it with the marinade. When ready to cook, simply transfer it from the freezer to the refrigerator to start the thawing the night before.
Aside from chicken, you can also use pork, beef, lamb, or fish. You can also use thighs instead of breasts if you like.
If you will use bamboo skewers, soak them in water first for about 30 minutes so they will not burn during grilling.
Deliciousness to your inbox
Enjoy weekly hand picked recipes and recommendations