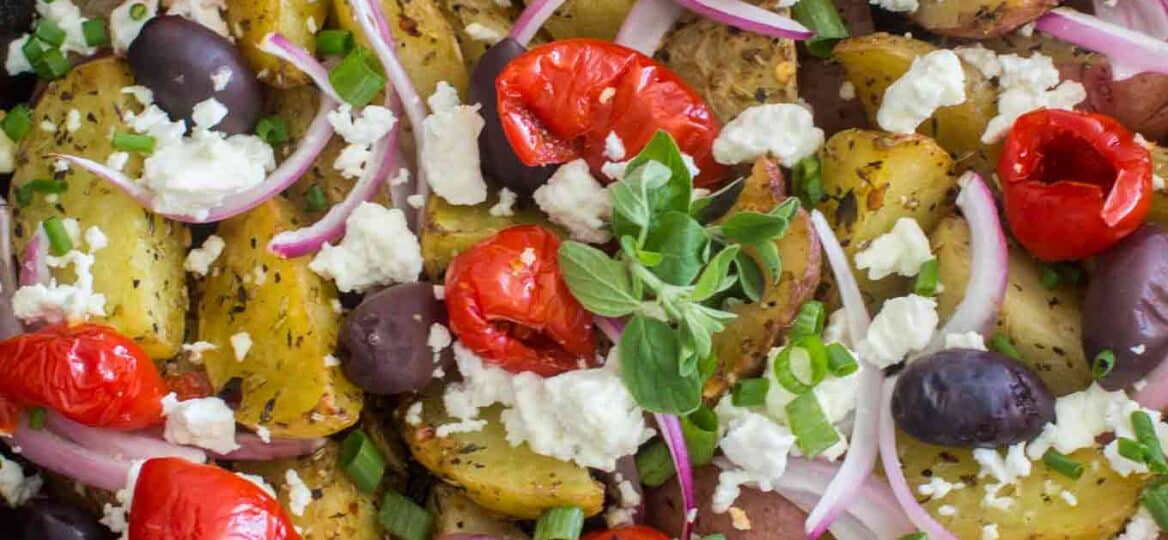 Oven Baked Greek Potatoes [Video]
Oven Baked Greek Potatoes are one of the easiest and tastiest side dishes that can pass as an appetizer too. Loaded with kalamata olives, capers, and feta!
When it comes to the perfect and easy side dish, this is the one I always crave. This recipe is super easy to make, and it looks festive and tastes delicious. You can pair it with slow cooker ribs, meatloaf, and oven baked chicken.
Easy Oven Baked Greek Potatoes
Greek Potatoes in the oven are our favorite side dish. If you have to pick a favorite cuisine, which one would it be? For me, Mediterranean ranks very high, closely followed by Japanese and Italian. This dish is my latest obsession. It's never too hot outside for me to turn on the oven because these babies are totally worth it. The potatoes are seasoned with lots of herbs for outstanding flavor after that are baked to crispy perfection. To make them even more irresistible, the Oven Roasted Greek Potatoes are mixed with a good amount of minced garlic and capers.
The crispy and tender potatoes are topped with kalamata olives, spicy peppers, red onion, green onion, chives and obviously lots of feta cheese. I served this pan of potatoes for lunch with a light salad of kale and avocado and my husband went nuts for these potatoes. He basically ate them as a main dish and asked me if I can make them again tomorrow. This recipe is so easy to make and it would be the perfect appetizer or side dish. It is loaded with flavors and textures and I guarantee you that they will be a huge success.
Essentials to make the Oven Roasted Greek Potatoes Recipe:
Dried Thyme – has a subtle, dry aroma and a slightly minty flavor, it goes well with fish and poultry and is often used in Mediterranean recipes.
Dried Rosemary – its a very powerful herb, that actually preserves its aromas very well in dried form. It has a woodsy flavor, with notes of pine and lemon, and it pairs great with potatoes.
Dried Oregano – it has a very strong, slightly bitter, pungent flavor with earthy, minty notes and is widely used in Mediterranean cuisine.
Dried Marjoram – very similar in taste and flavor with Oregano, these too often get confused, but Marjoram has a lighter not as strong flavor. It is also sweeter and more delicate, with notes of pine and citrus. I like to combine it with Oregano, to create a full flavor palette.
Capers – growing wild along the Mediterranean coastline, they are very popular in that cuisine, especially paired with fish and used in dressing, sauces and pasta recipes. Capers have more of an acquired taste, they are sharp, tangy, briny and salty taste with a pungent aroma and some lemon undertones.
Cast Iron Skillet or Baking Dish – you can use a cast iron skillet for this recipe or a baking dish. The idea is to have the potatoes almost in a single layer, you want them tight together, but do not overlap mush, so they get the change to brown uniformly.
Olive Oil – since we are making Greek potatoes here, using olive oil is only appropriate as it adds extra flavor to the dish. However, if you don't have any on hand, any other cooking oil will work.
Oven Roasted Greek Potatoes Toppings:
Freshly grated lemon zest
Crumbles feta cheese
Chopped green onions
Sliced red onion
Chopped chives
Fried pancetta
Banana Peppers
Main dishes that would pair well with Greek Potatoes:
Watch Recipe Step by Step Video:
PIN THIS RECIPE TO YOUR FOOD BOARD
Deliciousness to your inbox
Enjoy weekly hand picked recipes and recommendations