Slow Cooker Ribs are super tender and easy to make. With little effort, you will have the most incredible melt-in-your-mouth ribs. Cooked in a delicious homemade BBQ sauce, this dish is far better than at any restaurant.
Slow cooker recipes are our favorites because they are tasty and easy to prepare. These delicious ribs are cooked perfectly in it resulting in tender, fall-off-the-bone baby back pork ribs. They are covered in a delicious barbecue sauce with caramelized edges. I like to pair them with some corn on the cob, roasted potatoes, or some baked beans.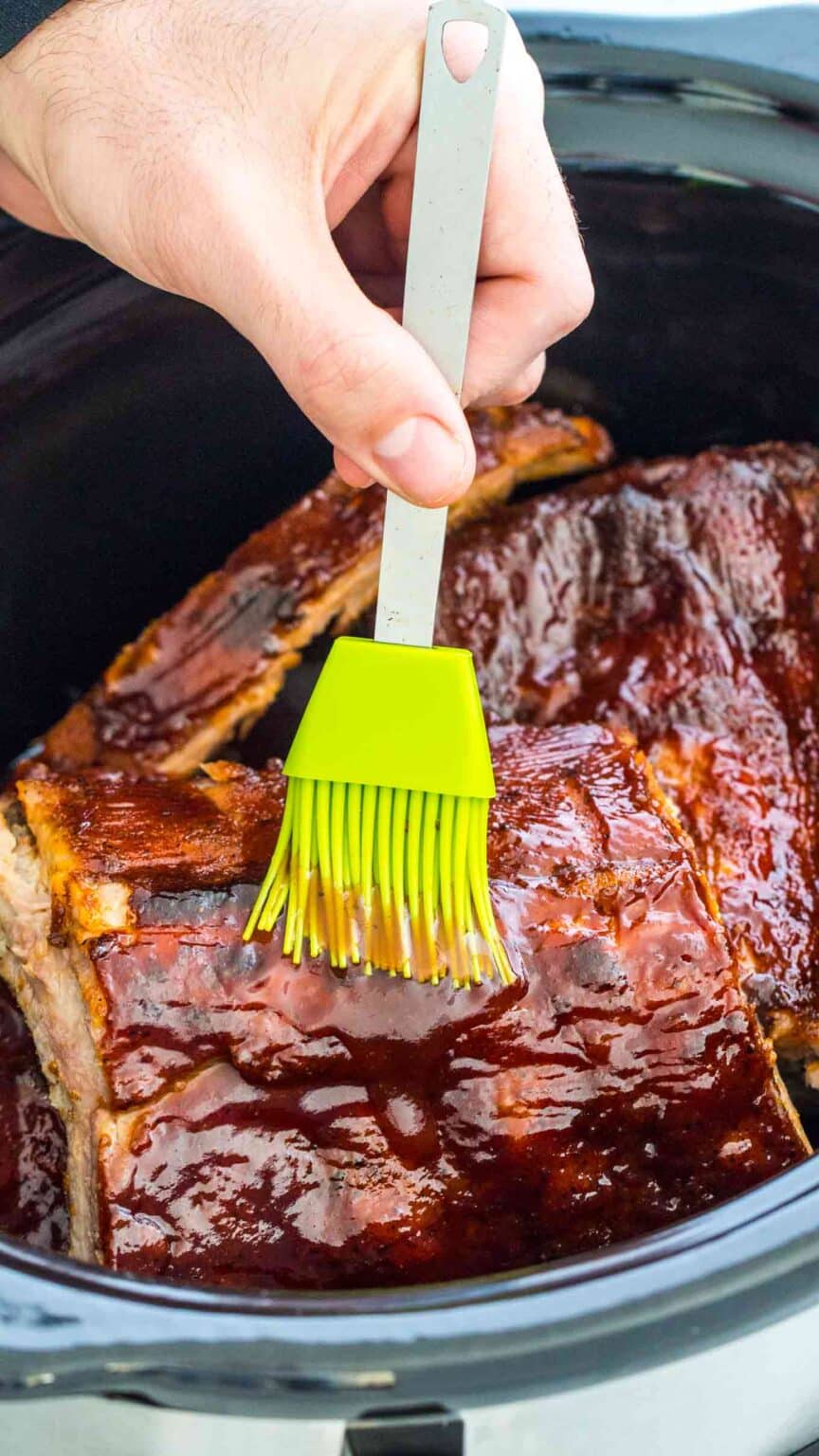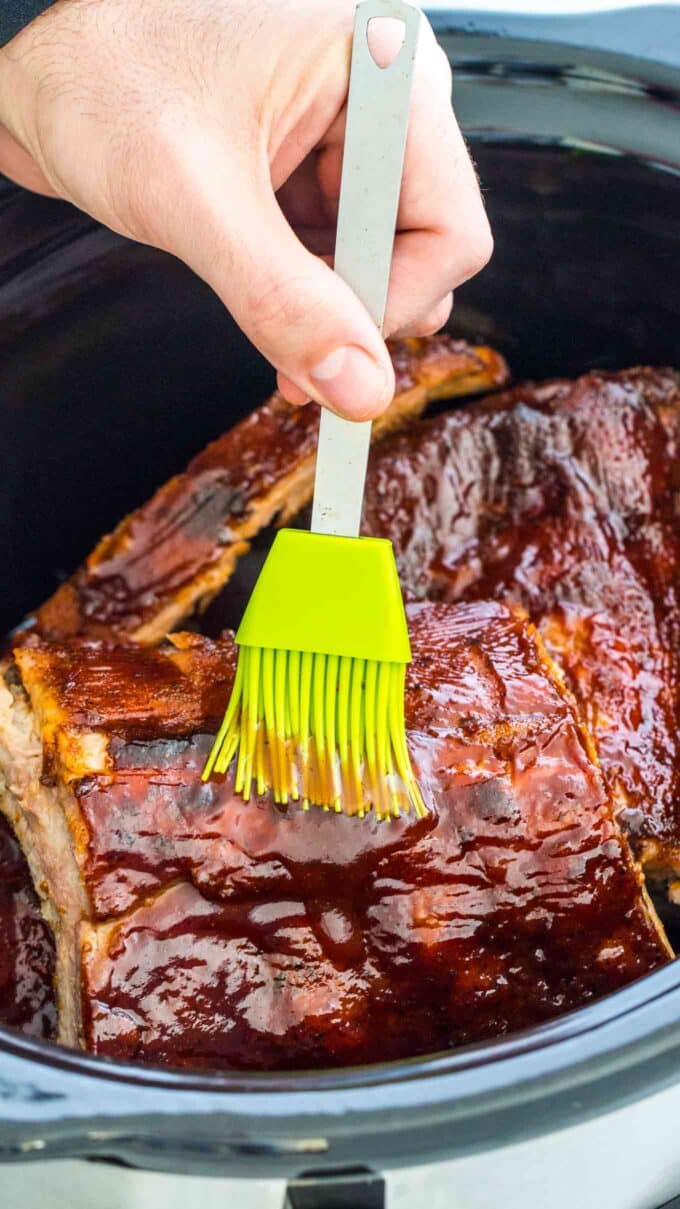 Crock Pot Barbecue Ribs Recipe
I have already shared with you these oven-roasted barbecue ribs which are cooked in my favorite bbq sauce. But I have to admit, that if you are looking for bone tender ribs, then cooking them in the crockpot is the best way.
These crockpot ribs are perfectly cooked every time we make them. It is a great recipe because they're cooked in the crock pot on low heat, and over a longer period of time. This results in moist, juicy, and flavorful ribs.
I like coating them with the spice rub and then using extra bbq sauce prior to cooking. The crockpot does all the work, and anyone can easily master this recipe. Also, it requires a few simple ingredients, and only 15 minutes to prepare. Then, simply set the cooking time and place them inside the pot for a perfect Sunday dinner or game day.
This homemade pork recipe will work with any kind of ribs. Usually, we go with baby back, because we are just so used to are always available at our local grocery store.
However, country-style or spare ribs will work just as well. Once slowly cooked, we brush them with the delicious homemade barbecue sauce. Then, we broil them for an extra 3-4 minutes. This makes them the best slow cooker ribs with crispy skin on the outside, and nice caramelized edges.
Ingredient lists:
You will need the following ingredients:
Rack of ribs: Feel free to use your favorite type. Baby back, spare ribs, or country style pork ribs are all great to cook in the crockpot. So, go with what you have on hand or like the most.
Dry rub: Made with brown sugar, garlic powder, onion powder, smoked paprika, ground cumin, cayenne pepper, salt, and black pepper.
Homemade barbecue sauce: Made with ketchup, sweet chili sauce, apple cider vinegar, brown sugar, garlic powder, liquid smoke, and red pepper flakes.
How to make the best slow cooker ribs?
First, remove the thin membrane (see the steps below).
Next, cut the rack into a few sections, based on how you prefer to eat them.
Then, in a small bowl, mix the rub ingredients to season the meat. Simply, sprinkle the dry rub evenly over the meat.
Pre-bake them for about 10 minutes on each side if you have time. This will lock in the juices and render some of the fat.
Lastly, add the ribs to the slow cooker, and pour the barbecue sauce all over them to evenly coat them. Then, cover and cook. Also, if you are not a fan of BBQ sauce, skip this step, but coating them with homemade sauce gives them a rich and delicious flavor.
How long to cook ribs in a crock pot?
Cooking time will vary based on preferences. As a general rule, the longer the cooking time the juicier and more tender the meat will be. For the best result, cook them on a low setting for 7-8 hours, or on a high setting for 3-4 hours.
This will result in soft but stay on the bone meat.
Also, cooking them on LOW for 9 hours, or HIGH for 5 hours, will result in super tender and fall apart meat. Once done cooking, baste them with extra BBQ sauce and broil for additional 3-4 minutes until perfectly brown.
Baby back ribs vs spare ribs
As stated above this recipe works with both types. Therefore, go with your favorite choice.
Just remember that baby back ribs are smaller in size and also shorter compared to spare ribs. This means a rack of them will feed fewer people (about 2-3 people), but at the same time are a bit more tender and leaner.
On the other hand, spare ribs have more meat on them and also more fat. This adds extra flavor when cooked. A rack of spareribs will feed about 3-4 people because they are also large in size and are meatier.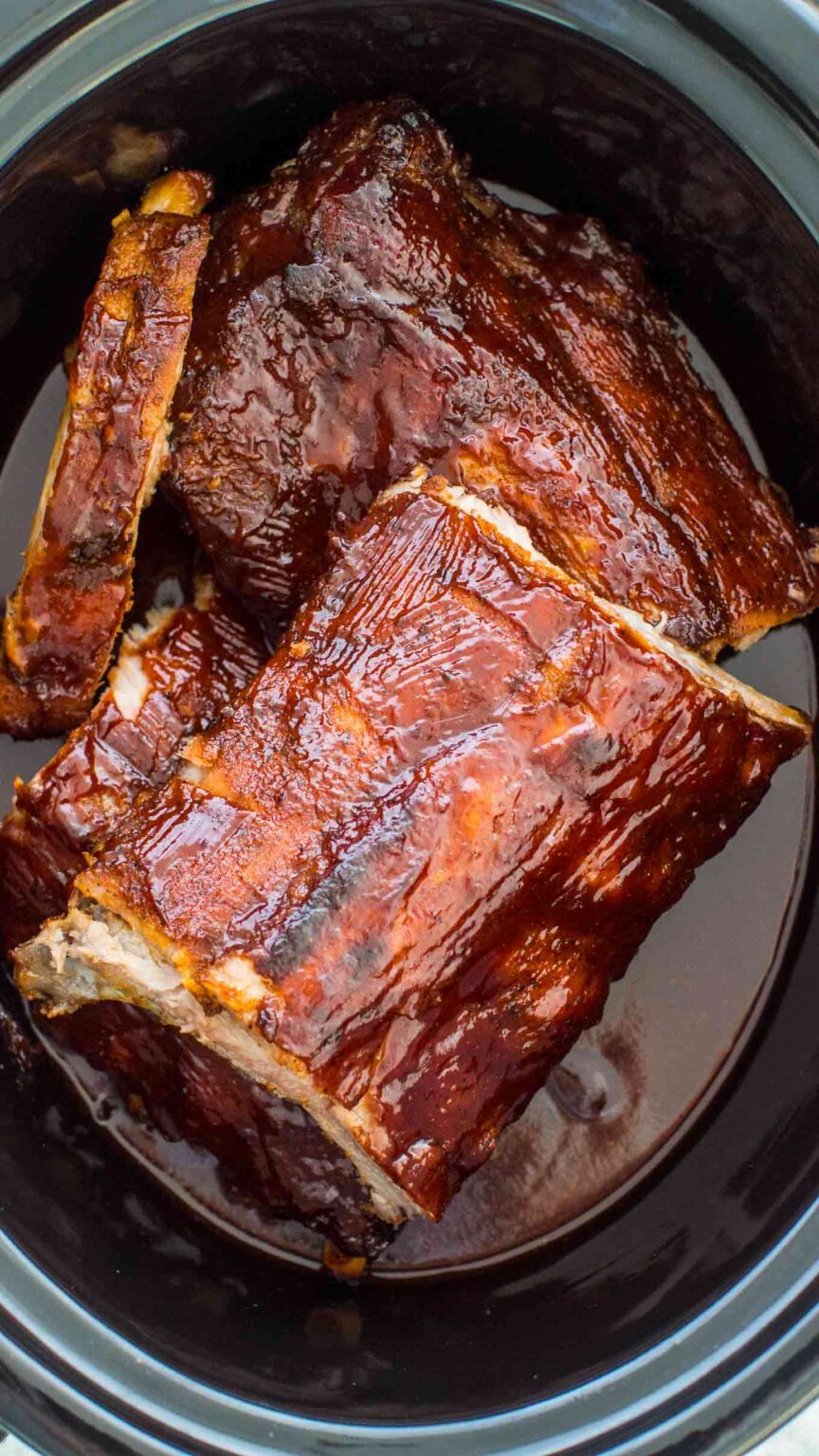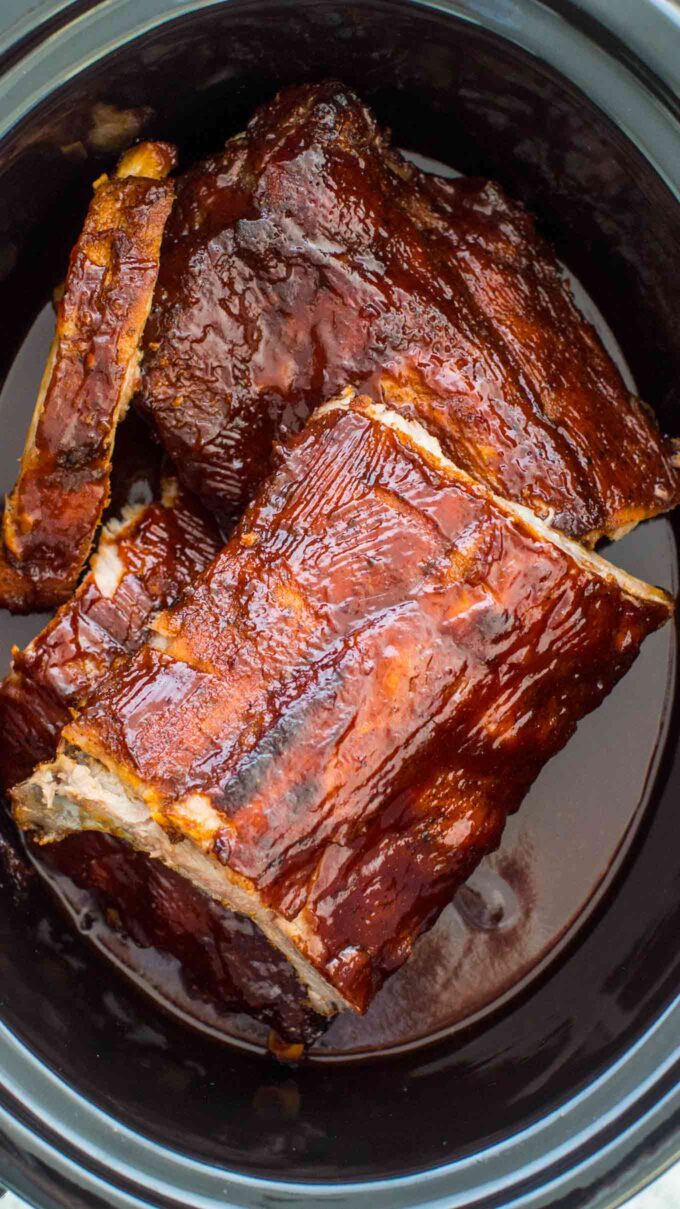 How to make the homameda barbecue sauce mixture?
You can use store-bought sauce to coat them, but our homemade version is finger-licking good! All you need is to mix the sauce ingredients together till they are smooth.
How to remove the thin membrane from the ribs before cooking?
Some racks are sold with the membrane already removed. In that case, you do not have to worry about this step. But, if the membrane is still attached, it is best to remove it, as it will result in more flavorful and tender meat.
First, just flip the ribs so the meaty side part is face down.
Then, slide your fingers under the membrane and rip it off.
You can use a paper towel to hold and yank it off.
Instant Pot Barbecue Ribs
Making this recipe in the Instant Pot will save you a lot of time. Yet, you will end up with the same juicy and fall of the bone-tender meat.
It is also a great alternative for a quick dinner, especially during busy weeknights. Since the meat is cooked under pressure, the cooking time is drastically reduced. You can check the full Instant Pot Ribs recipe here.
What to serve with them?
Here are some great side dishes to go with crock pot bbq ribs: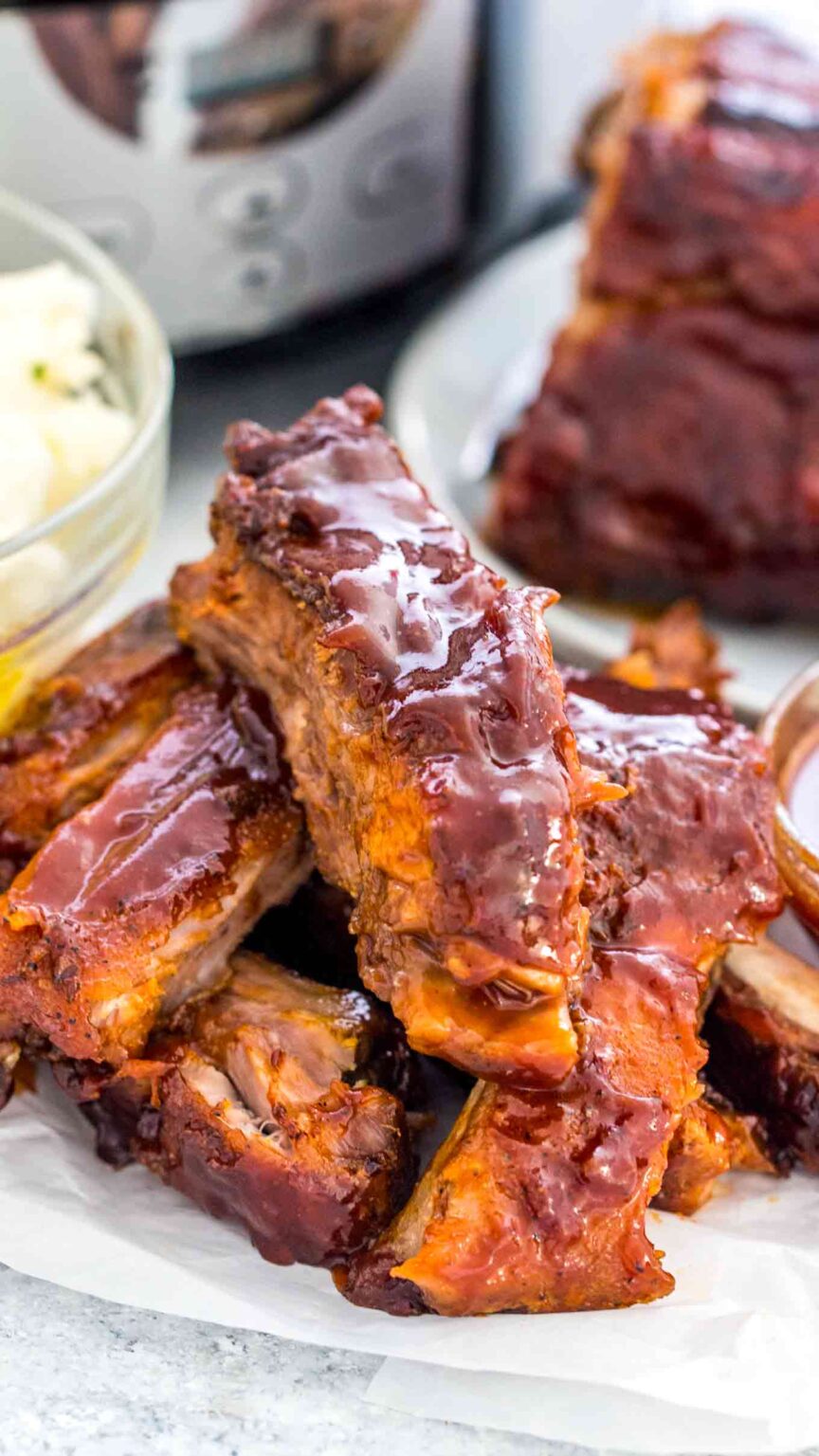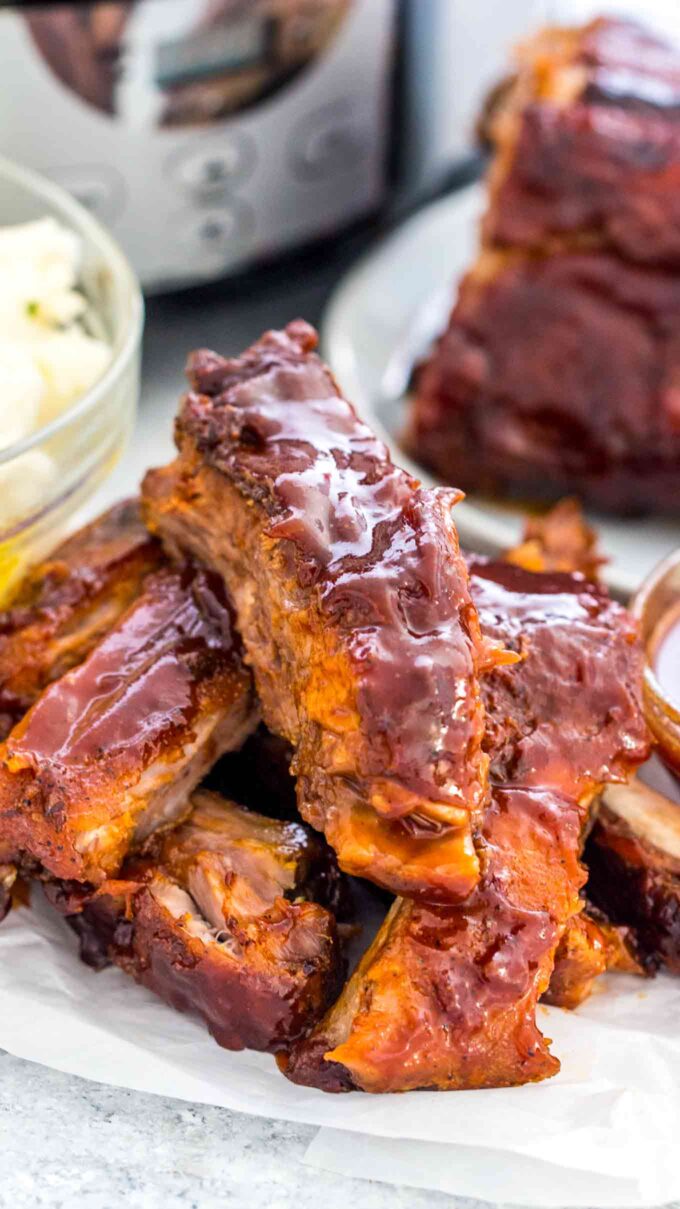 Storing instructions:
Refrigerate: Once cooked, make sure they are completely cooled down. Then transfer them into an airtight container or wrap tightly with heavy-duty aluminum foil or plastic wrap. They will maintain the best quality if properly stored in the fridge for up to 3-4 days.
Freeze: I would not recommend freezing because the glaze will not hold well. However, if you still want to freeze them, use a freezer-safe dish. Then, freeze them for up to 3 months.
Reheat: Feel free to reheat them in the microwave for a few minutes until fully warm. Alternatively, place them on a baking sheet and pop them into a preheated oven at 375 degrees F, and cook them for about 5-10 minutes till warm.
More slow cooker dishes to try:
Cooking tips:
Brown sugar is essential for the bbq sauce. Therefore, try not skipping it.
Also, I would say that one of the main ingredients here is garlic powder. It gives quite a lot of flavor to the whole dish. So, do not skip it.
In addition, feel free to use other seasonings as well, such as chili powder, or ranch seasoning.
Remember to place ribs UPRIGHT in the slow cooker when cooking. Then, you the homemade bbq sauce over them.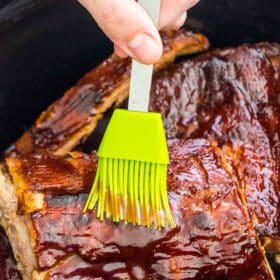 Slow Cooker Ribs
Crockpot Ribs are super tender and easy to make. With little effort, you will have the most incredible melt-in-your-mouth ribs. Cooked in a delicious homemade BBQ sauce, this dish is far better than at any restaurants.
Save
Share
Print
Pin
Rate
Ingredients
Dry Rub:
2

tablespoons

brown sugar

2

tablespoons

garlic powder

2

tablespoons

onion powder

1

tablespoon

smoked paprika

1/2

tablespoon

ground cumin

1

teaspoon

cayenne pepper

2

tablespoons

kosher salt

1

teaspoon

black pepper
Sweet and Spicy BBQ Sauce:
1 1/2

cups

ketchup

1/2

cup

sweet chili sauce

1/4

cup

apple cider vinegar

1/4

cup

water

2

tablespoons

brown sugar

1/2

teaspoon

salt

1/4

teaspoon

garlic powder

1

tablespoon

liquid smoke

(optional)

1/2

teaspoon

red pepper flakes

(optional)
Instructions
Spray the inside of a 6-quart crockpot with cooking spray. Set aside.
Dry Rub:
Add all the ingredients to a medium bowl and whisk together.
Sweet and Spicy BBQ Sauce:
Combine all the ingredients in a bowl and stir to combine.
Prepare and Cook Ribs:
Remove membrane from ribs and discard. See posts for detailed instructions on how to remove it.

Rub the dry rub all over the ribs.

Arrange in the crockpot and pour half of the bbq sauce on top.

Cook on low for 8-9 hours or on High for 5 hours.
Broil:
Once the ribs are tender, transfer them to a rimmed baking sheet covered with foil.

Brush remaining BBQ sauce on top and broil for 5-10 minutes.

Let rest for 10 minutes before serving.
Nutrition
Calories:
379
kcal
|
Carbohydrates:
39
g
|
Protein:
20
g
|
Fat:
16
g
|
Saturated Fat:
5
g
|
Cholesterol:
65
mg
|
Sodium:
3374
mg
|
Potassium:
526
mg
|
Fiber:
1
g
|
Sugar:
31
g
|
Vitamin A:
1090
IU
|
Vitamin C:
3.3
mg
|
Calcium:
64
mg
|
Iron:
1.8
mg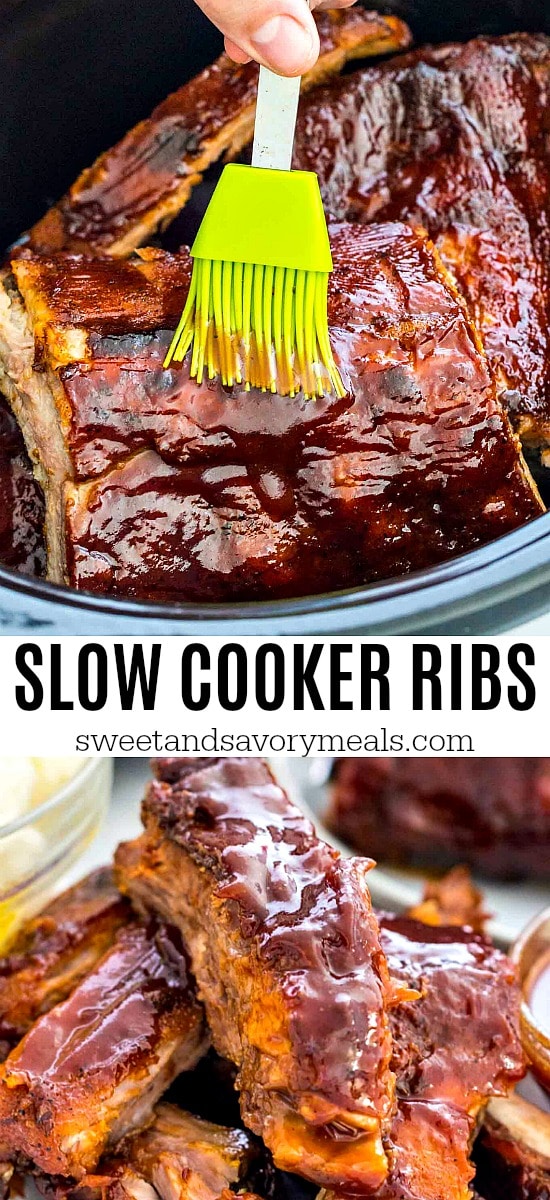 More recipes you might love