Best Instant Pot Baked Beans From Scratch [Video]
Instant Pot Baked Beans are very easy to make and you don't need to soak them at all! Enjoy homemade perfect baked beans from scratch, made in just over one hour.
Instant Pot recipes are a staple around here. We love making easy meals and side dishes with it. Other popular side dishes that you will enjoy are IP Corn on the Cob, IP Mashed Potatoes, and IP Roasted Potatoes.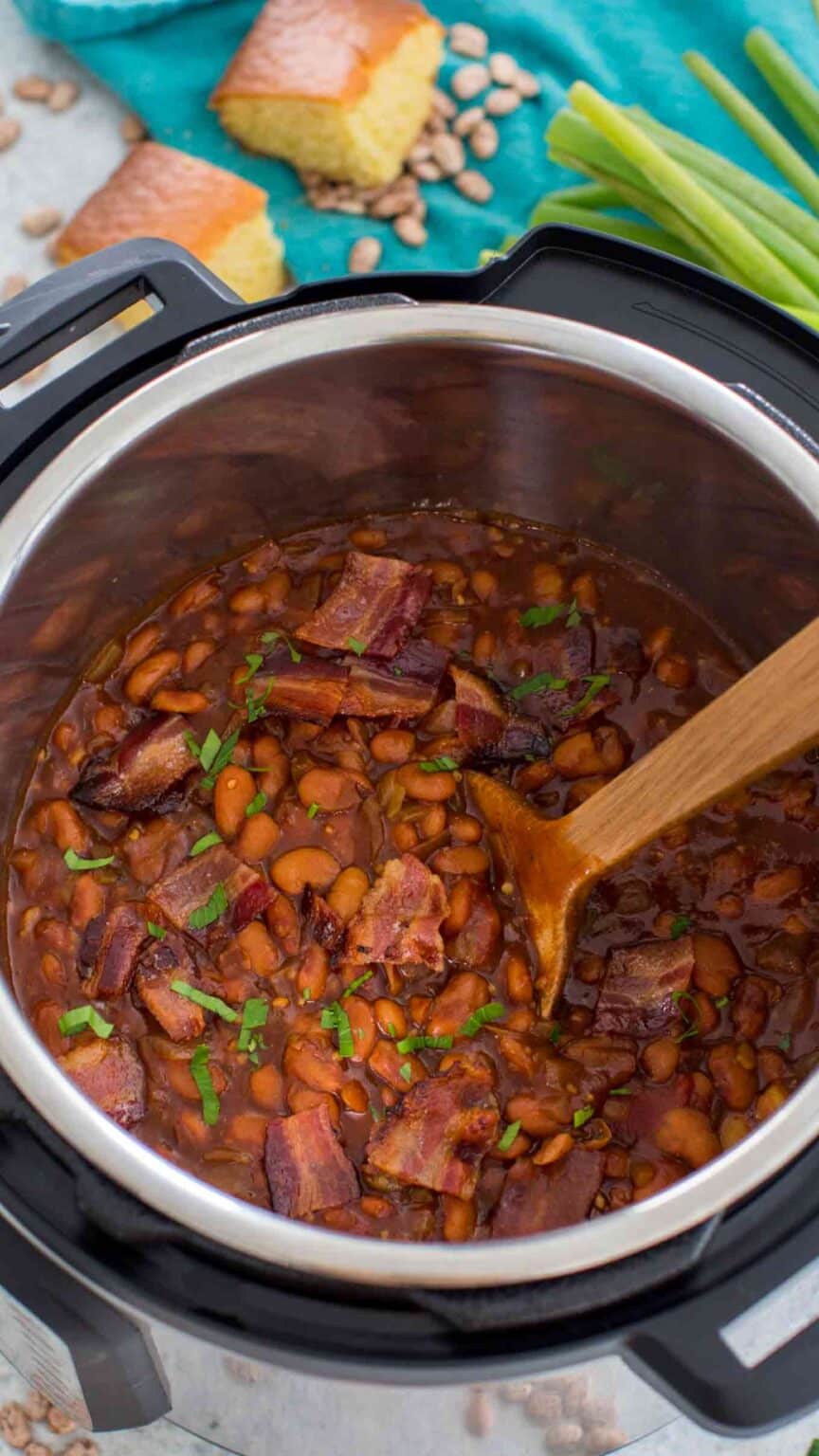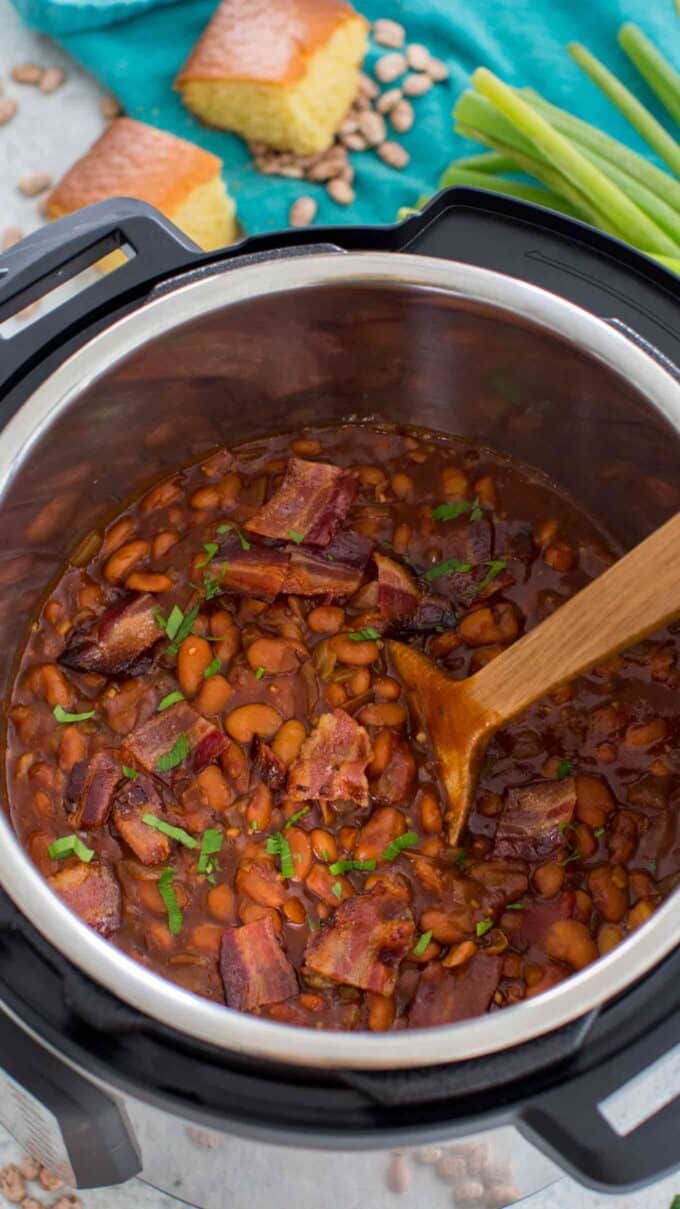 Easy Instant Pot Baked Beans
This Instant Pot Baked Beans recipe is simply one of the best and most flavorful meals you can get. Once you make it from scratch, you will see that this will become your go-to recipe, because it's easy and delicious! Hands down, this recipe is the most amazing and favorite side dish I have ever had. After three trials, that's a lot of beans for dinner, I have tweaked the recipe to be perfect!
The beans are combined with barbecue and bacon to pack just the right balance of sweetness and heat. Also, some brown sugar, smoked paprika, and some red pepper flakes are added to elevate the flavor.
They are the perfect side dish at any barbecue gatherings. Heck, if you are like me, you will actually have a huge bowl for dinner! The best part of the recipe is that you can make it with dry beans, Also, you don't have to soak them, now that is a huge time-saver.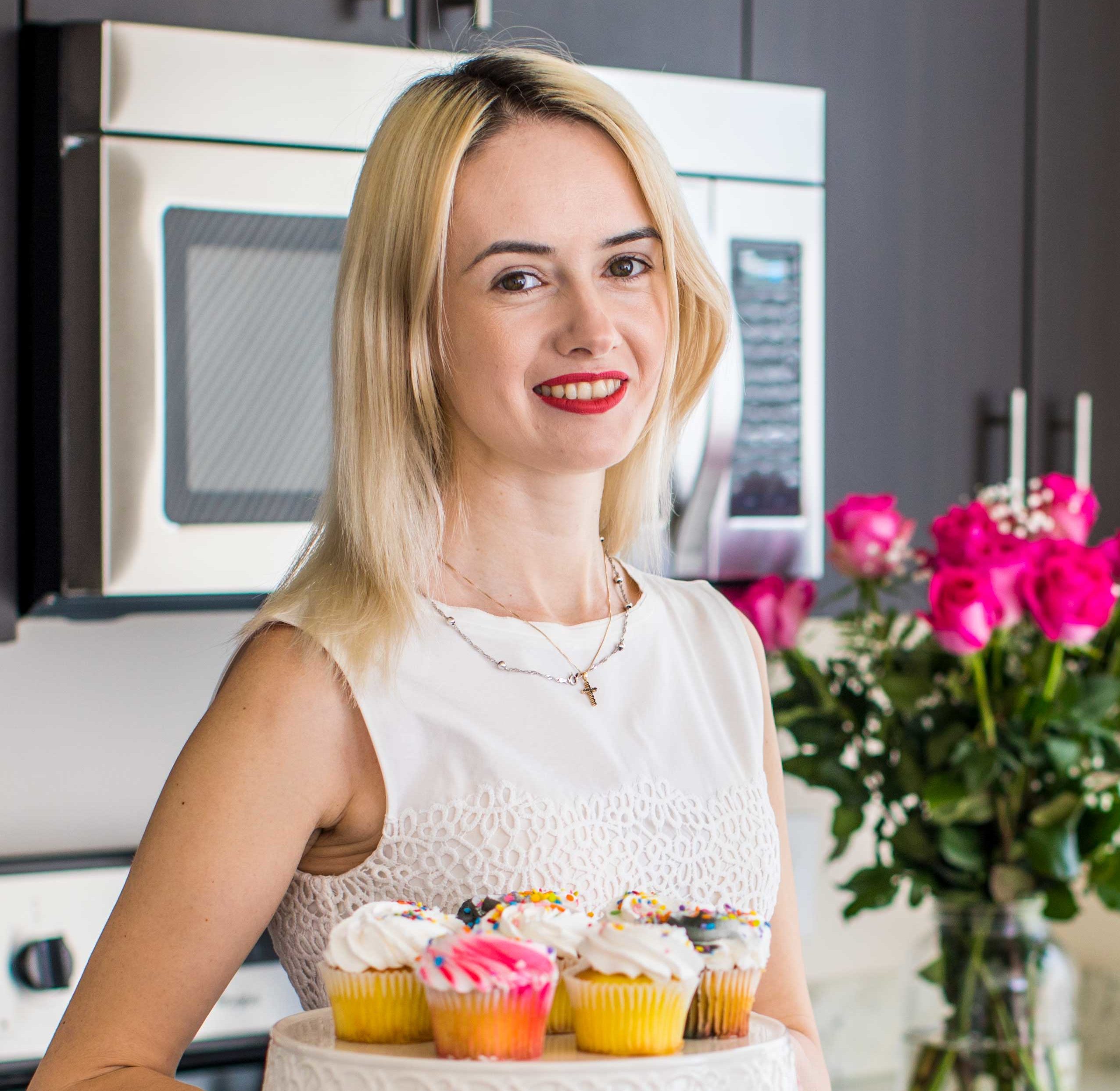 Follow us on Pinterest for more delicious recipes!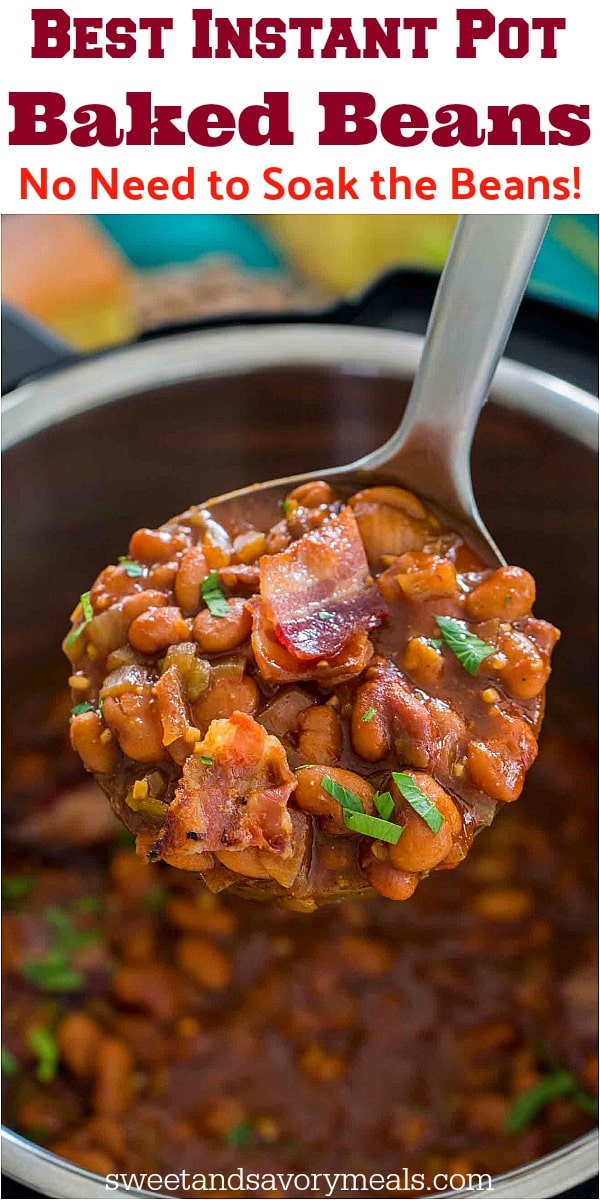 What spices do you need to make this recipe?
Can you make Instant Pot Baked Beans with canned beans?
Yes, you can! Skip the recipe steps about cooking the dry beans, and replace them with 3 cans (15.5 ounces each) of canned beans, drained and rinsed. Add the beans to the pressure cooker with the rest of the ingredients and cook per recipe's instructions.
What beans do you use to make Instant Pot baked beans?
You can make this recipe with great northern, kidney, or pinto beans. You can also use a combo, I personally prefer to use pinto beans because of their creamier and more tender texture.
Do you need to soak the beans to make Instant Pot Baked Beans?
No, the beauty of this recipe is that if you choose to make it with dry beans, you don't have to soak them. You can cook them in the Pressure Cooker, rinse, discard the water from the pot and cook with the rest of the ingredients to make this dish.
How do you make Baked Beans in the Slow Cooker?
You would have to start with either cooked or canned beans, add all the ingredients to the slow cooker, and stir to combine. Cover and cook beans on Low for 4 to 6 hours until thick.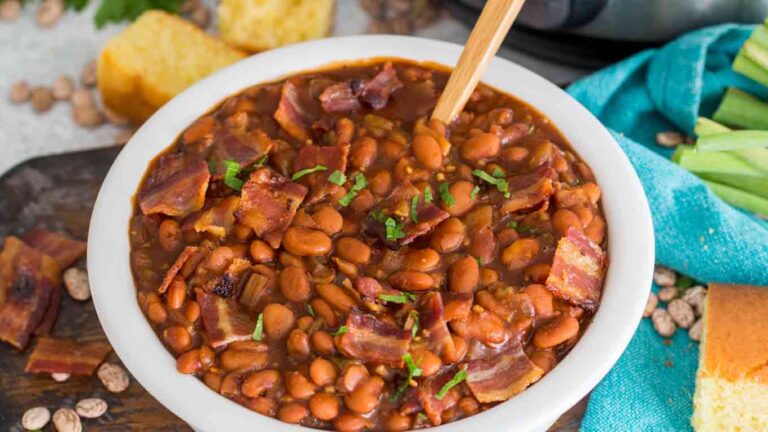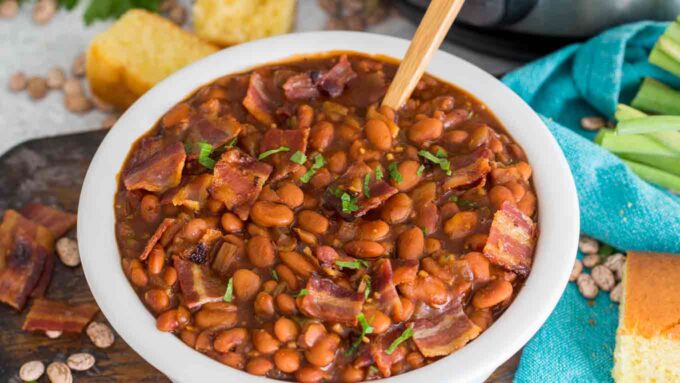 Can I make this recipe on the stovetop?
Sure, can! Just add all the ingredients to a large dutch oven and cover. Then, simmer for about an hour, or until completely cooked.
Can you freeze baked beans?
Yes, you can! For best results it is important to freeze the beans the same day you cooked them, to avoid changes in texture and flavor. Also, use freezer bags or containers and don't fill them to the brim as the beans tend to expand when frozen. If frozen properly, they can last in the freezer for up to 6 months. However, I prefer to keep them for about 3 months only.
When ready to consume the beans, take them out of the freezer and put them in the refrigerator in a large container for up to eight hours so they gradually defrost. After they have thawed, put them in a pan and reheat them over low-medium heat.
What do you serve with Instant pot Baked Beans?
You can eat them as a main dish because they are so filling and rich. Also, you can enjoy them as a side dish, with Pork Loin, Meatloaf, Pulled Pork, Mississippi Pot Roast, or Crack Chicken.
BURN NOTICE ON INSTANT POT
We've had some questions and comments about the burn notice on the instant pot. Although we have never had any issues with this or experienced the burn notice before, it is wise to pinpoint a few important things which might help to avoid it.
First, if cooking the bacon in the pressure cooker, make sure not to use extra thin or lacking fat. Both of these can cause the bacon to stick to the bottom of the pot and cause a burn notice. Those browned bits stuck to the pot because of the lack of fat. This can make the instant pot think that you've walked away and left the meat to burn. So try using good quality bacon, which is thicker and has decent fat content.
Also, If your beans have been combined and then you get the burn notice you probably didn't thoroughly stir everything together or something is stuck to the bottom of the pot. Hence, ensure to stir well prior to adding the lid on.
More Pressure Cooker recipes:
Recipe Tips and Tricks:
I like to cook the bacon separately, this way it's crispier and tastes much better. If you don't want to turn on your oven, you can brown the bacon in the Pressure Cooker before adding the cooked beans.
Also, when I cook the bacon in the oven, I like to either drizzle a little maple syrup over it or sprinkle some brown sugar, this way it caramelizes a bit and it goes really well with the bbq beans. Watch it closely to NOT burn it!
In addition, I love these beans because when you take the first bite, they are so creamy and a bit sweet, and after that, you get hit with a mild spicy wave that makes them irresistible. You can make them spicier by adding more red pepper flakes or chili pepper powder.
Similarly, you can use your favorite bbq sauce in this recipe. Also, you can skip the liquid smoke, I really like it, as it gives the beans that smoky flavor, but it's up to you if you want to use it to not.
The cinnamon and ground mustard are so-called "backstage" flavors, you don't taste them specifically, but they elevate other flavors.
The molasses and brown sugar are in my opinion essential in this recipe, so make sure you don't skip those.
Save Recipe
Best Instant Pot Baked Beans - No Soaking
Instant Pot Baked Beans are so easy to make, no need to soak them at all! This delicious homemade side dish is ready in about one hour!
Author: Catalina Castravet
Serves: 8 servings
Prep time:

10

minutes
Cook time:

1

hour

20

minutes
Total time:

1

hr

30

mins
Ingredients
Bacon:
Cook Dry Beans:
Baked Beans:
Instructions
Cook Bacon:
Cook Dry Beans:
Make Baked Beans:
Nutrition information
0 Calories: 345 Carbohydrates: 52 Protein: 9 Fat: 11 Saturated Fat: 3 Cholesterol: 18 Sodium: 688 Potassium: 626 Fiber: 6 Sugar: 32 Vitamin A: 350 Vitamin C: 6.8 Calcium: 95 Iron: 2.6
Notes:
You can use canned beans, 3 cans (15.5 ounces each) of either northern, pinto or kidney beans. Also, you can use a combo of these. If using canned beans, skip the instructions for Cooking Dry Beans and jump to Make Baked Beans.
Save Recipe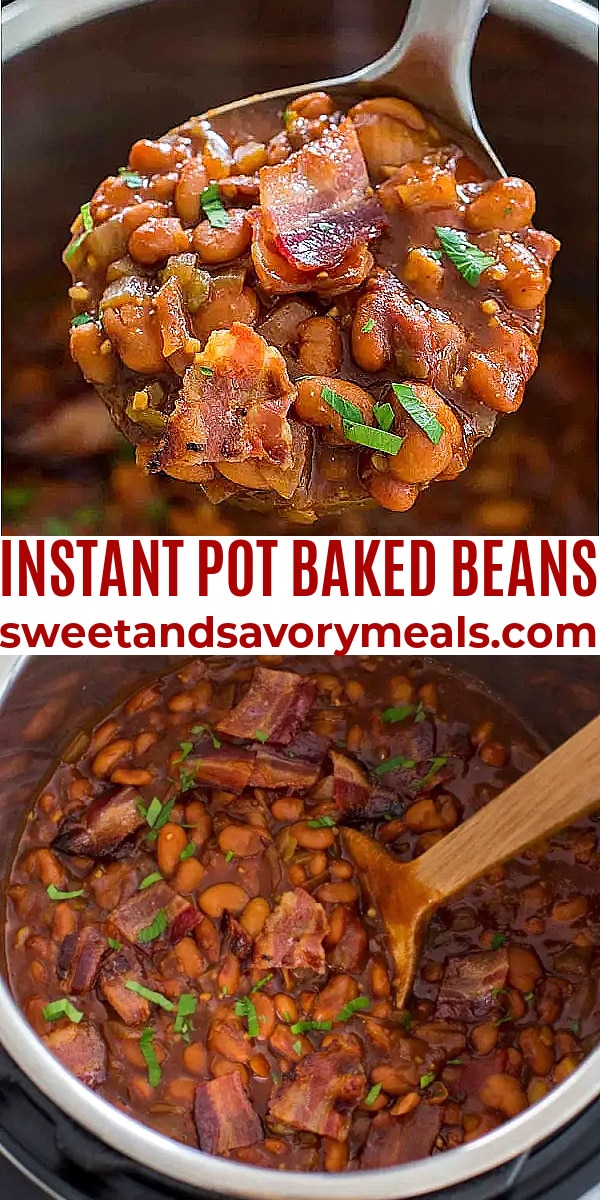 More recipes you might love
Categories: