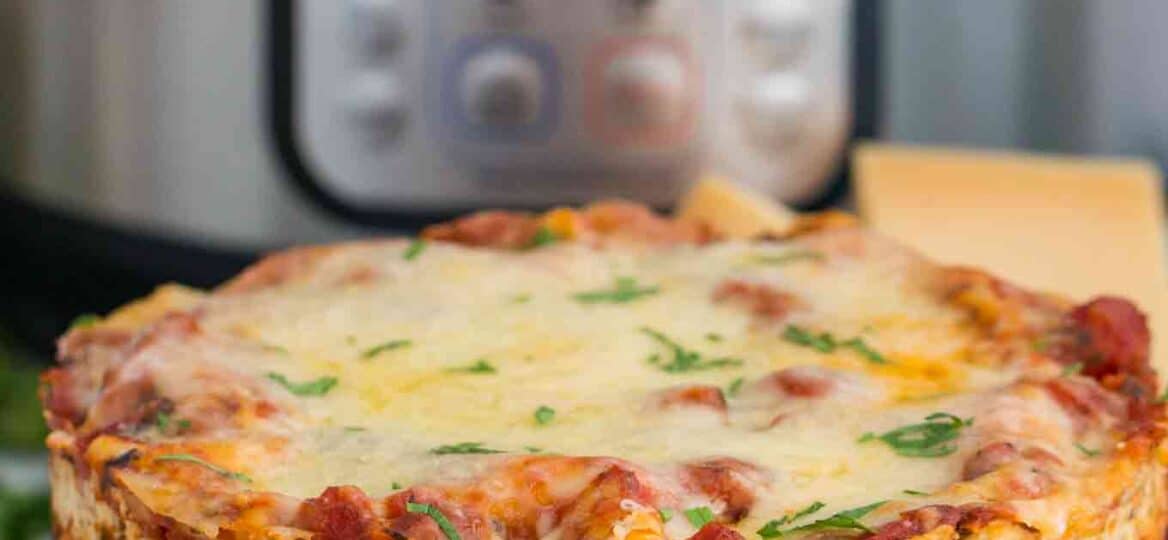 The Ultimate Instant Pot Lasagna [Video]
Instant Pot Lasagna is cheesy and hearty made with ground beef, ricotta cheese, herbs, lasagna noodles, and marinara sauce! The best part is that you don't have to boil the noodles. Layer everything and let the pressure cooker work its magic. Check out the recipe video attached below for an easy step-by-step tutorial.
Easy and delicious Instant Pot Pasta Recipes are incredibly popular on the blog, and I make them very often for our family. Among our favorites are the Cheeseburger Macaroni, the famous Lasagna Soup, and the kid's favorite Pizza Pasta. It only made sense, to finally share my recipe for pressure cooker lasagna, and I promise you, it's a must-try!
When I think about true comfort food, I always think about lasagna. This is such a classic dish, made with creamy cheeses, meaty marinara, various herbs, and perfectly cooked al dente noodles.
This Instant Pot Lasagna is another delicious, easy, and quick recipe made in the electric pressure cooker. It is similar to the classic lasagna recipe but made at a fraction of the time. It has layers of flavor, starting from noodles, marinara sauce, browned ground beef, and a cheesy layer.
The cheesy layer is probably my favorite, as I have combined three of my favorites: ricotta cheese, parmesan cheese, and mozzarella cheese.
Making homemade lasagna has never been easier, I like that I can use the pressure cooker to brown the beef and later cook the lasagna in it. The lasagna turns out perfectly cooked, juicy, flavorful, and ready in just under one hour, from start to finish. Also, in case you don't have an Instant Pot, you should try my oven-baked Chicken Spinach Lasagna.
What is Lasagna?
Lasagna is the singular form "Lasagne", which is a type of wide and flat pasta. It is usually prepared by being stacked with sauces and ingredients such as meats, vegetables, and cheese, and sometimes topped with melted grated cheese.
This version made in the pressure cooker is also called lazy lasagna because it is quite easy to assemble and ready in less than 30 minutes! 🙂
Instant Pot Lasagna Recipe Ingredients:
Special Items needed to make this recipe:
As for the ingredients, you will need the following:
Ground meat: I mostly use ground beef here. However, feel free to make it with ground turkey or ground chicken.
Lasagna noodles: There is no need to pre-cook pasta. Also, you can use whole wheat or regular noodles here. In addition, gluten-free noodles are ok as well. So, use whatever you like here.
Cheese: I use a combination of ricotta cheese, mozzarella cheese, and grated parmesan cheese.
Seasonings: Dried herbs such as basil, thyme, oregano, red pepper flakes, Italian seasoning, salt, and black pepper.
Onion
Olive oil
Freshly minced garlic: You can also use garlic powder. However fresh garlic adds more flavor.
Tomato sauce: Feel free to use pasta sauce or marinara sauce. I like using my homemade marinara sauce here.
Water or chicken broth: I usually use about 1 1/2 cup of water to cook the dish in. But, you can use either water or chicken broth.
How to make Instant Pot Lasagna?
While this recipe is fairly easy, there are a few steps that you have to follow. For exact measures please see the recipe card below. Also, I have attached a short video tutorial on how to cook it.
First, gather your ingredients and specialty items, to have everything on hand.
Browning the Beef – for the best flavor, you have to brown the beef first. Also, you can do this step directly in the pressure cooker using the saute setting, or in a pan.
Cheese Layer – for the cheese layer I have combined ricotta, mozzarella cheese, and parmesan cheese. You can easily just use shredded mozzarella. If you plan on using the ricotta, add one egg, it improves the texture.
Sauce – to save time, I choose to use store-bought marinara sauce. Also, use your favorite homemade or store-bought sauce. If you want to make a white lasagna, use Alfredo sauce.
Lasagna Noodles – preferably use no-boil noodle sheets and break them to fit the pan.
Layering – there is no rule on how you should layer your ingredients, but always start with the noodles and finish with a final layer of lasagna noodles topped with sauce and cheese.
Pressure Cook- always cover the dish with foil. Make a tent so the foil doesn't touch the cheese.
Variations:
Meat: This recipe calls for ground beef. However, feel free to swap it with ground turkey, ground pork, or ground chicken. Also, you can even use ground sausage or Italian sausage.
Herbs: Similarly, use your favorite ingredients as far as herbs and seasonings go. Fresh basil, spinach, kale, oregano are great substitutes.
Cheese: Swap the cheeses with your favorites. Feel free to use cottage cheese, cheddar, gouda cheese, etc.
Vegetarian option – to make this lasagna vegetarian skip the meat layer and double the ingredients for the cheese layer. Also, you can add some veggies to it, such as bell peppers.
Slow Cooker: Want to make this dish in the Slow Cooker? Then, try my Slow Cooker Lazy Lasagna.
How long do you cook lasagna in the Instant Pot?
Lasagna cooks fairly quickly in the pressure cooker. All you need is 22 minutes on High Pressure with 15 minutes of natural release (Natural Pressure Release).
What noodles to use for the pressure cooker?
Classic noodles can be used, but you will have to boil them before adding them to the pan. To cut the preparation time and make this recipe easier, I recommend using no-boil noodles.
They can be found in the pasta aisle of most grocery stores. Don't worry about breaking the noodles to fit the pan perfectly, after cooking the lasagna, it won't be noticeable.
How to freeze uncooked lasagna?
Assemble the lasagna in a dish that can be frozen. Most glass or ceramic casserole dishes are fine for this purpose.
Specifically for this recipe, use a dish that can be placed in the pressure cooker to cook the lasagna.
Also, keep in mind that when using an aluminum pan for freezing it, the food might end up picking up a tinny taste.
Cover the dish with freezer-safe plastic wrap. Then, wrap the plastic around the entire dish, to make sure there are no gaps in the wrap where air could get in and cause freezer burn.
Wrap the dish tightly in aluminum foil and freeze for up to 3 months for the best flavor. It will keep good for 6 months or more.
How to freeze cooked lasagna?
First, let it cool to room temperature. An entire cooked lasagna can be frozen in a freezer-safe dish. Most glass or ceramic casserole dishes are fine for this purpose.
Also, if the lasagna has been cut into individual pieces, refrigerate it first, for the layers to settle, it makes wrapping them easier.
Cover it with freezer-safe plastic wrap. Then, wrap the plastic around the entire dish, to make sure there are no gaps in the wrap where air could get in and cause freezer burn.
The individual lasagna slices can be individually wrapped in freezer-safe plastic wrap and foil or added to freezer-safe bags. This is a great alternative for those who don't want to thaw an entire lasagna or want to cook smaller food portions.
Then, freeze for up to 3 months for the best flavor. It will keep good for 6 months or more.
How to thaw and reheat frozen lasagna?
The night before you intend to have the lasagna for dinner, transfer it from the freezer to the fridge and thaw it overnight.
Once thawed, cook the lasagna or reheat if it has been already cooked.
If you try to bake it while it's still frozen or partially frozen, it will cook unevenly and it won't be as good.
More easy Instant Pot Recipes:
Cooking Tips:
We highly recommend covering it with foil. This will prevent condensation from forming on the top.
To refrigerate leftovers, you can also use an airtight container. Then, simply refrigerate them for up to 4 days.
You can use marinara or homemade tomato sauce. Just go with what you like the most. Also, try using a good quality marinara sauce as it makes a huge difference in this dish.
For extra-creamy and cheesy lasagna, use lots of cheese. In addition, after removing it from the pot, sprinkle it with some cheese on top.
We recommend using Mozarella or Parmesan cheeses here. But you can also use any other type.
The cooking time might differ from brand to brand. If the dish is not fully cooked, then cook it for a little bit longer (3-5 minutes) following a quick release.