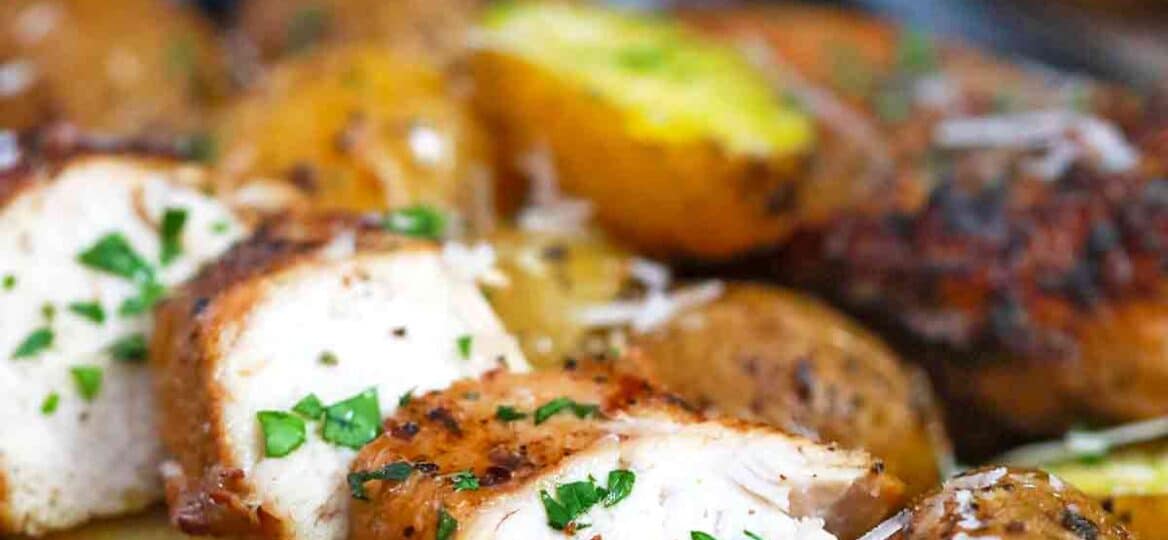 Instant Pot Chicken and Potatoes
Instant Pot Chicken and Potatoes is a quick and flavorful dinner made with juicy chicken breasts, ranch seasoning, and parmesan potatoes. A great family meal to enjoy during the busy weekdays.
If you are looking for more quick and delicious pressure cooker recipes, then try our IP Mexican Rice, Whole Chicken, and Creamy Tuscan Pasta.
Instant Pot Chicken and Potatoes – An easy 30 Minutes Dinner
When it comes to a quick and full dinner meal for my whole family, this Instant Pot Chicken and Potatoes recipe is always on top of my list. It is the ideal recipe to make with limited time on hands since it is ready in about 30 minutes from start to finish.
In addition, this is a full meal on its own. You basically dump the ingredients into the pot, and in minutes dinner is ready. The pressure cooker really does a great job here. Not only does it cook the meat perfectly in minutes, but it results in super juicy and tender chicken.
Also, the potatoes are seasoned with parmesan and it compliments this dish perfectly. Plus, both of these ingredients cook up in a similar time frame, so you do not need to pre-cook one or the other. You can also use other cuts or even frozen chicken breasts, or thighs.
The IP is a great tool to incorporate into your daily life. It makes cooking so much fun and easier. Feel free to check our whole library of amazing Instant Pot recipes.
Main Ingredients needed to make this dish:
Chicken: You can use any cuts that you prefer here. Chicken breasts, thighs, drumsticks, or legs will all work great here. Even frozen meat can be used!
Vegetables: Baby red or gold potatoes is what I mostly used. However, go with what you have on hand. Also, you will need onion and carrots. Other veggies can be used as well, such as celery, bell peppers, etc.
Seasonings: Salt, pepper, garlic powder, dried paprika, Italian seasoning, ranch seasoning, dried basil, and dried oregano.
Olive oil and grated parmesan cheese
Broth
How to Make Instant Pot Chicken and Potatoes
Season the poultry: In a large bowl, season with salt and pepper the chicken breasts and potatoes. Toss together to ensure proper seasoning, then pour some olive oil over.
Combine the seasoning: In a small bowl, stir together the dry seasoning, then sprinkle over the chicken and potatoes.
Cook: Add the broth to the pot. Next, dump the seasoned poultry and potatoes into the pot. Close the lid, and pressure cook for 15 minutes.
Release pressure: After it has finished cooking, release the pressure.
Serve: Sprinkle with more ranch seasoning and parmesan cheese on top, and serve warm.
Recipe variations and adaptation:
Oven-Baked Chicken and Potatoes: If you are not in the mood for cooking this recipe in the pressure cooker, then try my Oven Baked version.
Slow Cooker version: Similarly, you can easily make this in the slow cooker. Follow the same steps as above. Then, just dump the ingredients into the slow cooker. Cook for 3-4 hours on HIGH, or 4-6 hours on LOW.
Mix in other veggies: Feel free to add other veggies as well. Some great alternatives would be cellary, bell peppers, peas, mushroom, spinach, etc.
Use other meats: Swap chicken with beef, pork, or turkey. The cooking time will remain the same.
Which potatoes are best to use for this recipe?
I love using baby red or gold potatoes because they remain intact even when cooked under pressure. In addition, they absorb the flavors well.
Alternatively, you could use other varieties as well. Vitelotte, Dore, petite, and white will work just as great. The most important thing to remember here would be to use whole, and small to mid-size potatoes. You do not want to cut them in half.
Can I use frozen chicken in the Instant Pot?
Absolutely! The pressure cooker does an amazing job cooking fresh or frozen meat. Though, I would recommend thawing the chicken in the microwave for a bit prior to cooking. The reason is that the seasoning will not stick to it. But this is not mandatory.
If you are short on time, you can simply use frozen meat. Just remember to increase the cooking time to about 20-25 minutes.
I also have a full detailed post on how to cook frozen chicken breast in the Instant Pot or frozen whole chicken.
What goes with Instant Pot Chicken and Potatoes?
This is a full dinner on its own, so it can easily be served as is. However, you can pair it with other side dishes or salads. Some great pairing would be arugula salad, corn salad, or Greek salad.
More easy chicken recipes to try:
How to store leftovers?
Prior to storing, let the dish completely cool. Then, transfer leftovers to an airtight container and refrigerate for up to 4 days. Use a microwave to reheat it.
Recipe tips:
Sauteing the meat is not mandatory. You can simply season and cook it right away.
For additional flavors, you can add some freshly minced garlic to the seasoning mix.
Baby potatoes are your best option to use here because they hold well when cooked under high pressure. Russet or Yukon gold tends to fall apart more.
If you do not have broth, a cup of water can be used instead. Just know, that broth will add more flavor to it.
Also, feel free to use other seasonings if desired. Cajun or Taco seasoning is another great option to use.
Deliciousness to your inbox
Enjoy weekly hand picked recipes and recommendations