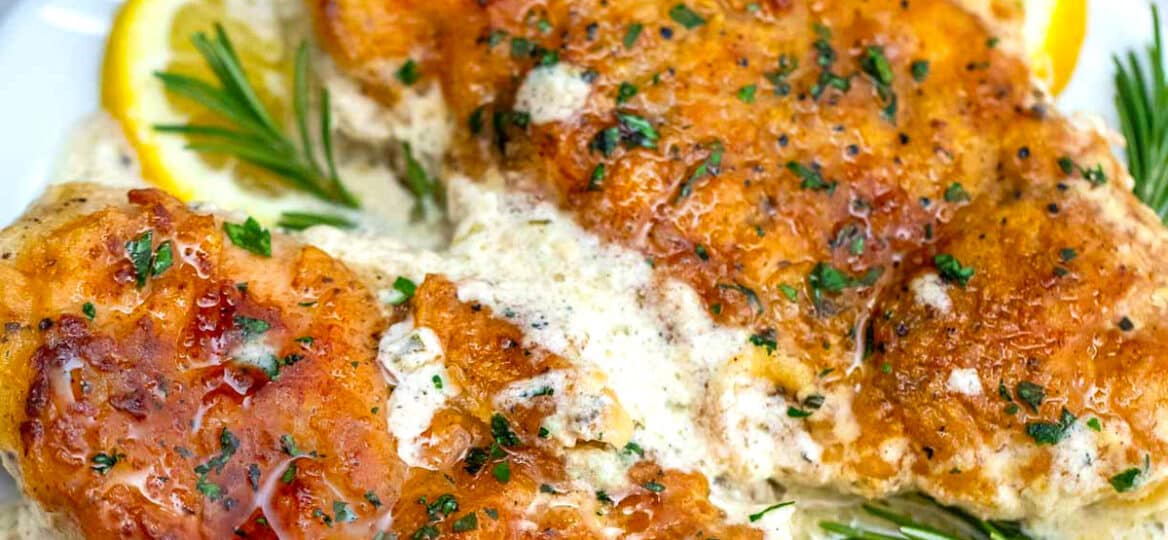 Creamy Chicken Francese [Video]
Chicken Francese features golden-fried chicken fillets nestled in a bright and velvety sauce made of lemons, garlic, cream, and white wine. Such a breeze to make, but tastes restaurant-worthy!
This recipe has a similar flavor profile to Chicken Piccata, another delicious recipe to add to your Italian-inspired meals. If you want to switch it up with another protein, my Baked Lemon Garlic Tilapia and Creamy Garlic Salmon are perfect alternatives.
Easy Chicken Francese Recipe
Chicken Francese made me fall in love with its tasty flavors from the very first time I tried it. Today, I never fail to order this dish whenever I dine at a classic Italian-American restaurant. I love discovering new takes on it!
Of course, it was only a matter of time before I tried making my own version. You'll find all of the traditional flavors in this, but I added a twist by swirling some cream in the sauce. It works so well with the aroma of garlic, tart lemons, white wine, and herbs!
Treat your friends and family to a gourmet dinner on their next visit— they'll have no idea how easy this dish is to make!
What is Chicken Francese?
The "Francese" translates to "French style," but it's not really clear where the term came from. The dish we know and love today is credited to Italian immigrants in America, and that's why you'll see them most often in Italian-American restaurants.
Traditional recipes involve breast meat coated in a citrusy egg wash with flour, then fried until golden. Unlike other fried and breaded dishes, the chicken Francese the egg mixture is on the outside instead of the flour! While I'm going with the classic breading technique for my version, trust me, that original method also works beautifully.
Some people get confused between Chicken Francese and Piccata. They're very similar, with the fried cutlets and lemon-garlic-butter sauce. Unlike the Francese recipe, Piccata recipes also add capers and use the classic breading method.
How to make Creamy Chicken Francese
Prepare the breading. Combine seasonings, flour, and parmesan cheese. In another bowl, beat the eggs and season.
Fry the cutlets. Coat in flour mixture and egg. Fry in very hot oil until golden, going in batches.
Make the creamy sauce. Remove the meat, and melt some butter in the same pan. Sauté some garlic, then add the rest of the sauce ingredients. Reduce, then add the cream, finish with some lemon juice, place the chicken back into the sauce.
Serve. Garnish with more parsley, and serve your Chicken Francese on top of rice, pasta, or with your favorite vegetables.
How to make the creamy sauce:
Sauté the garlic in butter.
Stir in the white wine, herbs, broth, and seasonings. Reduce.
Swirl in the cream, then simmer.
Squeeze in the juice of half a lemon, plus season to taste.
Don't want to use wine? The dish is still tasty with just broth! Even so, the heat cooks down the alcohol, leaving a complexity that's absolutely divine.
Can I use chicken thighs?
Sure! Thigh fillets are incredibly juicy and would make a great substitute for breasts in our Francese recipe. Just make sure they are boneless, and remove the skin if you prefer. However, note that thigh meat tends to shrink after cooking, so factor that in determining how much to make.
What to serve with:
Chicken Francese tastes so delicious, it's tempting to eat it straight out of the pan! Serve it on a bed of pasta, or on top of rice. Since the sauce is rich, you may balance it out with a salad or my Steamed Broccoli and other vegetables. I also suggest pairing it with your favorite wine!
How to store:
Freeze for up to a week, or refrigerate and use within three days. Make sure to cool down the dish completely before placing it in the fridge.
Recipe Tips:
Pound the fillets into thinner cutlets for better browning and faster cooking.
Feel free to substitute the white wine with broth if not using.

For a more beautiful presentation, grill some lemon slices and use them as a garnish.
Add some red pepper flakes to the creamy Francese sauce if you want a bit of heat.
Deliciousness to your inbox
Enjoy weekly hand picked recipes and recommendations