Baked Lemon Garlic Tilapia [VIDEO]
Baked Lemon Garlic Tilapia is easy to make dish that tastes great and is ready in less than 20 minutes. This is a healthy, easy to follow recipe, and a great meal to have during any day of the week. This dish is also Keto friendly, especially if you serve it with some tartar sauce.
The moment that you make the baked lemon garlic tilapia, you might realize that preparing this fish isn't as hard as what you might think. Then, you can also try our Crispy Oven Baked Tilapia. Or, you can make a great side dish to serve with, like these Roasted Brussels Sprouts or the Roasted Rosemary Potatoes.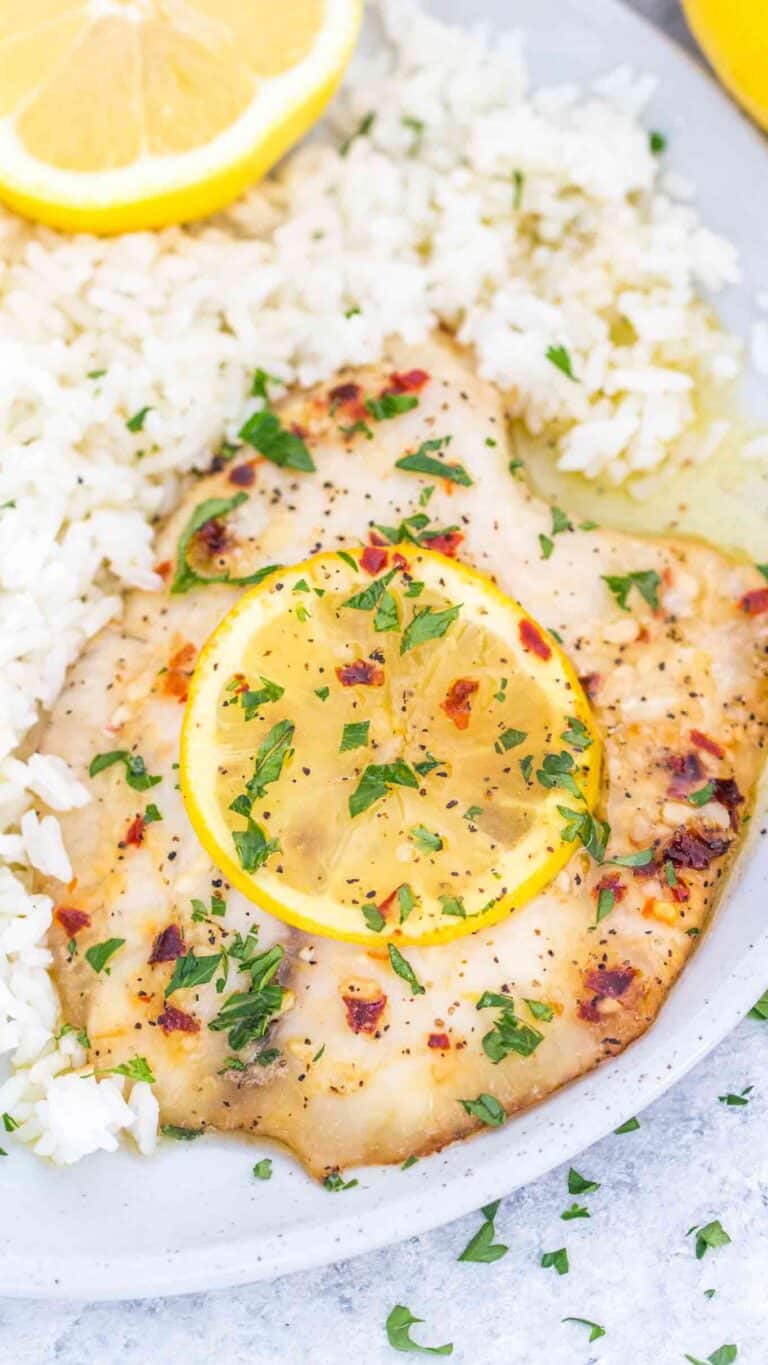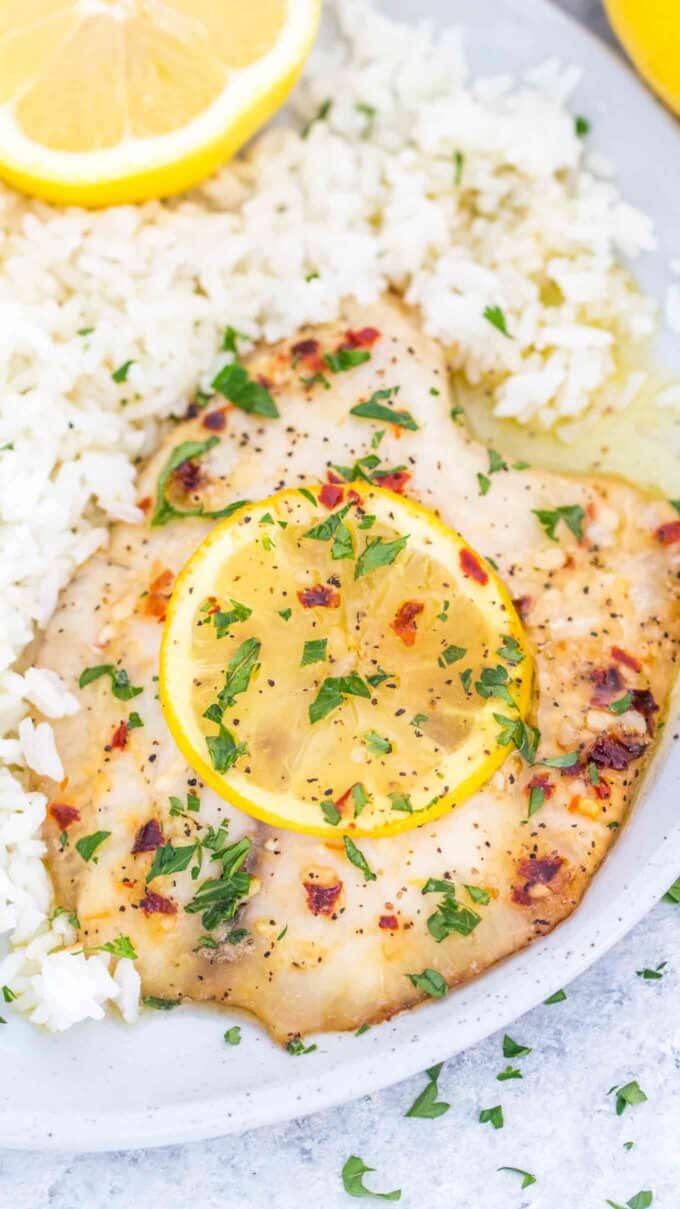 Easy Baked Lemon Garlic Tilapia
Baked Lemon Garlic Tilapia is an easy and delicious meal to make. We use fresh lemon and garlic, and it makes the fish taste even better. This is a meal that you can prepare in 5 minutes and be fully cooked in under 15 minutes. Therefore, this is a great meal to have for those long, and busy days.
The secret for a good tilapia recipe is seasoning and a great side dish to complement it. Since tilapia is a very mild fish, and it does not really taste fishy, is wise to use lots of spices. This is why garlic and lemon are great options for this fish. It is going to boost and give some delicious flavors to the tilapia.
What is Tilapia?
Tilapia is one of the most farmed fish in the world. It comes close to the salmon and catfish. This is a tropical fish that you will find in most of the tropical areas in the world. The one place where you will find tilapia the most is in Africa. However, it will also be found freely in Latin America, China, and Indonesia. This fish is cheap, has a neutral taste, and is really easy to find. It is also the fish that is prepared quickly and that can taste great with a large variety of spices.
How long do you cook tilapia in the oven at 400 degrees F?
This is the main secret in preparing tilapia. You should not cook this fish longer than 10 to 12 minutes. The fish should still be tender. The longer you are cooking the fish, the dryer it is going to get, and the more it will taste like rubber.
This is why you should really make use of the recipe when cooking tilapia. This is to make sure that you don't overcook it.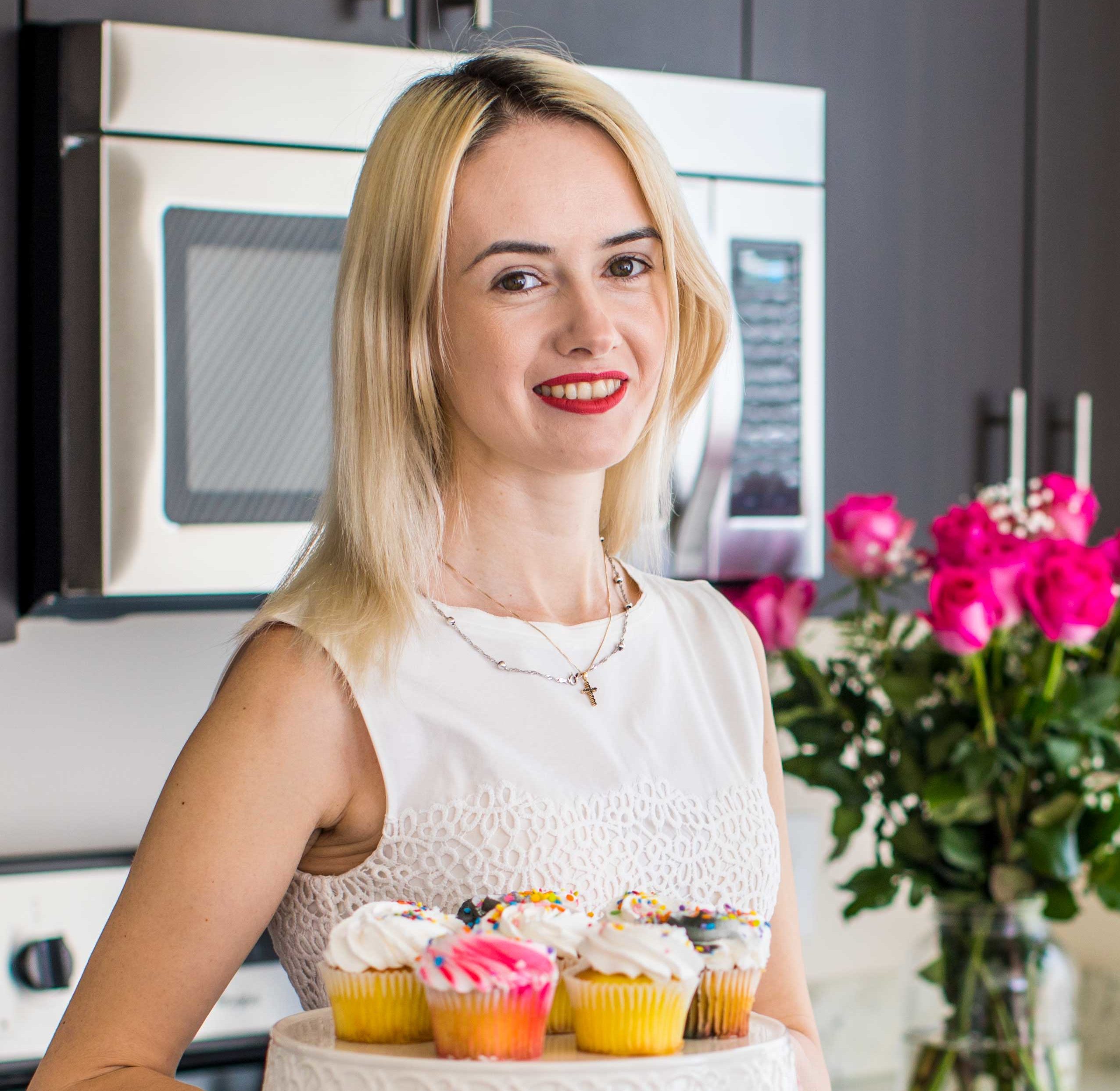 Follow us on Pinterest for more delicious recipes!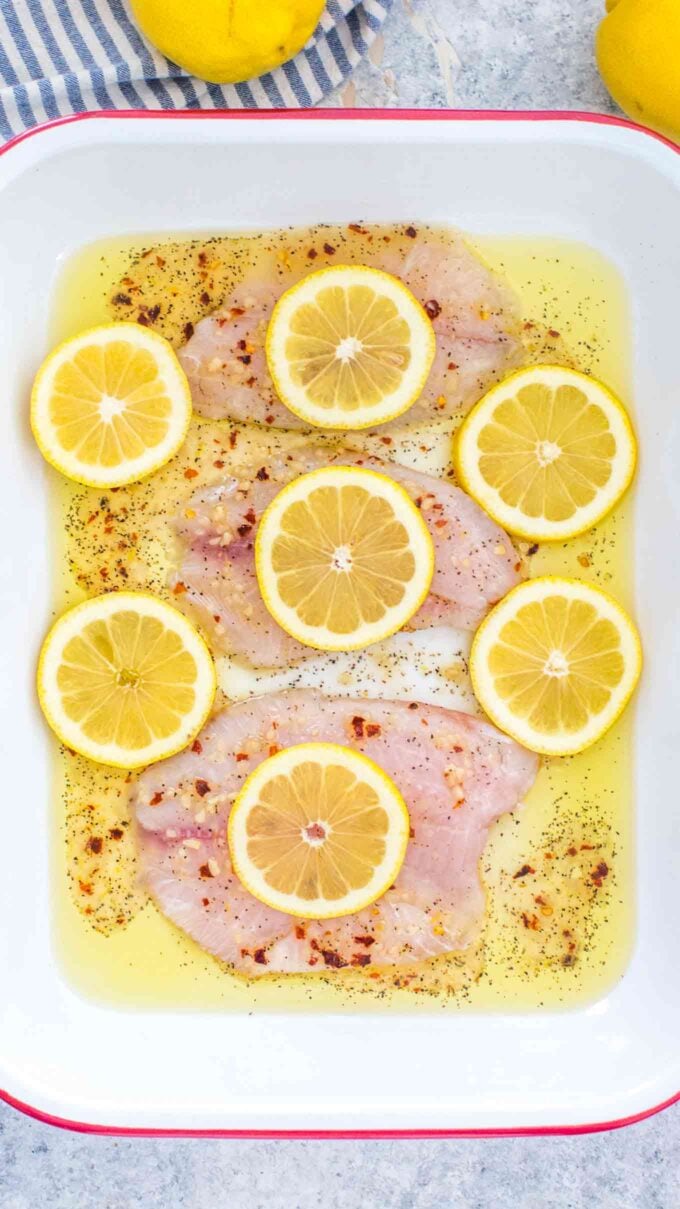 Is baked tilapia healthy?
In general, baked tilapia is healthy. But, it really depends on what ingredients you used to cook the fish. If you are making it by only using fresh garlic, fresh lemon, olive oil, or other lean products, then you will have a really healthy meal.
Also, you need to remember that fish, especially tilapia is one of the healthiest foods you can eat. It is rich in Omega 3 and other nutrients. Similarly, it is important to eat wild-caught tilapia, as many farmed raised contains lots of antibiotics, which you want to avoid.
What goes well with Baked Lemon Garlic Tilapia?
There are a couple of things that will go well with baked tilapia. Potatoes prepared in different ways will always be a great side dish to tilapia. These are some of the side dishes that will go well with baked tilapia.
Can you store Baked Lemon Garlic Tilapia?
Yes, you can store this dish in the fridge for a couple of days. However, the longer you are storing the fish, the less tasty it is going to get. Experts are saying that it isn't recommended to store the tilapia and that you should eat it right after preparation.
Can you reheat baked tilapia?
Again, yes you can reheat the baked tilapia, but it won't taste the same. Every time that you are reheating the tilapia, the dryer it is going to get. Overcooked fish is never delicious, and the moment that you reheat the fish, it is going to get dry. It is important to serve the fish, the moment it is cooked. This is why is best to eat the fish when fresh.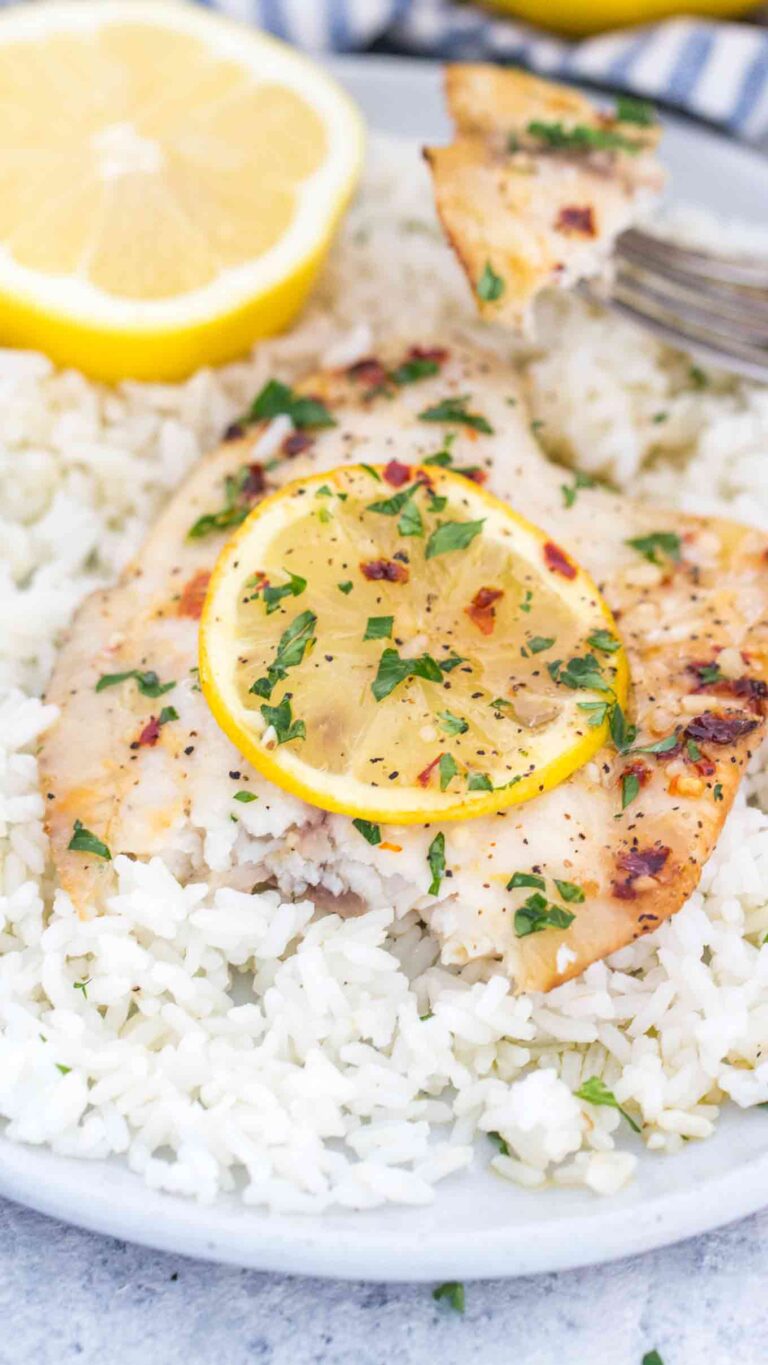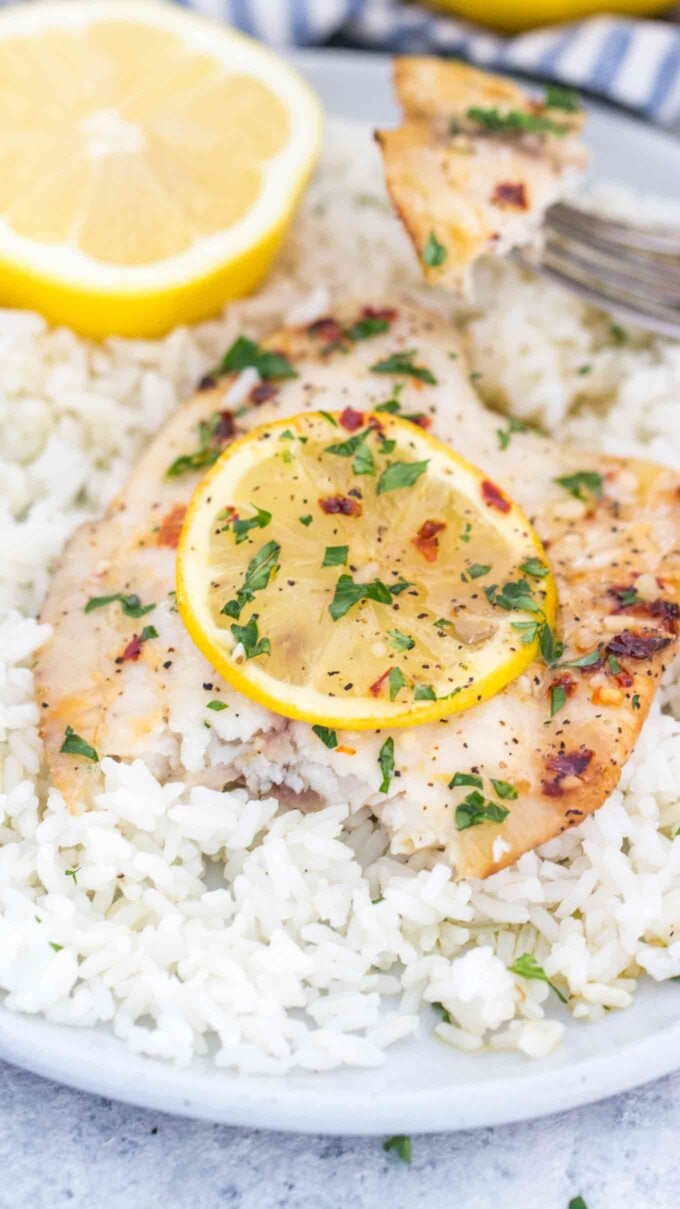 Tips for Baked Lemon Garlic Tilapia
If you use frozen fish fillets, make sure you place them in the fridge way in advance so they can gradually thaw.
For fresh tilapia fillets, I like to rinse them under cold water first. After, I dry them with paper towels.
Don't skip the lemon juice, it adds an amazing citrusy flavor to the fish.
Also, if you love garlic, add some extra to the fish.
Don't overcook the fish, check on the filets after about 10 minutes mark. They don't need more than 12-15 minutes top to be done.
Watch Step by Step Recipe Video:
Save Recipe
Baked Lemon Garlic Tilapia
Author: Catalina Castravet
Serves: 4 servings
Prep time:

8

minutes
Cook time:

12

minutes
Total time:

20

mins
Nutrition information
Calories: 137 Carbohydrates: 2 Protein: 0 Fat: 14 Saturated Fat: 2 Cholesterol: 0 Sodium: 148 Potassium: 37 Fiber: 0 Sugar: 0 Vitamin A: 35 Vitamin C: 14.3 Calcium: 7 Iron: 0.2
Save Recipe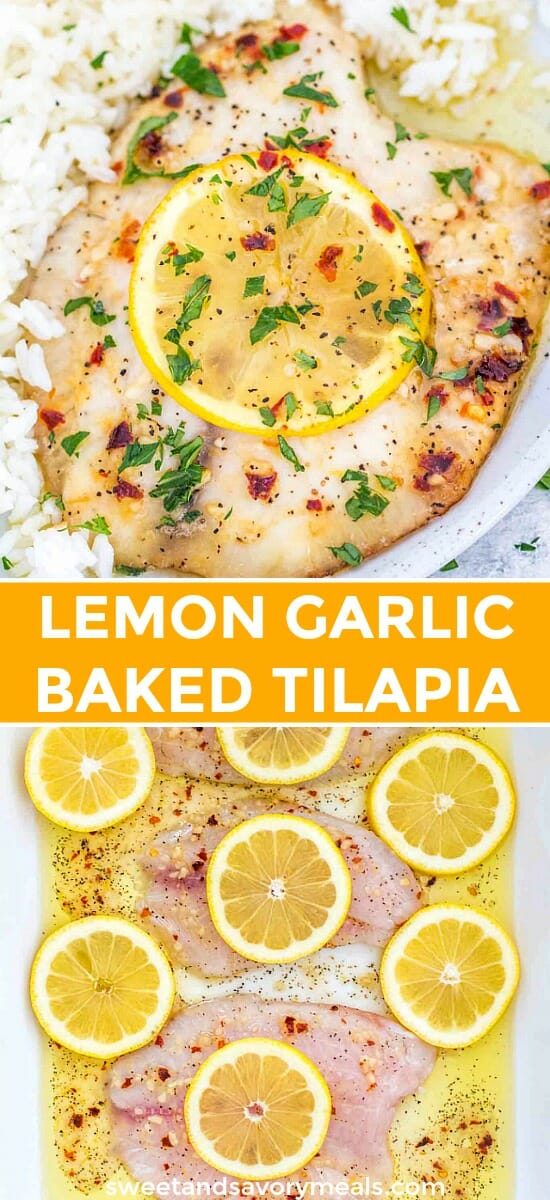 More recipes you might love
Categories: