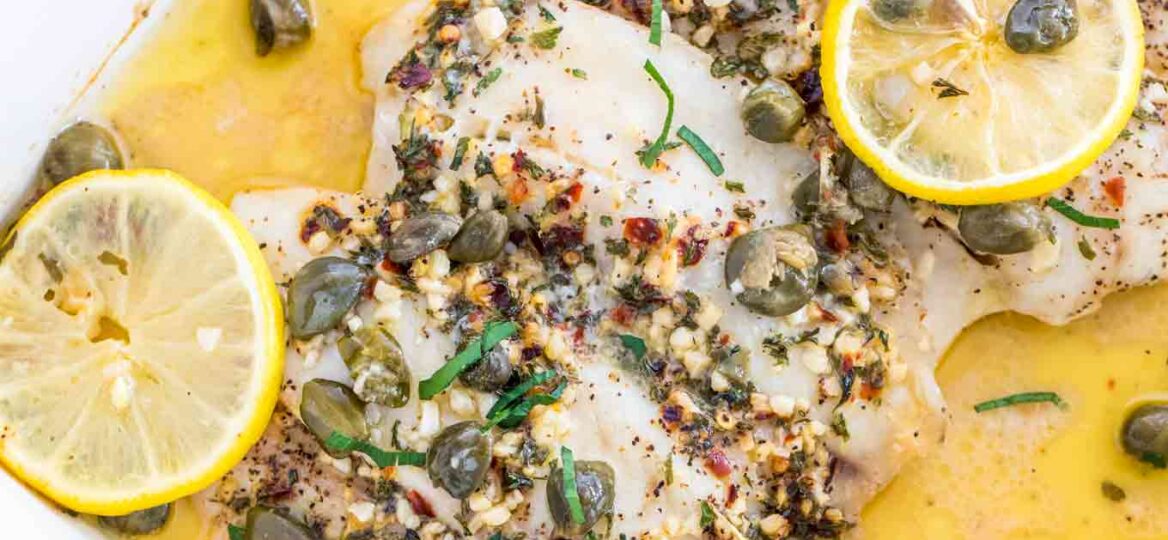 How to cook Tilapia in the Oven [VIDEO]
Cooking tilapia in the oven is the most effortless and easy way to do it. With little preparation, you will end up with the most delicious and buttery dinner. Made with lemon, butter, garlic, and capers, this is a great and quick dish to put together for the whole family to enjoy. Check out the recipe video below.
Tilapia is pretty hearty and delicious on its own, but when you add some butter and lemon to it, you end up with the best fish meal ever. We love eating with some Crispy Bacon Wrapped Asparagus, Roasted Brussels Sprouts, or Crispy Roasted Baked Potatoes.
Bonus points that this easy recipe is low in carbs and high in protein, with a good amount of fat, which makes it Keto friendly.
Oven-Baked Tilapia Recipe
Over the past years, we have discovered the best way to cook tilapia, and that is with some lemon, butter, and capers. We enjoy cooking tilapia because it is a budget-friendly fish, and it is easy to prepare. Simply, drizzle with some butter sauce and some seasoning, then bake it, and have a hearty and delicious meal in less than 15 minutes.
If you have never tried tilapia before you really should. Especially making it at home tastes so much better. You can go with frozen tilapia, and simply thaw it before baking, or buy it fresh. Both versions work fine, but usually, the frozen version is cheaper.
This is one of our favorite fish recipes to make. Not only is it easy and quick to prepare, but it is a very flavorful and delicious dinner. If you are looking for a lighter version, that does not require butter we highly recommend you try our Oven Roasted version with olive oil.
What is the best way to cook tilapia?
We love to prepare it two ways, either in the oven or pan-searing it.
Oven-baked
Start by washing and pat drying the fillets.
Grease a baking pan with some olive oil.
In a medium bowl, whisk together some butter, garlic, lemon juice, and lemon zest, and set aside.
Sprinkle the fish with some salt and pepper, and place it onto the baking pan.
Next, pour the butter mixture over it and bake for about 15 minutes until the fish flakes easily.
Pan-seared
Sprinkle the fish with salt and pepper set aside.
Next, place a large skillet over medium heat and add some olive oil. Then add the tilapia filets and cook for about 4-5 minutes on each side, or until flaky with a fork.
While cooking, prepare the butter mixture in a separate bowl.
Once the fish has cooked and is flaky, pour the butter mixture over it and cook for additional 1-2 minutes.
Squeeze some additional lemon juice before serving.
Whichever way you choose, it is guaranteed to result in a moist and tender meal. This is a super easy dinner to prepare, which has a delicate taste, buttery and flavorful.
How long to cook tilapia in the oven?
We love baking it at 400 degrees F. It is the right temperature to cook it, and results in flaky and tender fish. Depending on the dish size, it should be ready in about 12-15 minutes. You can also broil it for the last minute to get a crispier outside texture.
CAN YOU STORE BAKED LEMON GARLIC TILAPIA?
You can definitely store this dish in the fridge for a couple of days, it actually makes great leftovers that can be packed with some rice for lunch. Simply, let the fish cool down before refrigerating.
Then, transfer into an airtight container and store for 2-3 days. However, keep in mind that the longer you store it, the tougher and dried the fish will get.
CAN YOU REHEAT BAKED TILAPIA?
It is preferred to consume it the day it was baked, however, leftovers can be easily reheated in the microwave. Keep in mind that the fish will be drier, add a tablespoon of water, drizzle it with some butter or lemon juice before reheating. This way you will add some moisture and it will taste better.
More delicious fish recipes:
Watch Recipe Video:
Deliciousness to your inbox
Enjoy weekly hand picked recipes and recommendations