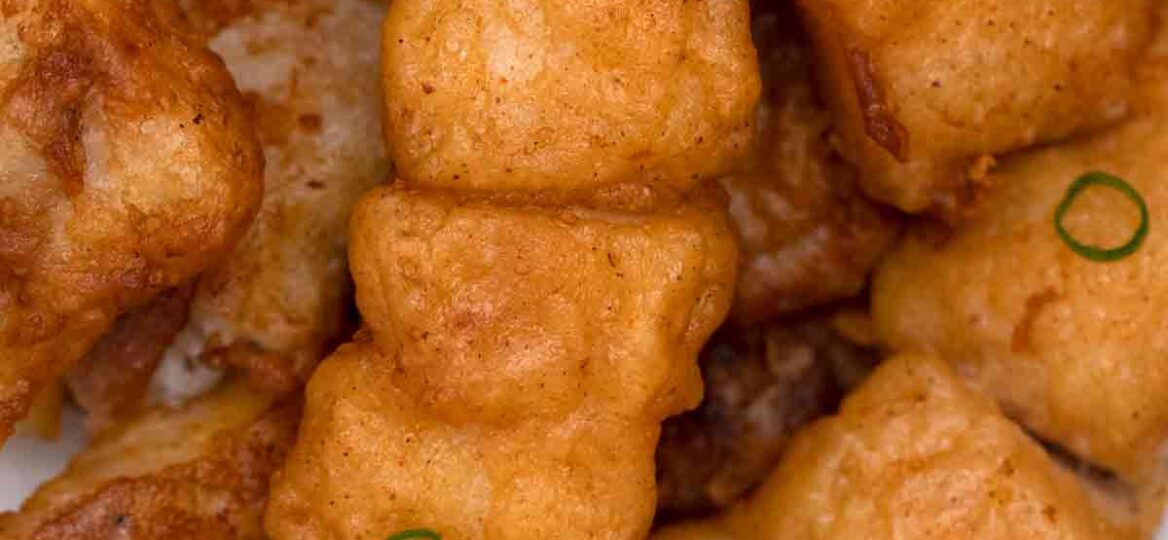 Beer Battered Fish Recipe [Video]
Beer Battered Fish is a British favorite for a reason – golden, beer-battered cod is perfectly salty and crispy! Great as a meal on its own or for sharing with friends and family.
Want to practice your frying skills? Try your hand at Korean Fried Chicken, Cheesecake Factory Avocado Egg Rolls Copycat, and KFC Fried Chicken.
Golden Beer Battered Fish
Beer Battered Fish will completely satisfy your deep-fried food cravings. That crust is crispy but not heavy thanks to the fizzy beer. It creates a golden crust around the cod and keeps it super moist and flaky.
If you are looking for an EASY dinner that is ready in only a few minutes, this is the perfect recipe to try. Fish and Chips is made with fresh cod that is dipped into a batter of flour, eggs, beer, and seasoning. Then, fried to perfection until it's crispy and golden brown. This quick meal is loved by kids and adults alike.
Don't worry about the dish having a strong taste of alcohol. You can use light beers which keeps it airy without too much alcohol taste. Of course, you can use stronger varieties if you prefer. Best enjoyed hot off the fryer!
How do you make Crispy Beer Battered Fish?
Get your ingredients together. For the most flavorful coating, you'll need garlic powder and onion powder. Measure out Old Bay seasoning, smoked paprika, and mustard powder. Also, cayenne pepper adds heat. Prepare beer, egg, and flour as well. Finally, you'll need enough oil for frying.
Get the cod ready. Slice into 5-inch long pieces. Then, dry the surface. Season both sides with salt and white pepper.
Make the batter. Whisk all your batter components well. A few lumps are fine.
Fry the cod. Deep-fry battered cod, then move onto a rack. The coating will crisp up some more.
Serve. Serve immediately with your preferred dips and sides.
How long should you fry battered fish?
It depends on how big your cod slices are. For 5-inch long cuts, it takes around 8 minutes to get that golden, crispy coating without overcooking the fish. Also, adjust cook time if you're using smaller or bigger cuts.
Best Fish to use for fish and chips?
Cod is a popular and one of the best choices in chip shops. However, it can get expensive or inaccessible in some locations.
Feel free to swap it out with halibut, haddock, whiting, flounder, tilapia, or pollock. You can basically use any white, subtle-tasting variety. After all, what makes this dish stand out is that delicious crispy coating!
What type of beer to use?
Beer is the most important component of that delicious coating. There are so many different types out there, so you may be wondering which one will work best.
My rule of thumb is: Choose what you like drinking!
Here are a few ideas:
For stout enthusiasts, the slight slightly sweet, full-blooded boldness of Guinness shines in the batter
If you don't want an intense alcohol flavor, commercial kinds like Coors and Pabst Blue Ribbon will give the coating that airiness without an obvious beer taste
Newcastle and other brown beers give this batter a beautiful caramel undertone
I tend to stay away from hoppy types because they can impart a bitter aftertaste to the coating. But to each her own! Some people actually enjoy it.
What is the best oil to use Beer Battered Fish?
Use canola, vegetable, and other neutral varieties. Also, peanut oil is great to use because it has one of the highest smoking points, which is great for deep frying.
Best sauce to use:
You can keep it simple with a squeeze of lemon, vinegar dip (I like white or brown malt), and sea salt, but it also goes perfectly with these delicious sauces:
Tzatziki Sauce: This healthy yogurt sauce with fresh garlic, grated cucumber, and dill cuts through any oiliness of this fried dish
Horseradish Sauce: If you're a fan of wasabi, you're going to love dipping the battered cod in this creamy and sour sauce with just the right amount of heat!
Homemade Yum Yum Sauce: How adorable is that name? This Japanese-inspired sauce is usually served in hibachi restaurants, but it's so easy to prepare from scratch. It's made with rich Japanese mayo mixed with ketchup, then spiked with rice vinegar and mirin. Goes really well with Crispy Onion Rings and Fried Cheese Sticks, too!
Chik Fill A Sauce: Another great dipping sauce with the right balance of sweet and smokey flavor.
Storage Instructions:
The great thing about this recipe is that it's still good after a while. Leftovers can easily be stored and refrigerated for days to come. Use an airtight container, then refrigerate for up to 4-5 days.
Also, make sure it's completely cool before putting it in the fridge. Otherwise, it will steam and get soggy whatever container you put it in. To heat, you can bake them in a 300F oven to restore some of the crispiness.
More seafood recipes:
Recipe tips:
Serving to kids? You may slice the fish into bite-sized pieces.
Also, if using frozen cod, thaw, and dry completely.
You can use this recipe coat onion rings!
Try adding different spices like curry powder, ranch seasoning, cajun seasoning, or paprika for different flavor variations.
When deep-frying, it is very important to watch the oil temperature carefully. You want to ensure the oil is hot enough to perfectly cook the fish. If it is too low, then you will end up with grease fish.
Deliciousness to your inbox
Enjoy weekly hand picked recipes and recommendations