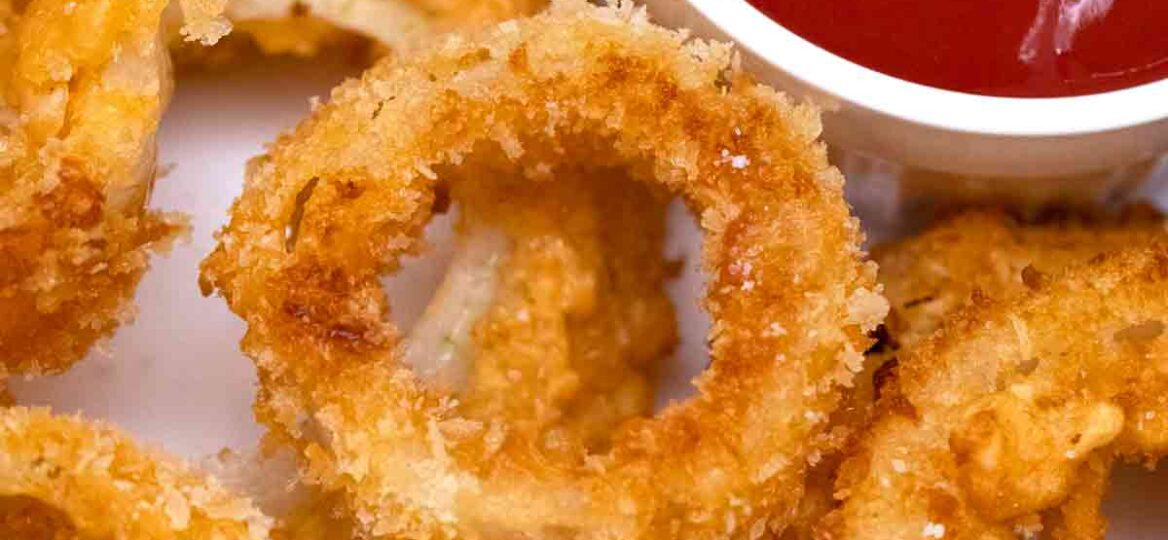 Crispy Onion Rings Recipe [Video]
Crispy Onion Rings are made restaurant-style, which means they are crispy on the outside and tender inside. They have a perfect golden color and can be served as an appetizer in burgers. Watch the video tutorial and learn how to make the best onion rings from scratch!
For more easy and delicious appetizer recipes, check out our Crispy Potato Wedges or Cheesecake Factory Avocado Egg Rolls Copycat Recipe!
The Best Onion Ring Recipe
Crispy Onion Rings make me feel like an expert fry cook every time I make them. I love hearing that sizzle when I drop the battered slices into the hot oil! I swear these crispy bites taste like something you'll order at a restaurant or bar, except completely homemade.
My family loves these homemade onion rings because they are extra crispy, and go pretty much with any food. They are coated in a perfect egg-flour batter, which creates that outer covering exterior.
This coating is what makes them extra crispy on the exterior that has everyone come back for more. I would also say that the secret ingredient here is the panko bread crumbs. This gives them the perfect coating on the outside and a crispy crust.
Also, they are super delicious and irresistible. You can serve onion rings as a side dish, or you can also put them on hamburgers, hot dogs, or even tacos.
Another secret to uber-crispiness is that I don't just dip them in seasoned batter. Instead, I finish them off by rolling in panko. The result? A beautifully crunchy crust with the most tender onion ring inside. You can also bake this if you don't want it deep-fried.
What kind of onions to use?
Use sweet yellow onion or the white kind for this recipe. Yellow ones are less pungent than white, so keep that in mind if you're serving guests who don't like too strong onion flavors.
I prefer using the sweeter varieties such as Walla Walla, Vidalia, and Maui onion. Also, pay attention to the shape as well. In general, the flatter ones are sweeter than the round-shaped kinds.
How to cut the onion?
Remove the stem and root.
Then, carefully cut a thin slice off one end. This will stabilize it while cutting.
Next, slice crosswise with the flat side down.
Cut into your desired thickness.
What is the batter made of?
For the batter, please prepare the following ingredients:
Flour: it helps the coating adhere to the rings.
Baking powder: this makes our batter lighter and crispier.
Eggs and milk: lightly whisk together before dipping.
Panko: our final coating for the ultimate crunchiness.
Paprika: adds a mild spice and fantastic color.
Garlic powder and onion powder: this seasoning duo makes the dish more delicious!
Salt: brightens up all the flavors and seasons of the dish.
How to make crispy onion rings?
Heat the oil: First, heat your oil in a heavy-bottomed pan or deep-fryer. Use a thermometer to ensure that it's at 365 degrees F. Also, if the oil temperature is too low, then the batter will just absorb the oil instead of crisping up.
Make the dry mixture: Then, mix your flour, seasonings, and baking powder, then dredge your rings until coated. Remove slices and set aside.
Make the liquid mixture: Next, whisk your milk and egg into the remaining flour to make the batter. Dip your rings. Drain on a wire rack until it stops dripping.
Coat the slices: Coat each slice completely with panko bread.
Deep Fry: Next, deep fry until golden. Remove excess oil with paper towels or on a wire rack.
Season and serve: Lastly, finish with seasoning salt and serve hot.
Best onion rings dipping sauce:
We love serving them with ketchup or burger king onion ring sauce. However, they go with pretty much any sauce.
Some other great options would be:
Chilis awesome blossom sauce
Bang Bang Sauce – a favorite of ours. It is a sweet and tangy sauce made with Thai sweet chili sauce, and mayo.
Worcestershire sauce
Sour cream
How do you keep the batter from falling off onion rings?
Use cold batter. Also, it is important to avoid any excess flour on the slices. Don't forget to use hot oil at the right temperature as well.
Can I bake them instead?
Absolutely. You can bake the rings as well for a healthier alternative.
Start by heating your oven to 425F.
Spray your baking sheet with non-stick spray or parchment paper.
Follow the steps for the batter and panko coating.
Then, spray the rings with cooking spray for even browning and crispiness.
Bake for around 10 minutes, flip, and bake for another 5 minutes.
Serve immediately.
Can I substitute gluten-free flour instead?
Yes! If you are on a gluten-free diet, simply substitute the all-purpose flour with the gluten-free one. Use the same ratio.
Can I make crispy onions in the air fryer?
Absolutely! Making them in the air fryer is a healthier alternative as you do not deep fry them. Please follow our crispy air fryer onion rings recipe.
How to serve onion rings?
They can be served as an appetizer by dipping them into the desired dipping sauce described above. Also, don't forget to sprinkle them with some chili powder or spicy seasoned salt for heat!
As a side dish, serve panko onion rings alongside burgers, salmon, grilled salmon skewers, KFC chicken, and baked pork chops.
Use them as topping on burgers, hot dogs, salads, or tacos.
Can I freeze battered onion rings?
Yes. First, cool them completely, and drain off as much of the oil as possible.
Refrigerate them for up to 5 days in an airtight container or longer if frozen.
Reheat in a 375F oven until hot. However, these are best enjoyed fresh off the fryer!
More crispy appetizers:
Recipe Tips:
Use a candy thermometer to achieve precise temperature.
Don't overcrowd the deep-fryer so each one gets evenly crispy.
In addition, remember that frying steps move fast. Therefore, have everything ready and breaded properly before adding them to the hot oil.
Instead of plain breadcrumbs, you can also use seasoned Italian-style breadcrumbs.
Also, feel free to use your mix of onion rings seasoning. Use other seasonings like Cajun seasoning or Creole mixes.
Crispy Onion Rings
Ingredients
3

large onions

cut into 1/4-inch slices

2

cups

all-purpose flour

1 1/4

teaspoons

baking powder

1

teaspoon

onion powder

1

teaspoon

paprika

1 1/2

teaspoon

garlic powder

1 1/4

teaspoons

salt

2

eggs

1 1/2

cups

milk

or as needed

1 1/2

cup

panko bread crumbs

1/4

teaspoon

salt

5

cups

oil for frying

or as needed
Instructions
Peel and cut the onions into rings, carefully separate them, set aside.

In a medium bowl, stir together the flour, baking powder, onion powder, garlic powder, paprika, and salt.

Dip the onion slices into the flour mixture until they are all coated and set aside on a cutting board.

Next, using a fork, whisk the egg and milk into the flour mixture.

Add the Panko breadcrumbs to a shallow dish, set aside.

Dip the floured rings into the batter to fully coat, place on a wire rack to drain until the batter stops dripping.

Heat the oil in a deep-fryer or large pan to 365 degrees F.

Dip the onion rings one at a time into the Panko crumbs, getting the crumbs all over the ring to coat.

Deep fry the rings a few at a time for 2 to 3 minutes, or until golden brown. Drain excess oil by placing them on the wire rack after frying.

Season with salt if needed, and serve.