Bang Bang Sauce Recipe [Video]
Last updated on April 3rd, 2022 at 05:57 pm
Bang Bang Sauce is a sweet and tangy sauce made with Thai sweet chili sauce, sriracha, yogurt, and mayo. Use it to pour over chicken or shrimp or as a dip for just about anything. The spiciness of the sriracha blends well with the mayo and Greek yogurt to make it thick as well as smooth. This homemade sauce is a creamy and tasty way to spice up any meal.
In fact, the Bonefish Grill Restaurant made this creamy sauce famous by pouring it all over fried shrimp and calling it bang bang shrimp appetizer. You can make this dish yourself with our excellent Bang Bang Shrimp copycat recipe. Another stellar Asian recipe is the salty, spicy, and crispy Kung Pao Chicken. Or try this rich Blue Cheese Dressing as a dip or sauce for chicken, shrimp, or anything else you want.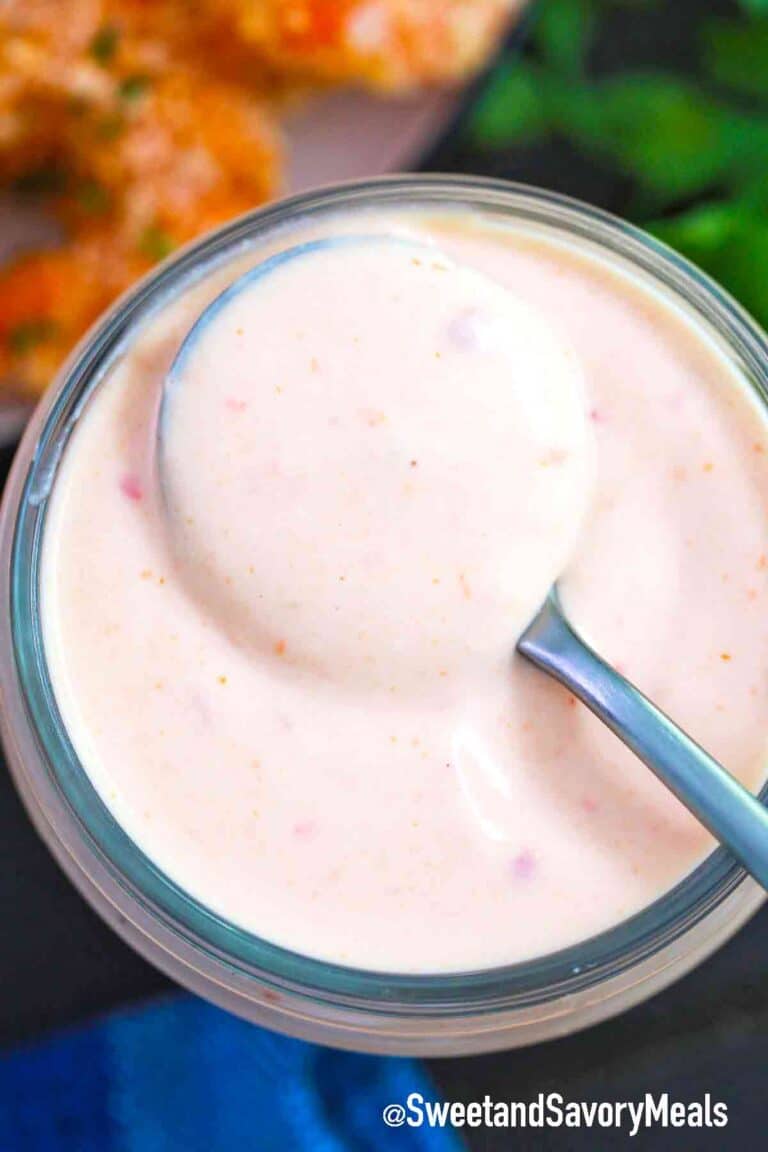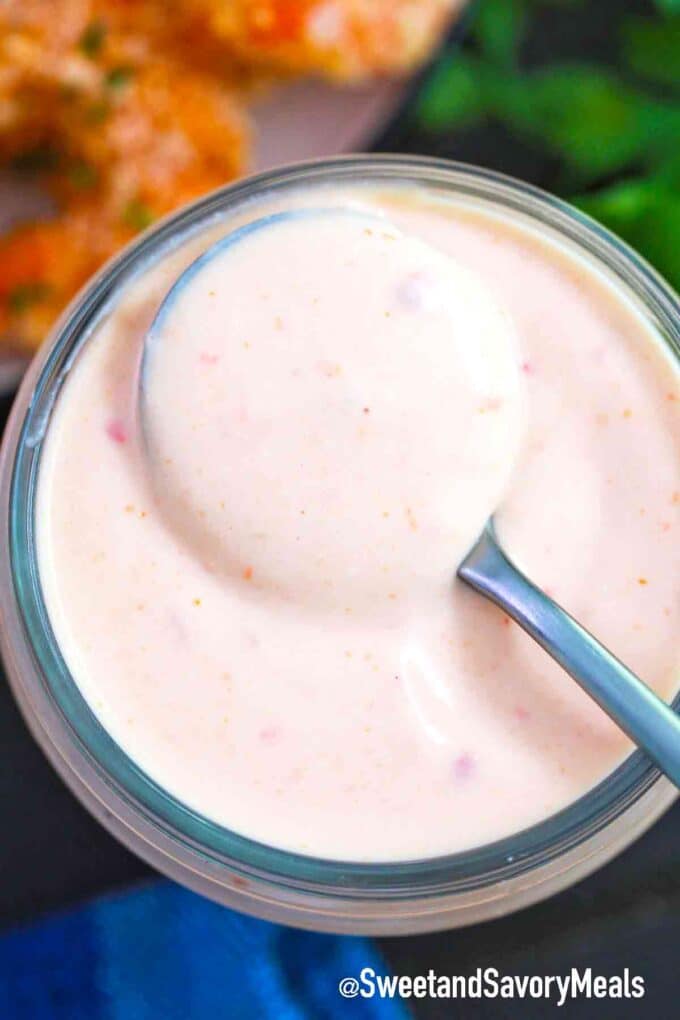 Easy Dipping Sauce Recipe
This is also known as bang bang shrimp sauce or yum yum sauce because of the popularity of the Bonefish Grill Restaurant bang bang appetizer. But this homemade version is even better since you can add or remove ingredients to your liking. It is also good to know exactly what you are eating since some recipes contain preservatives.
This is a great dipping sauce that goes well with all the main dishes. It is one of the easiest and most delicious recipes that are versatile in serving! It goes well with meat, veggies, and seafood! Also, it makes the perfect sauce to serve at game nights or parties.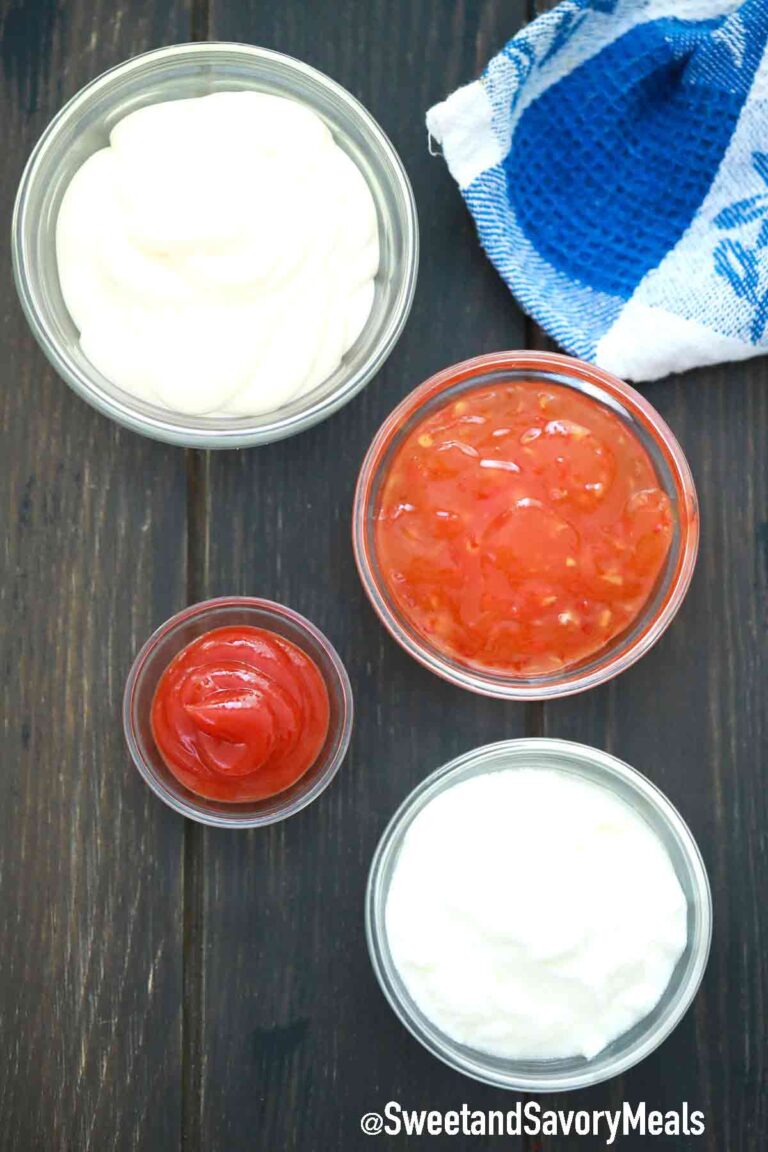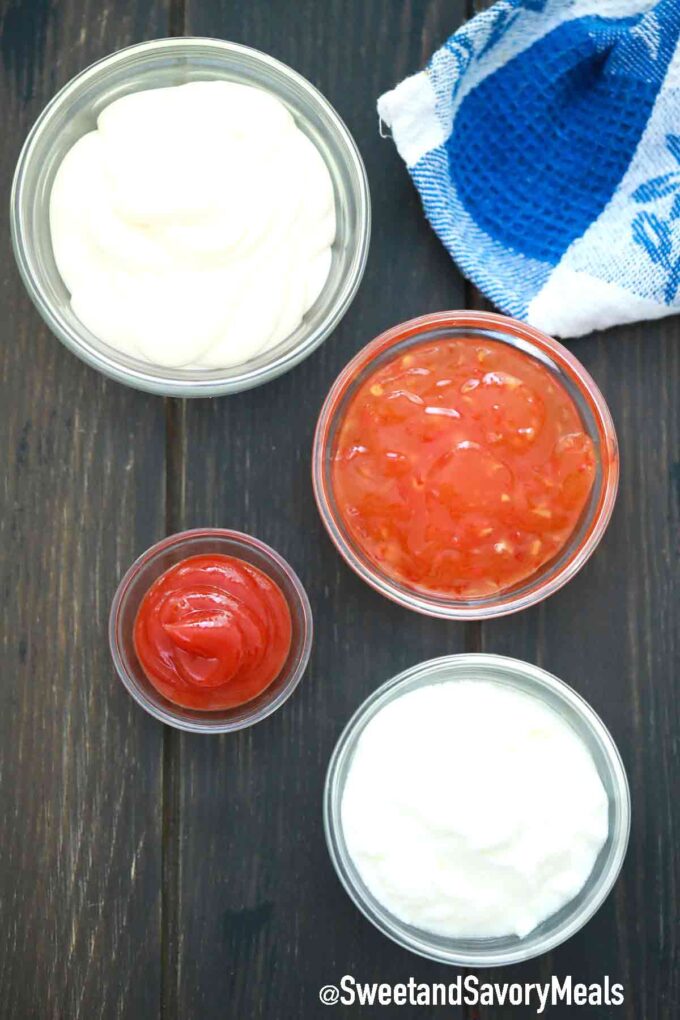 Ingredients needed:
For this sweet and spicy sauce, you are not going to need much so don't worry about having to make a big grocery list. The easy sauce is made with simple ingredients and the key ingredient is the Thai sweet chili sauce. For the full recipe instructions, detailed steps, and measurements, scroll down to our handy recipe card. But here are the basics:
Mayonnaise: You can use light mayo for less fat and calories.
Plain Greek yogurt: This adds an extra dose of creaminess.
Hot chili sauce: We used sweet Thai chili sauce.
Sriracha sauce: Or you can use any other hot sauce.

Worcestershire sauce: This ingredient is optional, but it adds a nice tanginess to the recipe.
How do you make a bang bang sauce recipe?
Combine: First, add all the ingredients to a small bowl.
Whisk: Then, use a whisk to combine all the ingredients together completely.

Refrigerate: Last, put it into a jar or sealed bowl and refrigerate until you are ready to use it.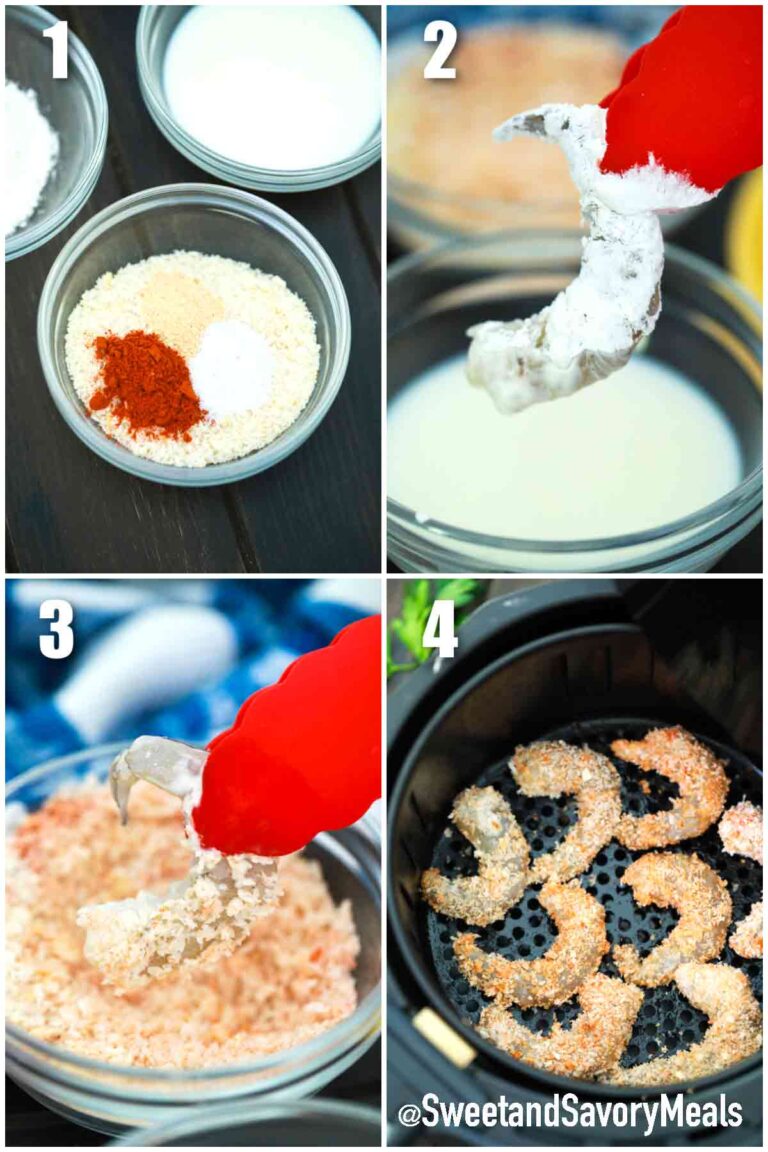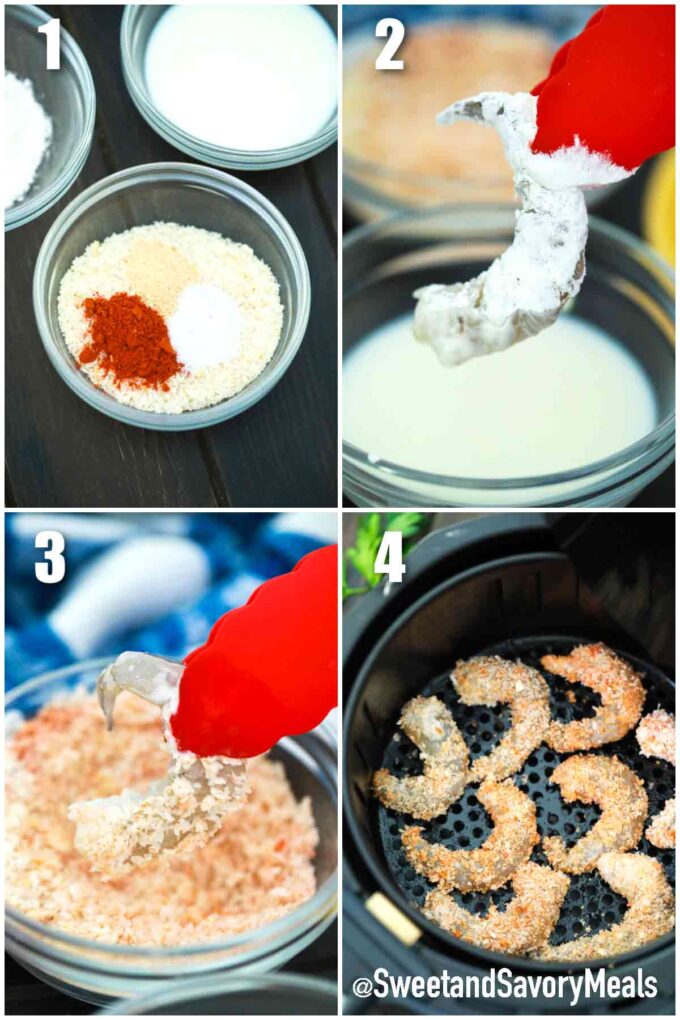 Recipe variations:
Add more heat: If you want it to be extra spicy, add some cayenne pepper, chilis, or chopped jalapeno peppers.

Make it sweeter: Also, to make it sweeter use a spoonful of sugar, brown sugar, honey, or maple syrup.
Sour it up: Another way to change the taste a bit is to sprinkle some lime or lemon juice into it.

Add vinegar: Alternatively, give it a more robust taste with rice wine vinegar.

More seasoning: Try adding a bit of onion or garlic powder or your other favorite seasonings to make it even more flavorful.

Garlic: As an alternative, for a garlicky flavor either add some fresh minced garlic, garlic powder, or use chili garlic sauce.
Citrus: As an option, add lime zest and lime juice for a refreshing flavor.
How to serve:
Serve this delicious dressing on top of any meat dish or as a dip for anything you are eating. Here are some good ideas you may like: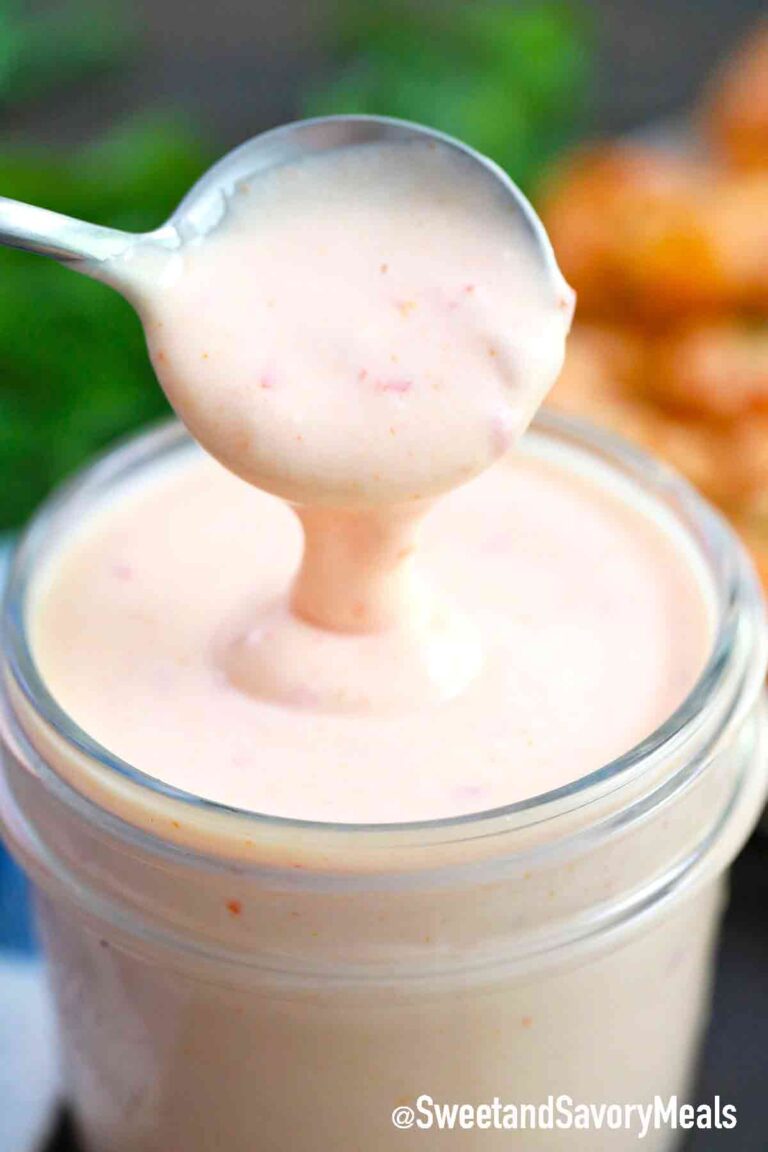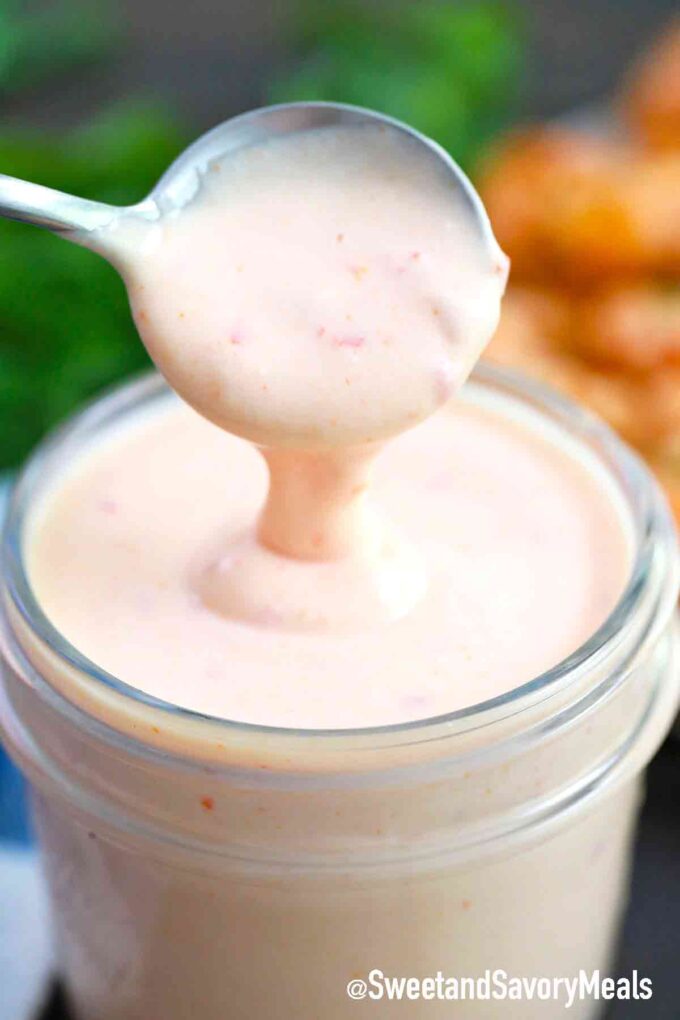 Frequently asked questions
Why do they call it bang bang sauce?
Bang bang sauce was originally used with bang bang chicken and the name came from the wooden cudgel or club that they used to bang on steamed chicken meat in Thailand. Therefore, this process is used to make the meat more tender and spongelike so it will absorb juices better.
It is important to note that banging on the chicken was done after it was cooked because it exposes the fibers to make it easier to shred. The chicken dish is actually shredded chicken with chili and black vinegar.
But the recipe has changed over the years and a bang bang shrimp recipe is even a famous appetizer at the Bonefish Grill Restaurant called Bonefish Grill Bang Bang Shrimp.
What is bang bang chicken?
Also known as bon bon chicken, this dish started in China as a popular dish made with chicken tenderized by banging it with a stick or hammer. According to Chinese legends, the chicken dish was made this way because most people could not afford to eat the meat, which was considered a luxury.
Therefore, banging it made it easier to cut into smaller pieces to sell by the slice to those who wanted it.
What else can I use this sauce for?
This sweet and spicy dressing can be used for a dip for just about anything from meat to vegetables and even fruits or bread. Hence, the sauce is also good to pour over fish, shrimp, and meats like pork, beef, and lamb.
Also, baste wings in bang bang sauce for a savory appetizer or meal. It even goes great on tacos and burritos.
How to store leftovers:
Store: First, you can store leftovers in a mason jar or airtight container in the refrigerator for up to 10 days.

Freeze: Freezing is recommended if you are not going to finish it within 10 days. Store it in a mason jar or freezer bag for up to three months.

Thaw: Let it thaw in the fridge overnight before use or heat it up on the stove.
More Dipping Sauces:
Recipe tips:
For a lighter version, use light mayo and low-fat yogurt to cut calories and fat.
In fact, you can even make this a vegan sauce by using vegan mayo.

Also, if you want your sauce thinner, add a bit of water or lemon juice.

For a thicker sauce, add more yogurt.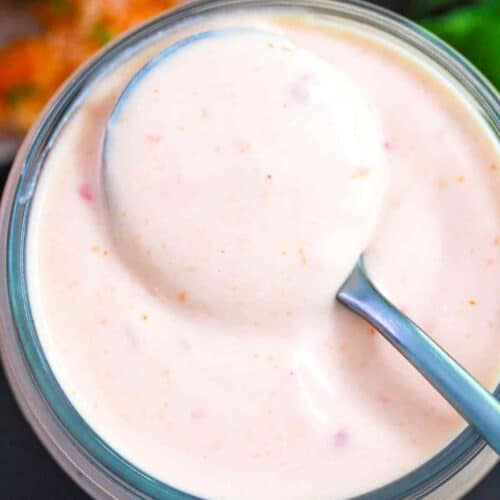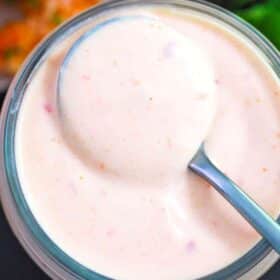 Bang Bang Sauce Recipe
Bang Bang Sauce is a sweet and tangy sauce made with Thai sweet chili sauce, sriracha, yogurt, and mayo. It is often used to pour over chicken or shrimp.
Save
Share
Print
Pin
Rate
Ingredients
1

cup

mayonnaise

1/2

cup

plain Greek yogurt

1/2

cup

Thai sweet chili sauce

2

teaspoons

sriracha sauce

(or more)

1

teaspoon

Worcestershire sauce

(optional)
Instructions
In a medium bowl combine all of the ingredients. Stir.

Cover and refrigerate until ready to use!
Nutrition
Calories:
308
kcal
|
Carbohydrates:
12
g
|
Protein:
2
g
|
Fat:
28
g
|
Saturated Fat:
4
g
|
Polyunsaturated Fat:
17
g
|
Monounsaturated Fat:
6
g
|
Trans Fat:
1
g
|
Cholesterol:
17
mg
|
Sodium:
501
mg
|
Potassium:
41
mg
|
Fiber:
1
g
|
Sugar:
12
g
|
Vitamin A:
28
IU
|
Vitamin C:
1
mg
|
Calcium:
22
mg
|
Iron:
1
mg
More recipes you might love