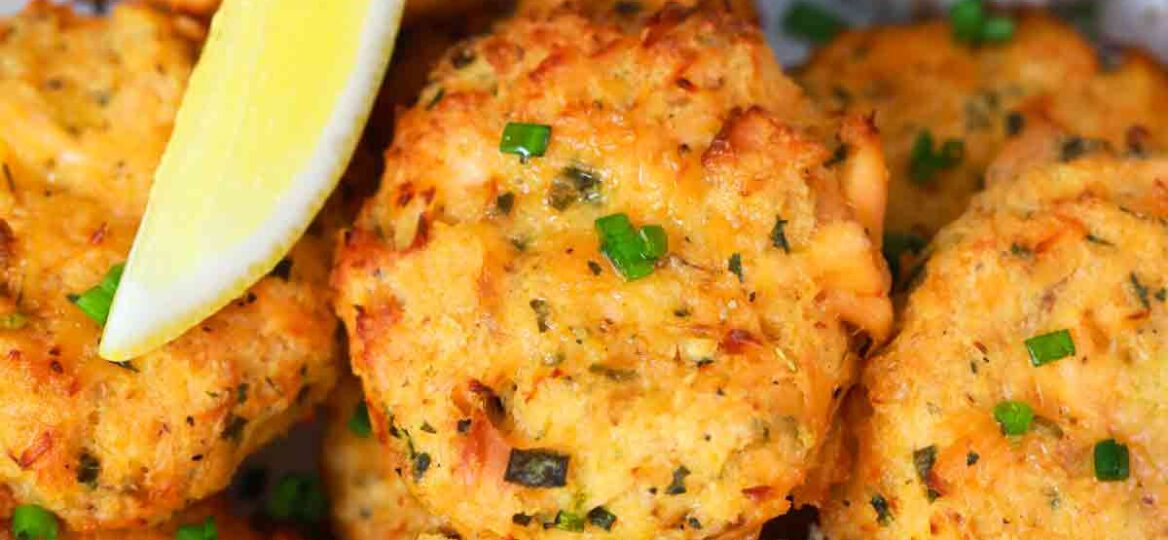 Air Fryer Salmon Cakes [Video]
Air Fryer Salmon Cakes are mixed with green onions, garlic, sour cream, plus herbs and spices then air-fried until crispy perfection. These savory, healthy patties are perfect as appetizers or a light meal!
Craving for more delicious seafood dishes? Don't miss our Oven Baked Fish Sticks, Cajun Shrimp and Sausage, and Instant Pot Lobster Chowder!
Air Fryer Salmon Cakes
Air Fryer Salmon Cakes are easy, savory, and packed spices, herbs, plus lemon and sour cream to keep it fresh and light. Our family and guests request this often, and we're always happy to oblige because this recipe takes less than 30 mins!
Furthermore, this is a very customizable recipe. For instance, you can chop cooked shrimp and crab for extra-special seafood patties. We also love adding cheese, different herbs, jalapeno and peppers for heat, and even veggies! For example, try grating carrots, broccoli, or cabbage and mix them in.
Finally, they're very delicious, especially with homemade dips (we list some of our favorites below)! Eat them as an appetizer, as a main dish, or as a side dish to your entrees. We're sure you'll love them as much as we do!
What goes into salmon cakes
Salmon: Fresh is our first choice, but canned will work in a pinch.

Aromatics: To build flavor, we're adding grated ginger, fresh garlic, and green onions.
Bread crumbs: Plain panko encourages our patties to crisp up and prevents them from falling apart.
Egg: This binds our mixture and like the panko, helps them keep their patty shape.
Seasonings: In addition to the aromatics, we're also flavoring our patties with paprika, parsley, and Italian herbs. Since salmon is very rich and fatty, we're also adding lemon juice and zest, hot sauce, and sour cream to cut through that richness.
How to make homemade Air Fryer Salmon Cakes
Bake. Brush the fish with oil, then lightly sprinkle with salt and pepper. In a 425F oven, bake it (skin-side down) for 10mins.

Flake. After baking, peel off the skin. Then, flake it and remove any remaining bones.

Mix. To the flaked fish, add all of the seasonings, aromatics, eggs, and panko. Use your hands to mix all of these thoroughly.
Scoop. Portion the mixture with an ice cream scoop and flatten it into patties.
Cook. Arrange the patties on a parchment round placed inside the basket. Spray each piece lightly with oil. Finally, air-fry at 370F for about 8-10 mins. until golden.

Serve. Enjoy hot with more lemon and your favorite creamy dips!
Frequently Asked Questions
How long do you need to air-fry salmon patties?
Just 8-10 minutes! The salmon is already cooked, so it doesn't take long at all. However, feel free to adjust the cooking time if you want it crispier.
Can you make these in the oven?
Yes. Bake the fish first, then make the patties. After that, arrange on your baking sheet, spritz with oil, then bake at 350F for about 15 to 20 mins.
How to avoid salmon cakes that fall apart?
Two things: add an extender (such as bread crumbs) and a binder (such as eggs). These form the structure of the salmon cakes.
Also, mix the patty mixture very well, otherwise, some of the flakes can fall off while cooking.
What goes well with salmon patties?
Tangy, creamy dips are perfect with salmon patties. Our favorites are:
Although they're perfect as appetizers, we also love these savory cakes as a light main dish or side. Try them with salads, roasted asparagus or cabbage, soup, or with a simple pasta.
Storing instructions:
After they've cooled down, transfer to an air-tight container and refrigerate for up 3 days. Reheat by air-frying at 400F for a few mins.
More air fryer recipes to try:
Deliciousness to your inbox
Enjoy weekly hand picked recipes and recommendations