Air Fryer Apple Fries [Video]
Air Fryer Apple Fries are tender-crisp and covered with a sweet graham crust with a hint of cinnamon and brown sugar. Dipped into gooey and warm caramel sauce, these are absolutely heavenly!
Air-frying some of our favorite fried treats makes them guilt-free but equally delicious! When those snack cravings hit, don't forget to make these Air Fryer Onion Rings, Air Fryer Churros, and Air Fryer Fried Pickles!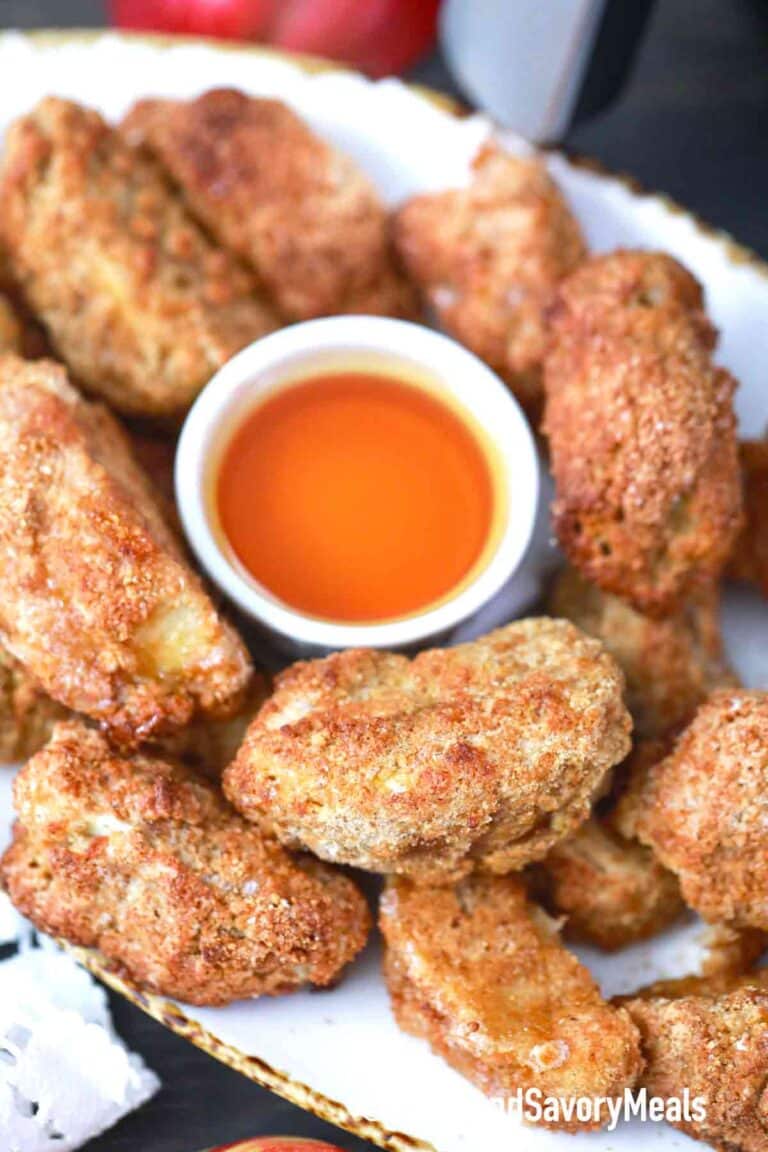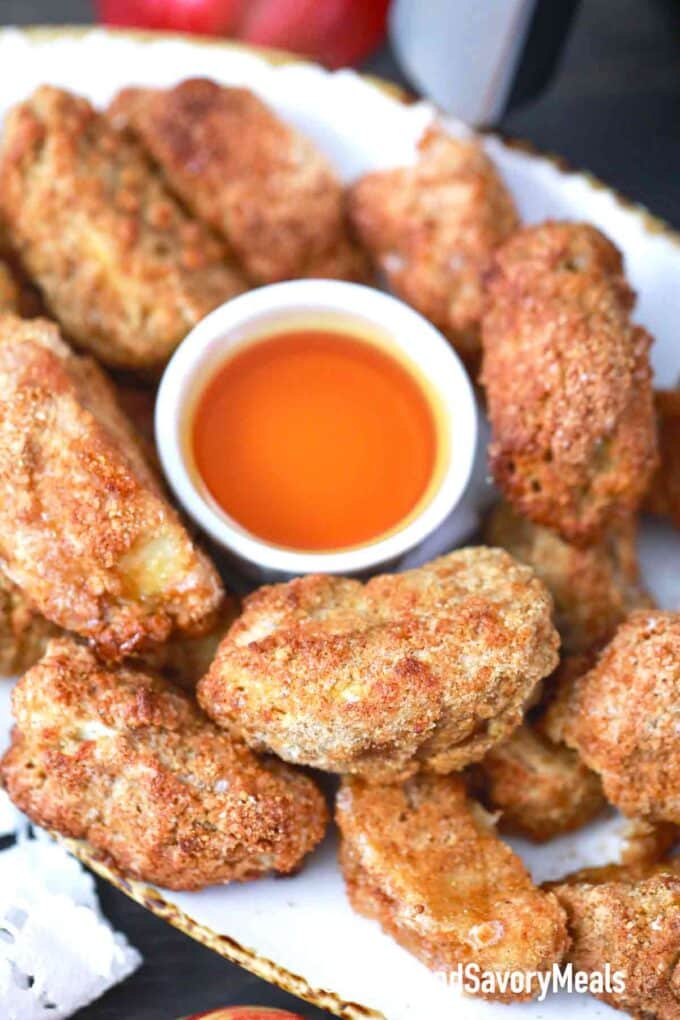 Air Fryer Apple Fries Recipe
Air Fryer Apple Fries are, quite frankly, addicting. The sweet and tart apple wedges are covered with cinnamon-sugar graham coating then air-fried until the crust is crunchy and the fruit is tender. Then, simply warm up your caramel sauce and enjoy!
Are air-fried Apple fries healthy?
Healthier than deep-fried, definitely. Also, compared to regular French fries, these have much fewer carbs.
In particular, these are highly nutritious fruits with lots of fiber, Vitamin C, potassium, Vitamin K, plus various antioxidants. In addition, apples are great at keeping you full thanks to their complex carb content.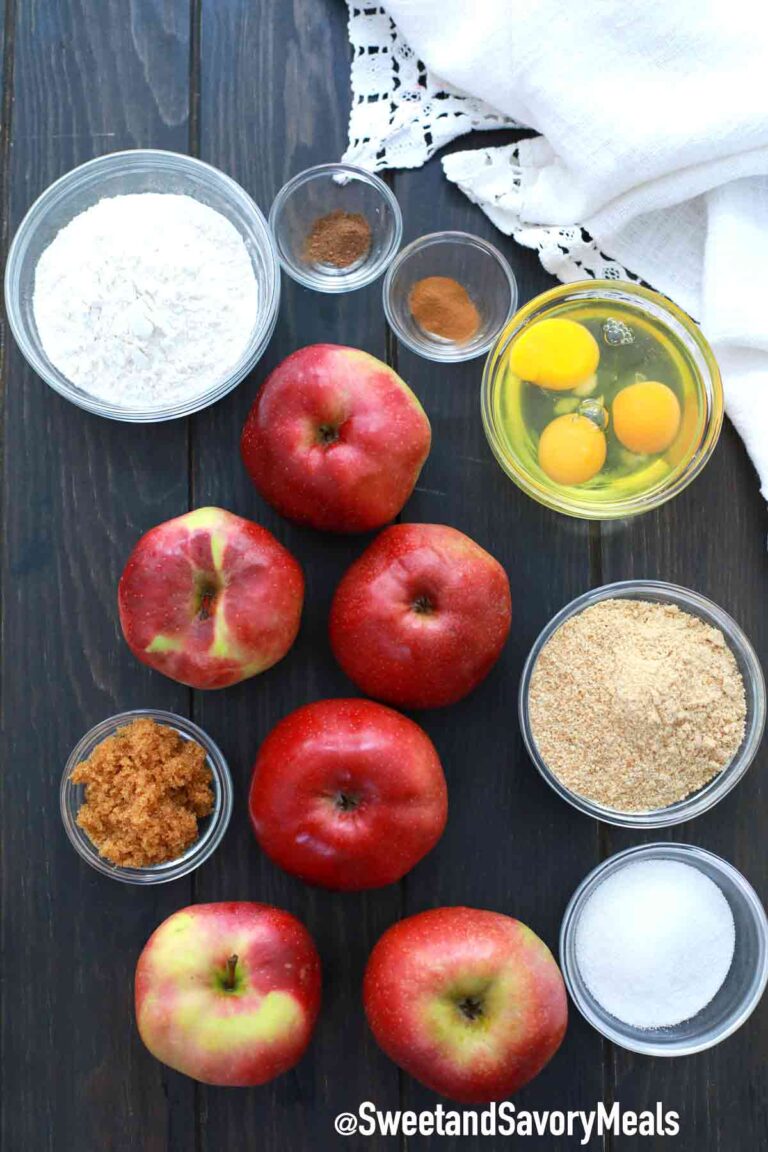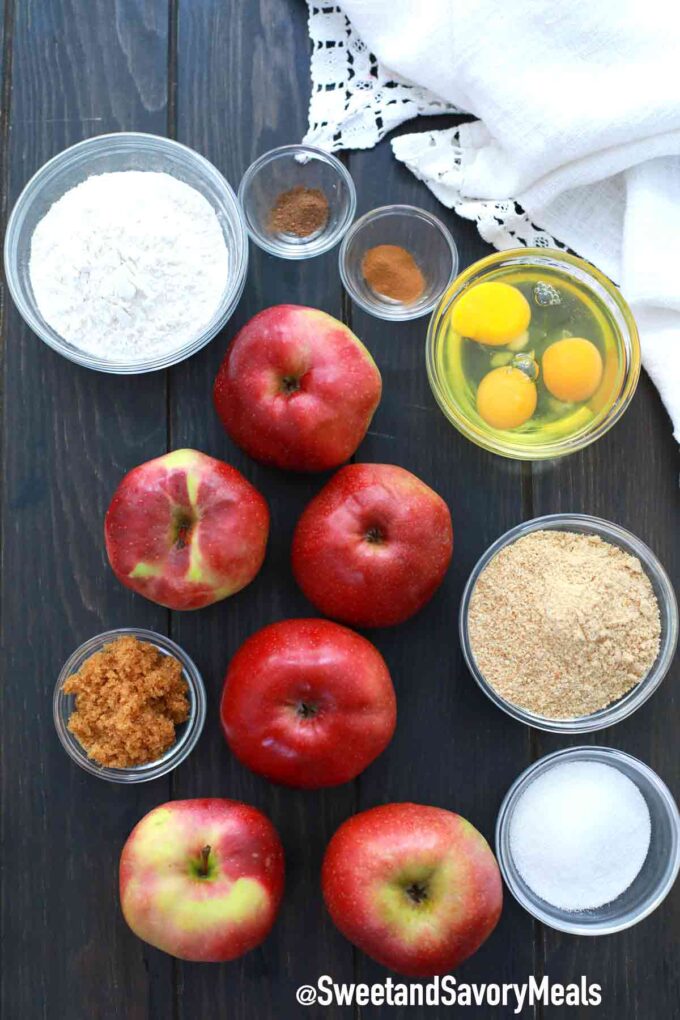 Finally, this dish also has very little fat since we're air-frying them instead of deep-frying the pieces like most recipes for these fruit fries.
As a result, this dish is a healthy snack option if you're craving something crunchy and delicious!
Air Fryer Apple Fries ingredients
Apples: We prefer using Gala due to their crisp, dense texture and sweetness.

Flour: A light coating of flour allows the other breading layers to stick to the fruits.
Egg: Beat about 3 eggs. This is our second dip, and makes each fry extra crispy!
Graham crackers: Crush them manually or using a processor into very fine crumbs. This our last breading layer, and we're seasoning it with spices (nutmeg and cinnamon) plus brown and white sugars.
Caramel sauce: This rich and sweet dip takes them out of this world!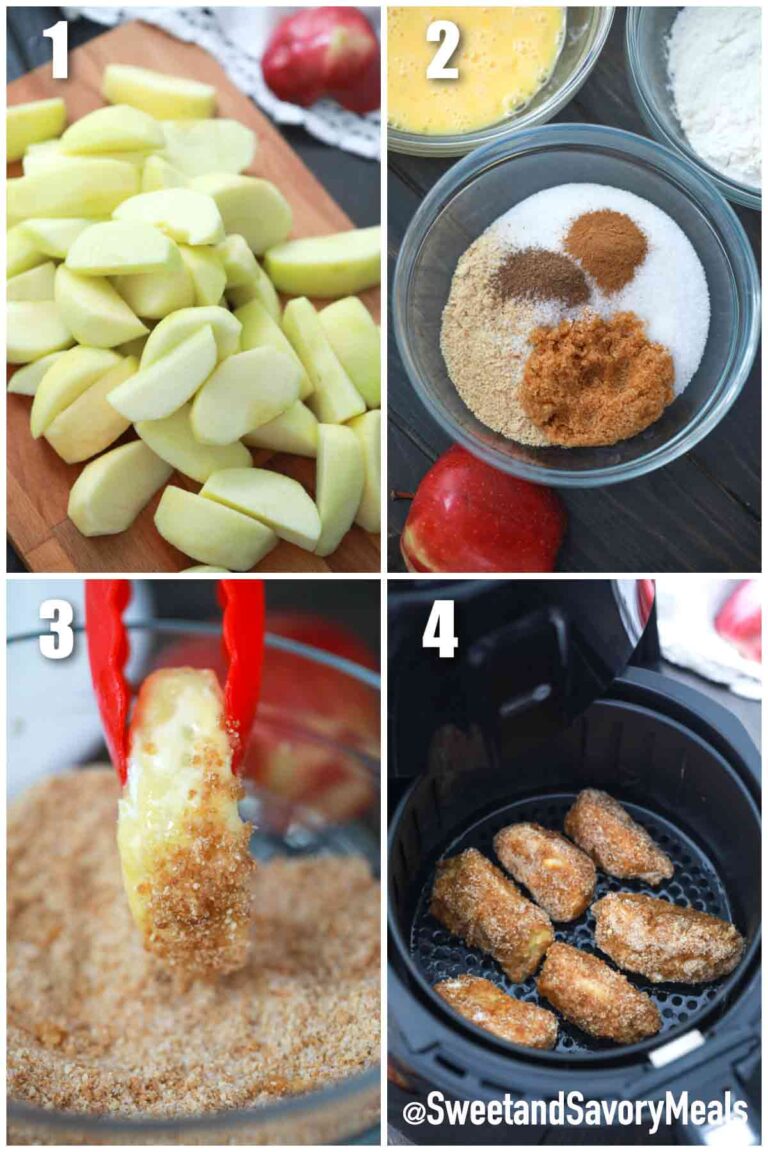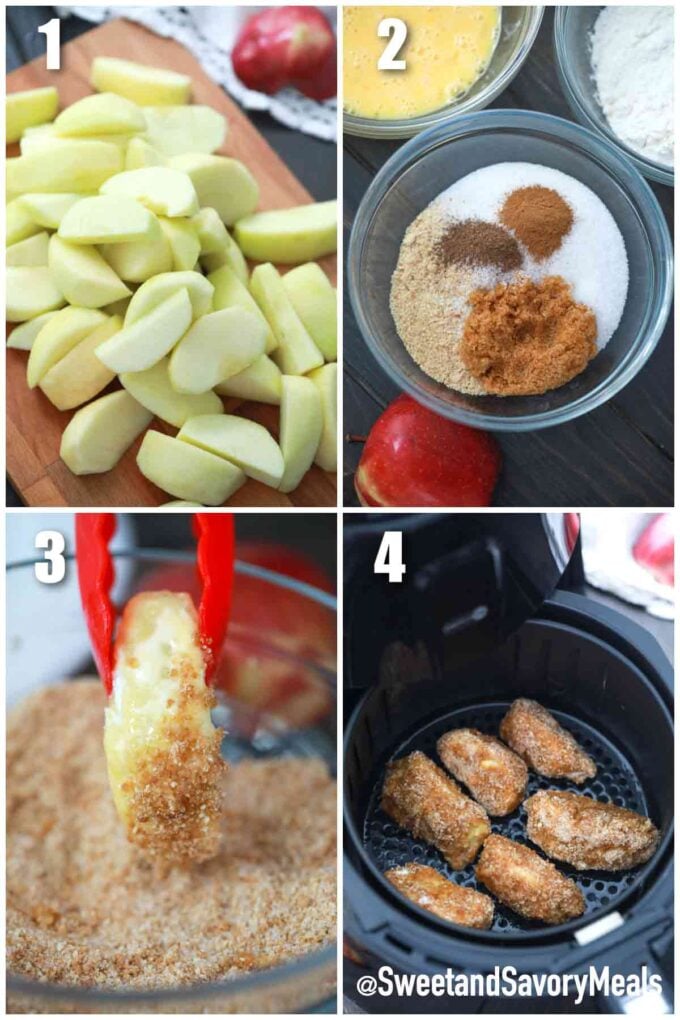 How to make Apple fries in the air fryer
Prep the fruit. After peeling and taking out all the core, chop the fruit into wedges.
Prep your breading "station." In the first bowl, place the flour. The beaten eggs go into the second bowl. Finally, mix the Grahams with all the seasonings in a third bowl.
Coat. Take your fruit wedges. First, dredge each wedge lightly in flour. After that, dunk it into the egg. Lastly, roll in the spiced graham crumbs. When you're done with all the wedges, open the air fryer's basket and spray/brush it with your preferred oil.
Cook. Place the coated fruit wedges into the basket in a single layer, double-checking that they don't overlap. Give them a light spray of oil. Air-fry at 380F for 5 mins., flip, then cook for 2 mins. more.
Serve. Enjoy hot with a small bowl of warm caramel sauce.
Recipe Variations:
Use other fruits: While this recipe is prepared with apples, you can use a variety of them. Also, I like to make this recipe using pears, sweet potatoes, and carrots. All are great options for a nutritious and healthy snack.
Reduce the Sugars: To make the apple fries recipe healthier, reduce the sugar or use coconut sugar. For a low-carb version use keto or low-carb sugar replacements like erythritol.
Play with the spices: use as much cinnamon and nutmeg as you like. A dash of cayenne and cocoa powder will add a nice twist as well.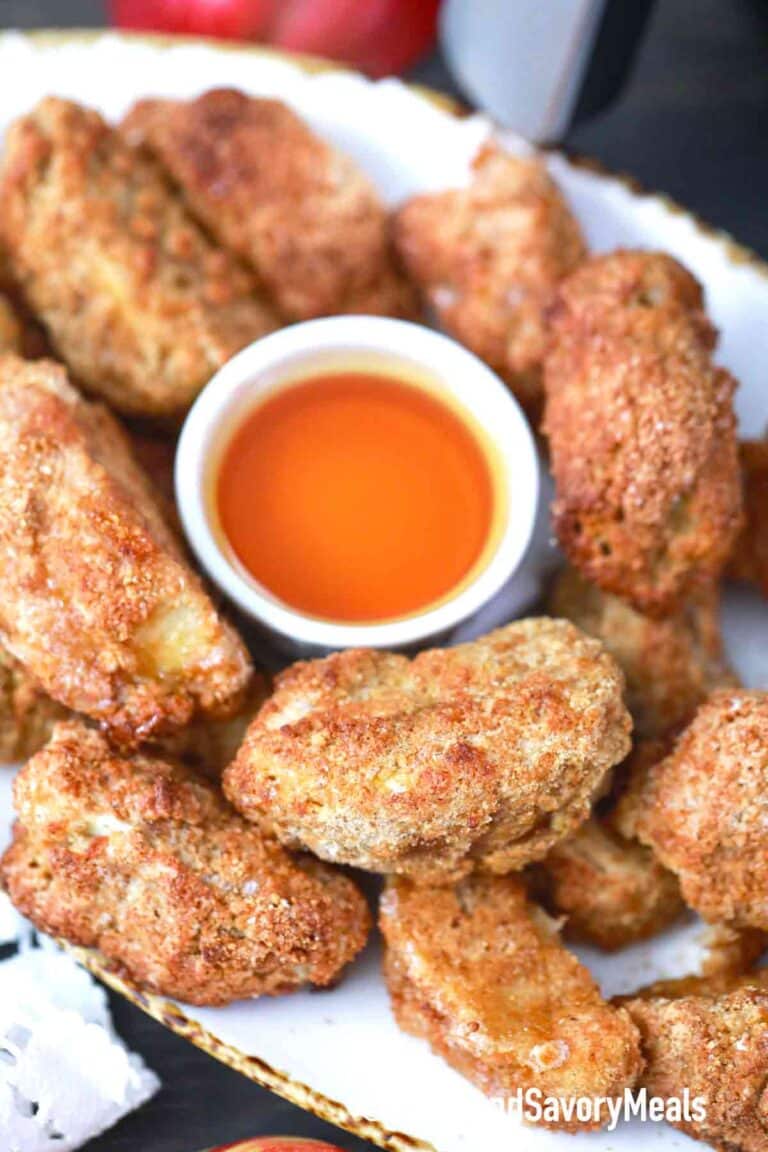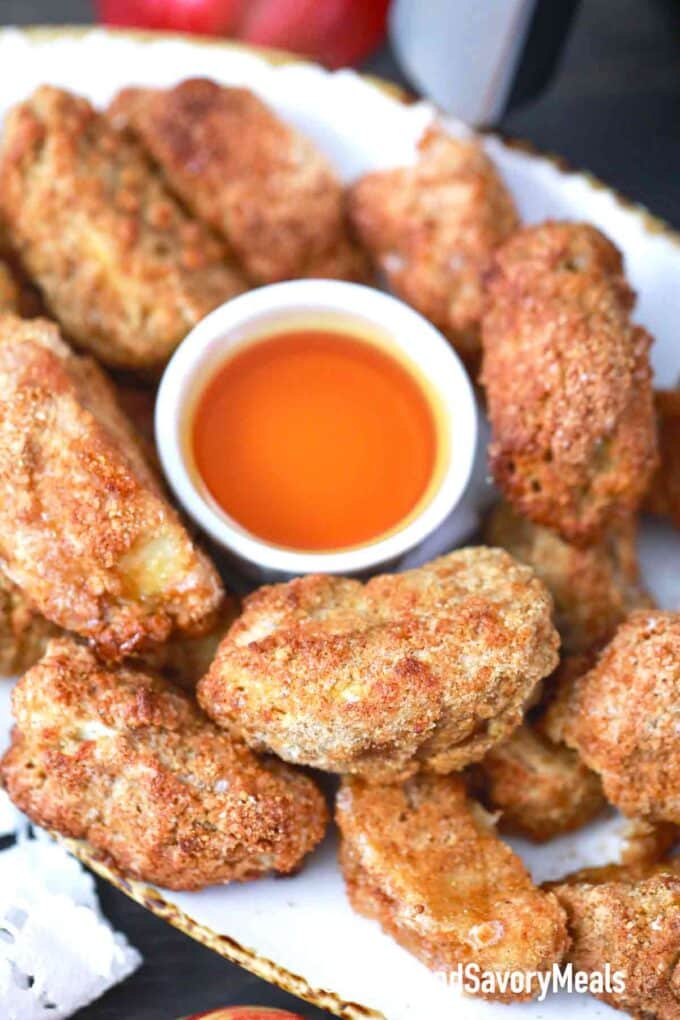 Frequently Asked Questions
How much oil do you put in an air fryer for fries?
Not a lot! You only need a very thin oil coating on the basket itself, then a little more on the fries. At most, you would use up about a teaspoon to a tablespoon of oil for the entire recipe.
Because there's so little fat involved, this is a guilt-free treat!
What are the best apples to use?
Again, we like using Gala for its sweet yet dense and crisp characteristic. Because of this, they retain a nice crunch in the air-fryer.
Other great options are Granny Smith, Braeburn, Pink Lady, and Real Delicious. Don't have a sweet tooth? Go for tart ones, because the caramel sauce will give every bite enough sweetness.
Should I peel the apples?
It's up to you! We like peeling it, for the simple reason that some people don't like the peel. It's a great way to make sure everyone enjoys them.
But if eating the peel is fine for you, then, by all means, leave it on. Less prep work, more fiber!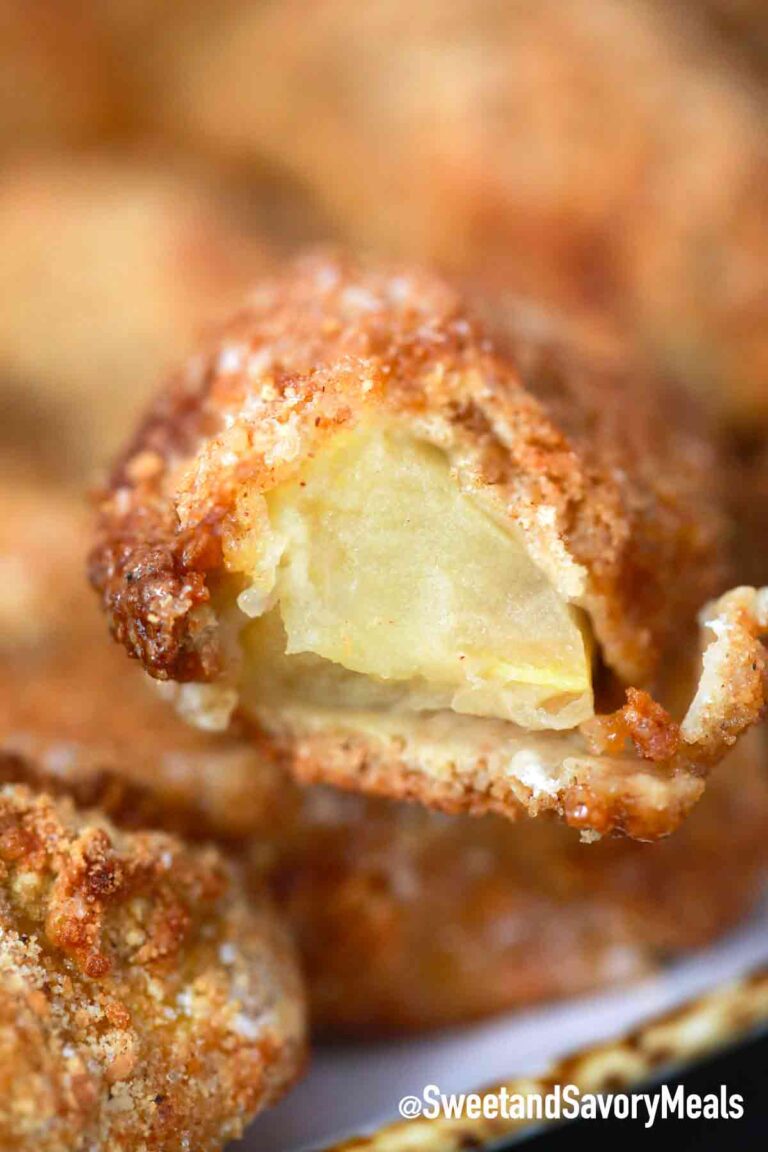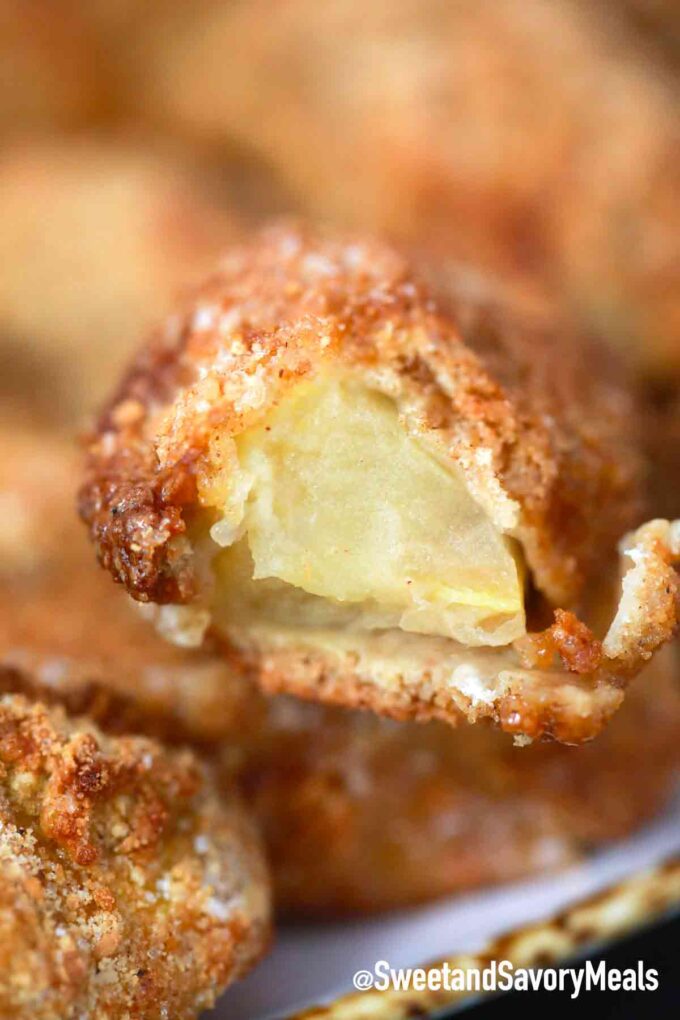 Best dips for Apple Fries dessert:
Sweet sauces, toppings, and dips are definitely our go-to for these treats. You can't go wrong with the following:
Storing instructions:
These fries are crispiest when freshly air-fried, so we encourage you to finish them on the same day you make them.
However, you can certainly keep any leftovers. Cool them first, then place them in a well-sealed container. Keep chilled for up to 3 days, but try to consume them earlier. To heat up, air-fry at 400F until hot.
More apple recipes to try: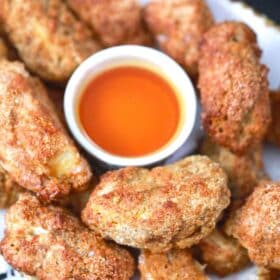 Air Fryer Apple Fries
Air Fryer Apple Fries are tender-crisp and covered with a sweet graham crust with a hint of cinnamon and brown sugar.
Save
Share
Print
Pin
Rate
Ingredients
6

large Gala apples

1

cup

all-purpose flour

3

large eggs

(beaten)

1

cup

graham cracker crumbs

1/4

cup

brown sugar

1/4

cup

white sugar

1

teaspoon

cinnamon

1/4

teaspoon

nutmeg

Caramel sauce

(for dipping)
Instructions
Preheat the air fryer to 380 degrees F.

Line a cookie sheet with parchment paper and set it aside.

Wash the apples, peel, core, then cut them into 8 wedges.

Add the flour to a medium-sized shallow bowl. Set aside.

Beaten eggs into another shallow dish.

In another shallow dish combine the crushed graham crackers, sugars, cinnamon, and nutmeg. Stir to combine.

Toss each apple wedge first in the flour, next, dredge in the beaten eggs, and finally, roll in the crushed graham crackers mixture.

Arrange the apple pieces onto the prepped cookie sheet.

Coat the bottom of the air fryer basket with a bit of oil.

Now, working in batches, arrange the apple pieces into one layer, do not overlap. Spray the apple pieces with a light coat of oil and air fry for 5 minutes then turn the apple pieces over and air fry for an additional 2-3 minutes, or until golden and crisp.

Repeat with the remaining pieces.

Serve with caramel sauce for dipping.
Notes
Keeping the peel on is fine, but feel free to peel the fruits if you prefer a smooth texture.
Don't skip the pre-heating process. You don't want your raw, breaded fries to sit there and get soggy!
Feel free to get creative! For instance, swap out the Grahams for gingerbread cookies or Oreos, skip the spices if you don't like them, or mix it up with pumpkin spice and other flavors.
Nutrition
Calories:
323
kcal
|
Carbohydrates:
68
g
|
Protein:
6
g
|
Fat:
5
g
|
Saturated Fat:
1
g
|
Trans Fat:
1
g
|
Cholesterol:
82
mg
|
Sodium:
129
mg
|
Potassium:
314
mg
|
Fiber:
6
g
|
Sugar:
39
g
|
Vitamin A:
259
IU
|
Vitamin C:
8
mg
|
Calcium:
71
mg
|
Iron:
3
mg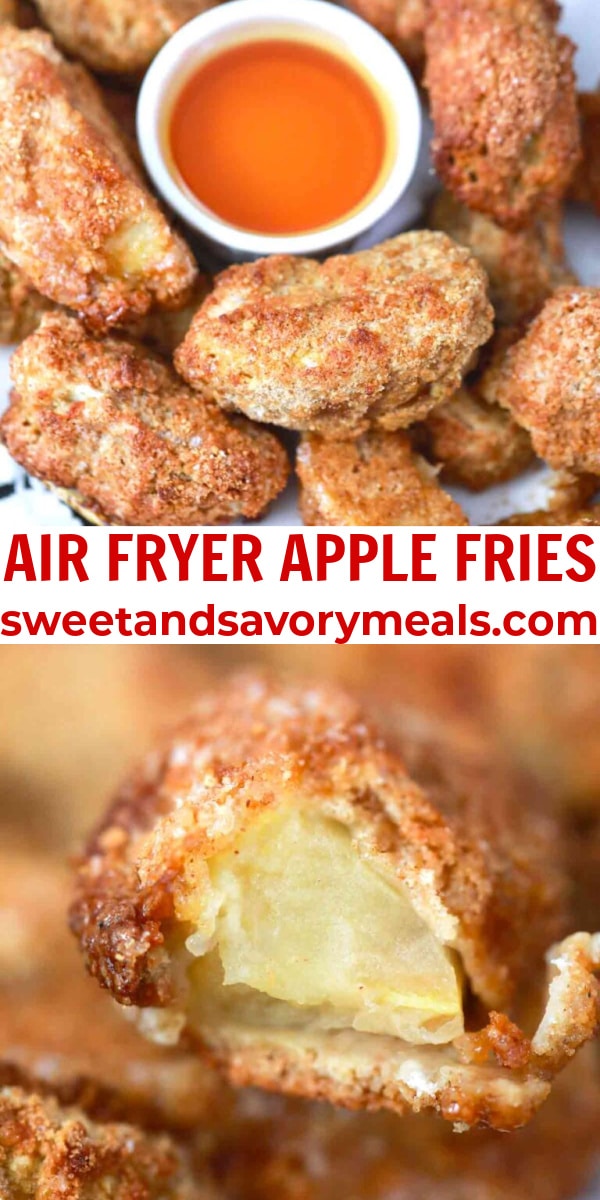 More recipes you might love