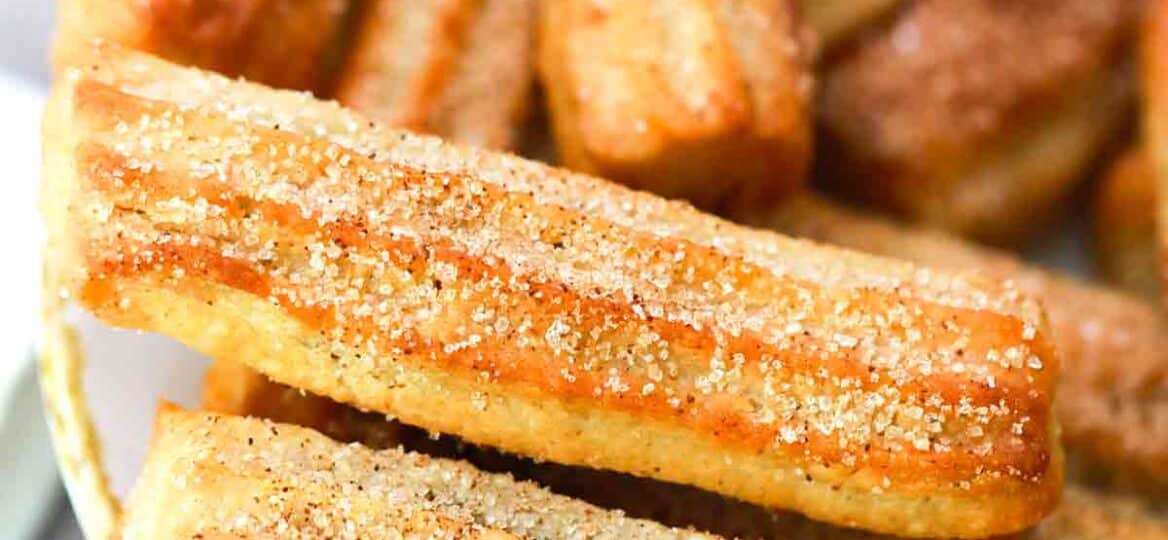 Air Fryer Churros Recipe [Video]
Air Fryer Churros are beautifully golden and crispy on the outside, covered with perfectly spiced cinnamon sugar. Get the hot chocolate ready and make these right now!
Love warm, spice flavors in your sweet desserts? Try our Sopapillas, Pecan Pie Cinnamon Rolls, and Cinnamon Cream Cheese Cookies!
Healthier Churros Recipe
Air Fryer Churros are the lighter version of the traditionally deep-fried snacks. Instead of frying, we "bake" them up inside the air fryer with zero oil.
But don't worry, they're every bit as crispy, beautifully golden, and fluffy inside as the classic version! Enjoy with a mug of hot chocolate, dip into Nutella or caramel, or freeze some so you can always have them freshly baked!
What are churros?
This dessert, with roots in Spain, features fried dough that's traditionally dipped in chocolate sauce or dusted with cinnamon sugar. They're usually shaped like a thin and long star-edged stick, or piped into knots.
What do you need to make Air Fryer Churros
Dough:
Flour: For structure, we're using regular all-purpose.
Egg: Helps us form our dough while infusing it with a delightful but subtle eggy taste.

Spices and flavorings: We're flavoring the dough itself with pure vanilla, spices like nutmeg, and cinnamon, plus a pinch of salt.
Sugar: Just a couple of tablespoons adds the perfect amount of sweetness to the dough.
Butter: Take out of the fridge and dice small.
Water: A full cup.
Cinnamon sugar:
A simple but delicious combo of cinnamon and regular white sugar!
How do you make Air Fryer Churros from scratch
Mix. First, star by boiling the water together with the butter cubes, spices, and sugar, plus salt. Next, stir in the flour after lowering the heat. Equally important is to not stop stirring until it all turns smooth, shiny, and without dry flour pockets. Cool for about 5 mins.
Whisk. If you have an electric hand mixer, you may use it for this next part, or you can do this by hand. Mix in the egg followed by the vanilla extract into the cooled dough until completely combined. Fit a bag with a star tip before transferring the mixture.
Pipe. Carefully pipe into 4-inch strips, then allow to firm up in the fridge for about an hour.
Air fry. Transfer the dough strips into the air-fryer basket with a half-inch gap between each. Cook at 375F for about 10 to 12 mins. until golden.
Dust. Toss the hot, air-fried churros right away in the cinnamon sugar.
Serve. Enjoy with hot chocolate on the side!
Recipe variations:
Chocolate: Add a tbsp. of cocoa to the dough.
Deep-fried: We also have the authentic, deep-fried churros version if you'd like to try it out!
Less spice: You can omit the spices from the dough if you'd like a more subtle spice flavor.
Frequently Asked Questions
Can you cook desserts in your air fryer?
Yes, and a lot of different types! Use it to bake cheesecakes, fluffy chiffon cakes, danishes, all sorts of cookies, yummy sweetbreads, your favorite cupcakes, and many more.
Can you bake in the air fryer?
Yes. An air-fryer works much like a fan-assisted oven, in that it cooks food by circulating hot air around it. Therefore, with just a few recipe modifications, you can definitely bake your favorite treats in it.
In fact, they're our new favorite way to make soft and nutty Peanut Butter Cookies!
How do you make churros stay crispy?
You can air-fry them an extra minute or two, so they dry out a little more. This way, they get a firmer surface that stays crispy for longer.
What makes churros not crunchy?
First, you probably undercooked them. Equally important is to remember to pre-heat, so the strips start to bake the moment you close the lid.
In addition, chill the dough so it gets firm. Otherwise, it'll get soggy instead of crunchy after cooking.
Are churros supposed to be gooey on the inside?
Soft and fluffy, not gooey. That would mean the batter is undercooked.
Can you bake churros?
Sure! Use the same dough, but bake at 350F for about 10 mins. until cooked. Then, broil it until beautifully golden.
Can you put the raw batter in the air fryer?
Sure, as long as it's not wet because the circulating air will just blow the batter all over the basket.
That's why our Air Fryer Onion Rings, for instance, use a double coating of panko instead of wet batter, so it crisps up with the coating stays in place.
How to serve?
Serve with your favorite hot chocolate flavor (or try other flavors like peanut butter or white chocolate!)
Another opion is to whip up this 10-minute caramel sauce or chocolate sauce, warm up some Nutella, or spread peanut butter on top of these fresh treats!
How to store leftovers:
First, after cooling them down, place them in an air-tight container so they don't dry out in the refrigerator. Keep in mind that they'll stay fresh for up to 3 days.
How to freeze:
Yes. It's a great way to have churros anytime you want! However, we suggest freezing them raw so they're always freshly made.
First, after piping, flash-freeze on a baking sheet for about 2 hours before transferring to a Ziploc bag. Next, store in the freezer for up to 3 months.
Finally, when ready to eat, air-fry at 375F for 10 to 12 minutes or until golden and crispy.
Recipe tips:
It's crucial to chill these after piping, or the soft dough will melt in the air-fryer.
Just as important is for the eggs to be at room temperature or the dough could split.
In addition, make sure you keep mixing until the dough is shiny. As a result, this will give you that crispy outside, fluffy inside texture!
Deliciousness to your inbox
Enjoy weekly hand picked recipes and recommendations