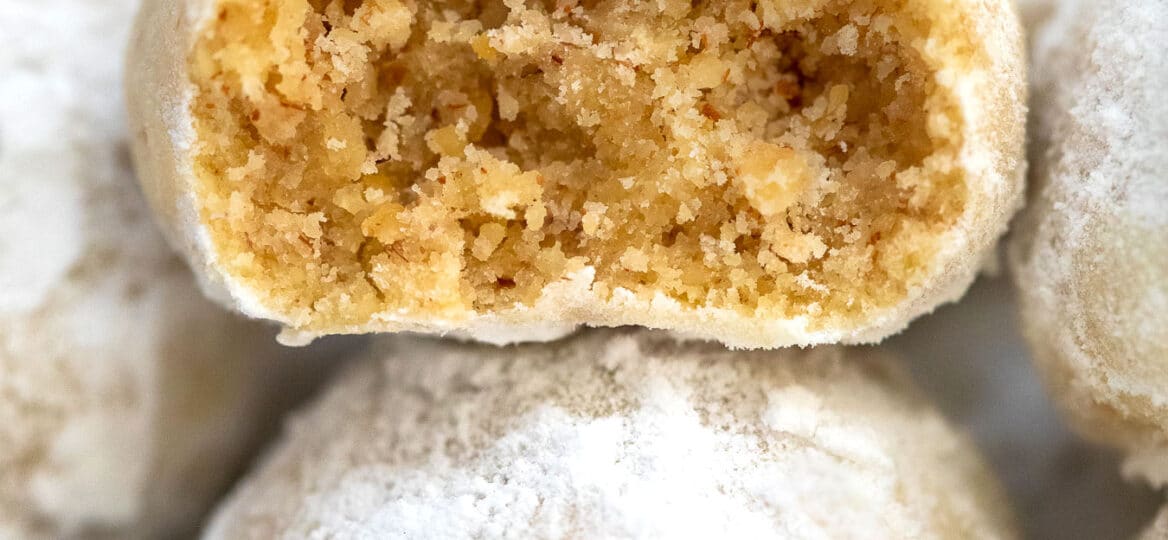 Mexican Wedding Cookies [video]
Mexican Wedding Cookies or Snowball Cookies are buttery, tender and melt in your mouth with deliciousness. Easy and simple, this dessert is something that kids and adults alike will enjoy!
This dessert is commonly served during the Christmas season, but you can have it any time of the year! For more Christmas desserts that you can serve, feel free to check my recipes for Cinnamon Cream Cheese Cookies, Red Velvet Cheesecake Bites, and Twix Cookies!
Mexican Wedding Cookies or Snowball Cookies Recipe
Mexican Wedding Cookies are nutty, buttery and sugar-coated treats that are easy to prepare. With only a handful of ingredients already present in your pantry, you can pretty much whip up a batch anytime!
Why are they called as such? There are contrasting stories about that. But what is certain is that they became popular in the US in the 1950s.
They come in different sizes and shapes, sometimes round and sometimes crescent. But the constant thing about them is the ingredient list that has not changed much through time.
Just like shortbread, they are crumbly, and the nuts provide a great texture contrast. You would not be able to control munching on these goodies, so it pays that you make a huge batch for everyone at home!
What are Mexican Wedding Cookies:
They are baked treats that are dredged in white powdered sugar. They contain the same ingredients that Russian tea cakes also have. Hence, they are also sometimes called as such.
Some say that these cookies are served part of wedding buffets, that's why they are called wedding cookies. But when you go to Mexico, look for "polvorones" instead.
How to Make Mexican Wedding Cookies?
Prep for baking: Set the oven at 400 degrees Fahrenheit.
Make the dough: In a bowl, combine powdered sugar with the wet ingredients. Then, add in the dry ingredients and mix well.
Shape: Roll the dough into balls and then, line them up on a lightly greased baking sheet.
Bake: Put in the oven for several minutes until set.
Coat: While still warm, toss and coat in powdered sugar. Cool, then, roll again until fully white just like snowballs.
What nuts are best to use in Mexican Wedding Cookies?
Popular choices are pecans, walnuts, almonds, or even macadamia nuts. There is no specific kind that the recipe requires but whatever that is your favorite may work in this.
You can even leave out the nuts if you are allergic. But if you like them, I suggest that you try roasting them next time for a richer flavor and crunchier texture.
Can you make them in advance?
Yes! You can keep the dough in the fridge or freezer so that you can simply bake them on the day of your event. Follow the recipe up to the point that you are about to bake them then, store them first and bake when needed.
Can you freeze them?
Yes! They freeze well whether unbaked or baked.
Unbaked: Roll into small balls, then, wrap each one in plastic wrap or put parchment paper in between them before freezing. This is to ensure that they will not stick to each other and it will be easier for baking later. When ready to bake, skip thawing and directly put in the oven. Just expect a longer cooking time.
Baked: If you have leftovers, you can freeze them. Put parchment paper in between layers and put them in airtight containers. Since the powdered sugar may get absorbed through time, just remember to coat again in powdered sugar before serving.
Recipe Tips:
You can mix in other ingredients like mini chocolate chips, shredded coconut, and rice crispies in place of or in addition to nuts.
Adding a dash of pumpkin spice can also elevate the taste and the spice pairs well with the pecans.
If the resulting dough is too wet, chill it for a few minutes.
Make sure that the butter is cold, not melted. This is to ensure that the cookies are buttery, and it will prevent the spreading of the cookies as you bake them.
Deliciousness to your inbox
Enjoy weekly hand picked recipes and recommendations