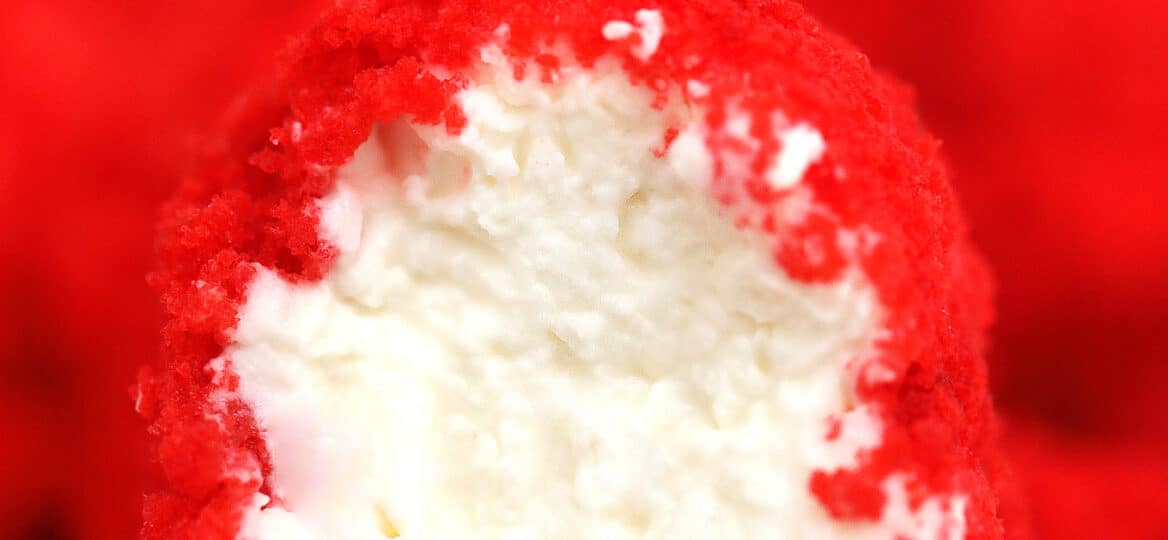 Red Velvet Cheesecake Bites [Video]
Red Velvet Cheesecake Bites are creamy and nothing but velvety! With their festive color and decadent taste, they make for a great dessert for any occasion!
If you are in search of great desserts, we have a great lineup of recipes! Celebrate with this dessert along with Sweet Potato Pie Cupcakes, Chocolate Mousse Brownies, and Pecan Pie Bars!
Red Velvet Cheesecake Bites Recipe
Cheesecake Bites are ideal to serve at a party. The color is festive and the flavor is awesome — everything you want in a dessert!
Since it comes in individual portions, you don't have to share your dessert. They can be arranged on a dessert tray and everyone can help themselves. This spares you the effort of serving them one by one. Enjoy your party hassle-free.
And did I mention that this recipe is easy and the perfect sweet tooth tamer? No need to order from a pastry shop, you can make them on your own.
It becomes cheaper that way and you get to customize it however you want it. It adds a personal touch and it is a nice conversation piece having to tell your guests that you made the dessert yourself.
What is a red velvet cake?
It is a pastry that has a rich red color due to the food coloring added. The basic recipe calls for vinegar and buttermilk which sets it apart from most desserts.
It is buttery and has a hint of chocolate taste in it with the use of a bit of cocoa. Typically, it goes well with cream cheese frosting.
What are cheesecake bites?
Those are a mini bite-sized version of the full-sized thing, either shaped into balls or formed into mini-cupcakes.
Predominantly made with cream cheese, sour cream, sugar, and eggs, this kind of dessert is creamy with the right balance of tartness. And since it is mainly made with cream cheese, it goes well with red velvet.
How to make red velvet cheesecakes bites:
Feel free to watch the recipe video attached above. Also, for the exact measurements, please the recipe card below. The general steps are as follows:
Prepare for baking: Grease a 9×13 inches pan and preheat the oven to 350 degrees Fahrenheit.
Prepare the batter: Use a red velvet cake mix and follow the instructions on the box to bake the cake layer. Pour the batter into the prepared pan and bake it.
Prepare the filling: Whisk together the cream cheese, sugar and vanilla thoroughly until smooth.
Chill: Use a cookie scoop, to scoop cheesecake bites onto a lined baking sheet and chill in the freezer until easy to handle.
Roll into crumbs: Once done, crush the cake into crumbs and roll the cheesecake bites into the crumb mixture to coat. Chill again and serve.
Recipe Variations:
Use a different cake mix to change the flavor: Chocolate, Yellow Cake, Funfetti Cake, or even Carrot Cake are great choices.
Replace the vanilla with lemon juice, add some lemon zest, coconut and use a Lemon Cake mix for a Lemon Coconut version.
Add some cocoa powder to the filling and roll these into Chocolate Cake Crumbs for a Double Chocolate version.
Add Oreo crumbs to the filling and roll the bites into more Oreo crumbs for an Oreo loaded version.
Can you make red velvet cheesecake bites in advance?
Yes! You need time to chill them to make them firmer and you would need to prepare them way in advance before serving.
How to store red velvet cheesecake bites:
Refrigerate: Place them into airtight containers and refrigerate for up to 4 or 5 days.
Freeze: Place in freezer bags and freeze for up to 2 months.
Recipe Tips:
Before serving, you can decorate the top with some white chocolate, too.
For the filling, you can use mini chocolate chips and white chocolate shavings.
When dealing with cream cheese, make sure that it is at room temperature for you to whisk it lump-free.