Strawberry Bread Recipe [Video]
Last updated on June 18th, 2021 at 11:43 pm
Strawberry Bread is a tender, lemon-infused bread with strawberry chunks and covered with a velvety strawberry glaze. It is one of the most amazing and easy spring and summer desserts you can make!
For more fruit-based desserts, don't miss our popular Peach Cobbler From Scratch, Classic Blueberry Pie, and Cranberry Orange Rolls!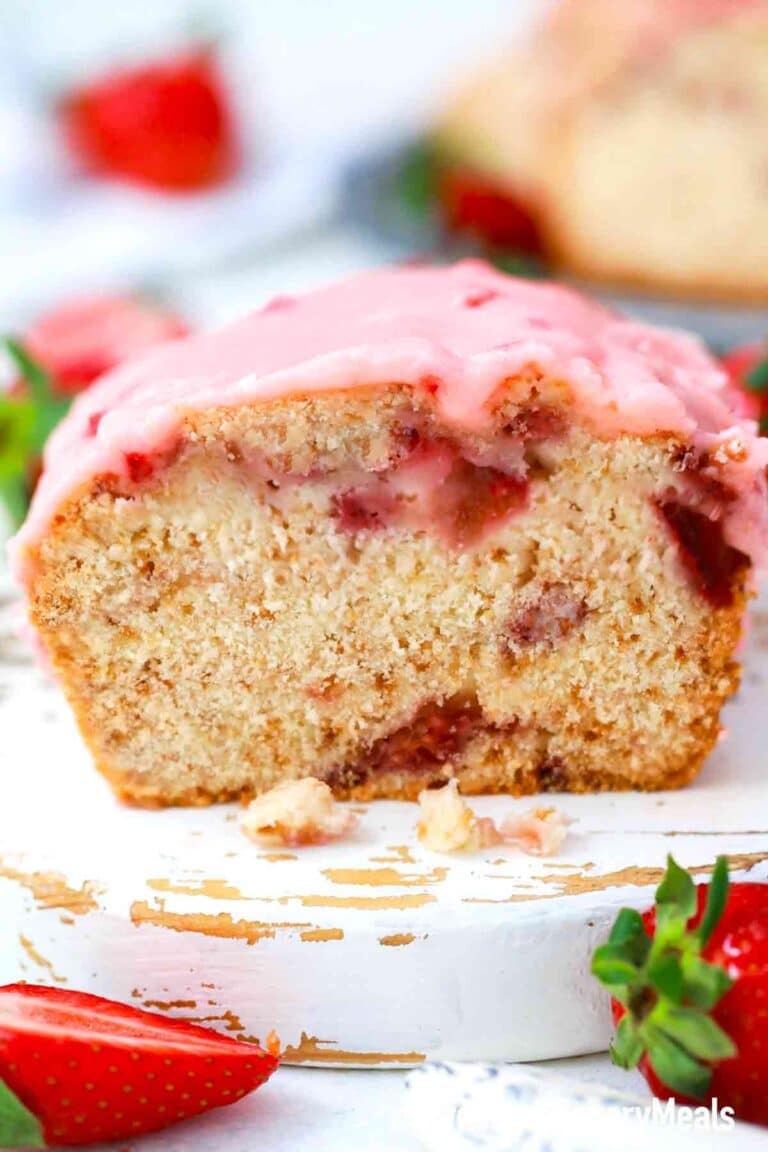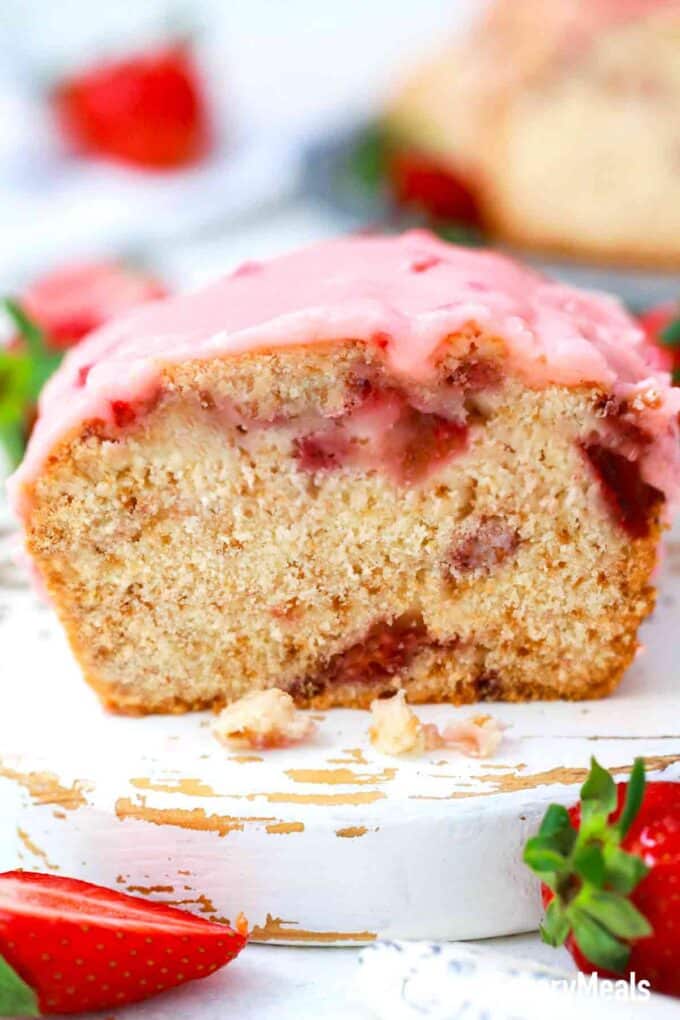 Strawberry Bread with Strawberry Glaze
Strawberry Bread tastes like summer in a loaf! You can taste the fresh strawberries in every bite, from the tender bread to the silky frosting. The pale pink color looks so lovely, too.
Better yet, you can customize this in many ways. Add chocolate, berries, nuts— the delicious options are endless.
What is strawberry bread?
It's a moist and fruity quick bread dotted with juicy strawberry bits all throughout. When we say "quick bread," it means you don't need to knead it or let it rise. As a result, it's ready to go into the oven in minutes!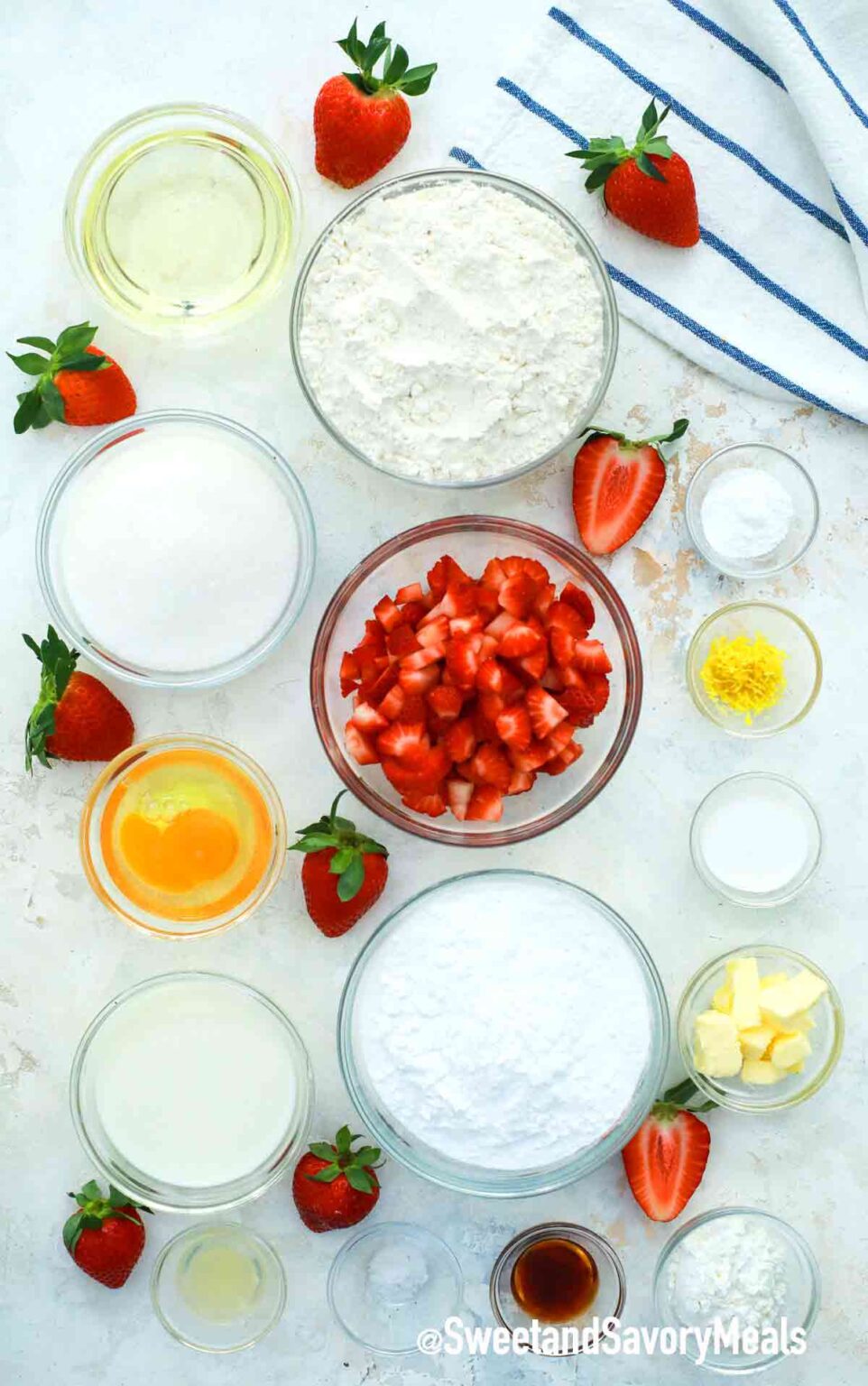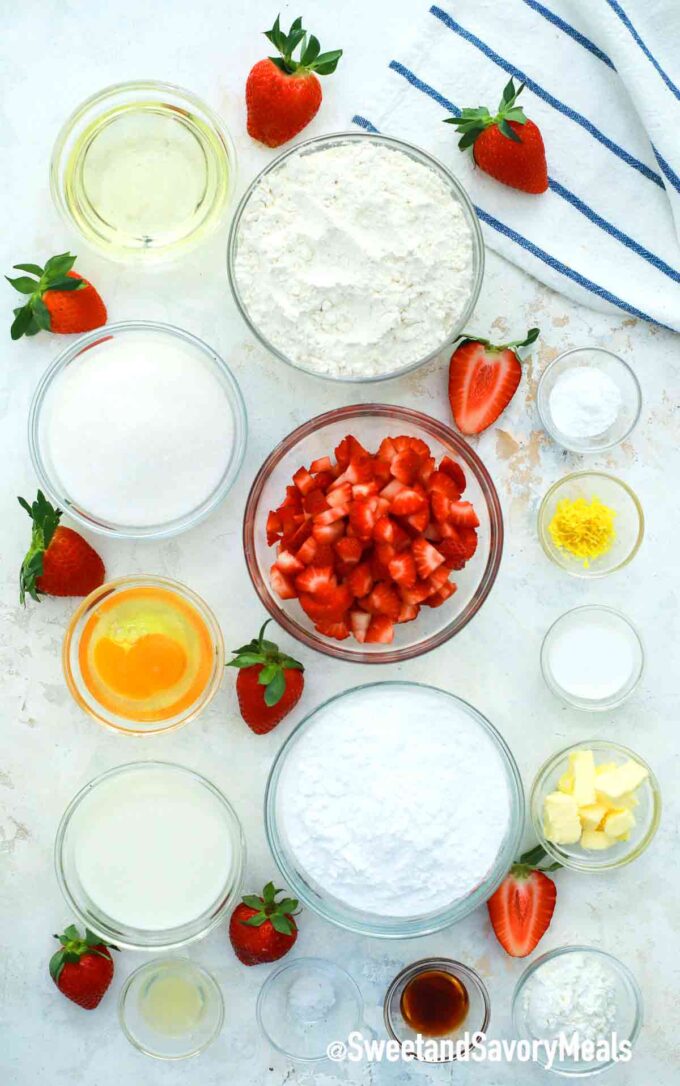 What goes into Strawberry Bread with Strawberry Glaze
For the loaf:
Strawberries: Chop it up into small pieces.
Dry: All-purpose flour, plus baking powder for lift and a little salt to wake up all the flavors.
Oil: Creates a soft and tender crumb without changing the flavor.
Milk: Adds moisture and richness to this dessert.
Egg: Binds the loose batter together and gives it structure.
Sweetener: Granulated sugar gives us the perfect level of sweetness, and also adds moisture.
Flavorings: We're combining pure vanilla plus the zest and juice of a lemon for tang.
For the glaze:
We're combining more chopped fruit with powdered sugar, a little melted butter to bring the glaze together, plus a little milk and fresh lemon juice.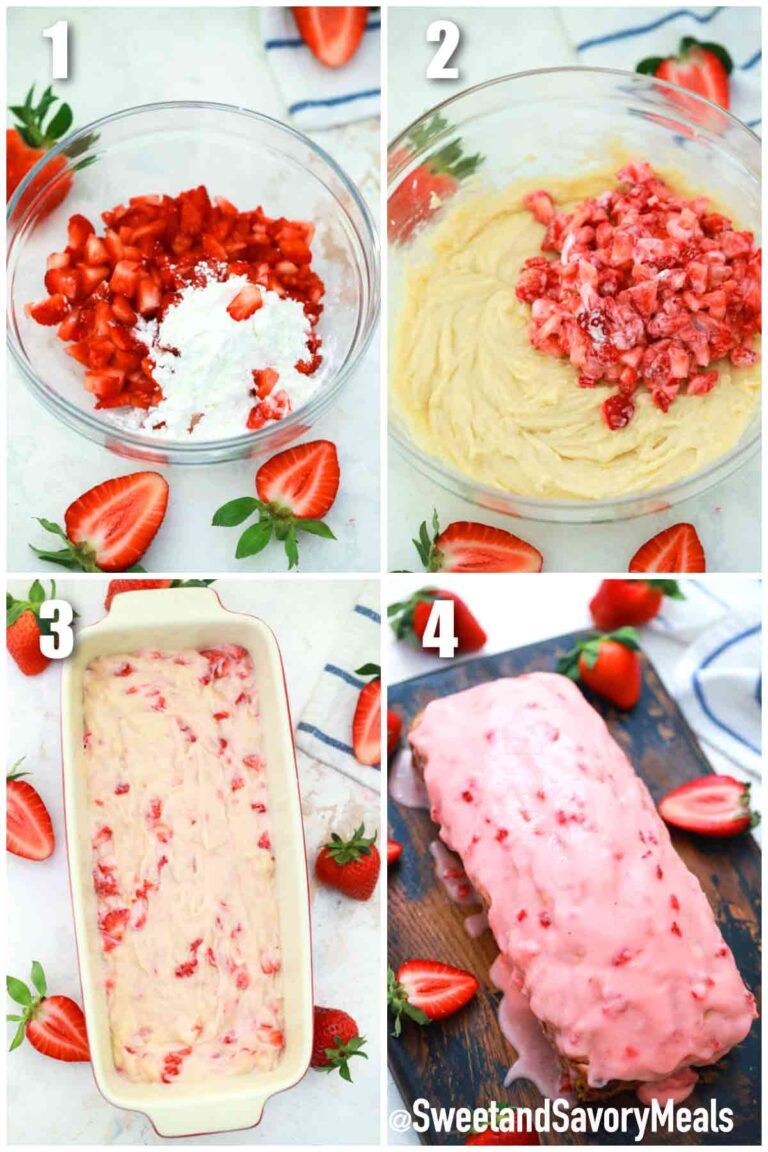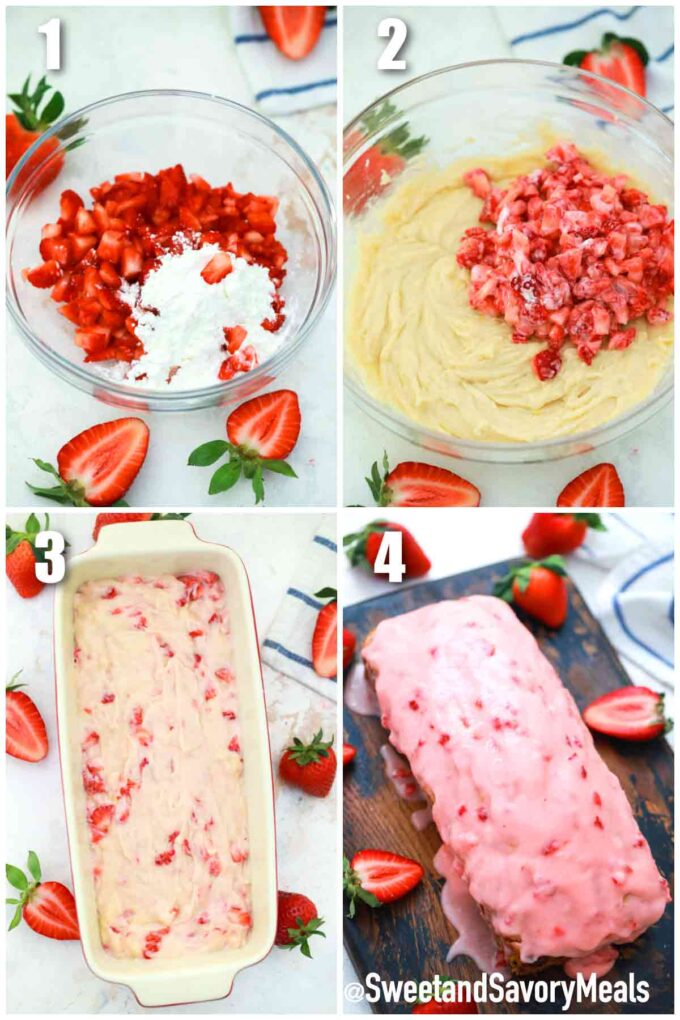 How do you make Strawberry Bread from scratch?
Mix. Stir the sweetener with the milk, extract, egg, plus oil, and the lemon zest and juice. Then combine all the dry together before stirring this into the wet.
Toss. Take your chopped fruits and gently toss them with flour. After that, fold into your lemon-infused batter.
Bake. Place in a 350F oven to bake for up to 55 mins until done. Cool.
Glaze. Mix all the glaze components, then pour on the cooled loaf.
Serve. Slice and enjoy!
Recipe variations:
Other fruits: Try mixing in some blueberries, blackberries, chopped pineapples, dried cherries and raisins, and other fruits.
Oats: Mix in some instant oats into the loaf for texture.
Chocolate: This is amazing with chopped chocolate, chocolate chips, white or milk chocolate chips, caramel chips, and more!
Spices: Try mixing in some cinnamon and nutmeg for a warm spice flavor.
Nuts: Chop up your favorite nuts and stir in!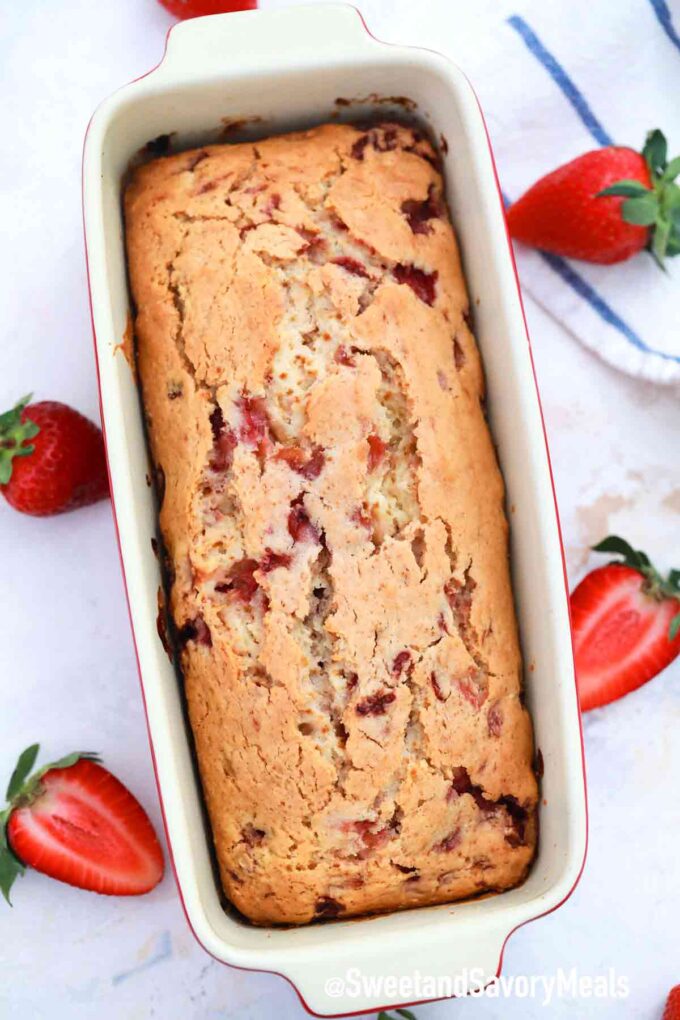 How do you make Strawberry Glaze?
It's so simple! Mix up all the icing ingredients, and done! For this particular recipe, dice the fruit very finely so the icing is relatively smooth with some nice bits. You can also thin it out with a little milk if you wish.
What can I do with too many strawberries?
Lucky you! We believe that you can never have too many strawberries because there are so many things you can do with these delightful fruits!
Turn them into crisps, cheesecakes, lava cakes, cobblers, and homemade fruit pies. Additionally, they make for fantastic jelly cocktails, lemonades, frozen daiquiris, and smoothies. They're also perfect for tossing into salads!
Still, got more? Cook them down into this wonderful jam so you can enjoy it all year long!
Can you bake with fresh strawberries?
Absolutely, and fresh is always our fresh choice for fruit bread! Don't forget to toss the pieces into flour, so they don't sink to the bottom. Watch the amounts as well— too much, and the loaf can fall apart.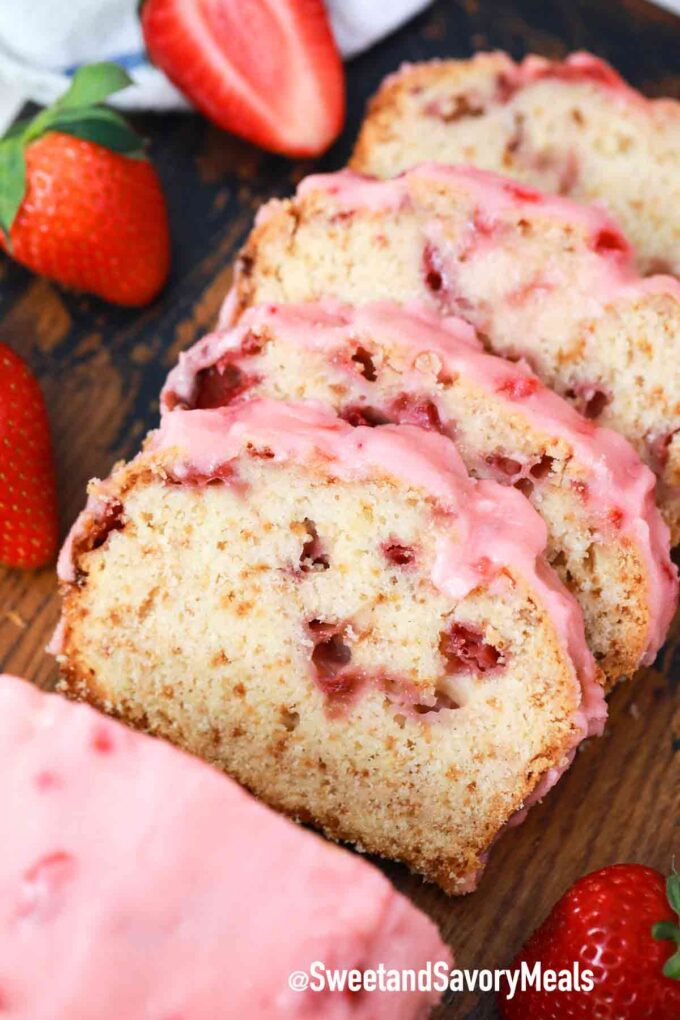 How to use frozen strawberries for homemade strawberry bread?
Sure! We recommend thawing them out, draining all excess moisture, and tossing in the flour before use.
Will whole wheat flour work as a substitute?
Yes, but since wheat flour is a "stronger" flour than all-purpose, it generally needs more moisture. Add a little more liquid if the batter is too dry.
How to choose fresh strawberries?
Look for ones that are firm and bright red, without any bruises or signs of mold. We don't suggest picking up unripe berries so they can ripen up at home. Most of the time, they end up flavorless.
How to store strawberries?
The secret to making them last for weeks is a quick soak (no longer than 2 minutes!) in a 1:10 ratio of vinegar and water. After soaking, dry them completely for about half an hour. Then, place them in a container and store them in the fridge for several weeks!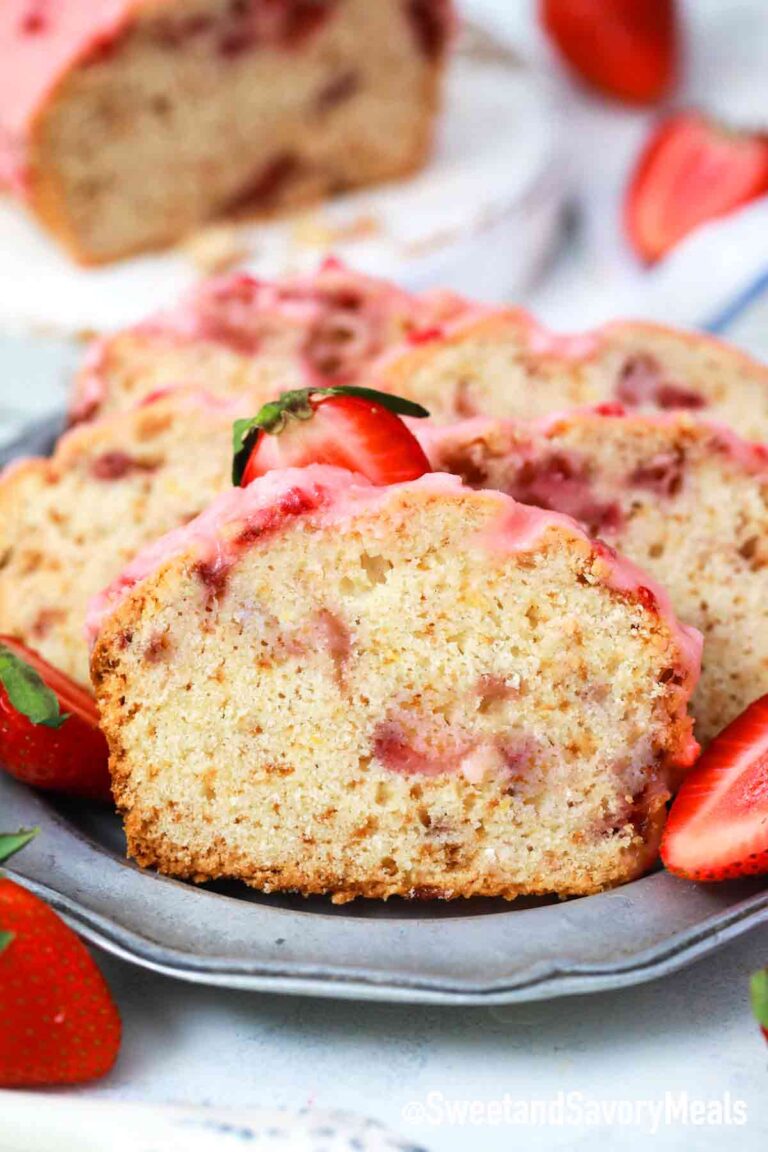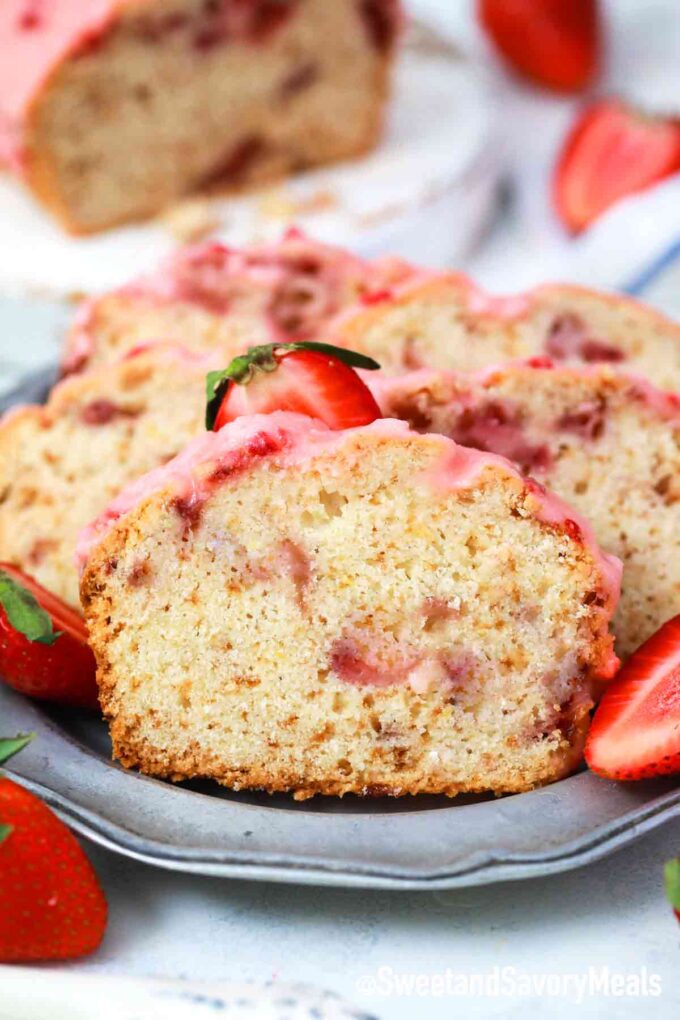 How to store Strawberry Bread?
Keep this in the refrigerator, because it has fresh fruit. Cover tightly with cling wrap then place in an air-tight container. Try to finish within 3 days for maximum freshness.
Can you freeze Strawberry Bread?
Yes, this loaf freezes up beautifully. Wrap in cling before covering in foil, then keep frozen up to two months. You can also freeze the slices separately so everyone can pull out the perfect serving.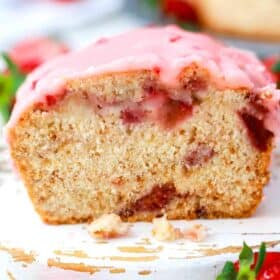 Strawberry Bread Recipe
Strawberry Bread is a tender, lemon-infused bread with strawberry chunks and covered with a velvety strawberry glaze.
Save
Share
Print
Pin
Rate
Ingredients
For the Bread:
1

cup

white granulated sugar

1/2

cup

milk

1/2

cup

canola oil

1

large egg

1

teaspoon

vanilla extract

2

cups

all-purpose flour

2

teaspoons

baking powder

1/4

teaspoon

salt

2

cups

diced strawberries

2

tablespoons

cornstarch

1

tablespoon

lemon juice

1

tablespoon

lemon zest
For the Glaze:
2

cups

powdered sugar

2

tablespoons

melted butter

1/3

cup

finely diced strawberries

1

tablespoon

lemon juice

1

tablespoon

milk
Instructions
For the Bread:
Preheat oven to 350 degrees F.

Grease a 9"x5" bread pan and set it aside. You can add parchment paper, hanging on the sides, for easy bread removal.

In a medium bowl, whisk together sugar, milk, oil, egg, vanilla, lemon juice, and zest.

In another bowl, stir together the flour, baking powder, and salt.

Add the dry ingredients to the wet ingredients and stir with a spatula until just combined.

In a small bowl, toss the strawberries and cornstarch. Fold them gently into the batter.

Pour the batter into the prepared pan. Level the top with a spatula.

Bake for 50-55 minutes or until a toothpick inserted into the center of the bread comes out clean or with just a few crumbs, no moist batter.

Allow the bread to cool in the pan for 10 minutes, then remove it and place it onto a wire rack to cool completely.
For the Glaze:
In a medium bowl, combine the powdered sugar, melted butter, diced strawberries, and lemon juice. Mix until smooth and fully combined.

Once the bread is cool, pour the glaze on top of the bread and spread it evenly.

Let the glaze set, slice, and serve.
Notes
DON'T OVERMIX or your loaf will turn out tough instead of tender. Just stir until the dry is moistened. A few tiny pockets of flour are fine.
Also, don't skip tossing the fruit chunks in flour before folding them into the batter, or they'll all end up at the bottom.
Feel free to make the icing as sweet or less sweet as you like.
If the glaze is too runny, add more powdered sugar and if the glaze is too thick, add a bit more liquid, 1 teaspoon at a time.
Nutrition
Calories:
407
kcal
|
Carbohydrates:
67
g
|
Protein:
3
g
|
Fat:
15
g
|
Saturated Fat:
3
g
|
Trans Fat:
1
g
|
Cholesterol:
24
mg
|
Sodium:
93
mg
|
Potassium:
223
mg
|
Fiber:
2
g
|
Sugar:
46
g
|
Vitamin A:
169
IU
|
Vitamin C:
22
mg
|
Calcium:
91
mg
|
Iron:
2
mg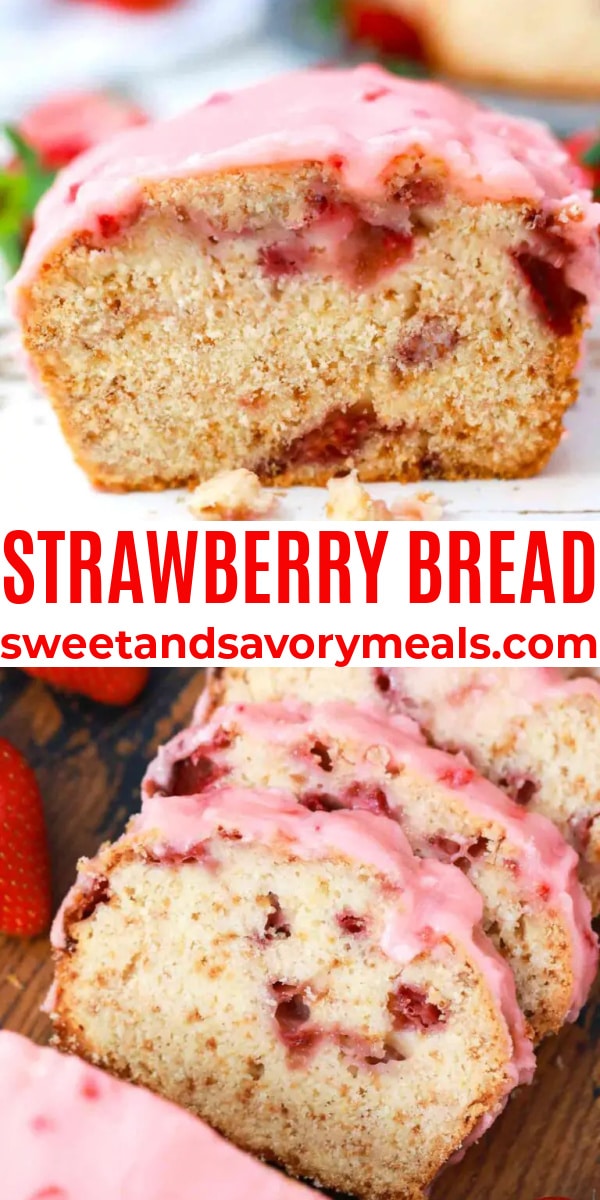 More recipes you might love