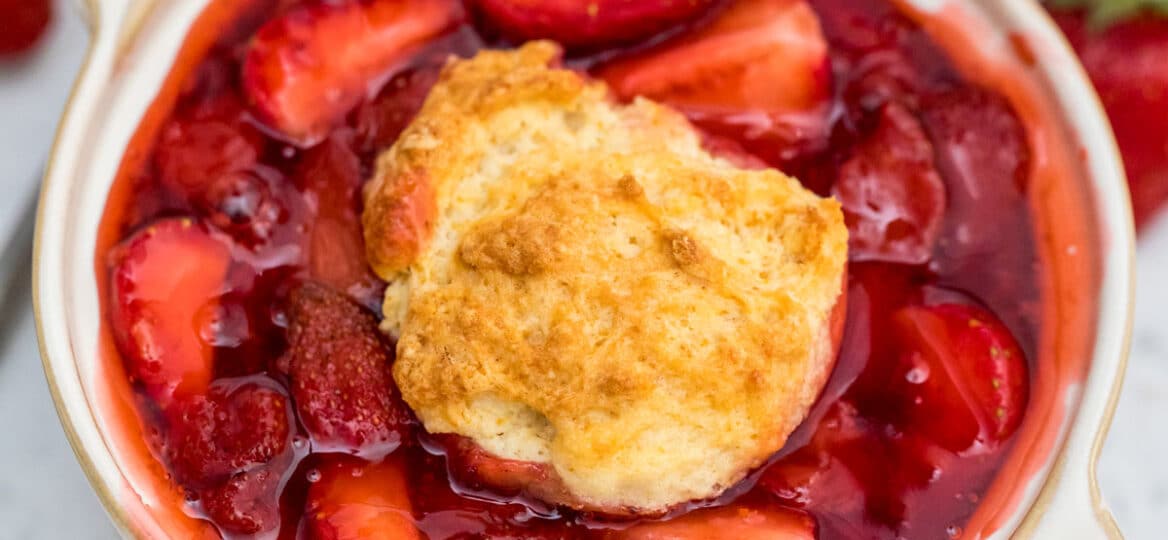 Best Strawberry Cobbler Recipe [Video]
Strawberry cobbler is a delicious dessert filled with sweet, juicy strawberries finished with a golden-brown, buttery biscuit topping. Top with ice cream or whipped cream for an indulgent treat!
Craving for more fruity desserts? You have a winner in this tangy Strawberry Crisp. My Strawberry Tiramisu is a gorgeous take on the classic version, and you've got a refreshing crowd-pleaser in this Sparkling Strawberry Lemonade.
Strawberry Cobbler Recipe
Strawberry Cobbler is such a nostalgic dish for me. There's something about strawberries that makes me think of summer and sunshine. Now, fresh strawberries fantastic on their own, but they also go wonderfully on so many desserts.
I have to admit something— I'm obsessed with strawberries. Seriously, type "strawberries" on the website's the search bar, and you'll find tons of strawberry recipes I've already done!
This strawberry cobbler is just one of them, and it quickly became one of the most requested things in our house. Good thing too, because it's so easy and quick to make. Perfect for a potluck, Sunday brunch, or anytime you're craving for something fruity for dessert.
What is a cobbler?
It's a baked fruit dessert with a topping made of biscuit or pie dough. Usually confused with a crisp, which is another baked fruit dessert.
The difference is that crisp toppings are usually tossed together instead of in dough form.
What do you need to make Strawberry Cobbler Recipe:
If you do any sort of baking or cooking, you probably have most of this in your pantry:
For the fruit filling:
Strawberries
Water
Granulated Sugar
Lemon
Cornstarch
Vanilla
For the topping:
Flour
Sugar
Baking powder
Salt
Butter
Buttermilk
How to make the best Strawberry Cobbler
Preheat your oven.
Grease your baking dish.
Boil the sugar, lemon juice, and zest, plus fruit.
Thicken with a cornstarch slurry.
Pour the strawberry mix into your baking dish.
Start making your topping by combining the dry ingredients.
Cut in the butter until you get a coarse crumb texture.
Moisten with buttermilk.
Drop several spoonfuls on top of the fruit mixture.
Bake until bubbly and golden.
Recipe variations:
You can totally use other fruits in place of strawberries. I've got a great Blackberry Cobbler that's simply outstanding with vanilla ice cream! This Peach Cobbler from Scratch is another mainstay in my dessert rotation.
You can also try apples, pears, cherries, cranberries, or blueberries for the filling.
You can even use different fruits in one cobbler. For instance, apricots, raisins, and apples are such a delicious combo. I recommend trying pie dough if you want a different topping.
Can I use frozen strawberries?
Yes, frozen strawberries and cobblers are a match made in heaven!
They're frozen at the peak of ripeness, and always good to have some on hand if fresh strawberries are scarce in your area. Just thaw them out and follow the recipe as usual.
How to serve it?
I like to go classic with strawberry cobbler by serving it with whipped cream. For something sweeter, go with vanilla ice cream (try strawberry if you want even more fruit flavors!) The delicate, creamy flavors really make the fruit shine.
The red and white swirls with that golden-brown crust look so beautiful too!
Can you freeze it?
Yes. Cool completely, wrap in foil and plastic wrap, and freeze for up to a month.
More recipes:
Recipe Tips:
Make sure all the cornstarch is dissolved before adding them to the strawberry mixture to avoid clumps.
If using frozen, thaw the fruit completely before using it.