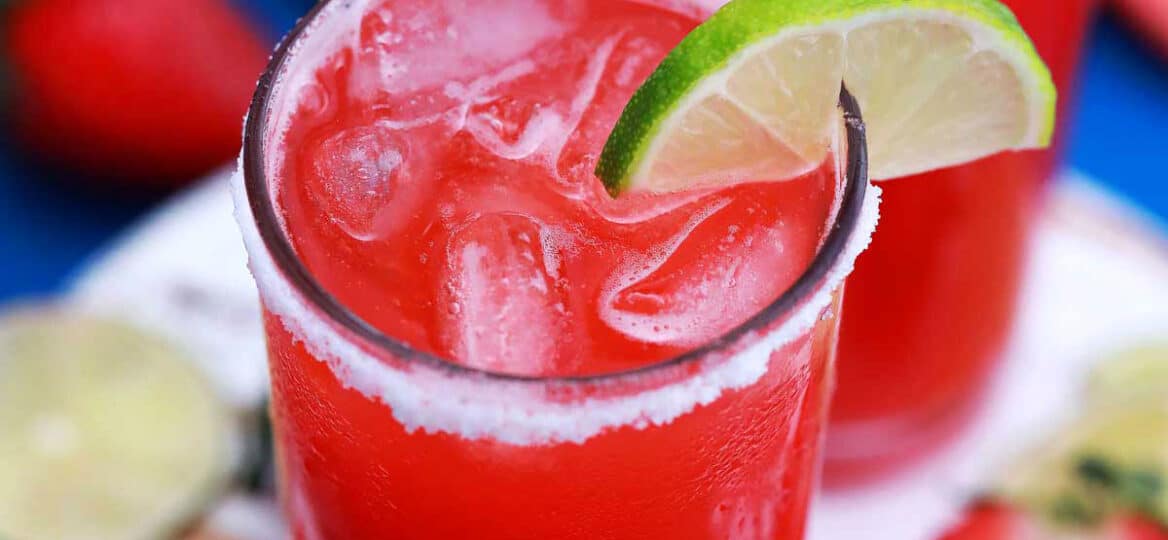 Strawberry Margarita Recipe [Video]
Strawberry Margarita will light up any party that you have planned out this summer! Made with fresh strawberries and homemade simple syrup!
We had this on my birthday last year and it was a hit among friends and family! If you have a celebration coming up, then, try this cocktail along with some Jerk Chicken, Chicken Enchiladas, and Shrimp Ceviche!
Homemade Strawberry Margarita Recipe
Strawberry Margarita is a mix of sweetness, tartness, and a bit of kick from the tequila. I love how the lime content pairs well with the natural flavors of the strawberry.
It is light, refreshing, and just fun to have while chatting with friends and family. Make this from scratch with this easy recipe and enjoy a relaxing bonding experience with your girlfriends!
And making it from scratch is one of the best decisions I have made with regards to making cocktails. I can make sure to amplify the natural flavors of the fruits versus being overpowered by the alcohol.
Or, make it stronger with the tequila and play down the rest of the mixture. It all depends on how I want the outcome to be! Hence, making this recipe has become practical.
What is Margarita?
It is what you get when you combine tequila, lime, and orange liqueur. Usually, it is served in a glass rimmed with salt or sugar.
Its origin is unknown as many have claimed to be its inventor over the years. But the key ingredients remain significantly unchanged except for the modified recipes involving various ingredients like this one which highlights a fruit flavor.
What ingredients go into Strawberry Margarita?
For this recipe, all you need is the following:
fresh strawberries
lime juice
tequila
orange liqueur
simple syrup
sugar or salt
ice
How to make Strawberry Margarita?
Puree: In a blender, puree the strawberries until smooth. Then, strain it in a mesh sieve to remove remaining bits.
Combine: Mix the puree, the rest of the ingredients in a cocktail shaker.
Prepare the glass: Slide a lime wedge along the rim of the glass and then dip the rims in sugar or salt. Gently shake off any excess.
Serve: Put ice in the glass about 3/4 of the way and then, pour in the mixture. Garnish, then serve.
Can you make Strawberry Margarita with frozen strawberries?
Sure, you can! Using frozen ones will limit your use of ice. It will be smoother in texture and more concentrated than when you use ice because of the minimal dilution when the ice melts.
What is the difference between a strawberry daiquiri and a strawberry margarita?
Both drinks use lime and a sweetener, but the main difference is in the alcohol. When making this recipe, you use tequila while for a daiquiri, you use rum.
How to make a large batch of margaritas?
Making a single serving each time would be time-consuming. So, what I do is to prepare a concentrate of the mixture in a pitcher, with or without the simple syrup. Then, I refrigerate it to chill while waiting for the guests.
You can keep the proportions or adjust as needed. When tasting it while it is not yet cold, be guided that the taste will weaken as it chills in the fridge.
Beforehand, prepare shallow bowls of lime juice and salt or sugar in which you will use to rim glasses. As the guests request for one, then, carefully dip each glass in the lime juice then to the salt.
Then, pour the concentrate in the glass with ice.
Can you make it in advance?
Yes! You can choose to put the blended mixture in freezer-proof containers like mason jars. Then, put each one in the freezer for you to defrost and enjoy later.
More fabulous drink recipes:
Recipe Tips:
Serve this drink alongside Mexican dishes! It pairs well with chicken or shrimp dishes and those with lime as an ingredient.
To prepare the simple syrup, allow a mixture of sugar and water in equal parts boil until the sugar dissolves completely.
You can use other fruits like cranberry to puree and add to the basic recipe. Experiment with flavors you like!