Jerk Chicken Recipe [Video]
Last updated on June 18th, 2021 at 09:29 pm
Jerk Chicken screams summer in every bite! It is so flavorful yet so easy to make! Gather all the ingredients and start cooking this perfect Caribbean dish!
I am a fan of marinating meat and this one is the bomb! You will surely love it as much as you love Asian Steak, Grilled Steak, and Korean Beef Bulgogi!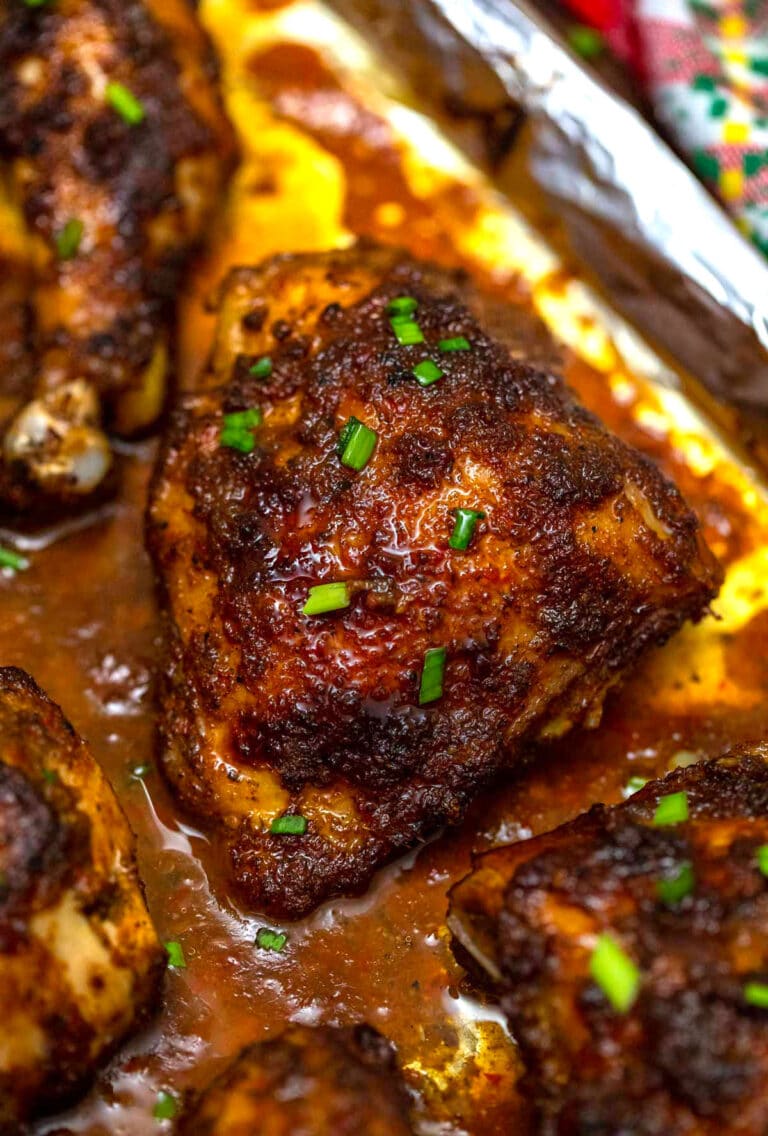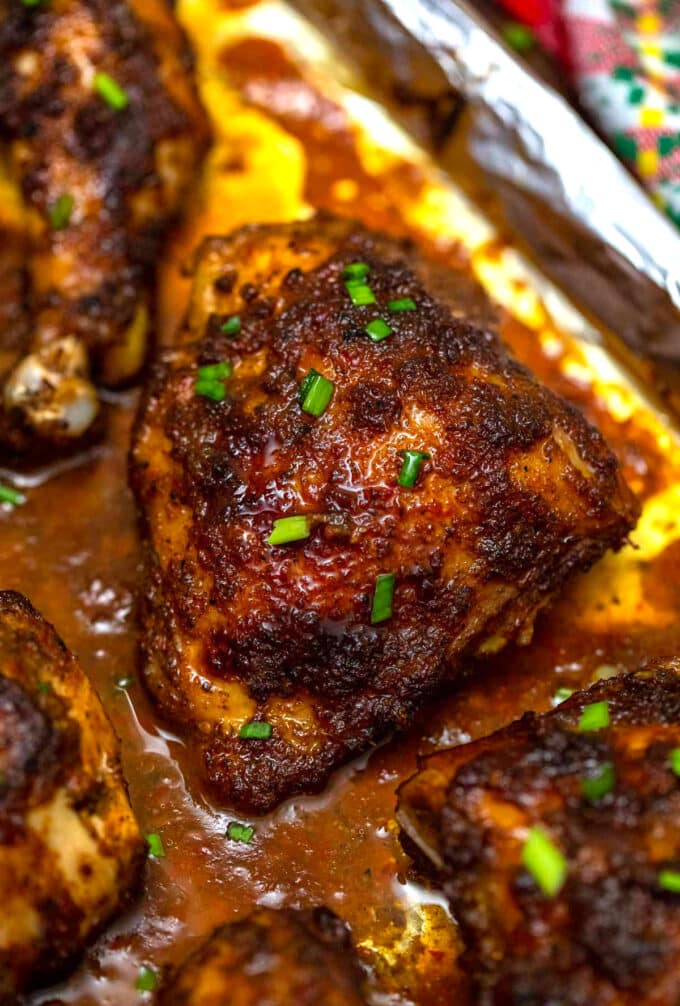 Jamaican Jerk Chicken Recipe
Jerk Chicken is a favorite around here, especially now that summer is fast approaching. Feel the beach vibes at the comfort of your home by cooking this delicious entree!
It is just a basic recipe. You only need a handful of ingredients to season the poultry with. But the flavors are intense!
You can make them as hot as the sand in your toes as you walk along the beach at noontime. Blame the peppers and chilies for that.
But of course, if you like to tone it down, you are free to do so. That is one advantage of making this at home. Feel free to adjust the proportions.
This summer favorite is here to stay throughout the year!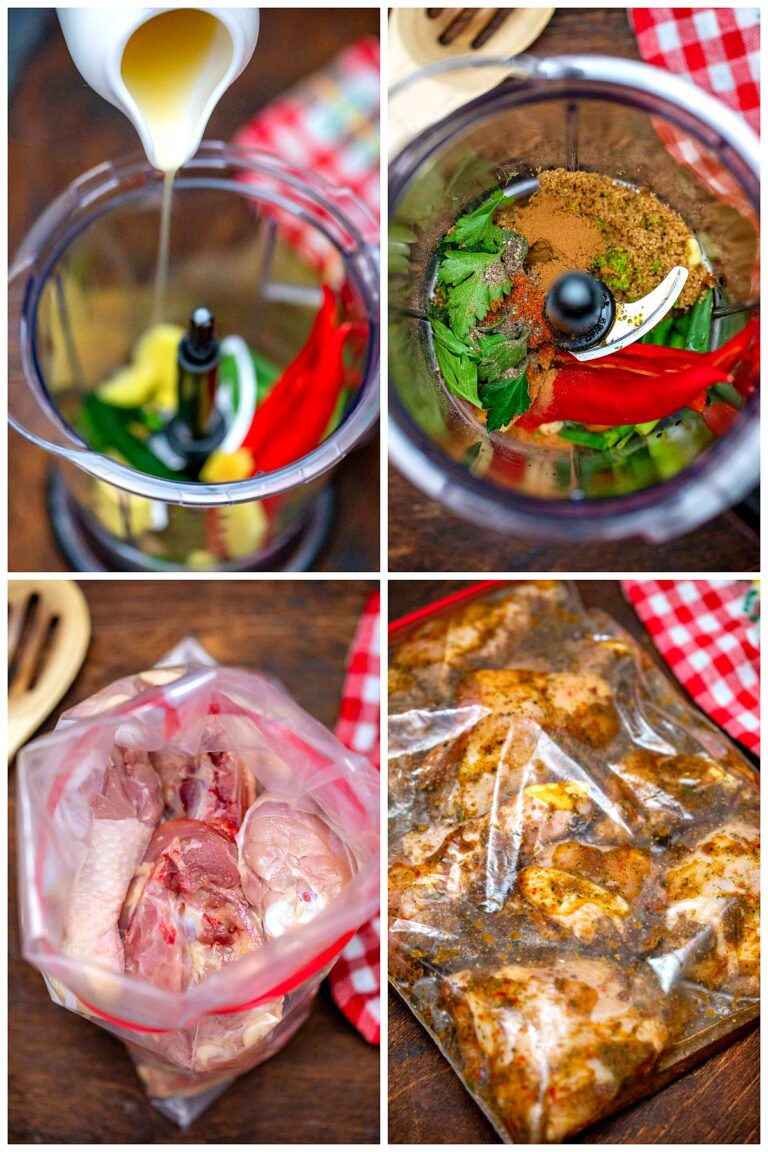 What is Jerk Chicken?
It is a famous Jamaican dish made by first marinating the meat with a dry or wet spice mixture before cooking it over the fire.
It is characterized by having peppers in the spice rub giving it a hot and spicy flavor that pairs well with the smokiness.
For convenience, we will use the oven or grill to cook it in this recipe. It will still have the charred surface that this dish is also loved for.
How to make Jerk Chicken
Prepare the meat: This recipe is for about 3 pounds of poultry. Trim off any excess fat or skin, then put the pieces in a resealable plastic bag.
Prepare the marinade: Combine the rest of the ingredients in a food processor.
Marinate: Pour the marinade inside the resealable plastic bag and coat the meat. Refrigerate the bag for 3 hours or more, but not more than 24 hours.
Prepare for baking: Preheat the oven to 375 degrees Fahrenheit, then, put aluminum foil on the baking sheets. Lightly grease the foil.
Bake: Arrange the poultry pieces on the baking sheet, then put them in the oven. This will take around 45 to 50 minutes, and make sure that the temperature reaches 165 degrees Fahrenheit. To achieve the charred surface, broil the pieces for a few minutes.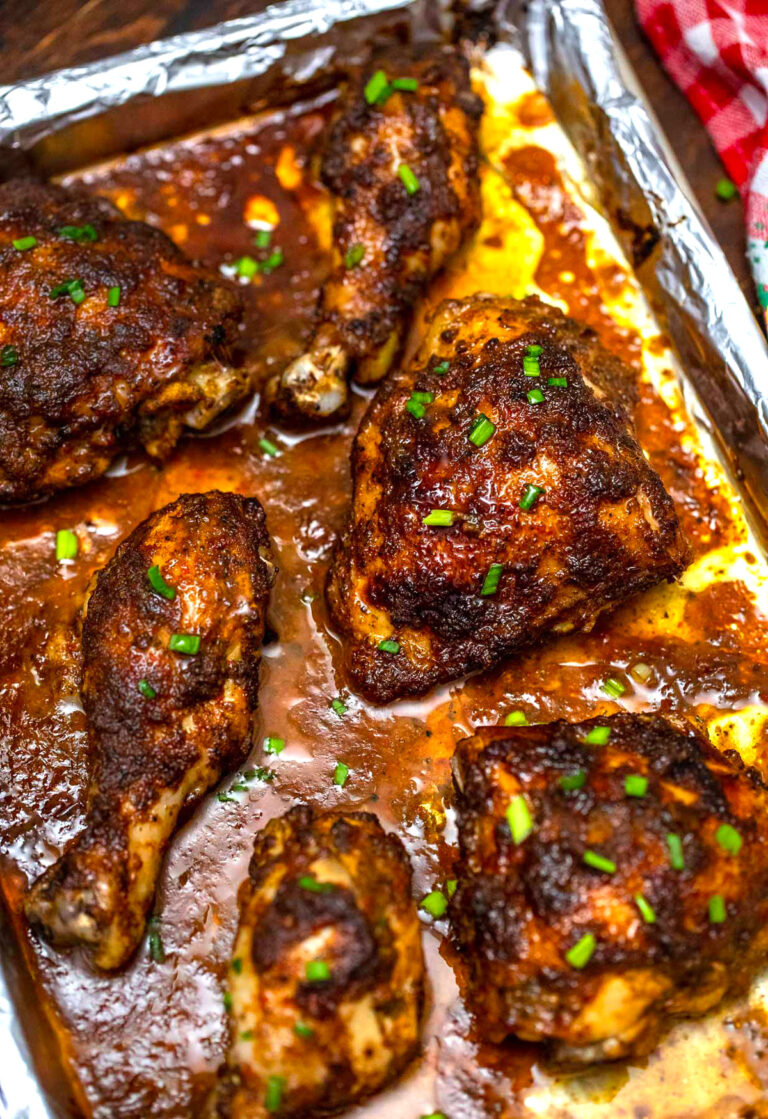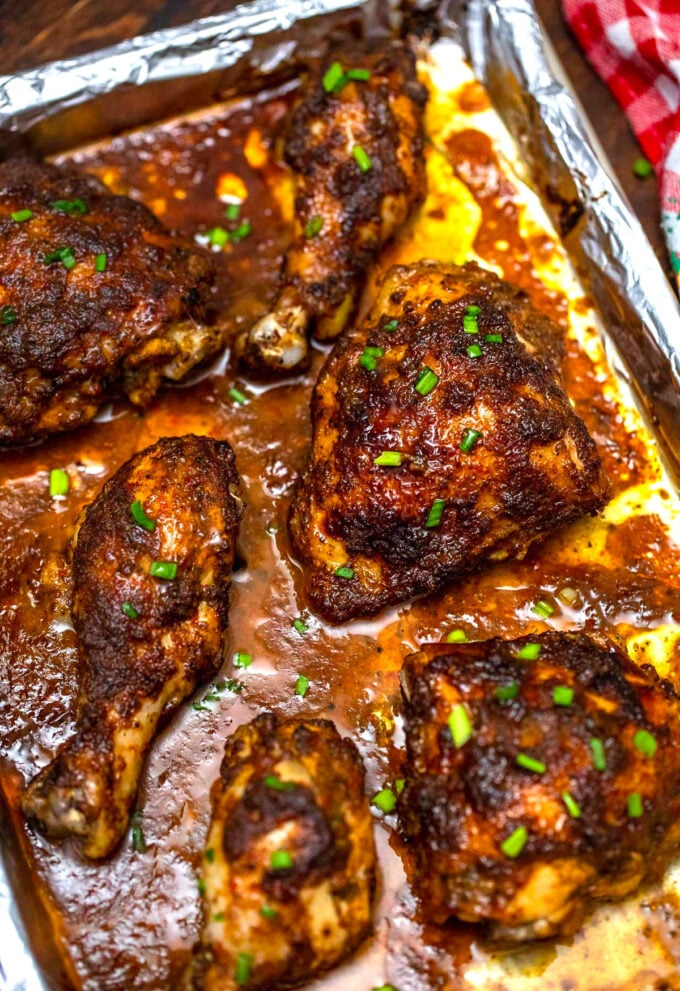 How to make Jerk Chicken on the grill:
Follow the marinating procedure, but instead of the oven, use the gas grill. Just preheat the grill and oil the grates. Grill the marinated pieces, turning to cook uniformly. This will take about 30 minutes.
Is Jerk Chicken healthy?
Yes! Chicken is healthy with all its vitamin and protein content, especially when compared with other kinds of meat in terms of calories. If you are following a low-carb diet, then this recipe fits perfectly in it.
And jerking it is a healthy way of cooking it. Because as you grill it, you are not subjecting it to too high temperature since it is already marinated. And you are not using any additional fat in it.
Not to mention, the marinade is made of natural and fresh ingredients. Overall, this recipe is healthy!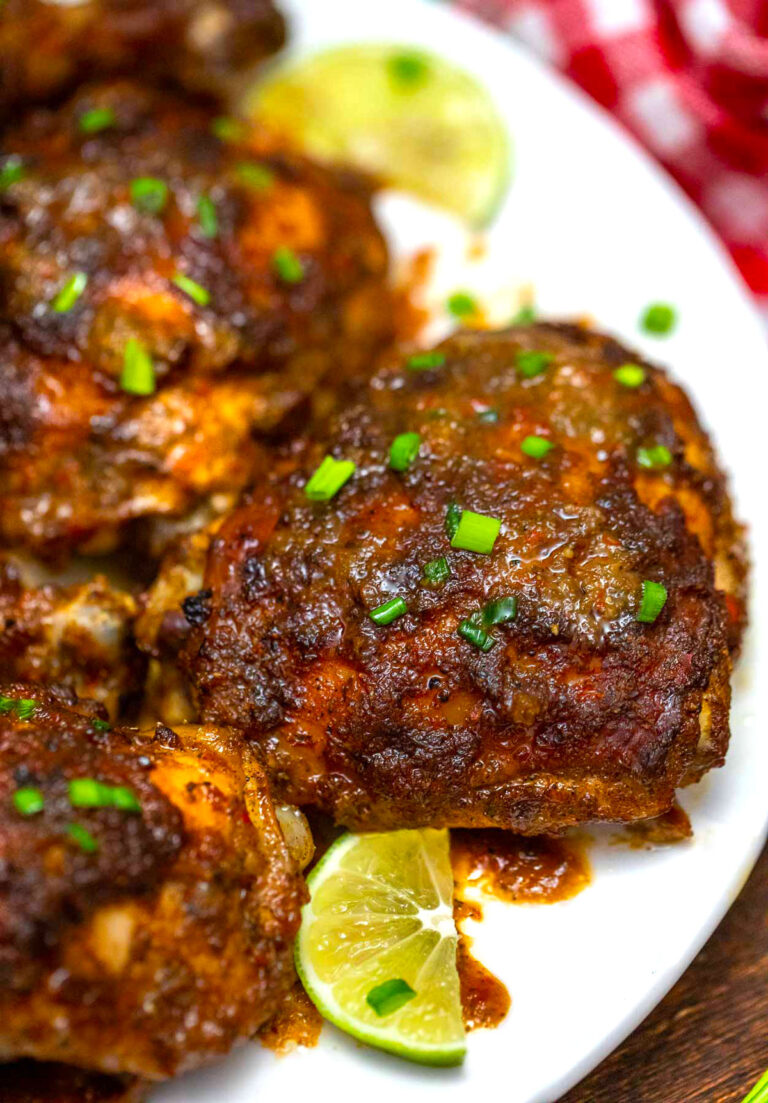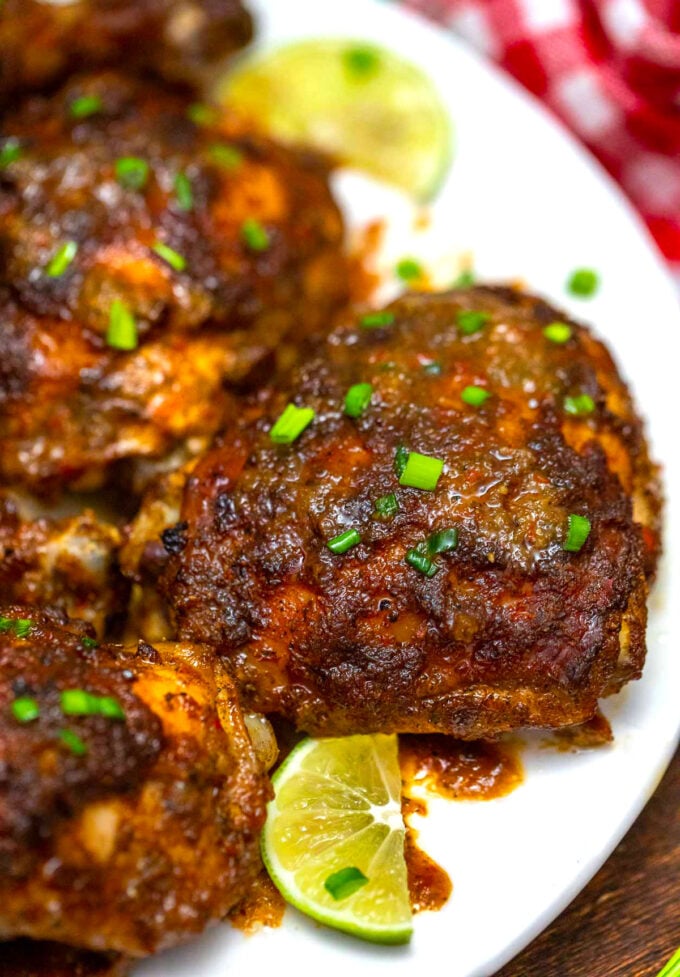 What to serve with Jerk Chicken?
How to store leftovers:
To refrigerate, use an airtight container. Then, store in the fridge for up to 4 days.
You can freeze the cooked dish. Put the pieces in a freezer bag, then freeze for up to 3 months.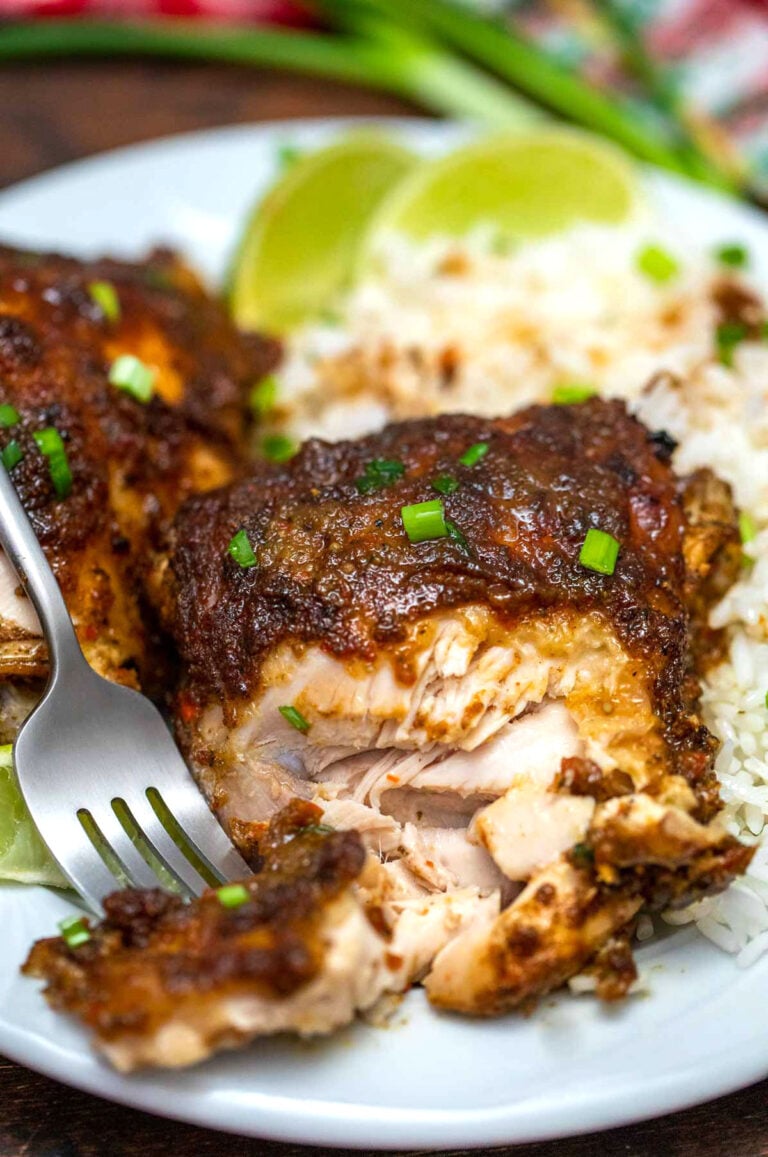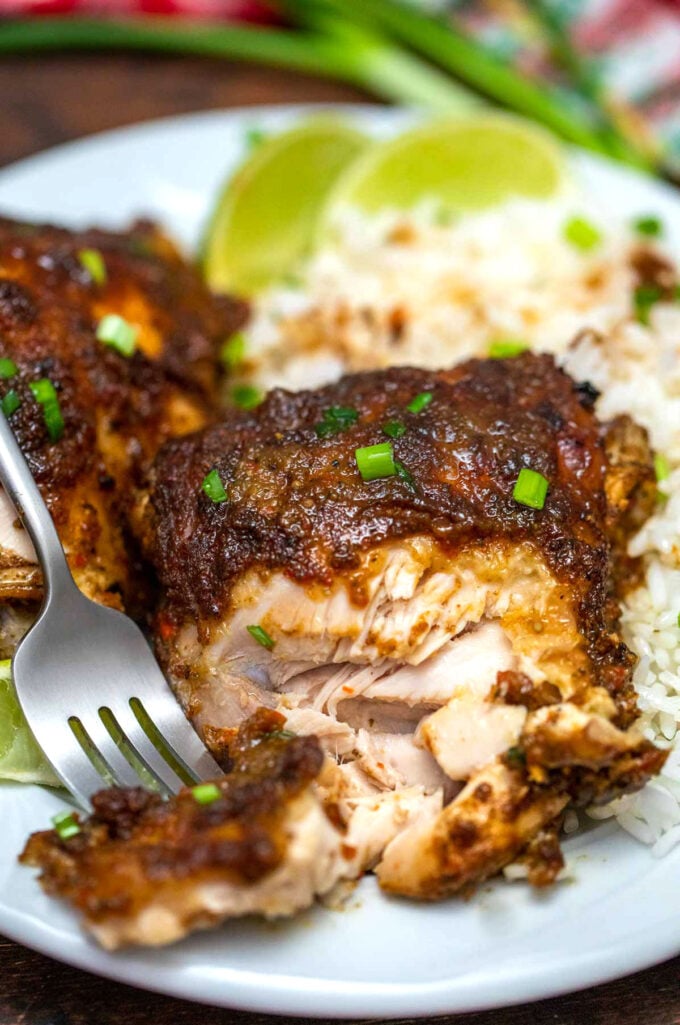 Recipe Tips:
You can repurpose the cooked dish by shredding the meat and putting in burgers or wraps.
Feel free to reduce or add peppers. If you can take the heat, you may use habanero or Scotch bonnet ones.
You may remove the skin to lessen the calories.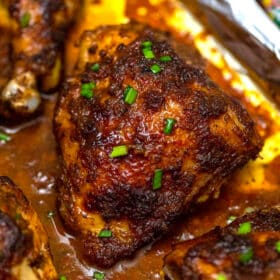 Jamaican Jerk Chicken Recipe
Jerk Chicken screams summer in every bite! It is so flavorful yet so easy to make! Gather all the ingredients and start cooking this perfect Caribbean dish!
Save
Share
Print
Pin
Rate
Ingredients
10

chicken pieces

(bone-in and skin-on thighs and legs work great - use about 3 lbs and trim excess fat and skin)

6

green onions

(roughly chopped)

6

cloves

garlic

(peeled and smashed)

2

jalapeno peppers

(seeds and stem removed)

2

red chiles

(seeds and stem removed)

1 1/2 -

inch

piece ginger

(peeled and chopped)

1/3

cup

fresh lime juice

1/4

cup

soy sauce

(reduced-sodium)

2

tablespoons

brown sugar

1

tablespoon

fresh thyme leaves

1

tablespoon

fresh parsley leaves

1

lime

(zested)

1

teaspoon

freshly ground black pepper

1

teaspoon

ground allspice

1/2

teaspoon

ground cinnamon

1/4

teaspoon

ground nutmeg
Instructions
Marinate:
Place chicken pieces in a gallon-size Ziploc resealable bag.

Add the rest of the ingredients to a food processor and pulse to chop until you get to a coarse consistency, do not make it into a sauce.

Pour the mixture over the chicken, press out excess air and close the bag. Shake it well to get the marinade on all the chicken pieces. Marinate in the refrigerator for at least 3 hours or overnight.
Oven Instructions:
Preheat oven to 375 degrees.

Line a large baking sheet with aluminum foil and spray with non-stick cooking spray.

Remove chicken from marinade and arrange onto the prepared baking sheet, make sure the pieces do not touch each other.

Bake it until cooked through, for about 45 - 50 minutes, and broil during the last few minutes until it is just crispy on the outside, watch it closely to not burn it.
Grill Instructions:
Preheat a gas grill to about 400 degrees.

Make sure you clean the grates and rub them lightly with oil.

Arrange the chicken on the grill and cook, turning occasionally for about 30 minutes.
Serve:
Serve the chicken with rice, fresh lime wedges and garnished with chopped green onions.
Nutrition
Calories:
559
kcal
|
Carbohydrates:
12
g
|
Protein:
45
g
|
Fat:
36
g
|
Saturated Fat:
10
g
|
Cholesterol:
173
mg
|
Sodium:
817
mg
|
Potassium:
614
mg
|
Fiber:
2
g
|
Sugar:
7
g
|
Vitamin A:
833
IU
|
Vitamin C:
51
mg
|
Calcium:
60
mg
|
Iron:
3
mg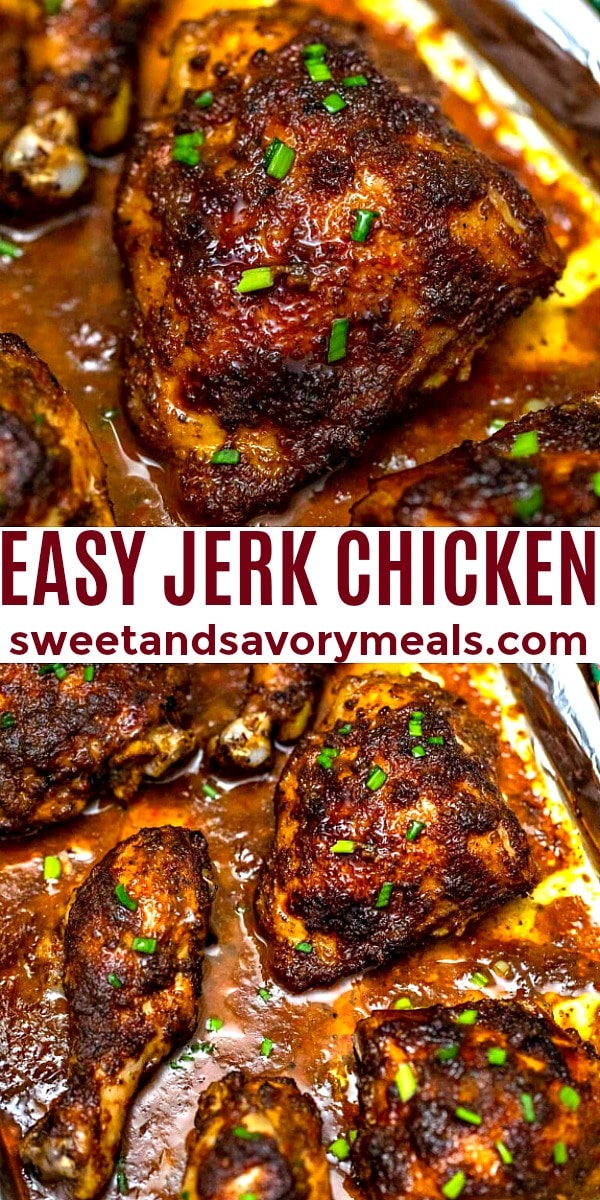 More recipes you might love