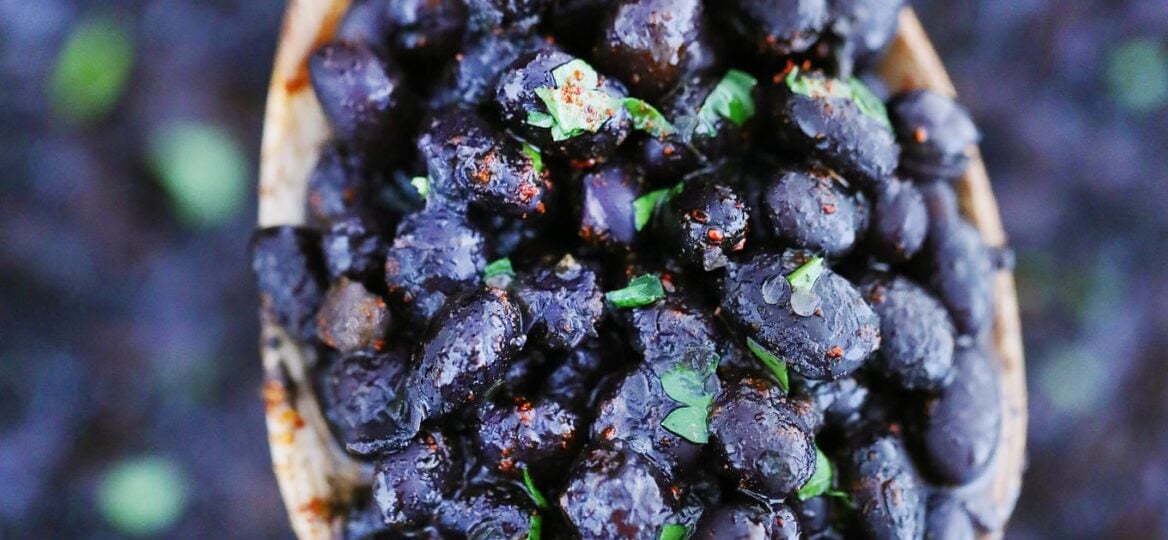 Chipotle Black Beans Recipe (Copycat) with Video
Chipotle Black Beans is one of the most popular dishes of the restaurant and in this recipe, we will recreate that in a simple but tasty Mexican dish!
Line this up with our other Mexican favorites like the Mexican Salad, Chicken Tostadas, and Chicken Quesadillas in your menu rotation!
Homemade Chipotle Black Beans
Chipotle Black Beans is a protein-rich vegetarian dish that can be made into a burrito bowl. With this easy recipe, you can enjoy this dish without having to leave the comfort of your home to drive to the nearest Chipotle! It will save you money and time without having to break a sweat.
There are a lot of recipes out there that use canned beans but for this recipe, we will use dried ones. They are a lot healthier than the canned ones, which have off-the-charts sodium content. The dried ones are more nutritious, much tastier, and also budget-friendly.
Also, this dish can be used as an ingredient in many other recipes so you can prepare one big batch to be used for the rest of the week.
What is Chipotle Black Beans?
It is a signature dish and is among the many best-sellers of the Chipotle restaurant. It is basically beans seasoned with more spices. This hearty dish has become the go-to comfort food for many fans of the restaurant.
Black Beans Nutrition and Health Benefits
This legume is extremely healthy. According to Wikipedia, one cup has 662 calories, 71% of which are from carbohydrates, 25% from proteins, and 4% from fats. It may have high levels of carbohydrates, but it has zero sugar. Instead, it has high levels of dietary fibers, as much as 120% of the daily requirement.
This means that it can be digested slowly, making you feel full for a longer period of time. It also has a low glycemic index which means that the sugar levels don't shoot up quickly after eating this. This is good news for those who are trying to lose weight!
Black Beans and Rice
Beans eaten with rice will give you a complete meal. This combination has been a staple food in the Americas for thousands of years ago and is still popular today.
In a stockpot, sauté onions, garlic, and rice in olive oil. Add in the broth and let it boil. From medium-high, lower the heat to medium-low and then, cook further until about 20 minutes more. Then, add the cumin, cayenne, and beans.
That's how you simply prepare this dish. But, the ease of preparation depends on how you prepare the legumes. The canned ones are easier to prepare than the dried ones. They are already cooked so you just need to rinse off the sodium, and then, add them to any dish. Meanwhile, the dried ones need some soaking to soften them up.
How long to soak the beans?
The dried ones need to be soaked for at least four hours, overnight for best results. The canned version does not need to be soaked.
How to cook dried black beans?
For the exact steps, please see the recipe card below. Also, watch the short video tutorial.
In a large stockpot, heat up olive oil over medium heat.
Add the onions and cook for about 5 minutes then, cook the garlic for about 30 seconds.
Then, add the legumes (already soaked and drained) and water enough to cover them. Let this simmer for two hours until the legumes are tender.
Lastly, add some salt to taste.
How to make Chipotle Black Beans?
Simply follow the steps described above. Then, just add bay leaves, cumin, dried parsley, and oregano when you add in the legumes. After cooking for two hours, remove the bay leaves. Then, add the juice of half a lime, paprika, chili powder, and salt.
How to cook canned black beans?
They are already pre-cooked and during the packaging, the high heat to sterilize the contents cooks them further. Hence, there is no need to cook them separately. Just rinse them completely to remove the liquid that they were preserved in.
How to make refried black beans?
First, cook the legumes. Then, sauté some spices with onion and garlic, then, add in the cooked beans. Mash the legumes and cook for about 4 minutes more. Serve with tortillas, as a dip, or as a side dish.
What to serve with Black Beans?
This is the perfect side dish to serve with:
How to store Chipotle Black Beans?
You can refrigerate this side dish once it has completely cooled down. Also, place it in an airtight container. Feel free to freeze it for up to a month and when reheating, thaw first in the refrigerator for at least 6 hours.
Recipe Tips
If you are cooking dried beans and do not have enough time, soak them in hot water for about an hour.
Alternatively, add some salt in the boiling water to soften the legumes then, cover.
You can serve this as a dip to chips or as the main course with sides like rice, salad, salsa, or even toast.
For some citrusy flavor, finish it with some freshly squeezed lime or lemon juice. Also, add some fresh cilantro or parsley on top.
Deliciousness to your inbox
Enjoy weekly hand picked recipes and recommendations