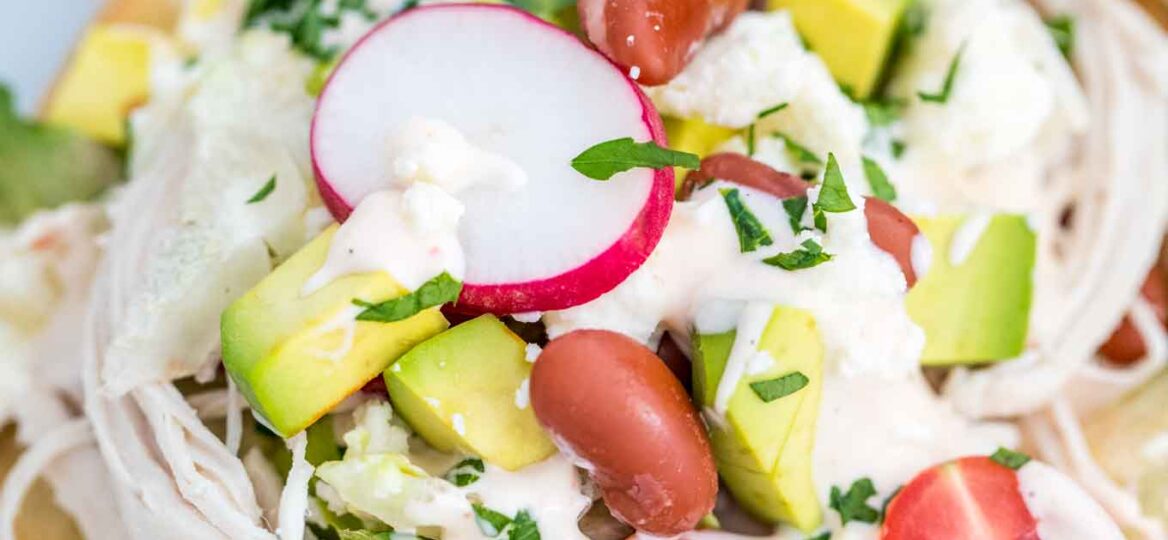 Chicken Tostadas with Chipotle Sauce
Chicken Tostadas are a crunchy Mexican dish that is a great party pleaser. This easy and delicious recipe is made with shredded chicken, beans, avocado, and a creamy, homemade chipotle sauce.
I always love using these to serve at parties. I also like to make other Mexican-inspired recipes, that have similar ingredients like Chicken Enchiladas and Instant Pot Salsa Chicken.
Mexican Chicken Tostadas Recipe
Chicken Tostadas are so delicious and crispy, loaded with flavors and different textures. There are so many different things that you can do with this dish. One of the best parts of this recipe is to revamp stale tortillas, but it is better to use fresh tortillas instead of older ones.
You can make Tostadas in any way you want. The toppings are all up to you. You can also use flour or corn tortillas as well. I used chicken in mine, but slow-cooked pork or beef works great as well.
They are essentially what I call an open quesadilla. This means that anything you would put inside a quesadilla can be put on a tostada. The only difference is that the tostada lies flat and you can stack whatever you want on top of it.
I prefer topping mine off with some avocado and Pico de Guillo. I also really like eating it with some feta cheese or crumbled cotija cheese, because I feel like it compliments the meat really well.
The best part about this dish is that it can be made vegetarian as well. There is no need to have meat on the tostadas. This is good because that way you can cater to any person who has food restrictions on their diet. The cook time can vary if you are cooking the meat or in the case of this recipe, just use rotisserie chicken.
What is a tostada?
Tostada is a Spanish word that means "toasted". It is a Mexican dish made of toasted or deep-fried tortillas, that are either flat or bowl-shaped. They are served topped with different toppings, like meat, beans, and cotija cheese.
How to make chicken tostadas?
If you decide to cook your own chicken, marinate it first with cumin and chili powder. Then cook it in a medium-sized skillet. Make sure the inside of the meat is not pink then take it off the burner and then shred it.
It is a good idea to test the internal temperature of the meat with a meat thermometer so that the internal temperature is 165 degrees. If it is that means the dish is cooked!
In the meantime, spray a baking sheet with cooking spray, lay 6-8 small corn or flour tortillas on it, spray them on top with cooking spray and bake at 350 degrees F until golden-brown and crispy.
Next, gather all the ingredients you will use to pile on top of the crispy tortillas. Add cheese, avocado, tomatoes, and any other toppings that you would like and you have the perfect tostada.
How to cook chicken for tostadas?
Cook the chicken until the internal temperature is 165 degrees or until it is not pink anymore. This way the chicken will not be undercooked and it will be just good enough to eat. Add salt or any other desired spices once it is fully cooked.
You can also use leftover grilled chicken, or just buy a rotisserie chicken and shred it.
How to make chicken tostadas in chicken broth?
Take two packets of the bouillon and mix it with four cups of water.
Boil the broth in a saucepan.
Set it to medium heat and add the chicken.
Lower the heat when the meat is fully cooked through. This will take about 20 minutes.
Set the meat aside and allow it to cool. After that shred it.
Next, use the meat and other toppings on crispy tortillas.
How to cook chicken tostadas in a crockpot?
It is extremely simple, all you have to do is put chicken, one cup of broth, garlic, chili powder, cumin, paprika, and salt in the crockpot.
Set the crockpot to low heat and cook it for four to five hours. This is great because you can set it to start cooking at the beginning of the day and it will be finished just in time for dinner.
More Mexican-inspired dishes:
Mexican Taco Breakfast Buritto