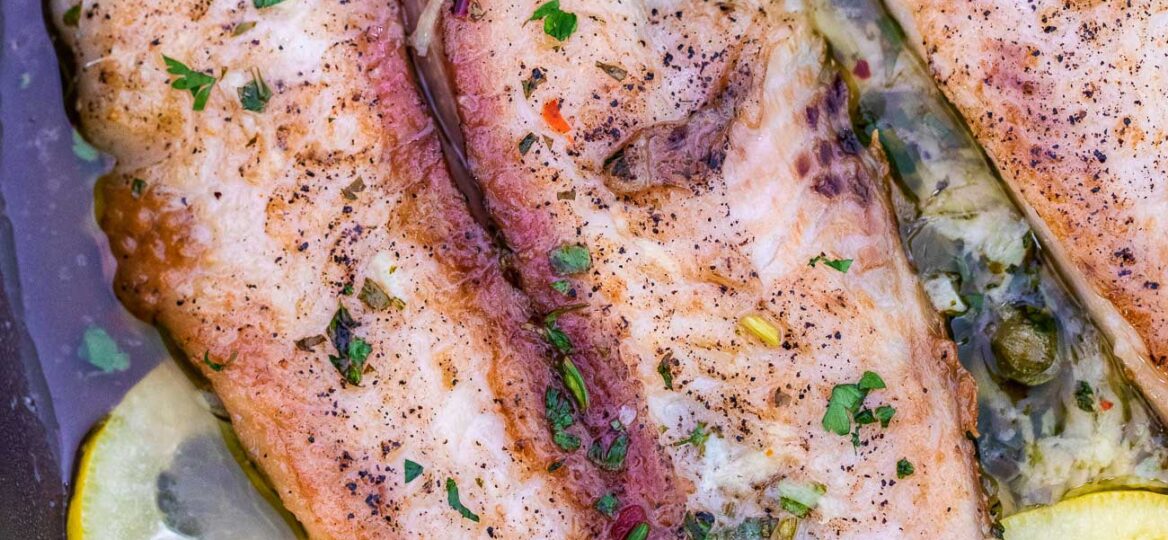 Garlic Butter Swai Fish Recipe [video]
Swai Fish is cooked in a lemon butter garlic sauce with fresh ginger and capers. It makes an excellent quick dinner entree as it only takes under 30 minutes from start to finish. It is highly versatile and quite affordable as well!
This is a budget-friendly recipe that is perfect for a light and quick dinner. Because the fish flavor is neutral, you can dress it up in your favorite sauce or marinade. To keep it healthy and filling, serve it with Air Fryer Roasted Asparagus or Sauteed Cabbage. This meal is such a time-saver, and it's great since it pairs so well with many appetizers and dishes. Make sure to check our other fish recipes, there is plenty to choose something for every taste and budget.
Garlic Butter Swai Fish is a healthy and delicious recipe that the whole family will love. It only takes a few minutes and a handful of ingredients you probably already have in the kitchen. The lightly seasoned swai fish are coated with garlic lemon butter sauce that blends well with other ingredients.
The flaky fish has slightly crispy edges and a tender, mild flesh that goes with any sides. Since the fish flavor is very mild and neutral, it reminds me of tilapia, you can play with the other ingredients to add more flavor. I enjoy my filets cook in a buttery sauce, that has been flavored with fresh lemon, fresh garlic, and ginger.
What we like about this type of fish is that it is not fishy at all. It is lean and holds up pretty well as you cook it. In addition, it absorbs the flavors in which it is cooked easily, so you can make numerous recipes with it. If you are looking for a quick, delicious, and budget-friendly dinner, then this recipe is the way to go!
Not only is it delicious, but it is easy to cook. You do not have to worry about it falling apart in the pan as you fry it or in the oven when you flip it over. It also absorbs flavors so you can season it any way you like. And with its neutral taste, it goes with anything.
Another great recipe you might enjoy, fondant potatoes goes really well with this fish meal. All you need is a few ingredients and you can have a side dish that looks and tastes like it came from a fancy restaurant.
Looking for more recipes? Our Baked Lemon Garlic Tilapia is similar to this one with lemon, garlic, and olive oil. For another way to make tilapia our Oven If you want something other than fish, try our Baked Crack Chicken recipe made with bacon bits, ranch seasoning, and cheddar cheese.
Follow us on Pinterest for more delicious recipes!
Ingredients needed:
Here are the basic ingredients for this swai fish recipe. For the complete instructions and exact measurements, scroll down to our recipe card below.
Swai fish fillets
Salt
Freshly ground black pepper
Vegetable oil: You can also use olive oil or whatever you prefer to cook with.
Garlic Lemon Butter Sauce:
Butter: Unsalted melted butter.
Fresh garlic cloves: Minced garlic cloves.
Fresh ginger root: Grated.
Capers
Fresh lemon juice: The juice of one lemon is what we used.
Chopped parsley
Red pepper flakes
Garnish:
Lemon wedges
Italian parsley: Chopped.
How to make Swai fish recipe?
Prep the fish: First, rinse swai fish with cold water and then pat dry with paper towels. Season swai fillets on each side with salt and freshly ground black pepper.
Cook swai fish fillets: Add oil to a large skillet on medium-high heat. When it starts to sizzle, pan-fry the fillets on each side for about one or two minutes until they are lightly browned.
Make the garlic lemon butter sauce: Using the same pan, add the butter. When it melts, add the ginger and garlic. Cook while stirring for about 30 seconds. Next, add the capers, lemon juice, parsley, red pepper flakes, and a pinch of salt. When the sauce starts to bubble, turn off the heat.
Combine: Finally, put the fish fillets back in the pan and coat with sauce.
Serve: Lastly, garnish swai fish fillets with lemon wedges and parsley and serve immediately.
How to make oven-baked swai fish:
Preheat oven: To begin, preheat the oven to 400 degrees F and prepare a baking dish with cooking spray or olive oil.
Prepare swai fish: In the meantime, rinse your swai fillets in cold water and pat dry with paper towels. Season each one with salt and pepper to taste.
Place the fish: Then, place each swai fish fillet into the prepared baking pan, making sure they do not overlap.
Make the lemon butter sauce: Next, melt the butter in a sauce pan over medium heat, and then add garlic and ginger. Cook for 30 seconds, mixing it with a wooden spoon. Add red pepper flakes, parsley, lemon juice, capers, and a pinch of salt. Continue to cook until it starts to simmer.
Bake swai fillets: Immediately, pour melted butter sauce over the swai fillets and bake swai fish for 10-15 minutes. The sides of the fish should be crispy and the top light brown when it is done.
Serve baked swai fillets: Remove baked swai fillets from the oven and add extra sauce on top. Serve immediately.
Recipe Variations:
Crispy: Follow this Crispy Baked Tilapia recipe to make a crisp shell on it.
White wine: Add 1/4 cup of white wine to your sauce for an extra tangy flavor.
Change the sauce: Since this is such an easy swai recipe after you pan fry the Swai, we recommend trying to cook it in one of these Asian Sauces: Orange Sauce, General Tso Sauce, Sweet, and Sour Sauce, or Szechuan Style Sauce.
Spicier: Also, make this dish spicier by adding more red pepper flakes and some hot sauce.
Citrus: Use lime or oranges instead of lemon.
Marinate: Actually, marinating is great because it gives some time for the flavors to properly absorb and reflect in the final dish. So if you have some extra time, feel free to marinate it. Let it sit in the marinade for about 30 minutes or more but not exceeding one whole day. Use a mix of olive oil, soy sauce, white wine, lemon juice, honey, and seasoning to make the marinade.
Grill: After marinating it, instead of baking or frying, grill the fillets and brush with the marinade occasionally. Once done, boil the remaining marinade for about a minute and serve as the sauce.
Air Fry: Another opinion is to air fry the filets, just follow this recipe for air fryer crispy fish.
How to serve:
This is one of the best swai recipes out there and it is easy and fast enough to make often. When you pan fry or bake swai fish, it only takes a few minutes with very little prep time. Here are some fantastic ideas to try:
Any side dish goes great with this white fish. It has a mild flavor so you can pair it with whatever you like. Try this instant pot buttered cabbage recipe with butter and garlic.
Whether you are serving baked swai fillet or pan-fried swai, it all tastes great with tartar sauce. Make your own from scratch with fresh ingredients for even more flavor.

Add a nice cold beverage with your swai recipe like boozy watermelon lemonade or coconut mojitos. For non-alcoholic versions, just leave out the booze.
White wine is also a good choice of beverage.
Serve with a side salad or bowl of soup. Our slow cooker Italian wedding soup is delicious.
The neutral taste of this lean protein recipe means you can top it with other sauces like our tangy horseradish, homemade yum yum sauce, or savory teriyaki.
For a delicious side dish, try our Buttery Boiled Potatoes with rosemary and dill.
Frequently Asked Questions:
What is swai fish?
Also known as pangasius or basa, this white fish is typically farm-raised and lives in freshwater. It is similar to tilapia but with a milder flavor. You can find swai in the Mekong Delta in Vietnam, which is where it got the name the Vietnamese catfish.
It strives in freshwater just like tilapia but with a milder flavor. The majority of the country's supply comes from the Mekong Delta in Vietnam. It is a naturally neutral flavor which makes it an ideal dinner dish.
Also, it is quite inexpensive, considering that it hails all the way from Asia. With that said, you will mostly find it as frozen fillets and individually packed. In addition, you can use it readily with almost zero preparation.
What is the 10-minute rule for cooking fish?
Whether you are deep frying, pan cooking, or baking swai fish, you can use the 10-minute rule. This convenient rule states that you cook your fish for 10 minutes per inch of thickness. And it works with just about any kind of seafood recipes.
Why should swai fish be room temperature before cooking?
Cooking a frozen or cold fish fillet in a frying pan can cause it to cook unevenly. Some spots may cook faster than others, leaving you with a fillet that is overcooked and dry in some areas and undercooked in others. Let it come to room temperature for 10 minutes before cooking swai.
Is swai fish healthy?
Swai fish has a lot of protein, vitamins, and minerals. With this recipe, each serving (American servings) has 688 calories, only one carb, low saturated fat, and 195 milligrams of cholesterol.
In addition, you get 31 grams of protein, 724 milligrams of potassium, 46 milligrams of calcium, and a whopping 1,895 units of vitamin A. Also, it is high in lean protein, making it a great option for a filling dinner.
Is it a clean fish?
While this white fish is an inexpensive and budget-friendly seafood option, many people believe that the meat is contaminated and dangerous to it. If grown in an environment contaminated with chemicals and injected with hormones, obviously the meat will absorb them and become toxic to consumers. Therefore, when choosing Swai, make sure it is from reliable farms, that utilize clean rivers and ponds.
Is it the same as Tilapia?
While when cooked both fish is white, tender, and flaky with a neutral taste, Tilapia tends to be fattier. Also, it may have some darker bits to the flesh.
Swai comes from Southeast Asia and gets shipped frozen to the States, whereas tilapia gets caught and raised all over the world. Actually, both make great options for fried fish cookouts.
How to store leftovers:
Store: With this recipe, there are only two fillets, so you probably will not have leftovers unless you are eating alone. In that case, you can store the other fillet in an airtight container in the fridge for up to three days.
Freeze: If you don't plan to eat the other fillet right away, wrap it in plastic wrap, then aluminum foil, and then store it in a freezer bag in the freezer for 90 days.
Defrost: Remember to thaw the fish overnight in the fridge for best results before reheating.
Reheat: You can reheat this fish in a frying pan for one minute on each side or in the microwave for one minute.
More Seafood Recipes:
Fish cooking tips:
Getting the best-quality fish is always important when making fish recipes. Try to find those that are farm-raised and certified by the Aquaculture Stewardship Council.
Do not put the fish in the pan until it is sizzling hot for best results.
You can also use other white fish for this recipe like cod, halibut, or sole.

Freshly squeezed lemon juice makes a big difference in this recipe as it has a more vibrant flavor than the prepackaged stuff.

The cook time for your fish may be different depending on the thickness.
The easiest way to tell when your fish is fully cooked is when it has an internal temperature of 145 degrees F.

No matter what kind of fish you are cooking, you should always check for bones. Especially if you are serving it to children.
Lemon Garlic Butter Swai Fish
Ingredients
2

fillets Swai fish

1/4

teaspoon

salt

1/4

teaspoon

ground black pepper

2

tablespoons

vegetable oil
Garlic Butter Sauce:
1/2

cup

unsalted butter

4

cloves

garlic

minced

1

tablespoon

grated ginger root

1

tablespoon

capers

Juice of 1 lemon

2

tablespoons

chopped parsley

1/4

teaspoon

red pepper flakes
Garnish:
Lemon

Italian parsley

chopped
Instructions
Prep the fish:
Rinse the swai fish fillets with cold water and pat dry with paper towels. Season both sides with salt and ground black pepper.
Pan Fry:
Place a large skillet over medium-high heat. Add the vegetable oil and wait for it to start sizzling. Pan-fry the fillets, about 1-2 minutes per side, or until light brown. Transfer to a plate.
Make the Sauce:
To the same pan, add the butter and melt it, then add garlic and ginger, stir and cook for 30 seconds.

Add capers, lemon juice, parsley, red pepper flakes, and a pinch of salt. As soon as the sauce starts to bubble, turn off the heat.
Combine and Serve:
Return the fish to the pan with the sauce and drizzle it on top with a spoon, garnish with lemon wedges and parsley.