Slow Cooker Italian Wedding Soup
Last updated on June 18th, 2021 at 11:41 pm
Slow Cooker Italian Wedding Soup is a cozy mix of broth, juicy meatballs flavored with parmesan and herbs, plus pasta and fresh vegetables. Hearty and satisfying, with lots of delicious variations we'll be sharing below!
Is there anything more comforting than a bowl of hot soup? After enjoying this recipe, try our Old Fashioned Chicken and Dumplings, Instant Pot Corn Chowder, and Zuppa Toscana as well!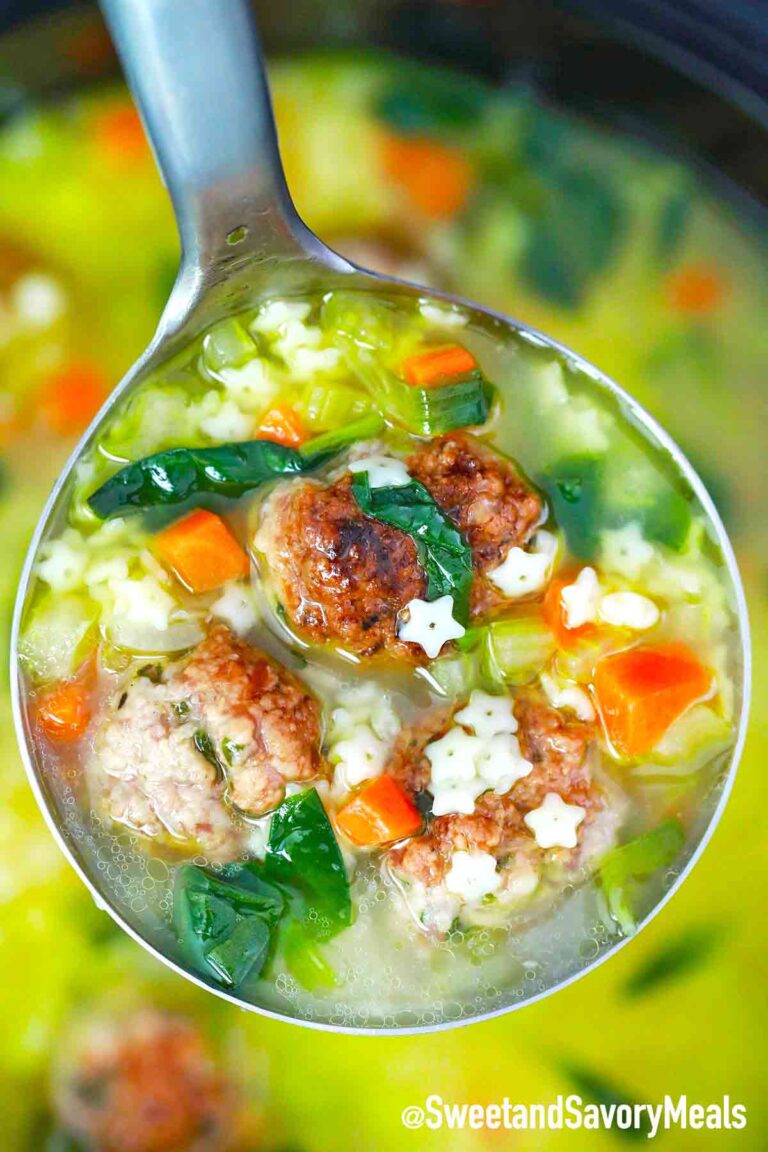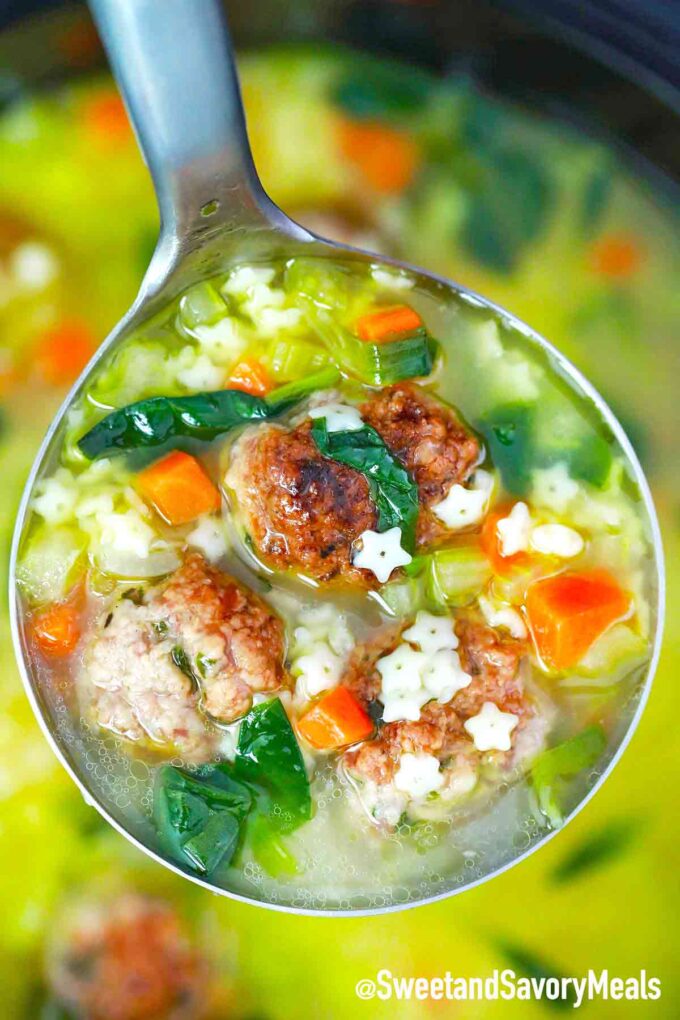 Crockpot Italian Wedding Soup
Italian Wedding Soup is a rustic dish of homemade meatballs, pasta, and spinach cooked in a light and flavorful broth. It's also a great way to "sweep the fridge." For instance, chop up any stray vegetables you have in the crisper and throw them in the pot.
Got some pasta you want to use up? Add it in there as well! You can skip the meatballs altogether, or use other kinds of meat to fit your taste. This soup is tasty, versatile, and extra perfect on a cold day!
What is the meaning of Italian wedding soup?
The original name of the soup in the Italian language is "minestra maritata." It directly translates to "married soup." It has roots in Campania and Naples, and was traditionally served as part of rituals like the annual pig slaughter, the Feast of Santo Stefano, Christmas, and Easter.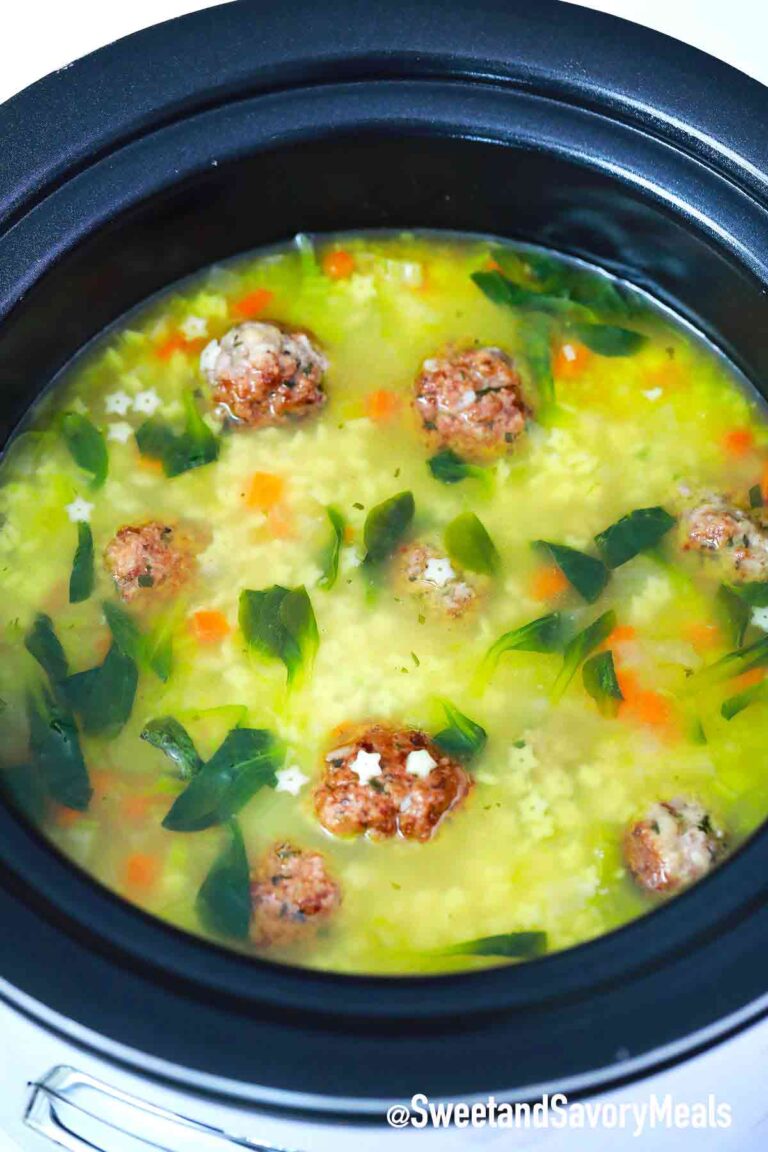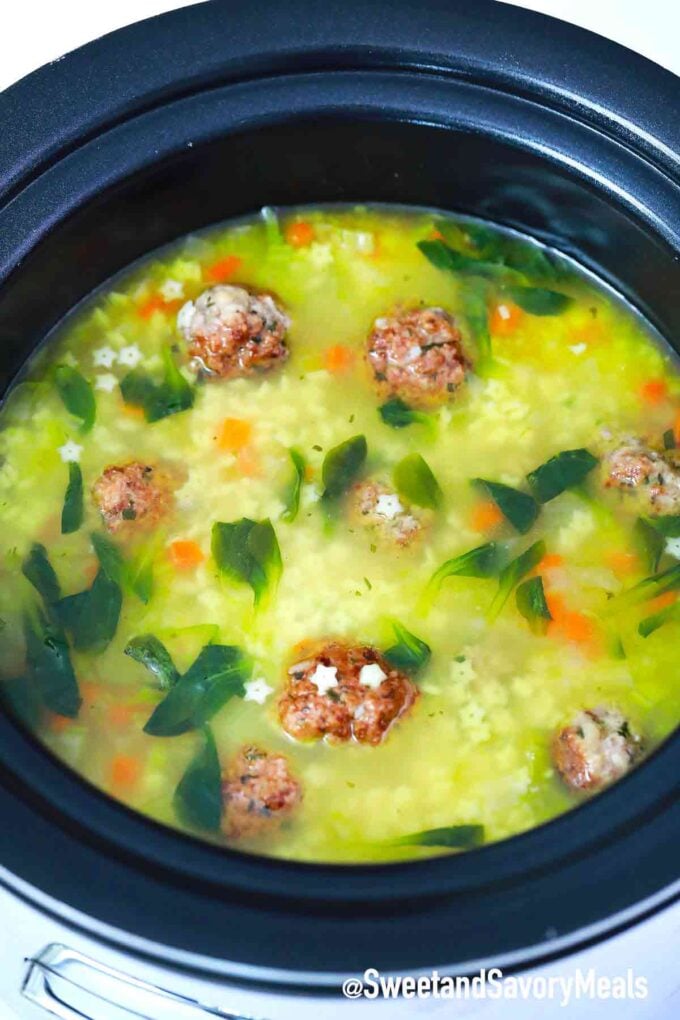 What goes into Slow Cooker Italian Wedding Soup
Meatballs:
Meats: We're using ground beef, but you can go for the classic combo of ground pork and beef.
Herbs: Parsley, Italian herbs and oregano give the meatballs a subtle warm, herby flavor.
Breadcrumbs: The crumbs help the meatballs retain their structure while cooking.
Seasonings: Grated parmesan and simple salt and pepper plus a dash of olive oil keep it simple and delicious.
Soup:
Aromatics: Mince some fresh garlic and diced yellow onion.
Vegetables: Dice up a carrot and celery, then chop some fresh baby spinach.
Broth: Hot, flavorful chicken broth is our main cooking liquid.
Pasta: For a heartier bowl, we're adding acini pasta to the dish.
How do you make Crockpot Italian Wedding Soup from scratch
Slow Cook. Start by adding the broth and other soup ingredients to the slow cooker. Next, let them cook for a few hours, for a rich and deep flavor. Once that is done, start of the meatballs, of if you have them handy just drop them into the crockpot.
Make the meatballs. Take the ground meat and the rest of the meatball components together, knead, and mold into rounds (a tbsp. each). Shallow-fry in batches in a little olive oil for about 5 minutes, flipping halfway. Add them to the cropckpot. Also, add the pasta and the spinach.
Serve. Ladle into bowls and enjoy hot with your favorite toppings.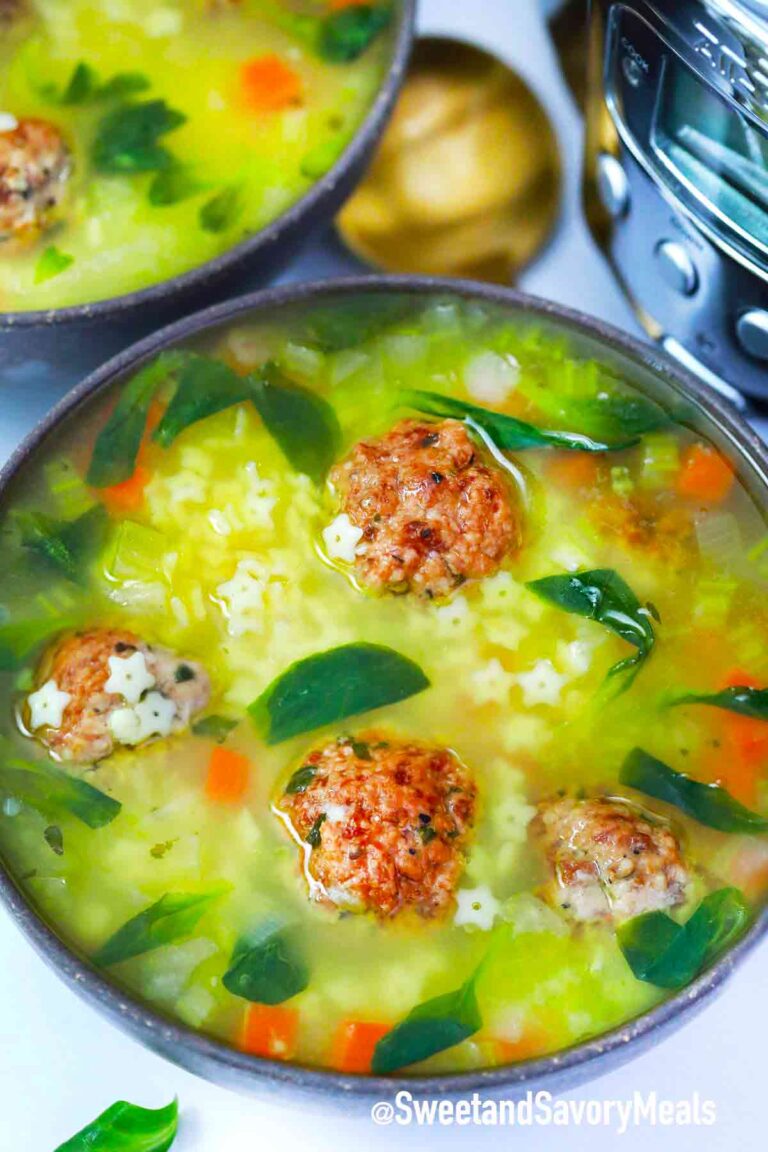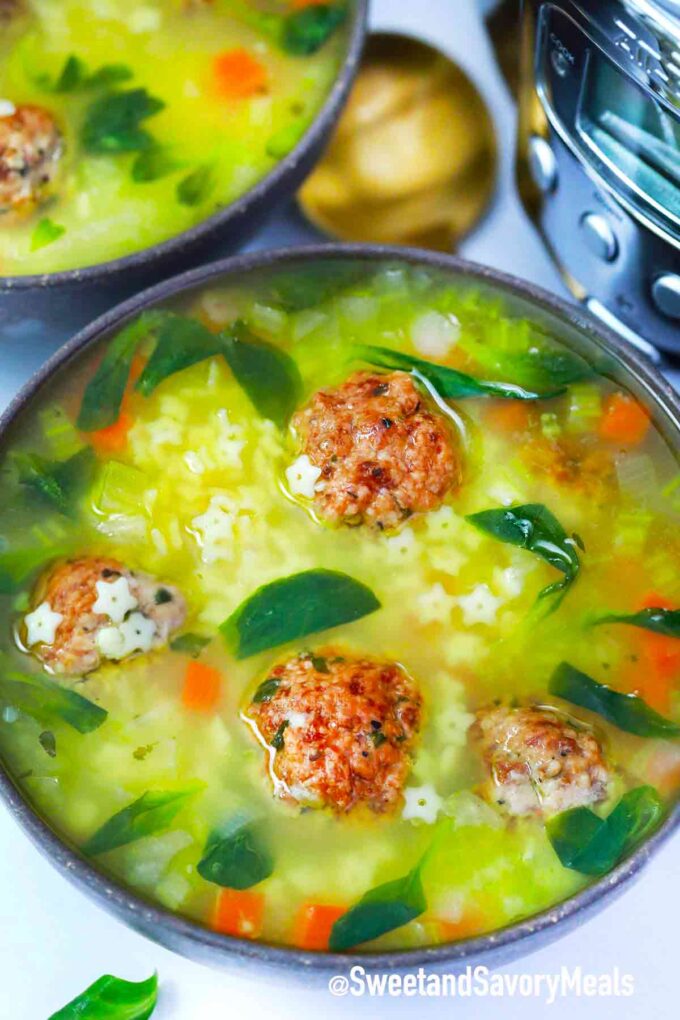 Recipe Variations:
Use other meats: Make leaner meatballs out of chicken or turkey, use pure beef or pure pork, or mix in some crumbled sausage and bacon.
Include more veggies: Feel free to add almost any veggie here, such as mushrooms, cauliflower, sweet corn kernels and peas, kale, squash, potatoes, zucchini, cabbage, and more.
Vegetarian: Use veggie stock and ground plant-based meat for the meatballs.
Other types of pasta: Use orzo or couscous instead of acini. In fact, any type of pasta you have on hand will work, such as spaghetti, macaroni, and fettuccine! Just break them up into small pieces.
Low carb: Use almond flour instead of bread crumbs to bind the meatballs, and skip the acini for riced cauliflower or low-carb pasta.
Grains: Stir in some quinoa, brown rice, or barley.
Is Italian Wedding Soup healthy?
Yes. The meatballs pack a lot of protein, while the soup is loaded with nutrients from the spinach and other vegetables. If you want to lessen the carb content, simply replace the acini pasta with low-carb alternatives or remove it altogether.
You can also make it healthier by using leaner meats and adding more fresh vegetables.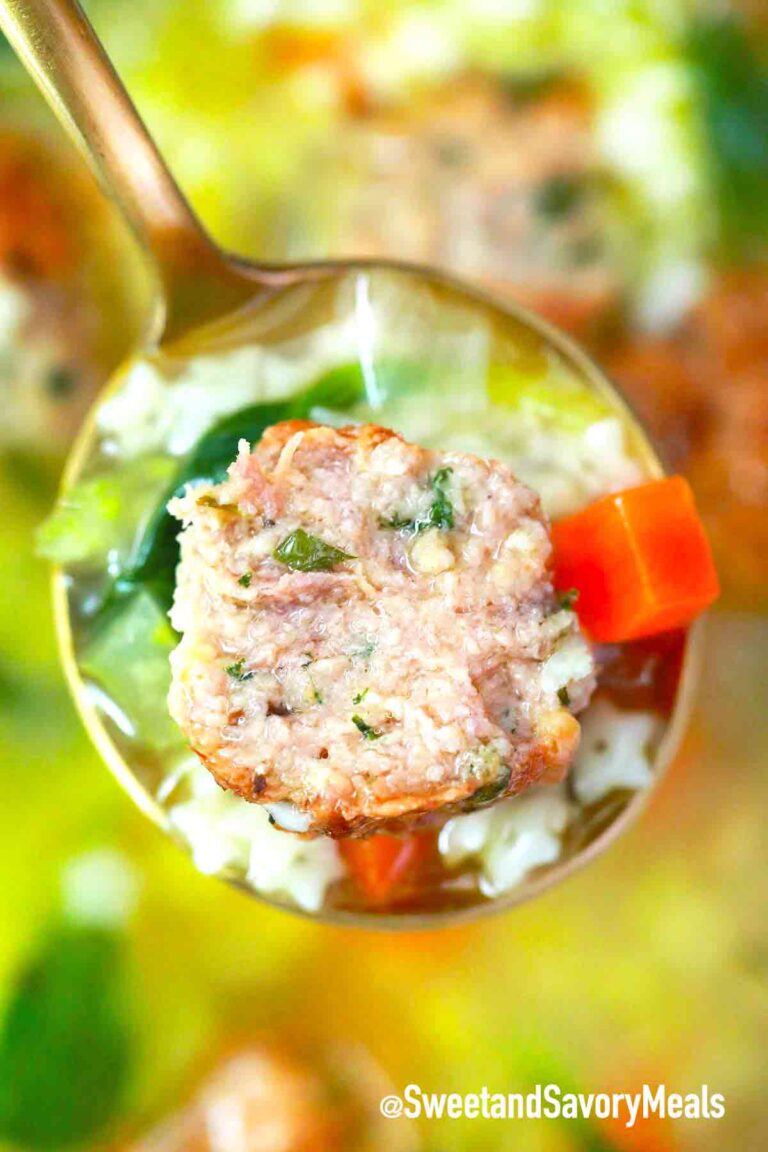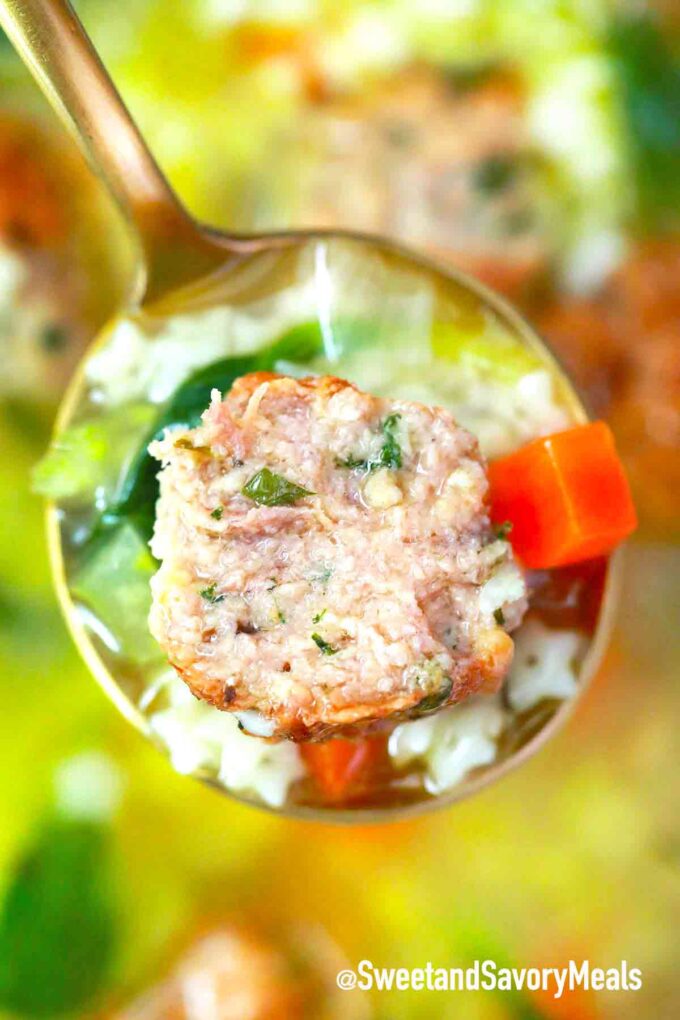 Is Italian Wedding Soup eaten at weddings?
Despite the name, it's not actual wedding fare in Italy or anywhere else. Instead of a marriage between couples, it refers to different ingredients of the soup, and how they blend perfectly together.
What goes with Italian Wedding Soup:
Warm dinner rolls or crusty bread will round up this meal nicely since this hearty meatball soup is already filling on its own. However, you can also serve it with roasted chicken, grilled pork skewers, garlic butter Swai fish, or beef tenderloin.
Topping suggestions:
Try topping it with seasoned and toasted panko, more grated parmesan, or even melted cheddar on top. Some toasted pine nuts and slivered almonds are also delicious toppers that add excellent texture.
You can also scramble an egg, swirl the hot broth, and slowly pour it into the hot.
How to store leftovers:
Cool all the leftovers first, then pour into an air-tight container. Store in the fridge for up to 5 days. To reheat, simply microwave until both the soup and meatballs are hot. You can also rewarm by simmering on the stove.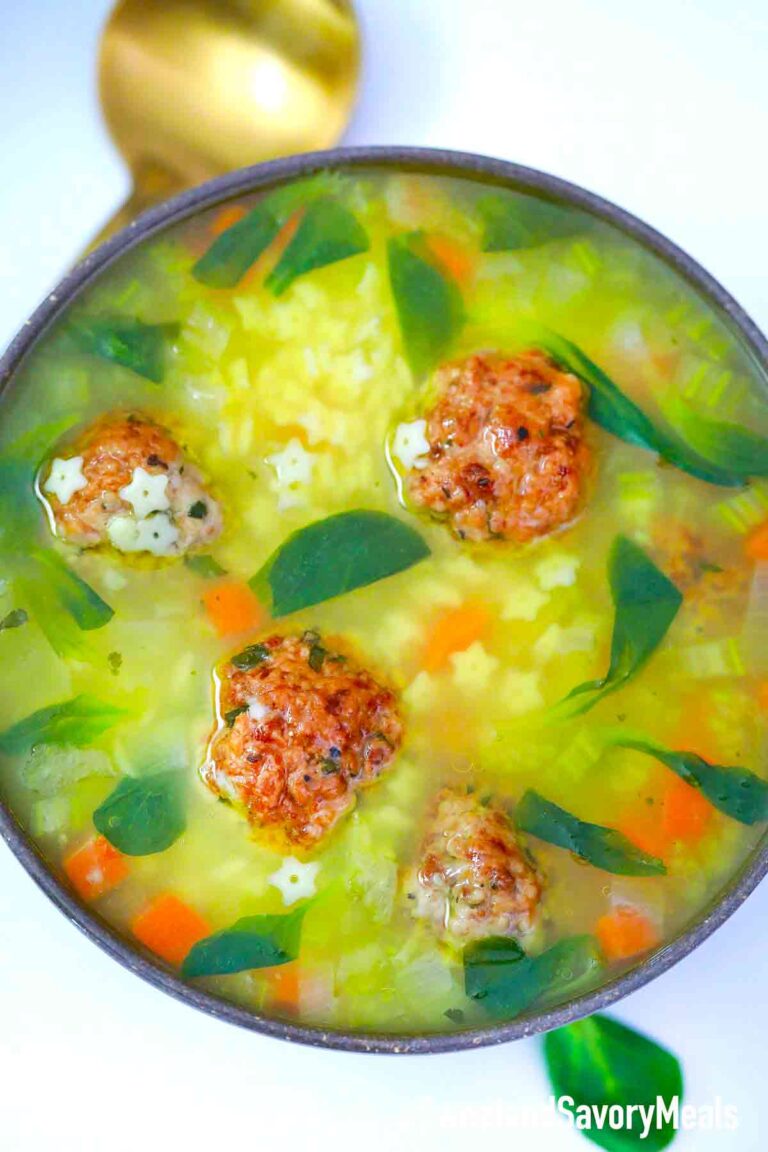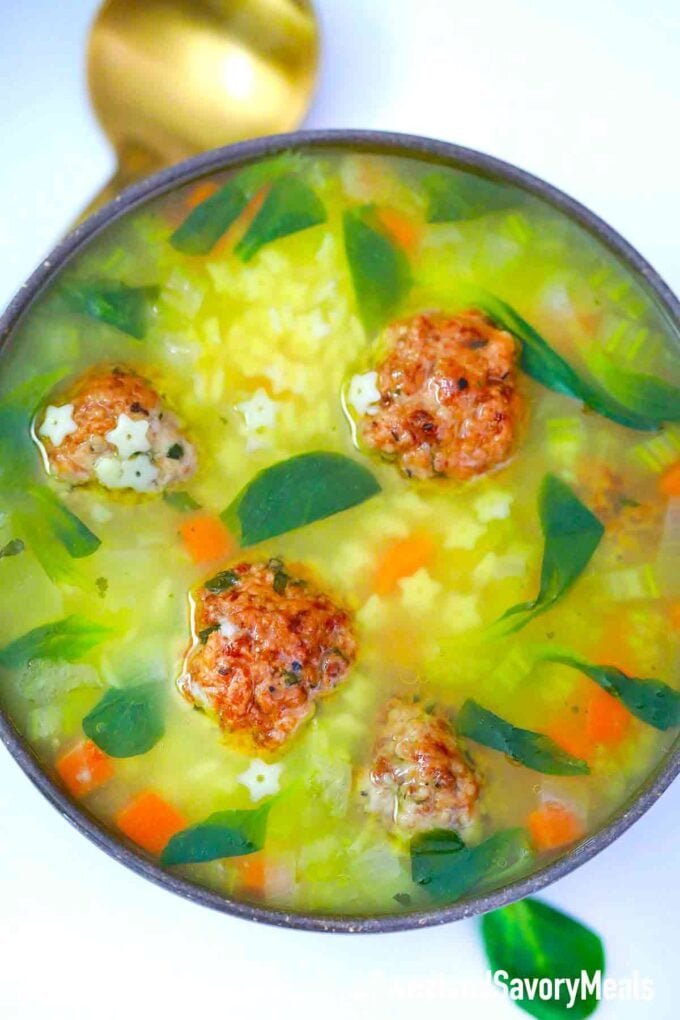 How to freeze/how to thaw:
You can keep this in an air-tight container, or pour it into Ziploc bags for easier storage. Store in the freezer for up to 3 months.
To reheat, defrost overnight inside the fridge if you'd to eat it the next day, or on the counter to thaw it faster.
Heat up the thawed contents in the microwave, or warm it up by simmering on the stove.
Recipe tips:
Use both lean pork and lean beef for less fatty meatballs. We recommend using grass-fed organic ground meat for the best flavor.
Instead of chicken, you can also use beef, pork, or veggie stock.
No oregano or parsley in stock? Simply swap with Italian seasoning.
Other Recipes You Might Like: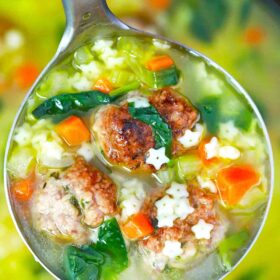 Slow Cooker Italian Wedding Soup
Slow Cooker Italian Wedding Soup is a cozy mix of broth, juicy meatballs flavored with parmesan and herbs, plus pasta and fresh vegetables.
Save
Share
Print
Pin
Rate
Ingredients
Soup:
8

cups

chicken broth

(low-sodium)

3

medium carrots

(peeled and chopped)

1

onion

(diced)

1

cup

celery

(chopped)

1

tablespoon

dried parsley

1

teaspoon

dried oregano

1

teaspoon

dried Italian herbs

5

cloves

garlic

(minced)

1

cup

acini pasta

(or other small pasta)

2

cups

baby spinach

(chopped)

salt and pepper to taste
Meatballs:
1

lb

lean ground beef

1

egg

1

teaspoon

dried onion powder

1

teaspoon

dried parsley

1

teaspoon

dried oregano

3

cloves

garlic

(minced)

2/3

cups

plain bread crumbs

1/4

cup

freshly grated Parmesan cheese

1/2

teaspoon

salt

1/8

teaspoon

pepper

2

tablespoons

olive oil
Instructions
Add to the slow cooker:
Chicken broth, carrots, onion, celery, parsley, oregano, Italian herbs, and garlic.

Cook on low heat for 6-8 hours or high for 4 hours.
Make the meatballs:
In a medium bowl add all the meatballs ingredients, except oil, and stir to combine. Shape into 1 inch balls.

Place a large skillet over medium-high heat and add the oil. Once how, cook meatballs, flipping as needed until browned and cooked through. Place on paper towels to drain.

Add the meatballs, pasta and spinach to the slow cooker and cook for 30 minutes prior to mealtime or until the pasta is done.

Ladle into bowls and top with favorite toppings.
Nutrition
Calories:
375
kcal
|
Carbohydrates:
38
g
|
Protein:
26
g
|
Fat:
14
g
|
Saturated Fat:
4
g
|
Trans Fat:
1
g
|
Cholesterol:
77
mg
|
Sodium:
1601
mg
|
Potassium:
796
mg
|
Fiber:
4
g
|
Sugar:
4
g
|
Vitamin A:
6211
IU
|
Vitamin C:
29
mg
|
Calcium:
152
mg
|
Iron:
5
mg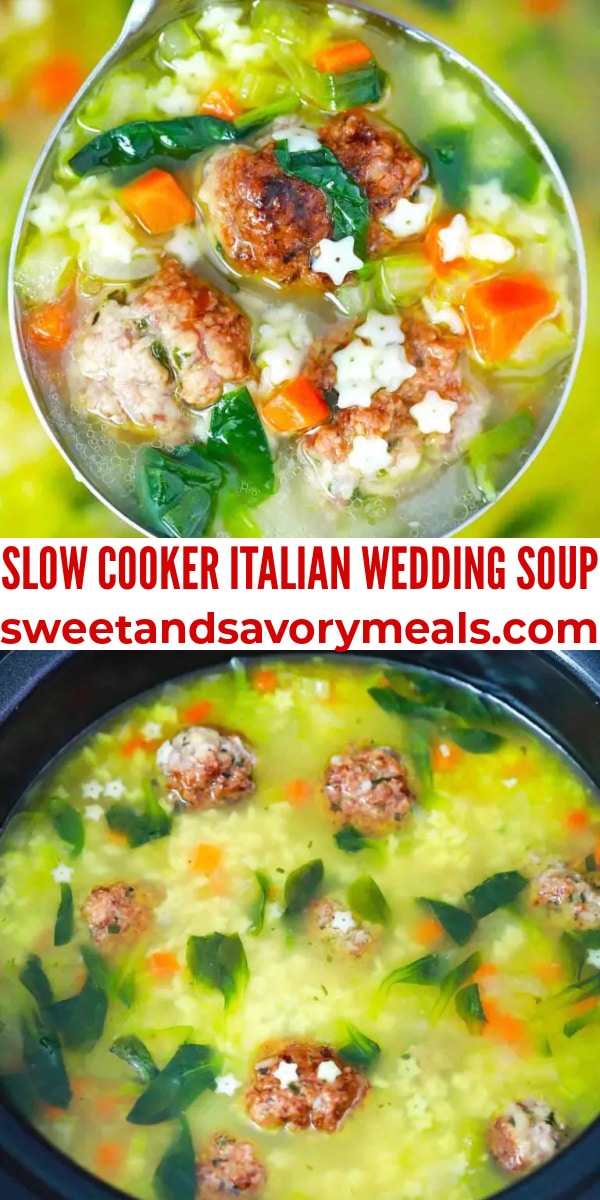 More recipes you might love