The BEST Taco Pasta [video]
Taco Pasta makes for a cheesy and meaty dinner option that is easy to prepare! It is a runaway winner in my household, and it only takes 30 minutes to make!
If you are in the mood for some Mexican dinners like this, then, check out my other recipes like the Mexican Black Bean Salad, Carne Asada, and Chipotle Sofritas!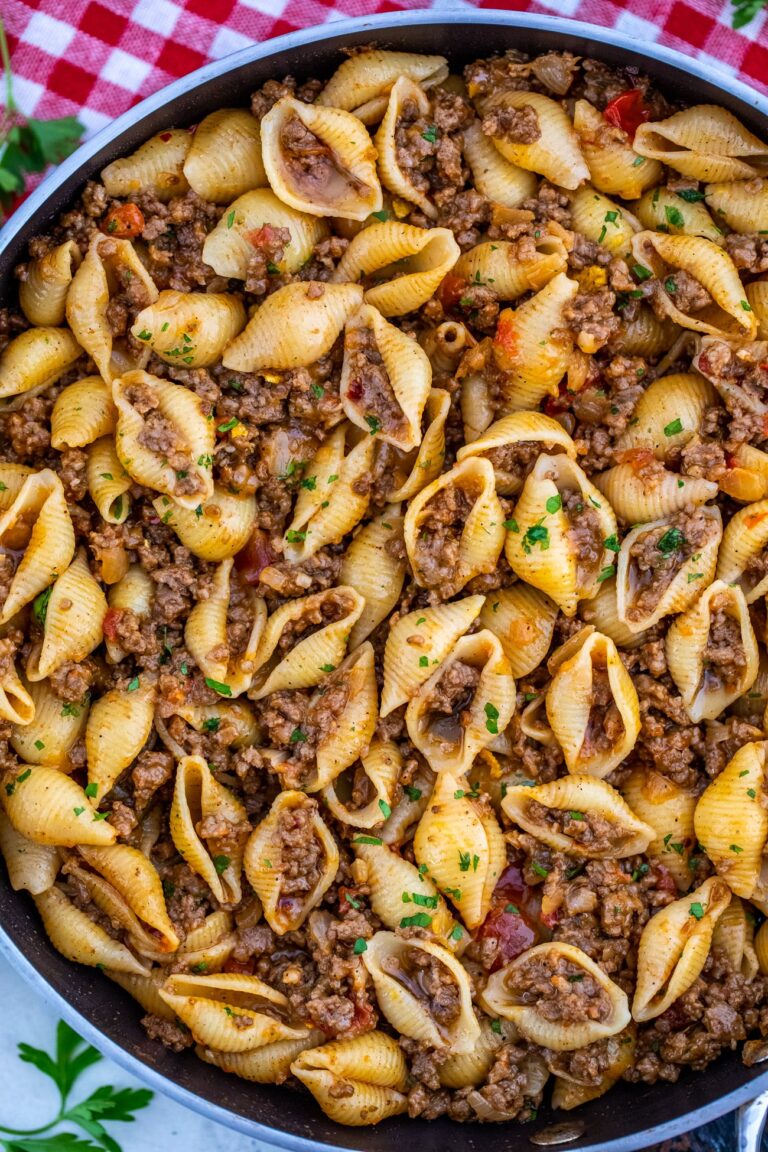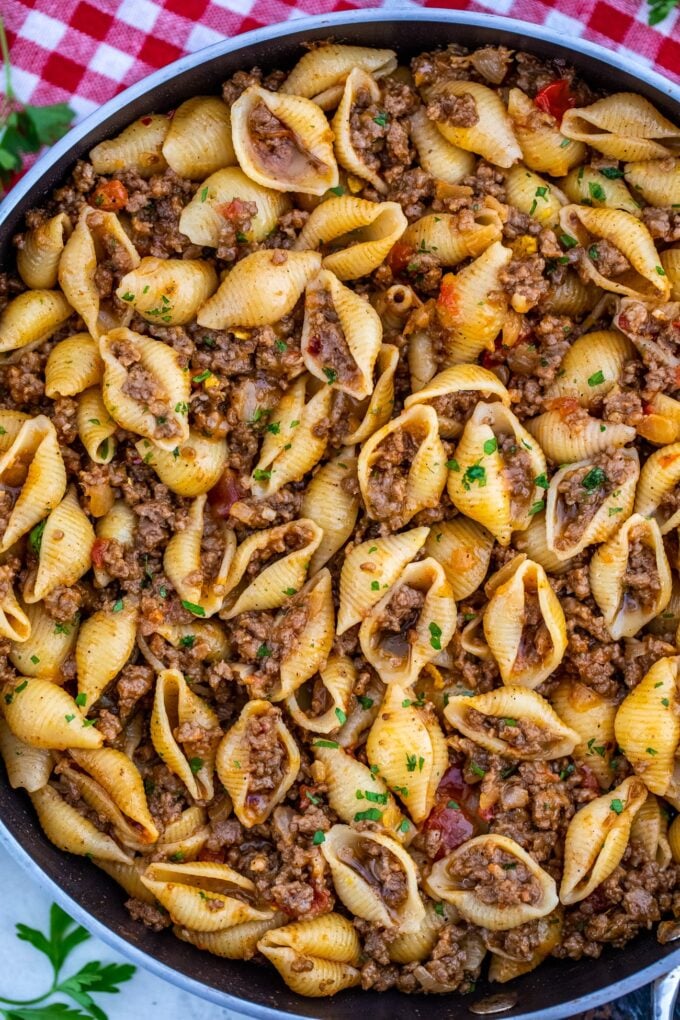 Taco Pasta Recipe
Taco Pasta is a combination of my family's two favorites – anything Mexican and Italian! Whoever thought of combining these two in one ultimate dish was a genius!
It has everything you are looking for in a hearty main dish! It is filling, quick, and easy to make. In this dish, I used ground beef that contributes much flavor and is made even more flavorful with seasonings, herbs, salsa, sour cream, and cheese.
This is so easy, it will not take you much time to make it. Preparing the shell pasta might actually be the longest thing that you will do to cook this dish.
Perfect for potlucks, gatherings, and any family occasion, this dish will surely be something to rave about!
What is Taco Pasta?
It is a dish made with cooked noodles of your choice and a taco-inspired sauce. It is the sauce that gives the overall Mexican flavor and vibe to this dish.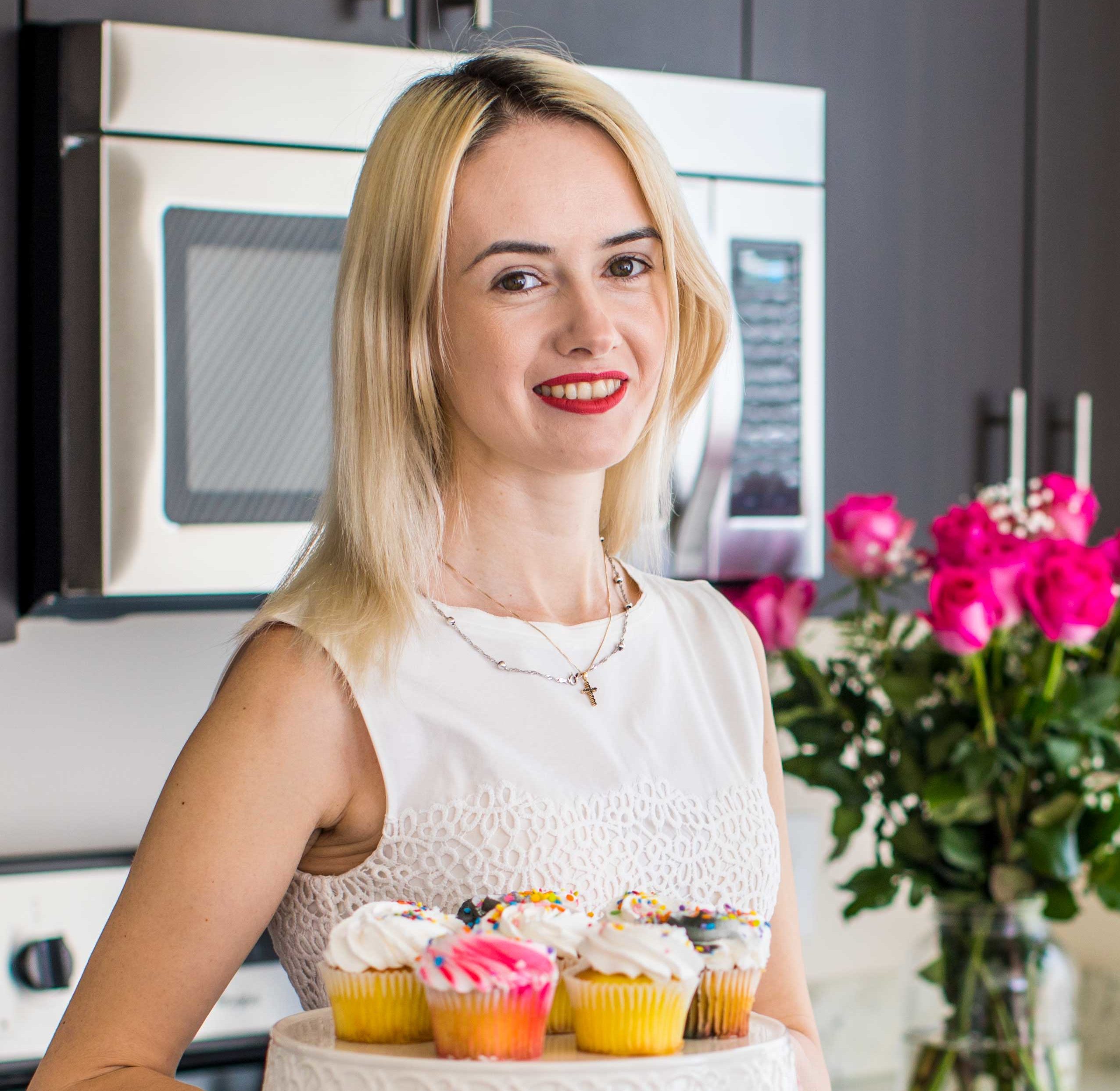 Follow us on Pinterest for more delicious recipes!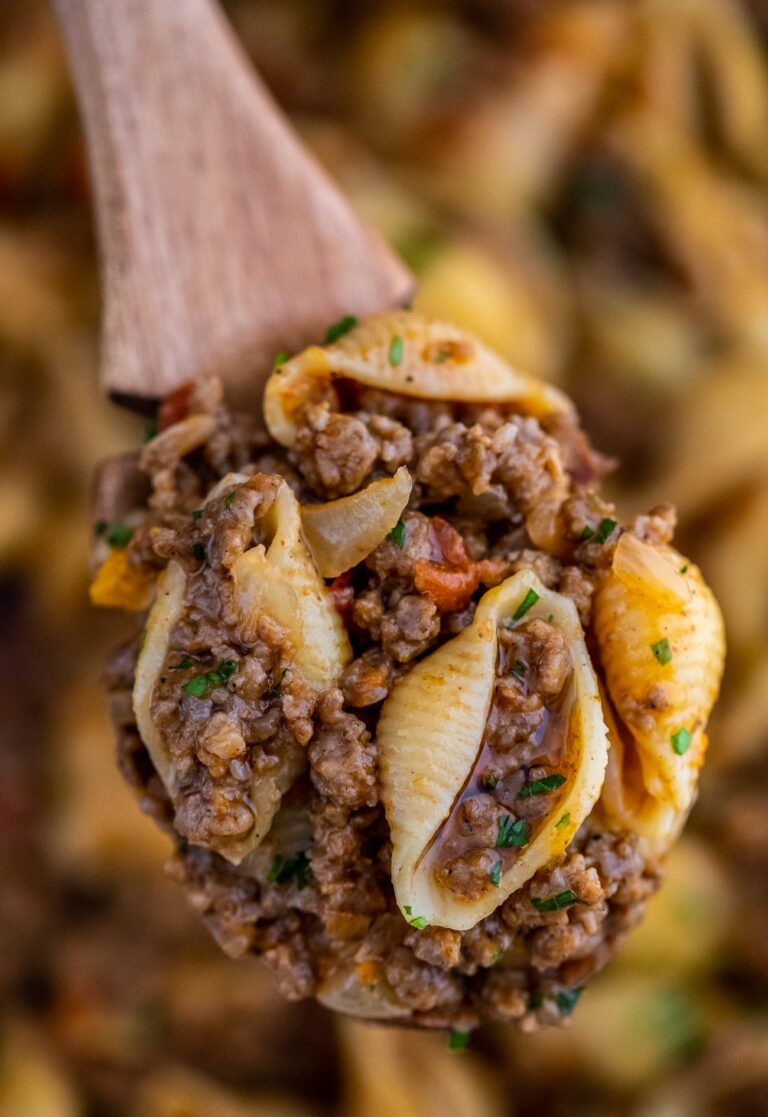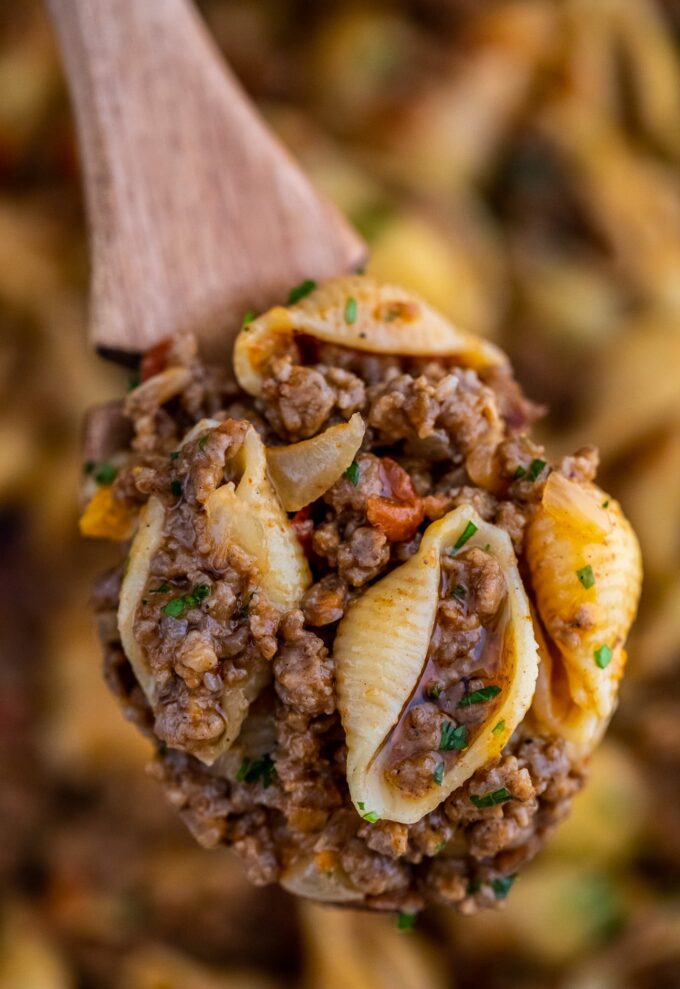 How do you make Taco Pasta:
Boil the noodles: Cook the noodles by following the instructions on the package.
Cook the meat: In a large pan, add some canola oil, brown the beef, and drain the resulting fat. Add in the onions, garlic, and the rest of the herbs and seasonings. Add some water and cook until it dries up.
Combine: Toss in the cooked noodles, salsa, and cheese.
Serve: Garnish with the crushed tortilla chips, sour cream, chopped parsley, and cheese.
How do you make homemade taco seasoning:
It is simply a combination of easy-to-find pantry ingredients such as the following:
2 teaspoons cumin
4 tablespoons chili powder
1 1/2 tablespoons paprika
1 teaspoon each: salt, garlic powder, dried onion powder, oregano
1/4 teaspoon black pepper
You can also add some cayenne powder to make it spicier. You can keep this mixture in a spice jar for up to 6 months. This works great for beef or chicken and can be versatile – tweak the ratio according to your preference.
You can find the full recipe for homemade taco seasoning at this link.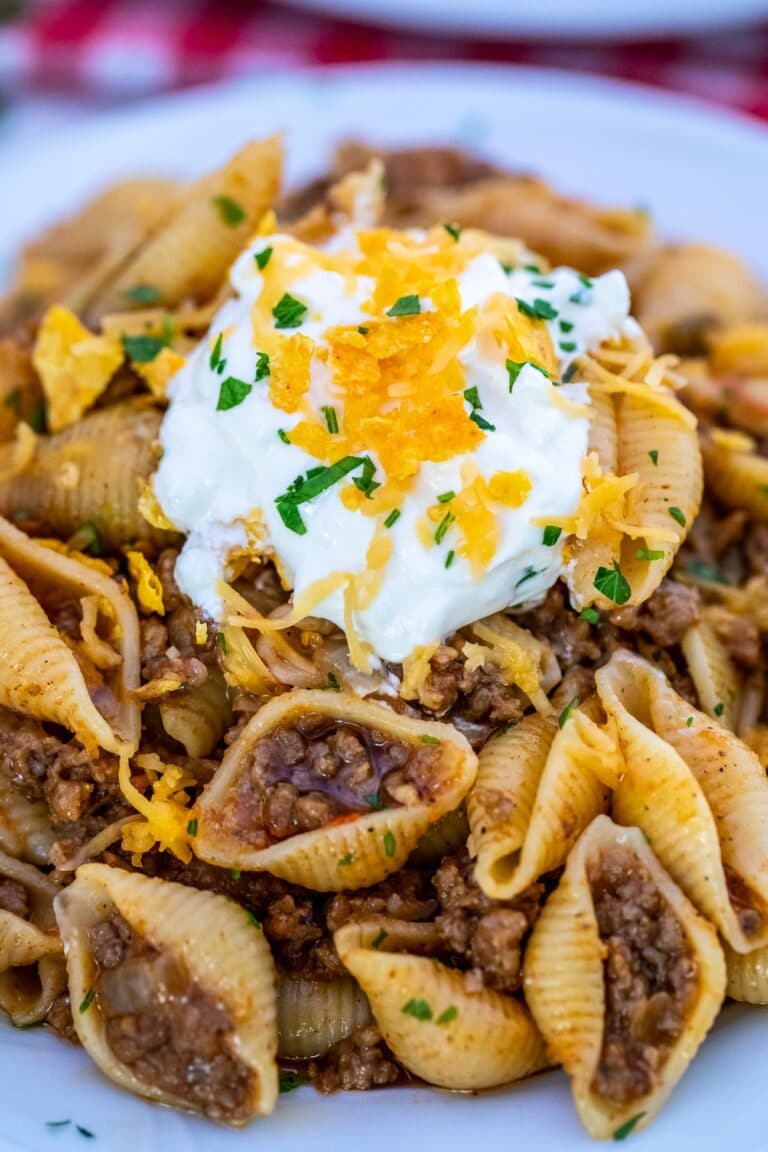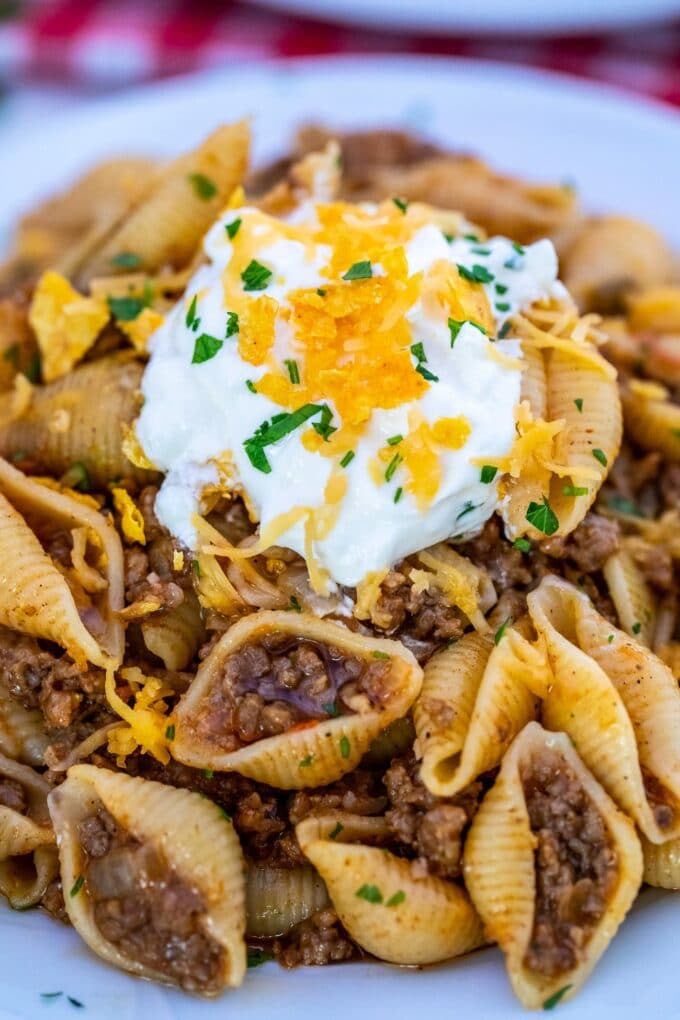 How to cook pasta al dente?
The simplest and easiest trick is not a trick at all. The secret to perfectly cooked noodles is on its packaging! Simply follow the procedure given on the box and it must give you the perfect noodles that are just right – not too firm but not too mushy either.
Here are some techniques to help you through:
Use a large enough pot: There should be enough space for the water to boil in and for the pasta not to get too compact. Boiling in itself can make the pieces move around which means less chance to clump up.
Add salt when the water starts to boil: Putting salt will season the noodles.
Reserve the water: The water in which you boil the noodles will be starchy, thanks to the starch coming from the pasta itself. Save a cup of it or so and put it in the sauce. The starchy water makes for a good binder so that the sauce sticks to the noodles.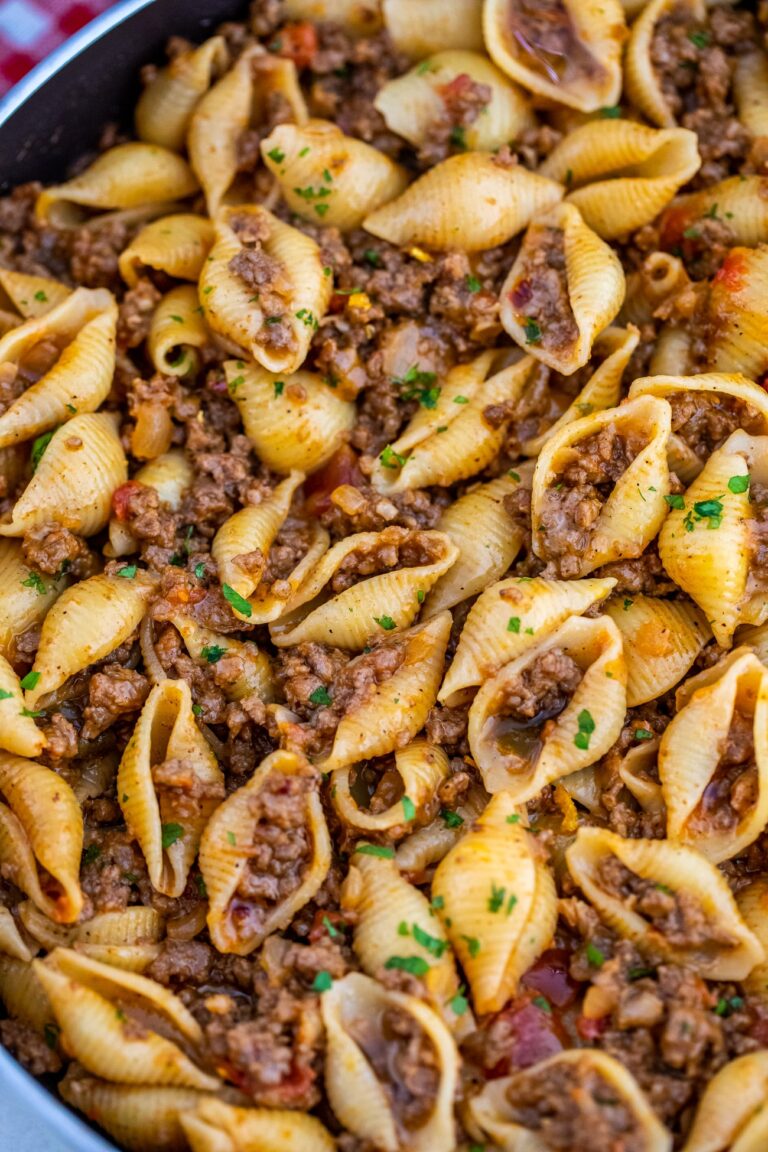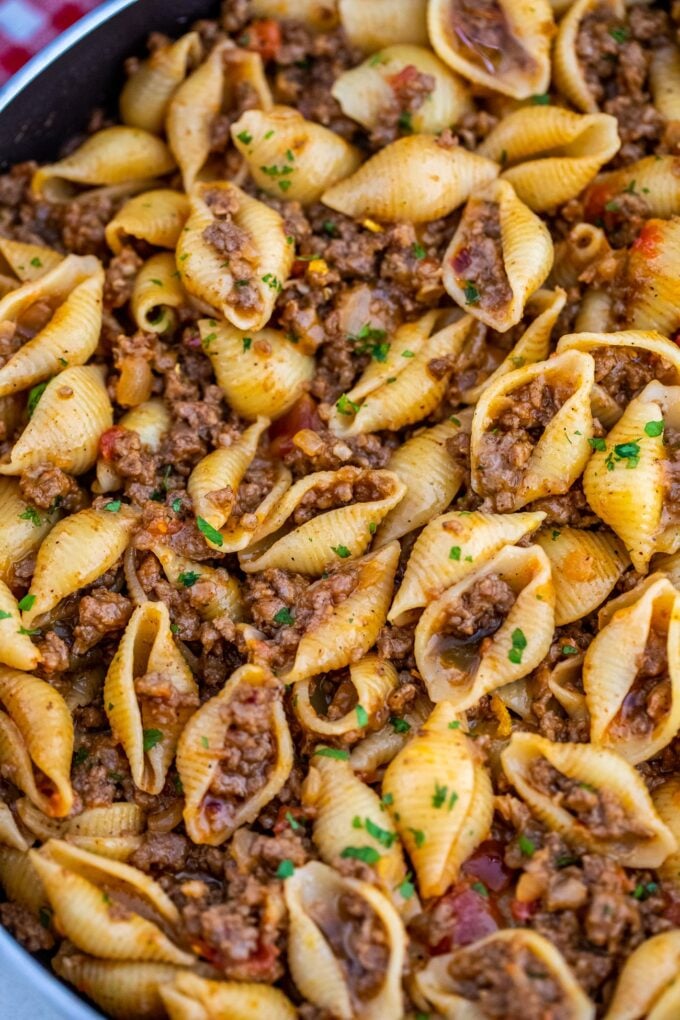 How to store:
Refrigerator: Cool it completely and keep it in the fridge for 3 days, stored in an airtight container.
Freezer: Keep it in airtight freezer containers for 2 months.
More delicious pasta recipes:
Recipe Tips:
You can use ground chicken or turkey as healthy alternatives to beef.
Add some fiber and a pop of color by adding bell peppers and tomatoes.
Elbow macaroni, rotini, and penne are good substitutes for the shells.
To make this vegetarian, you can totally leave out the meat. Instead, add protein by adding beans.
Save Recipe
Cheesy Taco Pasta
Taco Pasta makes for a cheesy and meaty dinner option that is easy to prepare! It is a runaway winner in my household, and it only takes 30 minutes to make!
Author: Catalina Castravet
Serves: 6 servings
Prep time:

15

minutes
Cook time:

15

minutes
Total time:

30

mins
Nutrition information
Calories: 432 Carbohydrates: 34 Protein: 25 Fat: 20 Saturated Fat: 7 Cholesterol: 59 Sodium: 634 Potassium: 486 Fiber: 2 Sugar: 4 Vitamin A: 445 Vitamin C: 2.9 Calcium: 162 Iron: 2.6
Save Recipe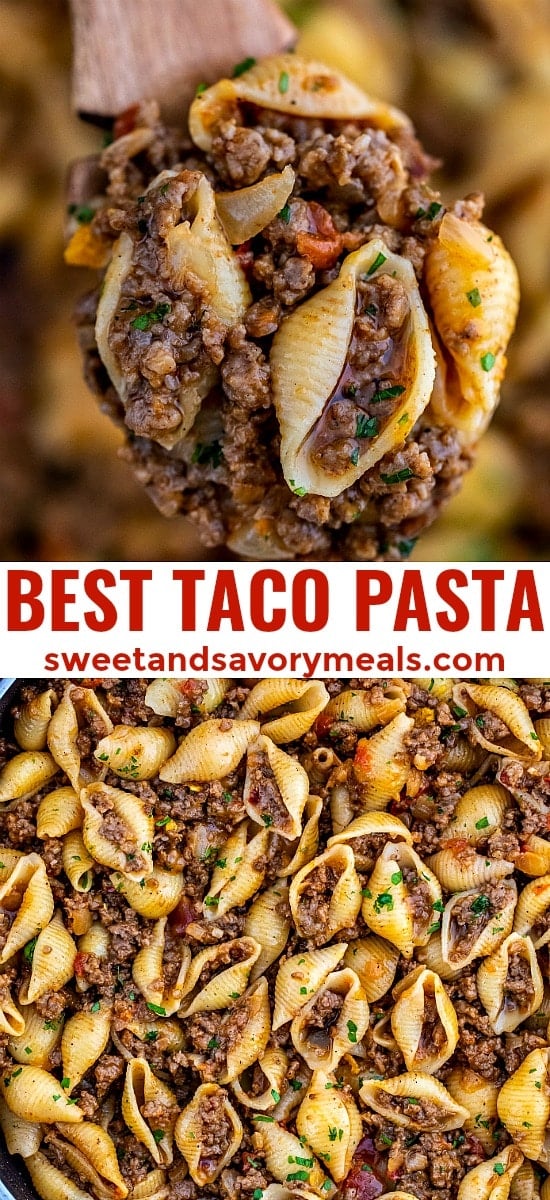 More recipes you might love
Categories: