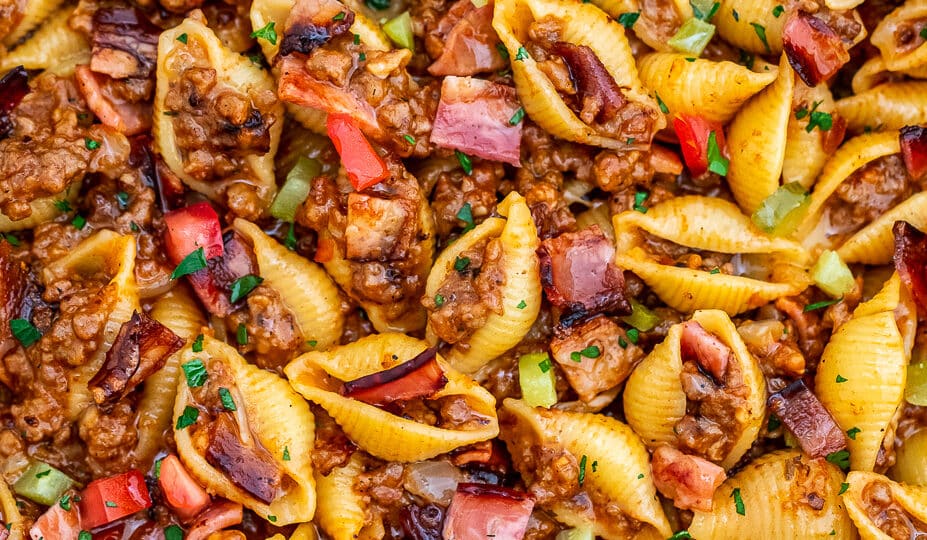 Best One Pot Cheeseburger Pasta
Cheeseburger Pasta is a one pan family favorite meal that is hearty, meaty, and cheesy! This creamy ground beef pasta dinner is rich and flavorful, and a cool take on the American classic food!
We just love easy, one-pan dinners! For more quick and delicious family recipes, try our homemade cheeseburger casserole or these sloppy joes.
Family Favorite Cheeseburger Pasta Recipe
One Pot Cheeseburger Pasta is a creamy, flavorful, and hearty meal that is perfect for busy weeknights. This is one of our family's favorite dinners, and even kids love it! The dish is loaded with proteins that come from the bacon and beef, along with fiber from the vegetables, and carbs from the shells.
It is so hearty that you will no longer need anything else; just a cool beverage and simple dessert to serve it with perhaps. But other than that, you are all set for a great dinner!
With this easy recipe, you can feed a crowd. And it was just amazing how my guests loved it when I served it one time.
Though easy to make, this dish is never short on flavor. There are many ingredients but everything is easy to find. And each one contributes to one perfect savory dish!
Ingredients needed:
There are several ingredients in this incredible dish but the majority of which can already be found in your pantry. If not, then, add these to your grocery checklist:
Large shells pasta: I love using large shells because they get filled well with the rest of the ingredients. However, if you cannot find large ones, you can use medium-sized shells as well.
Bacon: it adds plenty of flavors! So, feel free to use more if you would like!
Ground beef: I use lean ground beef, such as 90% to 93% lean ground beef.
Yellow or white onion
Garlic: always use fresh garlic.
Paprika
Dried parsley
Worcestershire sauce: the secret ingredient here.
red pepper flakes
salt and black pepper
water
tomato sauce
cheddar cheese
To garnish, you need the following:
more cheese
pickles
parsley
fresh tomatoes
How do you make Cheeseburger Pasta?
Cook the pasta: Simply follow the instructions on the package to make sure that it comes out al dente.
Prepare the meat: In a pan, cook the bacon until crispy. Once done, remove excess fat, and then, chop it into pieces. Retain only about a tablespoon of bacon in the pan. In the same pan, brown the ground beef. Remove any excessive fat. Add in the rest of the ingredients except for the tomato sauce and cheese.
Combine: Once done, add in the shells, then, finish with the addition of tomato sauce, cheese, and crispy bacon bits.
Serve: Lastly, garnish with more cheese, pickles, parsley, and tomatoes before serving.
Pickles (Gherkins) on beef pasta:
Just like the regular cheeseburger, this creamy ground beef pasta will not be complete without pickles. I strongly recommend garnishing the dish with some pickles (gherkins). This will add an amazing flavor to the whole dish.
Why do you need to drain beef grease?
Any excess fat is undesirable and not good for health. Hence, it is necessary to drain the grease especially if the ground meat you are using is not lean.
Unlike lean meat, regular and inexpensive ground beef is composed of about 30% fat by weight. This number is significantly reduced in ground lean meat so there is not much to drain if you are using this kind.
Remember that as you drain the grease, you are also draining away flavor. If you are to avoid this, use leaner meat but the downside is that it costs more.
What are the best pasta types to make Cheeseburger Pasta?
Any kind will do and it depends on your preference. But the recommended ones are those that can hold sauces well like the large shells used in this recipe. Good alternatives would be penne pasta, elbow macaroni, and rotini pasta.
What is the best meat to use for cheeseburger pasta?
The best meat would be lean ground beef which is 90% to 93% lean. I use the leanest meat because it has less fat and it is healthier. Also, when combined with bacon and the rest of the ingredients, it makes for the best pasta recipe!
How to Store leftovers:
If you plan to make it in advance, store the sauce and pasta separately.
Sauce: Leftovers can be refrigerated for 3 to 4 days and stored in airtight containers. If you freeze it properly, it can stay good for up to 4 or 6 months.
Pasta: Refrigerate in airtight containers for 3 to 5 days. If you are to freeze it, drizzle some oil first and toss to prevent it from sticking. Put leftovers in freeze-proof containers and store them for up to 2 weeks.
To reheat: Simply reheat the sauce in a pan, and once simmering, you can add in the pasta.
More homemade pasta recipes: