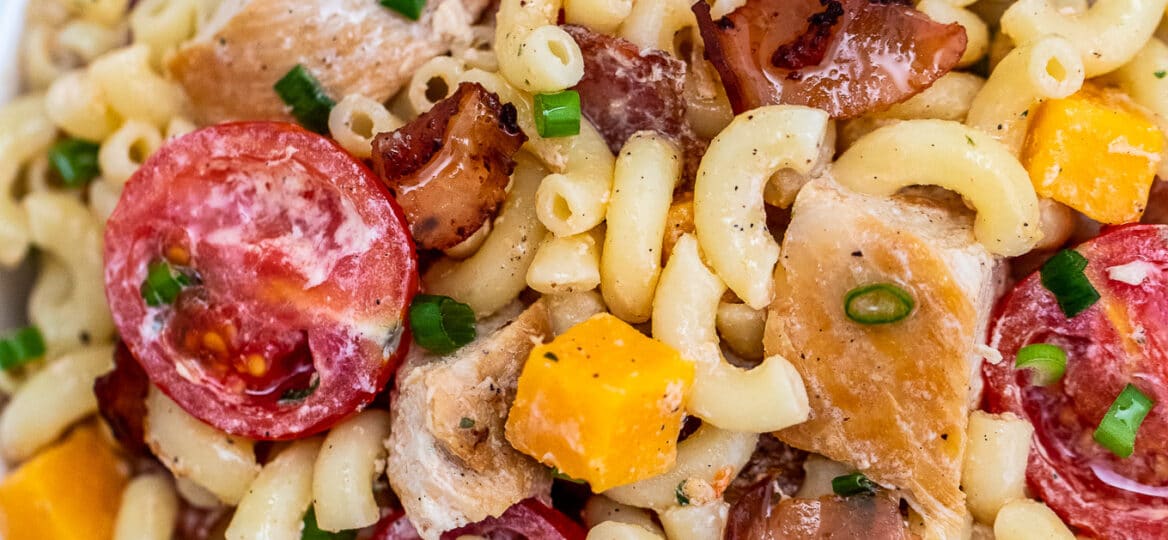 Crack Chicken Pasta Salad
Crack Chicken Pasta Salad is made with the ultimate trio of shredded chicken breasts in ranch dressing with crispy bacon on a bed of al dente noodles!
This is perfect for your barbecue parties and potlucks this summer! Bring this along with the rest of the party staples like BBQ Pork Chops, Grilled Potatoes, and Creamy Tomato Salad!
Crack Chicken Pasta Salad
Crack Chicken Pasta Salad is not your ordinary side dish. It is packed with flavors from the ranch to the crispy bacon! It is hearty, creamy, and cheesy!
What's not to love? This chicken recipe has been the favorite of many of our viewers and followers. It just got everything that you want in a dish – carbs, protein, and fiber. It could very well be the main dish!
The combination of flavors can be enjoyed both warm, as it is, or cold as in this salad recipe. Since this is extremely flavorful, the noodles provide a good balance. And the coolness gives welcome relief from the summer heat!
And making this dish will be a breeze! It does not take much of your time and energy as this is a salad, you basically will just toss everything, and you're done!
What is pasta salad?
It is a kind of dish that has a noodle as the main ingredient that is served cold. Moreover, the dressing may be oil-based or mayonnaise-based, as in any other salad.
What is crack chicken pasta salad?
The term crack refers to the combination of chicken, bacon, ranch dressing, and cheddar cheese. And those are the main ingredients in this recipe with the addition of noodles.
What do you need to make crack chicken pasta salad:
You can easily find the ingredients for this dish. Some of these might even be present already in your pantry. Prepare the following ingredients:
noodles of your choice
extra-virgin olive oil
boneless skinless chicken breasts
salt
pepper
paprika
cooked bacon
cheddar cheese
green onions
cherry tomatoes
ranch dressing
How do you make crack chicken pasta salad?
Boil the noodles: Follow the instructions on the packaging to ensure that the outcome will be al dente.
Cook the white meat: Season the breasts with salt, pepper, and paprika. Then, over medium heat, cook the seasoned breasts in extra-virgin olive oil.
Assemble: In a bowl, combine and toss all the ingredients except for the chopped green onions. Then, season with salt and pepper to taste.
Serve: Garnish with green onions then, serve cold for best results.
What pasta can be used?
You can use any type that you like. But for this kind of dish, it is better if it can hold sauces well.
Though I like to use bowtie or macaroni for this recipe, you may also use any of the following:
fusilli or spirals
penne
shell
rotini
Also, any tubular type will do. Just avoid the likes of spaghetti and linguine as they hold not much sauce.
How to cook noodles for pasta salad?
It is either you cook it directly with the chicken or separately, then, just combine before serving. Either way, you must be able to produce the same results.
If you will cook it with the white meat, then, simply saute the meat, then, add water and the pasta. It will be cooked on the same skillet. And the meat, too, will be cooked in the water which will help moisten it. Then, drain the excess water.
If you will cook the noodles separately, boil some water and add salt. Then, add in the noodles. The cooking time may vary, and it is best to check the instructions according to the manufacturer. By default, those instructions are to result in al dente noodles.
How to store leftovers?
Refrigerate: Typically, you can refrigerate dishes like this and consume them within 3 days. Put it in an airtight container once completely cooled.
Freeze: This does not freeze well as the tomatoes may ruin it. But you can definitely make this in advance without the tomatoes and it will stay good for 2 to 3 months. Just thaw, add some more dressing, and toss in the tomatoes right before serving.
More salad recipes:
Recipe Tips:
When cooking noodles, make sure to add in as much salt as you can in order to season well.
For a healthier choice, you can switch to whole wheat instead of the regular noodles. It has more fiber and fewer calories.
You can always add some more bacon. especially as a topping, for more texture.
When cooking bacon in a skillet, keep the oil and saute the chicken in it. It will become more flavorful.