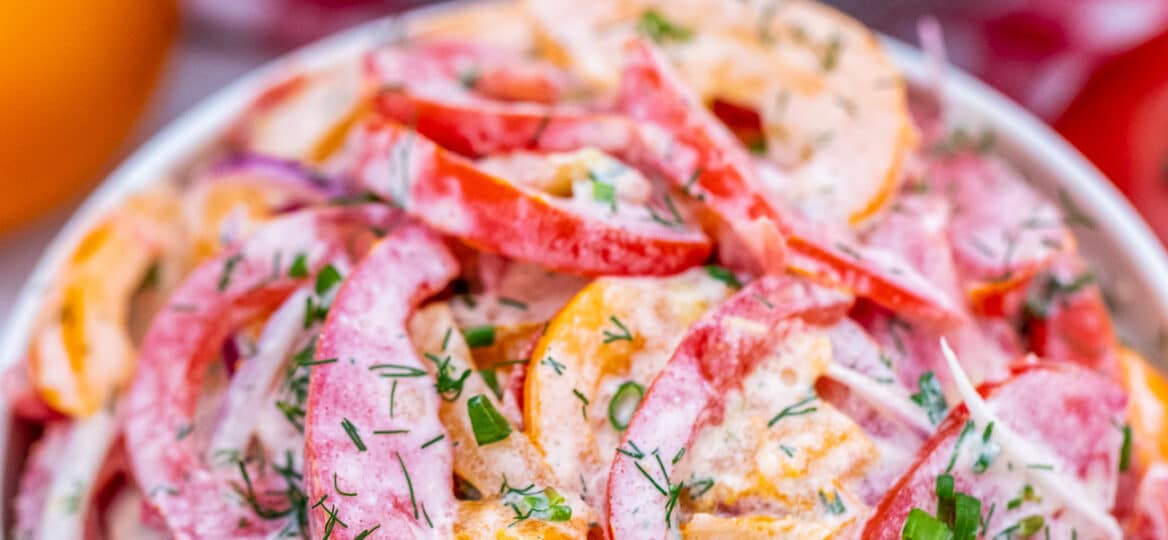 Creamy Tomato Salad [Video]
Creamy Tomato Salad is one refreshing dish that you can serve this summer! Be it at a picnic or a backyard barbecue party, this salad will not disappoint! Watch the short video tutorial below and see how easy this is!
It is a side dish that you can serve alongside grilled entrees like Grilled Chicken, Carne Asada, and BBQ Pork Chops!
Tomato Salad Recipe
Creamy Tomato Salad is not only creamy but also tangy. The sauce perfectly complements the fruit. We like to mix sour cream with Greek yogurt. And I say "we" because this is a family recipe!
My family likes this particular recipe and we make it all the time especially around July to August – the time that the fruit is in season. It goes well with a lot of dishes, may it be grilled, fried, or baked – as it helps cleanse the palate.
Since this dish is refreshing and cool, you can enjoy it throughout the summer. You can serve a batch to a huge crowd with ease.
This recipe is so easy that the hardest part will be just slicing up the ingredients!
Is tomato salad healthy?
Yes, it is! The main ingredient, the tomato, has a number of health benefits without packing on calories. For a small fruit of about 100 grams, 95% of it is water while the remaining 5% consists of good fiber and carbohydrates. You can read more about all the nutritious properties it has here.
It has 18 calories only and a lot of antioxidants and vitamins including vitamin C and beta carotene. This fruit is popular for its lycopene content that is concentrated on its red skin.
All these make it good for the heart and skin and for cancer prevention. Since it is low-carb and low-calorie, it leaves plenty of room for the more calorie-dense sauce made of sour cream and Greek yogurt.
A serving of this salad will set you back by only 52 calories if you use light sour cream. If you opt for the regular kind, then, this number will be higher.
What tomatoes are good for a salad?
Cherry and grape tomatoes would be perfect for this. These bite-size varieties are also on the sweet side with a thin skin. You may not even need to slice them into wedges because they are small anyway. Cutting the fruits into halves is enough.
But really, any variety would be okay to use as long as they are fresh and red! You can use even the large ones like the ones that I used – just slice them into wedges.
A mix of ripe heirloom tomatoes would also be out of this world!
How to choose tomatoes for a salad?
So, you have decided on which variety to buy. But how do we really tell that a piece is good? Here is a quick guide:
Does it feel heavy for its size?
Does it show no signs of wrinkling?
Is the smell sweet and earthy?
If the answer is yes in all three questions, then, the fruit is fresh and is good for your salad!
How do you make tomato salad?
Make the dressing: Combine all the dressing ingredients in a bowl and mix well. Season with salt and pepper.
Slice: Cut the fruits into wedges and place in a bowl. Add the onions and the dressing right before serving.
Serve: Garnish with dill and green onions, then, chill. This dish is best served cold and can stay fresh for 2 to 3 hours.
How to store:
You can store the dressing in the fridge for about a week. Just put it in an airtight container.
Then, when you need to serve this salad, slice up some tomatoes and onions, then, just coat everything with the dressing.
This is what I recommend since the fruit has so much water it will turn everything into a soggy mess when left in the fridge for too long. Hence, store the dressing separately.
More healthy salad recipes:
Recipe Tips:
If you are not watching your calorie intake, you can substitute mayonnaise for Greek yogurt.
You can add cucumber and radish to this simple salad.
Tomatoes that are forced to ripen can turn bland. What you can do is to buy green ones. Then, wrap them in newspapers to hasten the ripening process until they turn red.