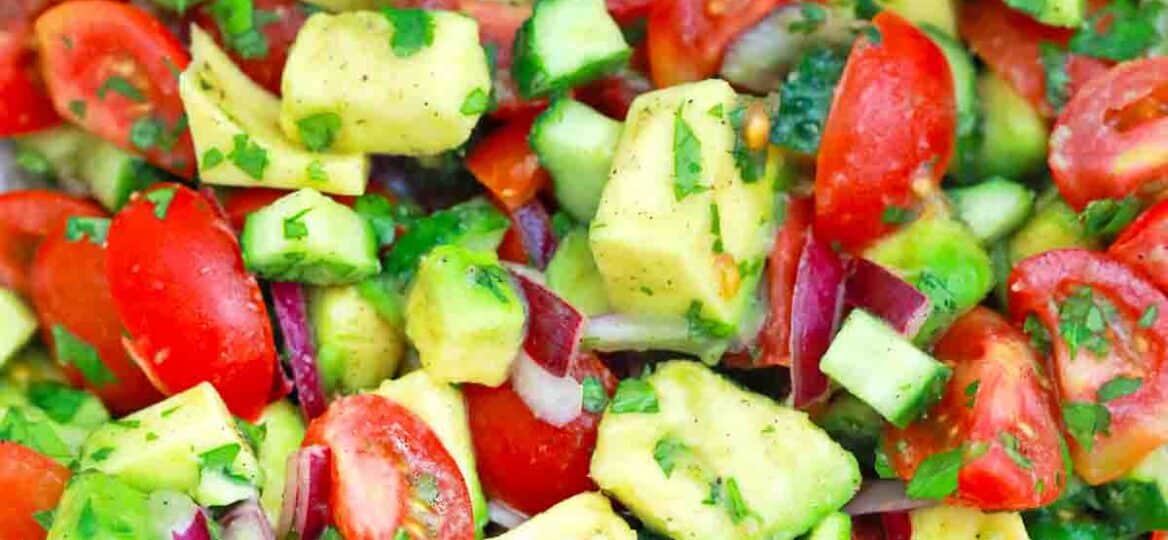 Cucumber Tomato Avocado Salad Recipe [Video]
Cucumber Tomato Avocado Salad is packed with fresh herbs and veggies including creamy avocado, crisp cucumber, juicy tomatoes, fresh cilantro, and lemon juice. Any time you want a refreshing salad, just toss these few ingredients together with a bit of olive oil and lemon juice and you can have it ready in less than five minutes.
If you like this tomato cucumber avocado salad recipe, you will love our Avocado Corn Salad made with sweet corn, cherry tomatoes, and lime juice. Are you looking for a good detox? This scrumptious Detox Salad is the perfect salad made with hard-boiled eggs, avocado, arugula, and cucumber.
Salads have been a staple food for hundreds, if not thousands of years but this one will find its way into your favorite recipes box with all your recipes. According to some experts, Romans and Greeks were enjoying refreshing salads as early as the first century.
The first one recorded was made with raw veggies, vinegar, oil, and fresh herbs. For something a bit sweeter, our Pineapple Cucumber Salad is both sweet and spicy flavored with chili sauce, soy sauce, and maple syrup.
This easy salad recipe just takes a few minutes and is full of healthy fats and vitamins for a healthy dinner tonight. Even picky eaters will love this simple salad. Refreshing salads of any kind are perfect for summer picnics or barbecues or just as a light meal anytime.
Are you looking for more salad recipes? Try this cucumber tomato salad made from Greek yogurt, sour cream, and red onions for a yummy creamy texture. And this seafood lovers will enjoy this shrimp cobb salad recipe with blue cheese, sour cream, and sweet corn.
In addition, try our absolutely delicious shrimp salad seasoned with a lemon dressing of garlic powder, Dijon mustard, and lemon juice.
Ingredients needed:
Here are the basic ingredients to make this cucumber tomato avocado salad recipe. For the exact directions and measurements, please scroll down to our recipe card below.
Ripe avocado: Diced.
Medium red onion: Sliced.
English cucumber: Sliced.
Roma tomatoes: Sliced.
Extra virgin olive oil: Or sunflower oil.
Fresh lemon juice: From one medium lemon.
Fresh cilantro: Chopped.
Sea salt
Black pepper
How to make Cucumber tomato avocado salad?
Mix the salad: First, mix chopped cilantro, diced avocado, sliced red onion, sliced cucumber, and chopped tomatoes in a large salad bowl.
Add the juice: Then, drizzle two tablespoons of lemon juice and two tablespoons of olive oil onto the salad and toss gently to mix.
Serve salad: Finally, just before you serve, toss with black pepper and sea salt.
Recipe variations:
Another oil: Avocado oil would also be delicious in place of olive oil.
More onions: Love onions? Add a cup of chopped green onions to go with the tomato cucumber avocado salad. You could also use white or yellow onions in this delicious salad.
Grilled chicken: Make it a complete meal by adding grilled chicken to your tomato avocado cucumber salad recipe.
Other tomatoes: Instead of Roma tomatoes, try cherry or grape tomatoes instead. Or you can chop up slicing tomatoes too.
More veggies: Add more fresh veggies to your salad ingredients like bell peppers, carrots, broccoli, celery, mushrooms, and radishes.
Lime juice: If you don't like or don't have lemon juice, you can use lime juice instead.
More herbs: Toss in some fresh basil, thyme, chives, mint, and parsley for extra flavor without the extra calories.
More protein: Add bacon bits or fresh chopped bacon for more protein and flavor.
How to serve:
Serve immediately in a large serving bowl with your favorite salad dressing and toppings. This is the perfect side dish cuisine with a plate full of spaghetti or lasagna. Or try one of these great serving ideas:
Add more cherry tomatoes to the top of your cucumber tomato salad before serving.
Use leftovers to add to this southwest salad recipe.
Feta cheese would be another great topping.
Make this salad as a side dish to our juicy beef brisket or this decadent beef wellington recipe.
This easy salad would taste delicious topped with red wine vinegar and fresh parsley.
Serve on a bed of pasta or rice to make it the main entree.
Sprinkle parmesan or Romano cheese on the salad before serving.
If you like spicy food, add some chopped jalapenos or red pepper flakes.
Frequently asked questions
What is the difference between an English cucumber and a regular one?
There are 100 different varieties of cucumbers. The original ones you typically see in the grocery store are slicing cucumbers. These have waxy hard skin with a dark green color and a slightly bitter flavor.
The English cucumber is long and narrow with a thin light green skin and a sweet flavor. It is typically wrapped in plastic.
What kind of salad dressing goes well with this cucumber avocado tomato salad?
With this recipe, we use olive oil and lemon juice dressing ingredients, but you can change it as you like. Add lime juice or some raspberry syrup or try some ranch dressing. Italian salad dressing is also good with this refreshing salad. Sprinkle on some onion or garlic powder for even more flavor.
What is the best tomato for this tomato cucumber salad?
Although this recipe calls for Roma tomatoes, cherry or grape tomatoes also sound delicious. A regular slicing tomato is good too but tends to have more juice in it, so it makes your salad a bit too watery. If you want to use a slicing tomato, drain the excess juice first.
What are the nutrition facts for this recipe?
Each serving has 260 calories, 21 grams of fat with 3 grams of saturated fat, 18 grams of carbohydrates, 5 grams of sugar, and 600 milligrams of sodium. But you also get 1,240 units of vitamin A, 32 milligrams of vitamin C, and 40 milligrams of calcium as well as 5 grams of protein, 9 grams of fiber, and 2 milligrams of iron.
How to store leftovers:
Store: Most salads do not store well but this one will last a couple of days in an airtight container in the fridge. The avocado may start to brown slightly but it will still taste delicious.
Freeze: Freezing is not recommended.
More salad recipes:
Recipe tips:
After slicing your red onions, soak them in water for a few minutes. This keeps the flavor fresh while removing the aftertaste.
An English cucumber is suggested for this salad recipe because it has a sweeter flavor and thinner skin. However, you can use a regular cucumber if you like, whether it is peeled or not.
Instead of salt, use garlic salt for a more robust flavor.
Use a mandoline to slice and chop the veggies for an easier and faster prep time.
Do not add too much lemon juice. You do not want it to be soaking in the juice, just adding a hint of lemony flavor.
If you are not a fan of cilantro, use fresh dill instead for this avocado tomato salad recipe.
You can use regular olive oil if you do not have extra virgin olive oil.
Cucumber Tomato Avocado Salad
Ingredients
1 1/2

lbs

Roma tomatoes

chopped

1

English cucumber

sliced

1

small red onion

sliced

2

ripe avocados

peeled and diced

2 1/2

tablespoons

extra virgin olive oil

2

tablespoons

fresh lemon juice

from 1 lemon

1/3

cup

fresh cilantro

chopped - dill or green onions work as well

Sea salt

to taste

Ground black pepper

to taste
Instructions
Add all the chopped and sliced veggies to a large salad bowl.

Next, add the cilantro (dill or green onions), and drizzle with oil and lemon juice.

Gently toss to combine and chill if not serving immediately.

Just before serving, season with sea salt and black pepper to taste.
Deliciousness to your inbox
Enjoy weekly hand picked recipes and recommendations