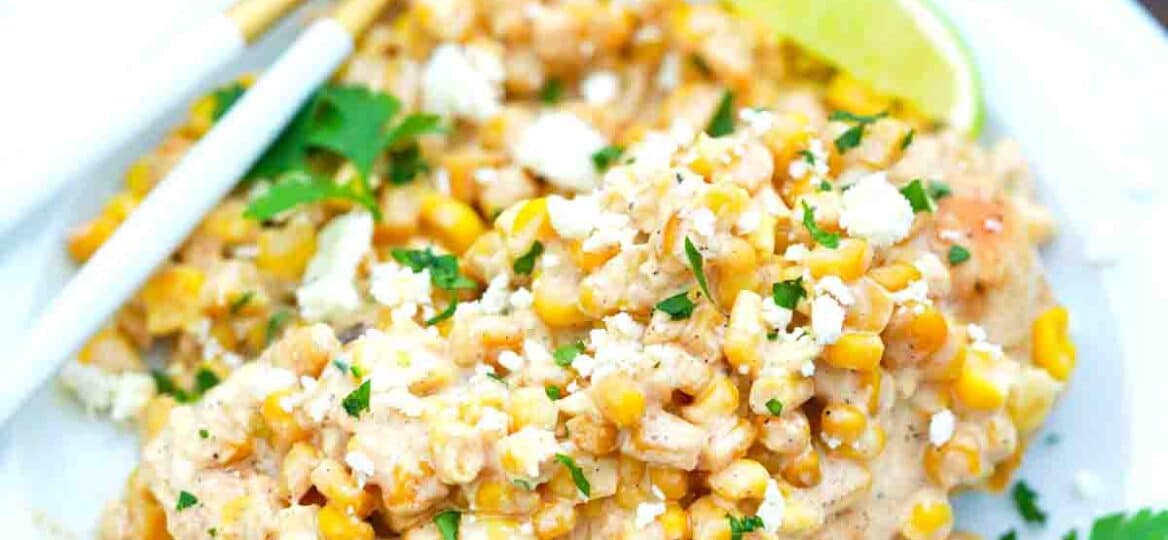 Mexican Street Corn Chicken Recipe [Video]
Mexican Street Corn Chicken is an ooey gooey cheesy meal, perfect for Cinco de Mayo, game day, or anytime you want an authentic Mexican dinner recipe. If you have never had Mexican street food, this is one of the best recipes to start with because it is easy, fast, and makes a delicious meal with very little prep time.
Looking for other Mexican street corn recipes? We have several on our food blog. Try our Mexican Street Corn Pasta Salad topped with creamy lime dressing. They all begin with our original Mexican Street Corn on the cob recipe that you can turn into nachos, a dip, or a whole meal.
Also known as elote, Mexican street corn became a staple many years ago in Mexico. In fact, the indigenous tribes of southern Mexico first noticed the tasty ears. The Aztecs of the 1300s began cultivating and growing corn, using it as a form of money during their travels.
Today, corn is still a popular staple you can find on almost every dinner table in the world. This is a family favorite chicken breast dinner with tender chicken smothered in creamy corn topping and gooey cheese.
It is the perfect weeknight meal anytime with all the flavors you love in one dish. With the tasty flavors of chili powder, lime juice, and cotija cheese, this Mexican corn chicken is delicious whether cooked in the oven or crockpot.
One way to make this recipe more interesting is by using our instant pot Mexican chicken seasoned with liquid smoke and fire-roasted tomatoes. This dish also goes great with our delicious Mexican salad made from red beans, corn, and red wine vinegar.
Follow us on Pinterest for more delicious recipes!
Ingredients needed:
You will need to gather these simple ingredients to make this Mexican street corn chicken recipe. When ready, scroll down to the bottom of the page to our recipe card for step-by-step instructions and measurements.
Skinless chicken breasts: Pounded thin.
Sweet corn: Drained.
Lime juice: Freshly squeezed is best.
Sour cream
Mayonnaise
Garlic powder
Smoked paprika
Cumin
Chili powder
Salt
Optional cayenne pepper
Topping:
Chopped cilantro
Crumbled cotija cheese
How to make Mexican street corn chicken casserole?
Preheat: First, preheat the oven to 350 degrees F and prepare a medium casserole dish with non-stick cooking spray.
Combine the ingredients: Meanwhile, combine the lime juice, sour cream, mayo, and corn with cayenne pepper, smoked paprika, garlic powder, cumin, salt, black pepper, and chili powder in a large bowl.
Cook the chicken breasts: Then, add oil to a non-stick skillet over medium heat until it is hot. Then, brown the chicken breasts on each side.
Bake the chicken: After, place the browned chicken breasts in the prepared casserole dish and spread corn mixture on top. Bake in preheated oven for 30 to 40 minutes. The internal temperature should be 165 degrees F when it is done.
Garnish and serve: Finally, remove baked chicken breasts from oven and top with chopped cilantro, cotija cheese, and lime wedges before serving.
How to make Mexican street corn chicken in the crockpot?
Mix: To begin, in a large mixing bowl, mix the sour cream, mayo, corn, and lime juice with the smoked paprika, salt, pepper, cayenne, garlic, cumin, and chili powder.
Sear the chicken: Then, sear the chicken on both sides in a skillet with some olive oil over medium-high heat until it is golden brown.
Cook in slow cooker: Next, transfer the chicken to a crockpot and spread the creamy corn mixture on top. Close the lid and cook for six hours on low or three hours on high.
Add the cheese: After, sprinkle cotija cheese on top and let it melt for a few minutes.
Serve: Lastly, serve Mexican street corn chicken with a bit of cilantro and lime wedges.
Recipe variations:
Fresh corn: If you have the time, fresh corn kernels give a more authentic Mexican street corn taste.
Frozen corn kernels: You could also use frozen instead of canned corn.
Other cheese: If you cannot find cotija cheese, you can use crumbled queso fresco or feta cheese.
Add black beans: Add a can of black beans to this recipe for a heartier meal.
Greek yogurt: Instead of sour cream, use Greek yogurt to save on calories and fat.
More veggies: Feel free to add some of your other favorite veggies like broccoli, zucchini, bell peppers, and string beans.
How to serve:
This delicious dinner recipe is ready in less than half an hour and can be served by itself as a whole meal. Try one of these serving ideas or one of your own:
Try this tasty dish with a bowl of tortilla chips for scooping.
Another way to enjoy this meal is with an array of toppings like shredded cheeses, chopped onions, diced tomatoes, black olives, or homemade salsa.
This Mexican street corn chicken tastes great on top of a bed of pasta or rice.
Use leftovers to make instant pot Mexican casserole or this tasty slow cooker taco casserole recipe.
In fact, these leftovers would work in just about any Mexican recipe you are whipping up.
You can also add this to a large pot of Mexican chili.
Serve with a plate of warm tortillas so your guests can make their own fajitas or soft Mexican corn chicken tacos.
Frequently asked questions
What are some toppings for this Mexican corn chicken recipe?
Some of the most common seasonings and toppings include Tajin powder, Mexican crema, hot sauce, jalapenos, and bell peppers. You can also try chopped lettuce, avocados, or a scoop of guacamole. Another idea is to sprinkle on some brown sugar or honey to give your corn a sweeter flavor.
What kind of chicken is best for this?
You can use chicken breasts or try boneless, skinless chicken thighs, leg meat, or whatever cut of chicken you like. Try other meats like turkey, pork, or beef too. If you like seafood, you could also substitute the chicken breasts with catfish, tilapia, or bass.
What about butter?
Many people just cannot fathom eating corn without it but you really do not need it in this recipe. However, there is no harm in slathering on a spoonful of margarine before adding the rest of the ingredients. It will not make much difference, but your toppings will be a bit greasier.
What is the nutrition information for this recipe?
One serving of this delicious dish has 450 calories, 13 grams of fat with 5 grams of saturated fat, 170 milligrams of cholesterol, 650 milligrams of sodium, and 40 grams of carbs. You also get the benefits of 1,610 units of vitamin A, 65 grams of protein, 10 grams of fiber, and 80 milligrams of calcium.
How to store leftovers:
Store: This corn chicken dish will stay fresh in the fridge for four days in an airtight container.
Freeze: To preserve it for a longer time, put it in the freezer for up to three months.
Thaw: You can thaw in the fridge overnight for the best flavor.
Reheat: Put leftovers in the microwave for one or two minutes to reheat.
More chicken recipes:
Cooking tips:
Let your chicken rest for at least five minutes before slicing and serving.
This recipe works best with thin chicken breasts cut in half horizontally.
If you got large chicken breasts, just beat them with a meat mallet.
To cut down on prep time, use canned chicken breast.
The nutritional information is approximate and will change depending on your own additions or subtractions to the recipe.
Mexican Street Corn Chicken
Ingredients
4

chicken breast

boneless and skinless
Mexican street corn mixture:
3

cups

sweet corn

if using canned drain first; if using frozen, thaw it first

1/3

cup

mayonnaise

1/3

cup

sour cream

1

tablespoon

lime juice

1 1/2

teaspoon

chili powder

1/2

teaspoon

cumin

1/2

teaspoon

smoked paprika

1/2

teaspoon

salt

1

teaspoon

garlic powder

1/4

teaspoon

cayenne pepper

optional
For serving:
1/2

cup

cotija cheese

crumbled

1/4

cup

cilantro

chopped
Instructions
Preheat the oven to 350 degrees F.

In a large bowl, add the Mexican street corn mixture ingredients, and mix to combine.

Pat dry the chicken and season it with salt and pepper.

Place a nonstick skillet over medium heat and add a bit of oil. Brown the chicken on both sides, until nicely browned.

In a casserole dish, arrange chicken breasts. Spread the corn mixture evenly over the top.

Bake uncovered, for 30-40 minutes or until the chicken is cooked through and a meat thermometer inserted in the thickest part of the meat reads 165F.

Then remove from the oven and garnish with crumbled cotija cheese and fresh chopped cilantro.