Cheesy Crack Chicken Casserole Recipe [Video]
Cheesy Crack Chicken Casserole is the perfect dish to feed a large crowd. Deliciously cheesy and loaded with tender chicken and topped with crispy bacon.
Crack Chicken has been a hit on the blog since I posted this easy Instant Pot Crack Chicken that also includes a crockpot version. The recipe was so popular that you guys asked for a casserole version and here it is, an easy Crack Chicken Casserole recipe. Loaded with chicken, pasta, lots of cheese and obviously bacon.
Casserole Recipes are very popular on the blog. Our Sweet Potato Casserole was made by hundreds of people, and we have received many emails and comments about how great it is. This Chicken Spaghetti Casserole and Turkey Tetrazzini are great options for busy weeknights, making dinner easier and bonus points for delicious leftovers. Looking for more Mac and Cheese recipes? Our Mac and Cheese Casserole is incredibly popular, and it makes sense why it's absolutely fantastic.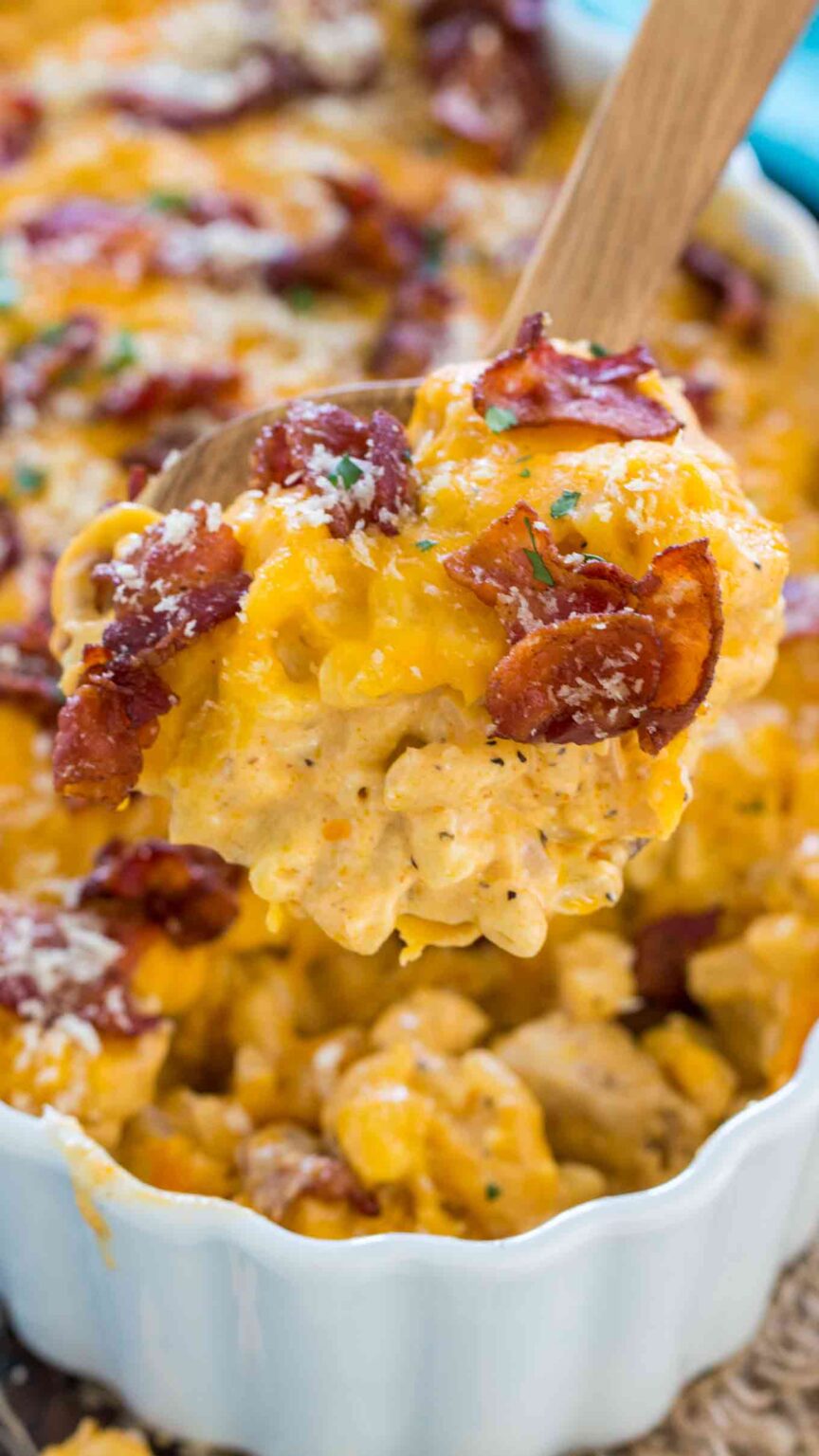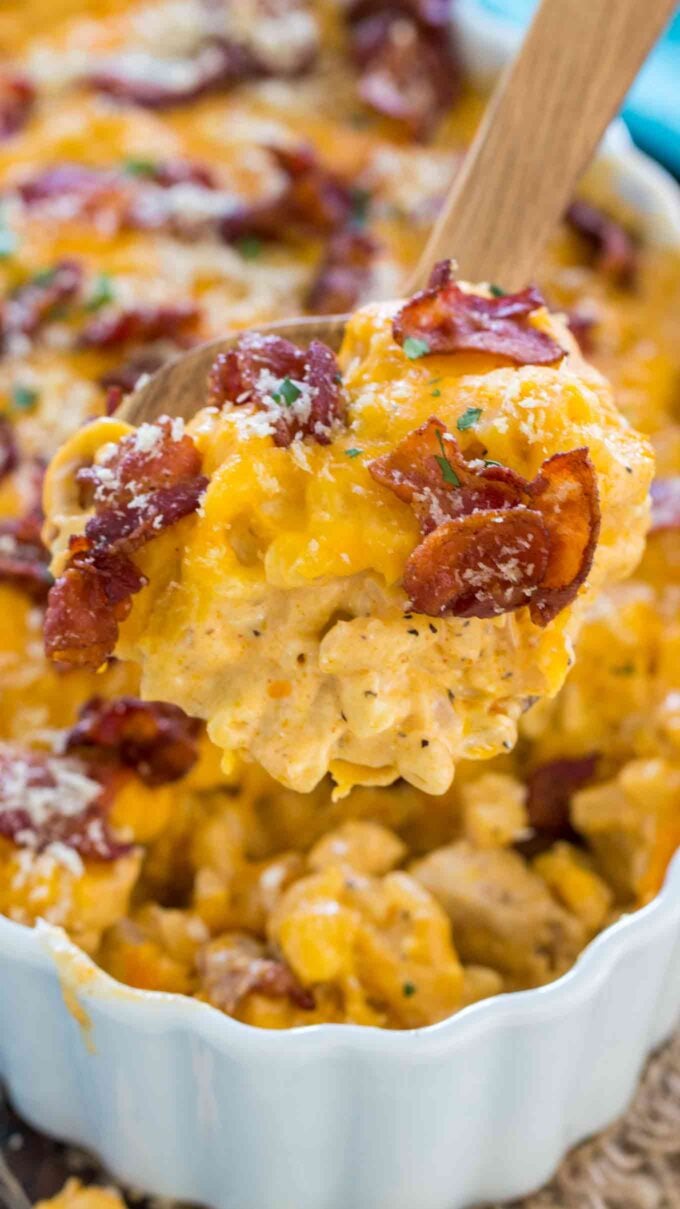 Easy Cheesy Crack Chicken Casserole
Homemade Crack Cheese Casserole is a hearty dinner that is perfect to feed a crowd, or if you are looking to have some delicious leftovers for the next day. It reheats pretty well, and omg it just tastes amazing. This casserole is actually a baked chicken Mac'n'Cheese, but hey, Crack Chicken sounds so much more appealing, right?
Please don't ask me how many calories this has, I honestly don't care, because it's that amazing. If you stick to normal portions, don't worry, you will be fine. This recipe is pretty easy to make, you have a few ingredients to brown, after that, you combine everything and bake it. You can even make a Buffalo version, by mixing in a cup of Buffalo sauce, how tasty does that sound?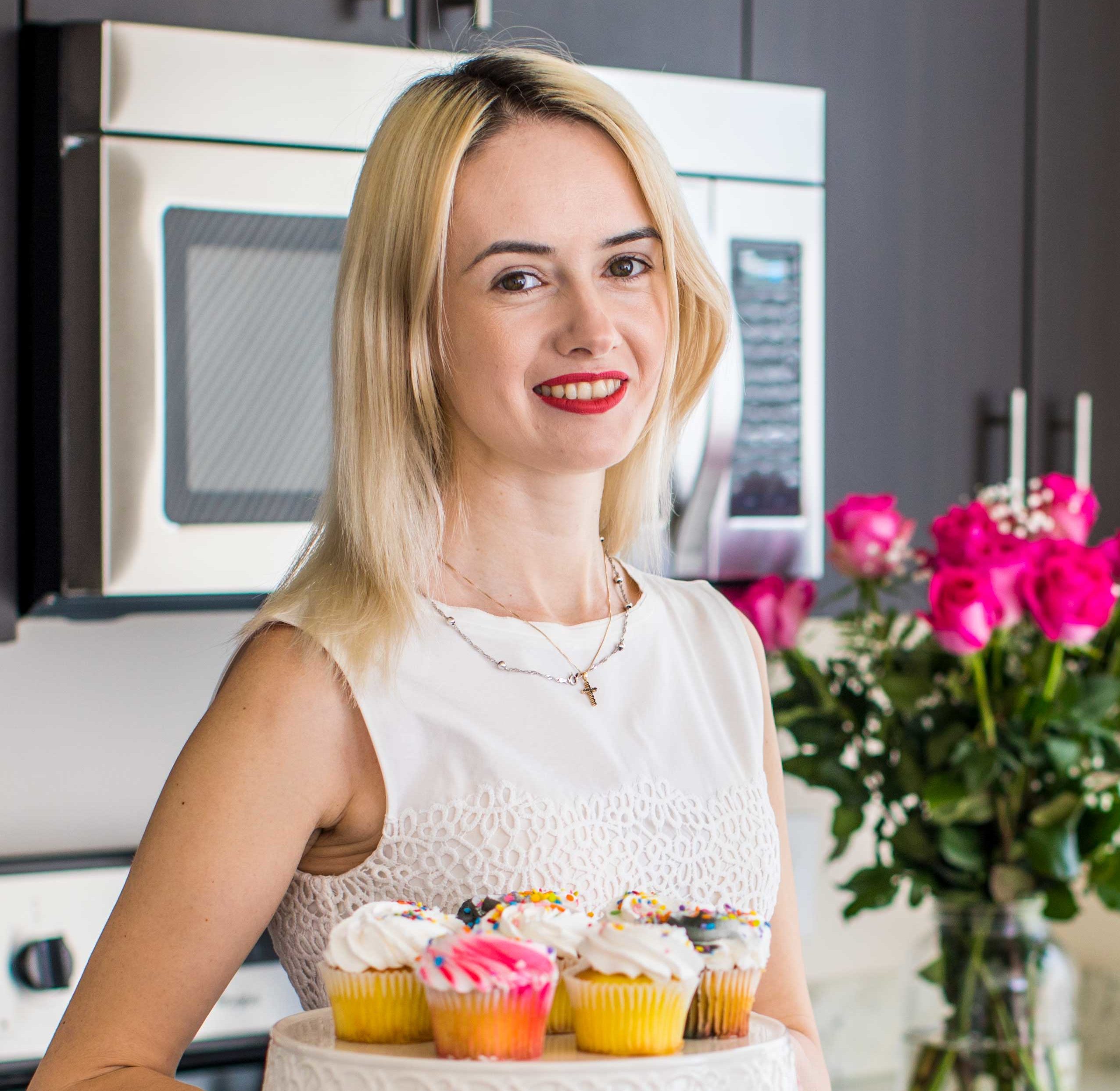 Follow us on Pinterest for more delicious recipes!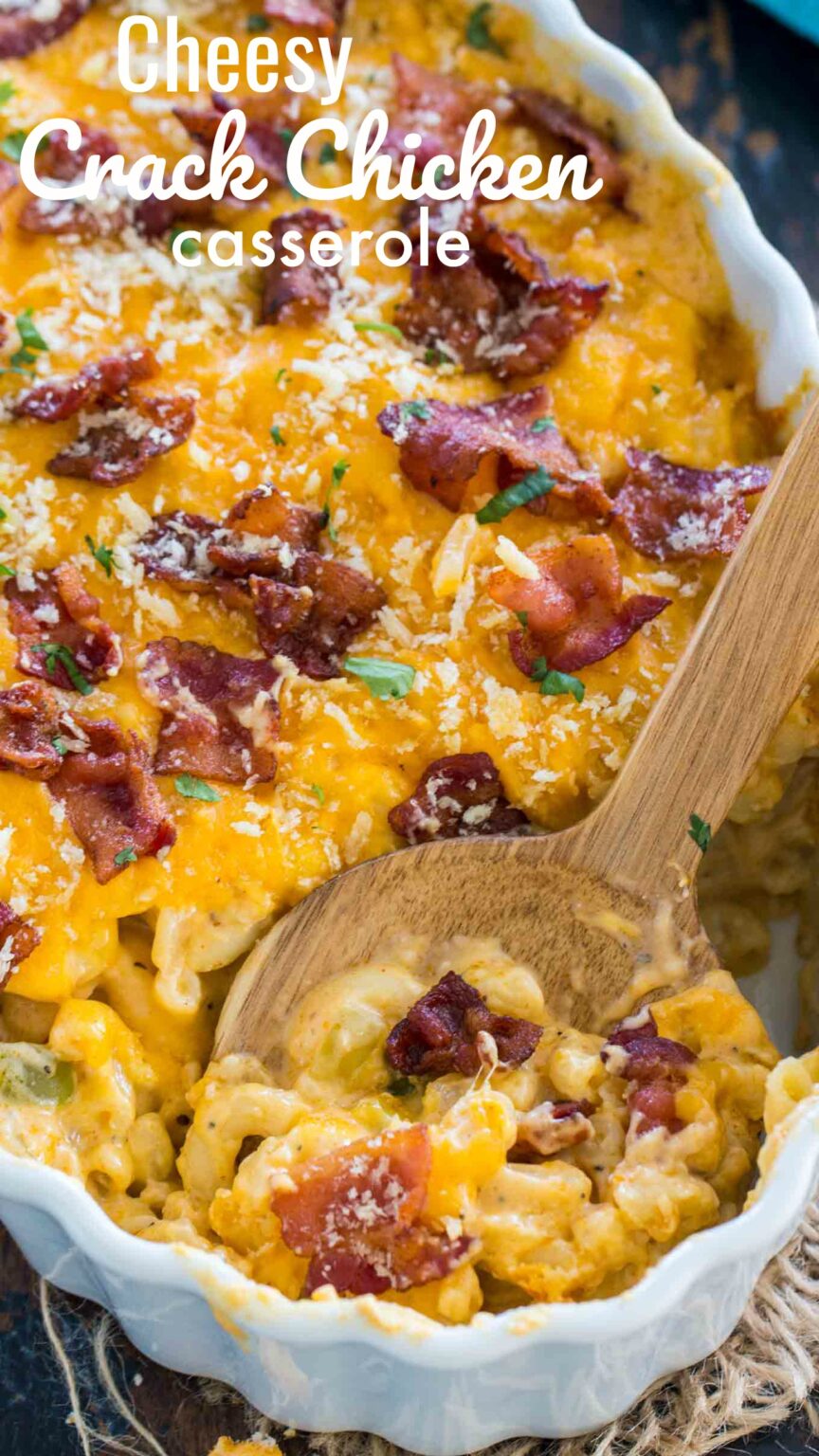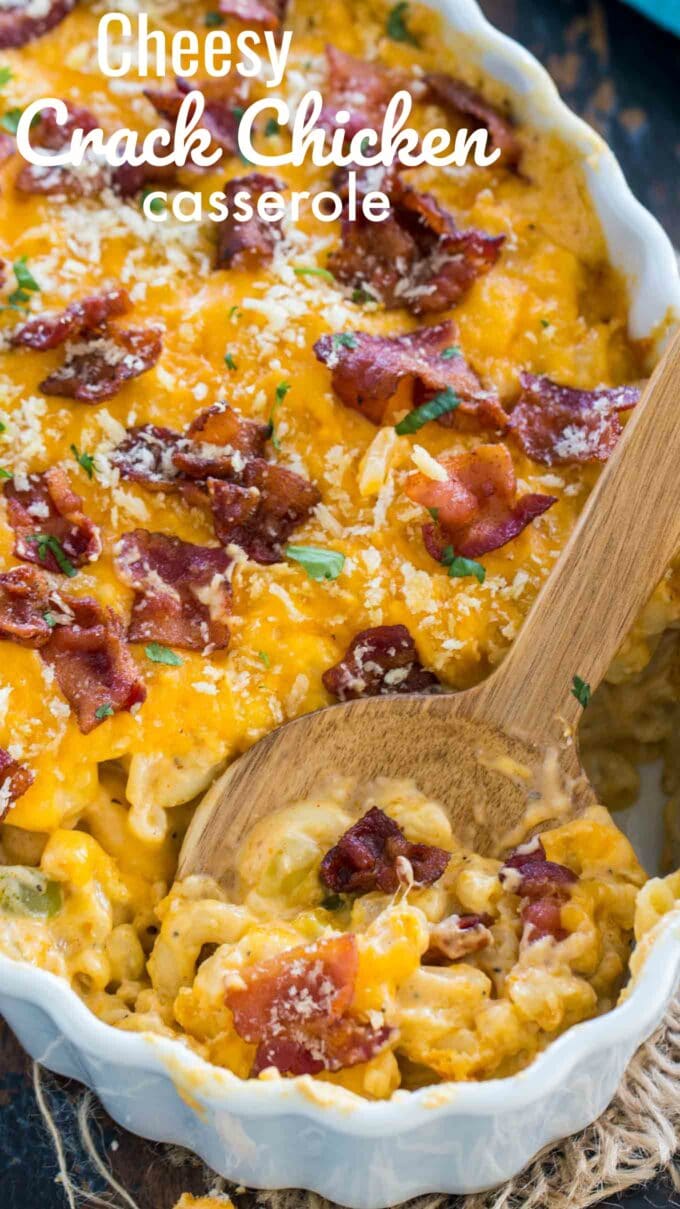 What do you need to make Cheesy Crack Chicken Casserole Recipe?
Chicken – you can use breasts or the same equivalent of boneless/skinless chicken thighs. Use your favorite sausage in this recipe, just brown it a bit.
You will need cream cheese and cheddar cheese. Replace the cheddar cheese with Mozzarella, Provolone, Mexican blend cheese, Italian blend cheese, Gruyere or Pepper Jack Cheese if you prefer so.
Dry Ranch Mix – mmmm this is what makes this dish so amazing, but you can totally skip it if you don't like Ranch.
Pasta – I used elbow pasta, shells will also work great!
Veggies – I used some bell pepper and onion, you can also add some carrot, green peas, corn or mushrooms.
Can you make Crack Chicken Casserole in the slow cooker?
Yes, yes you can and here is how:
Do NOT cook the pasta.
Skip the flour.
Follow the instructions to brown all the ingredients.
Replace the 3 cups of milk with 2

cups

whole milk and 2

12- ounce cans of evaporated milk and skip preparing the Cheesy Mixture.

Add the uncooked pasta, browned chicken and veggies to the slow cooker. Cube the cream cheese and add it to the slow cooker. Add the cream of chicken soup.
Add the shredded cheese.
Stir all the ingredients to combine.
Cook on low for 90 minutes to 2 hours. Check after 60 minutes and give the mixture a stir. After that check every 20-30 minutes and stir.
Serve when ready.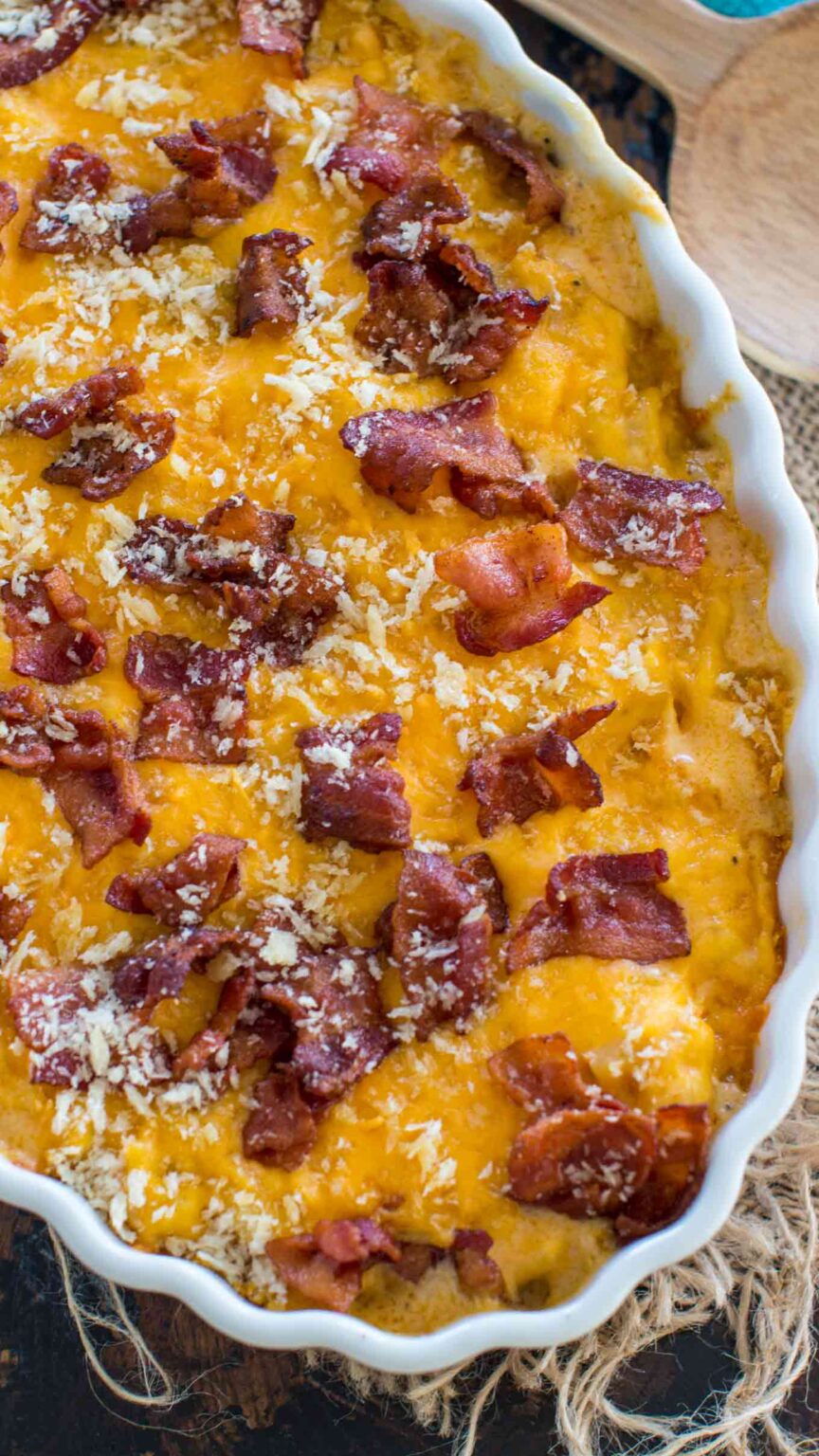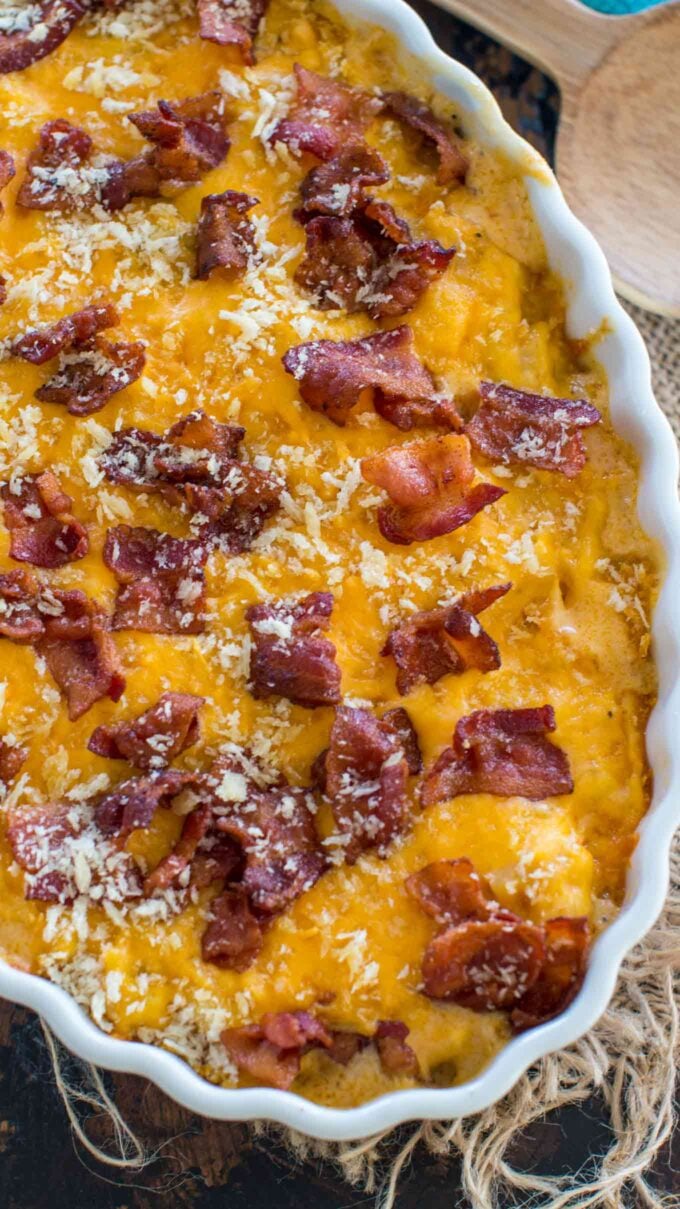 Can you freeze Crack Chicken Casserole?
To freeze, transfer the mixture to a buttered 9-by-13-inch freezer-to-oven baking dish.
Cover tightly with aluminum foil. Freeze for up to 2 months.
Bake, frozen and covered with foil, at 350°F, for 1 hour.
Cheesy Crack Chicken Casserole Tips:
You do not have to cover the casserole with foil when baking.
Skip the panko bread crumbs and use this Buttery Cracker mixture for extra flavor like in this Pineapple Casserole.
You can eat this Crack Chicken casserole without baking it, just make sure the chicken is fully cooked before adding it to the dish.
If you want a truly creamy texture, like unbelievably creamy, it is best to not use pre-shredded cheese. Take the extra few minutes and shred your own cheese.
You don't need to rinse the cooked pasta for this recipe especially if you will be using pre-shredded cheese, this way the starch from the pasta will thicken the sauce.
Looking for more Casserole Recipes? Check these out:
Save Recipe
Cheesy Crack Chicken Casserole
Cheesy Crack Chicken Casserole is the perfect dish to feed a large crowd. Deliciously cheesy and loaded with tender chicken and topped with crispy bacon.
Author: Catalina Castravet
Serves: 8 servings
Prep time:

30

minutes
Cook time:

30

minutes
Total time:

1

hr
Ingredients
Bacon:
Chicken:
Veggies:
Cheesy Mixture:
Toppings:
Instructions
Cook Bacon:
Cook Chicken:
Cook Veggies:
Cheesy Mixture:
Combine:
Bake:
Nutrition information
0 Calories: 958 Carbohydrates: 58 Protein: 40 Fat: 62 Saturated Fat: 30 Cholesterol: 188 Sodium: 1172 Potassium: 590 Fiber: 2 Sugar: 8 Vitamin A: 1710 Vitamin C: 13.6 Calcium: 577 Iron: 2.7
Save Recipe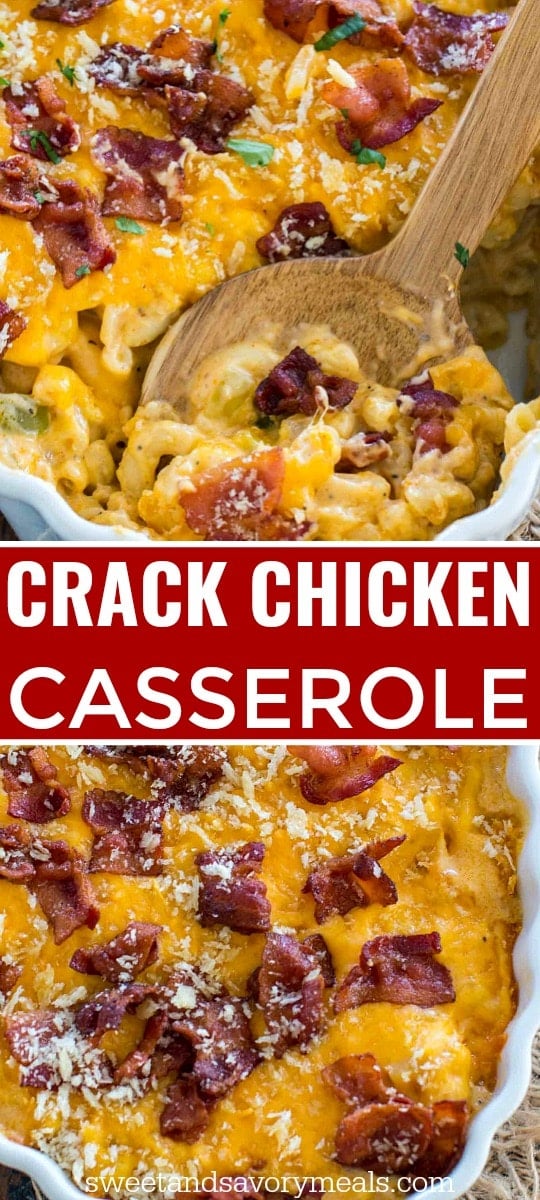 More recipes you might love
Categories: