Cheesy Crack Chicken Casserole Recipe [Video]
Cheesy Crack Chicken Casserole is the perfect dish to feed a large crowd. Deliciously creamy, made with tender chicken, pasta, Ranch, cheddar cheese and topped with crispy bacon. Everything is cooked in a cheesy sauce made with cream cheese, milk, and cream of chicken soup.
Bacon Cheddar Ranch Chicken has been a hit on the blog since I posted this easy Instant Pot Crack Chicken recipe. It was so popular that you guys asked for a casserole version and here it is. Loaded with chicken, pasta, lots of shredded cheddar cheese, and obviously bacon, cooked in the most amazing sauce, this recipe is what comfort food is about. The best part is that it's easy to make, it can be made in advance, the leftovers are delicious and it also freezes well.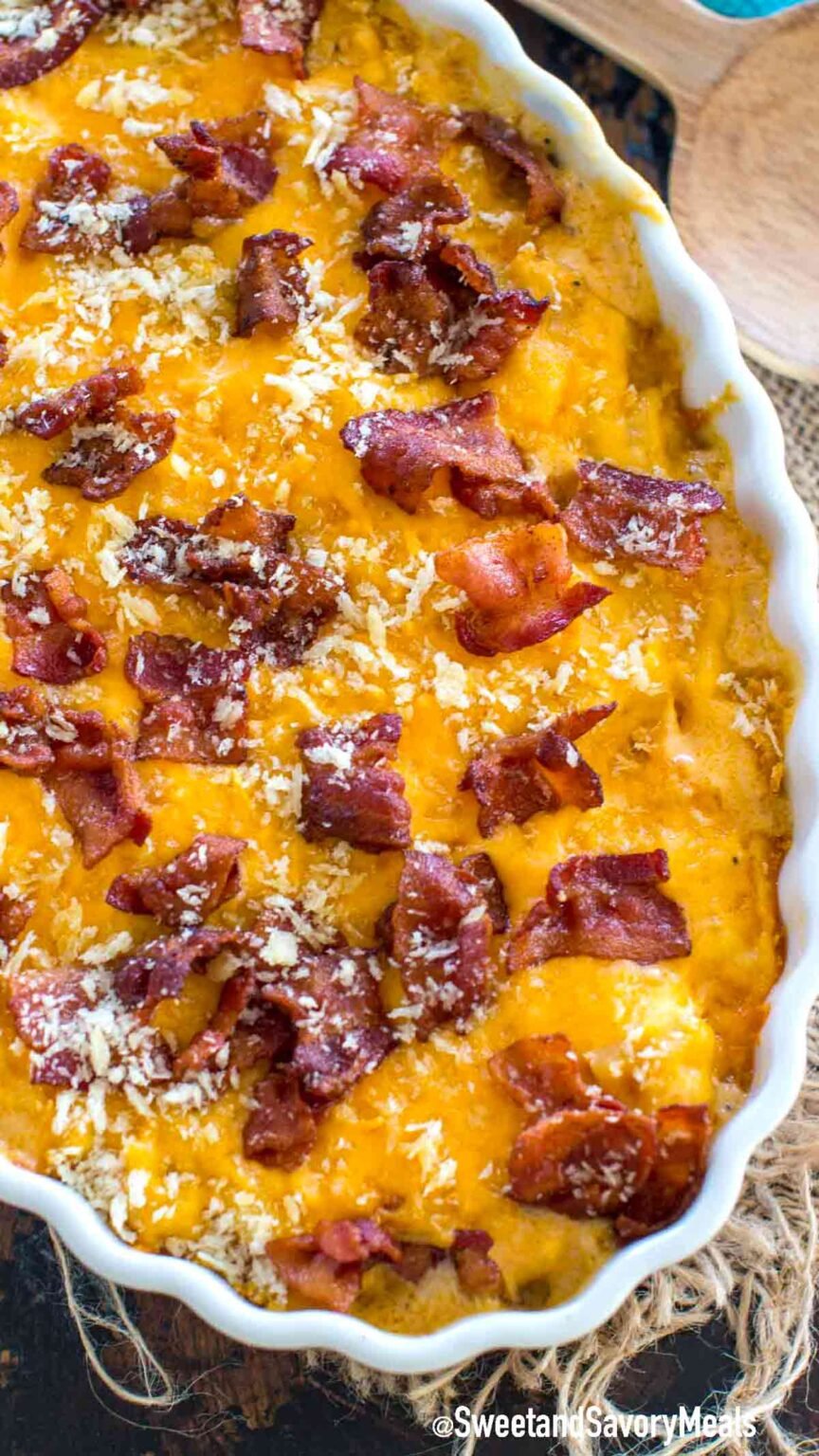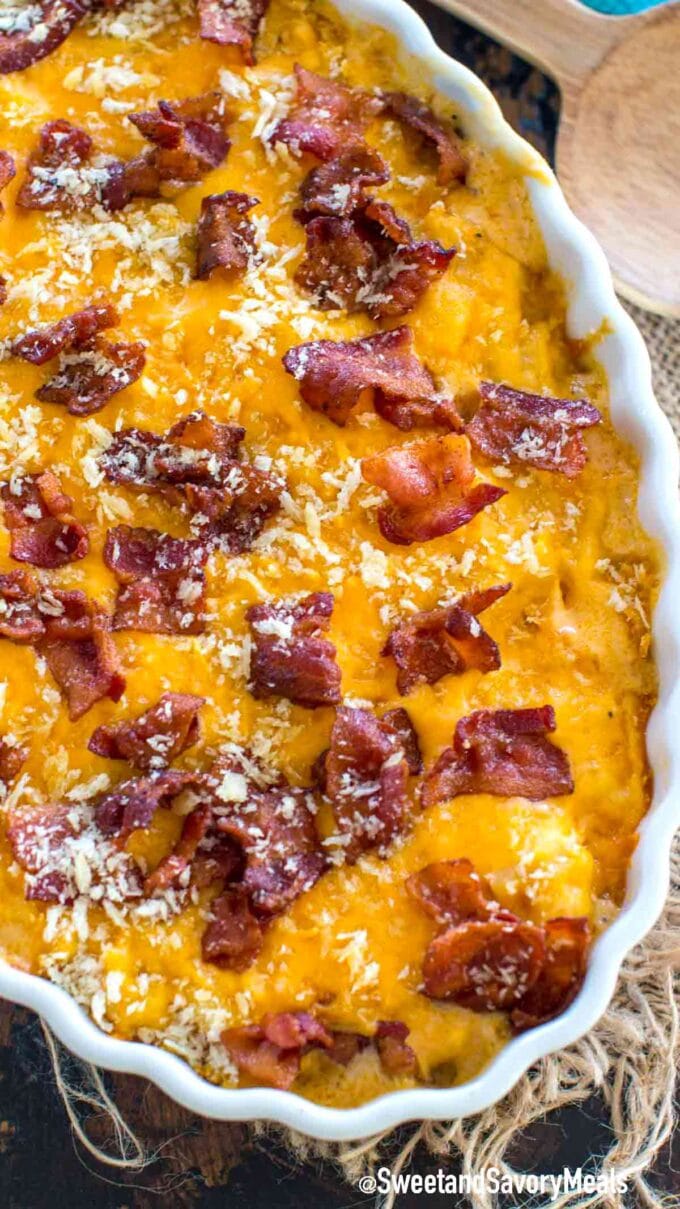 Bacon Cheddar Ranch Chicken Casserole Recipe
Casserole Recipes are very popular on the blog. Our Sweet Potato Casserole was made by hundreds of people, and we have received many emails and comments about how great it is. This Turkey Tetrazzini is a great option for busy weeknights, making dinner easier and bonus points for delicious leftovers. Also, our Mac and Cheese Casserole is incredibly popular, and it makes sense since it's absolutely fantastic.
This casserole recipe is incredibly tasty and it has ranked millions of views across social media and hundreds of stellar comments. Here is what our readers have to say about it:
"This recipe rocks!! My granddaughter found the recipe for us to try. My family loved it. Will definitely be making it again."
"My family loved this dish!! I snuck in a package of mushrooms and no one noticed! Next time I'll add even more veggies. There's plenty of sauce to hide all the veggies without suspicion!!"
"I made this last night. This is so good!! All I could think about was how good it was going to taste the next night. So right now, being the next night, I just finished eating some and it reheated perfectly! This is high on my list of comfort food must-haves! Thank you for sharing this recipe! 😊"
This is a hearty dinner that is perfect to feed a crowd, or if you are looking to have some delicious leftovers for the next day. Also, to save some time you can easily make it with rotisserie chicken.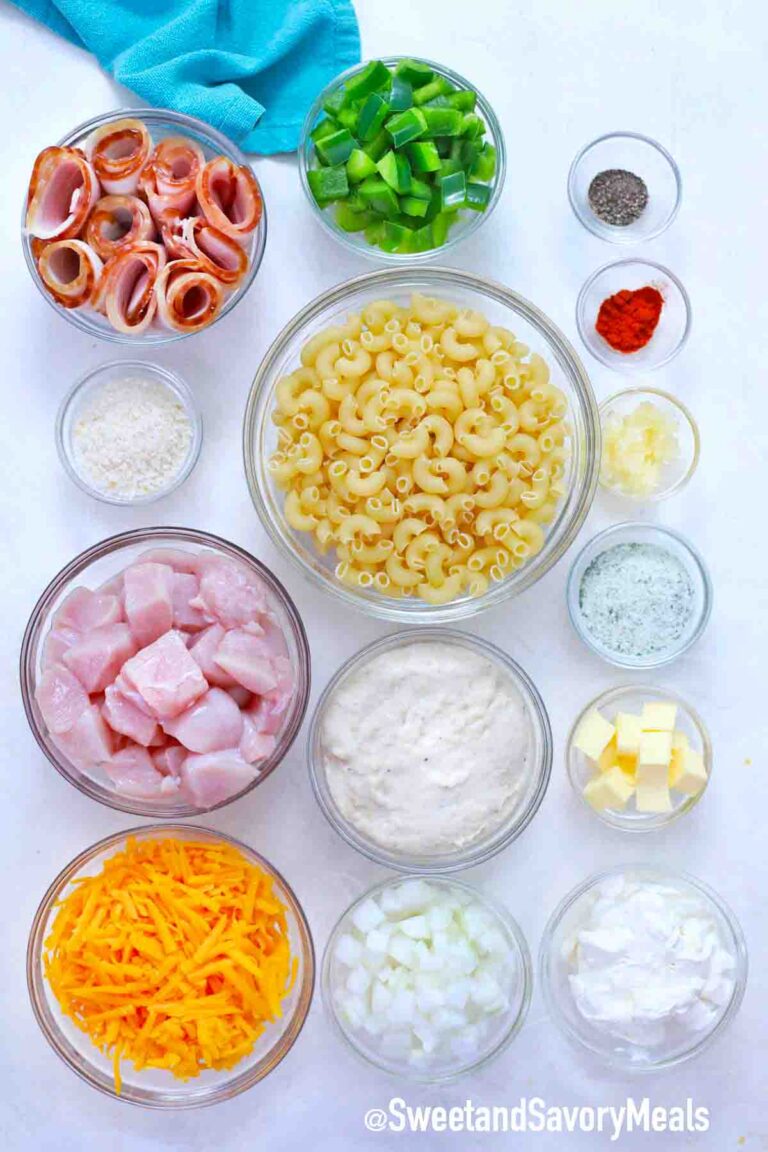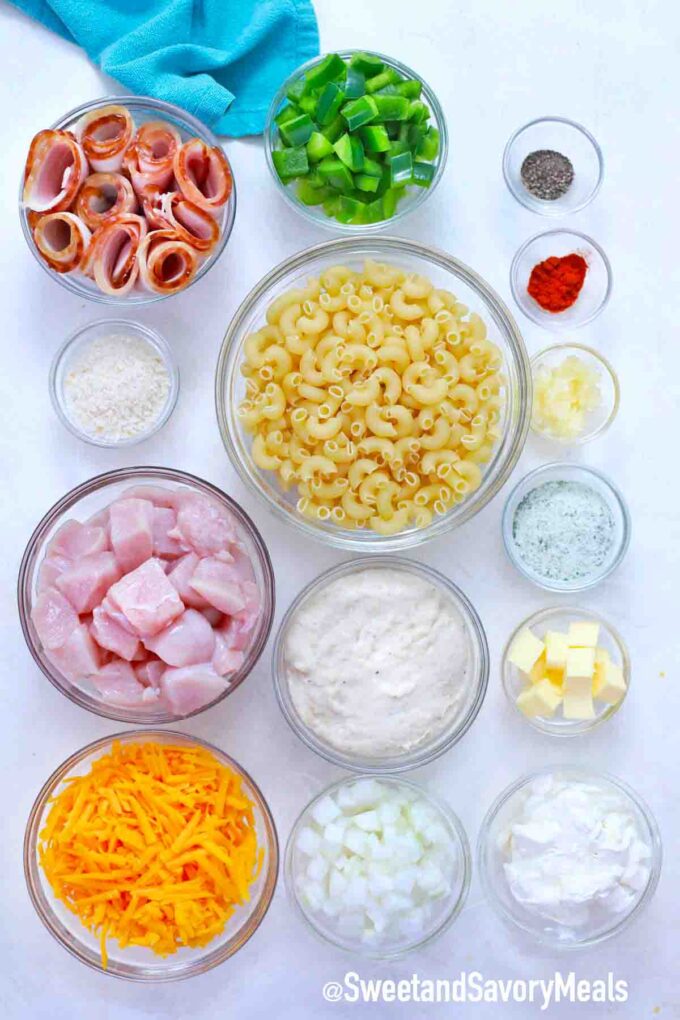 Ingredients Needed:
Chicken – You can use chicken breasts or the same equivalent of boneless/skinless thighs. Also, don't forget that you can use rotisserie chicken as well.
Dairy: You will need cream cheese, milk, and cheddar cheese.
Pasta – I used elbow pasta, mini and medium shells will also work great!
Veggies – I used bell pepper, onion, and garlic. Actually, this is a great recipe to sneak in some veggies. Since the sauce is so delicious, it makes everything taste better.
Seasonings: A simple blend of paprika, salt, and pepper, and obviously the star is the Dry Ranch Mix. Actually, this is one of the key ingredients that make this dish so amazing, but you can totally skip it if you don't like Ranch and use something else instead. Also, if you have time make your own Homemade Ranch Mix.
Cream of chicken soup – I absolutely love using it in this recipe, it adds extra creaminess and flavor. For those of you who are not based in the US and can't get your hands on it, here is a homemade recipe for condensed cream of chicken soup.
Bacon – Actually another star of the dish, make sure it is cooked to crispy perfection. Also, to save time you can buy pre-cooked bacon.
Panko bread crumbs – While they are not essential to the recipe, they do add a nice crunch so I recommend using them.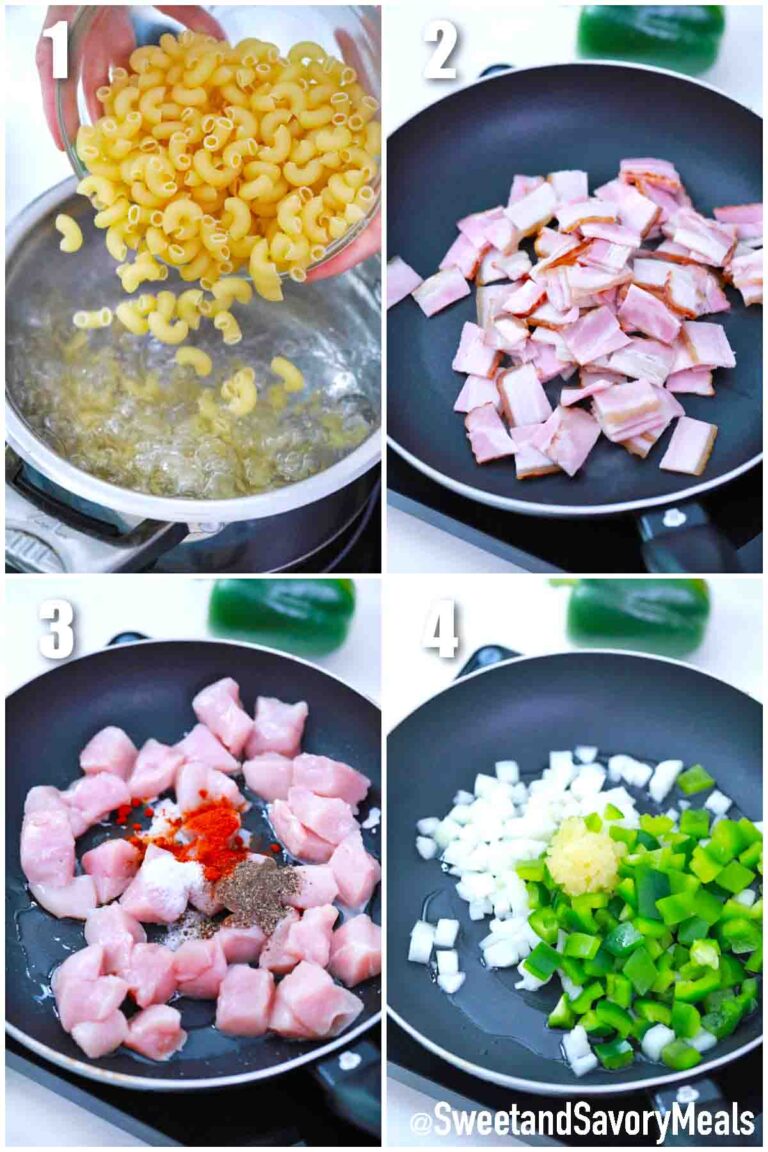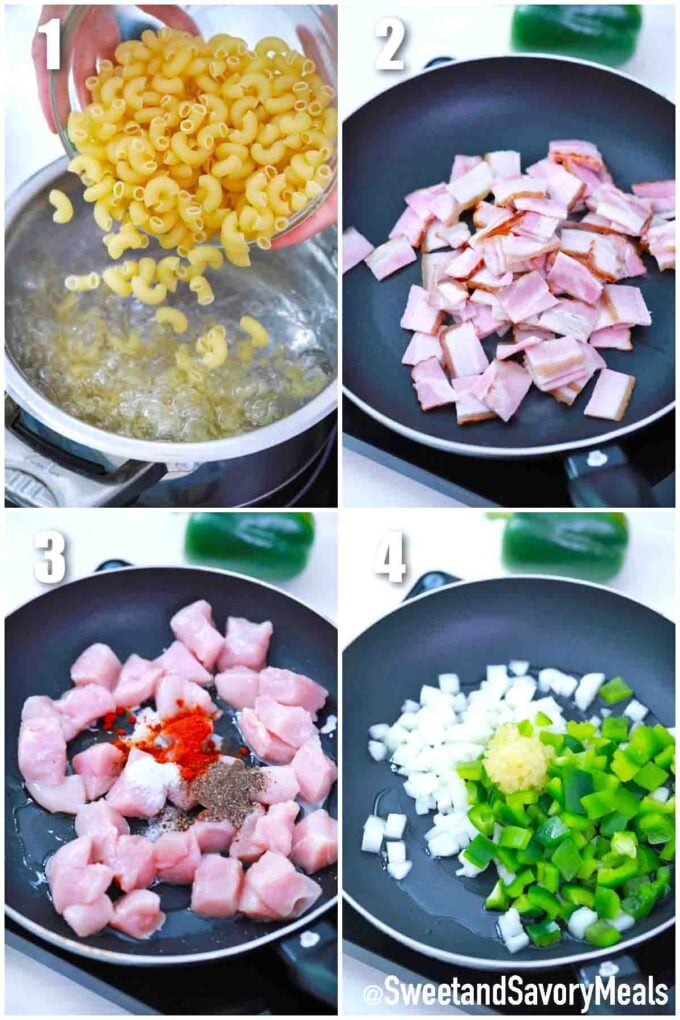 How to make Crack Chicken Casserole from scratch:
Prep: To start, gather all the ingredients, preheat the oven to 375 degrees F, and lightly grease a 9×13 casserole dish.
Boil the pasta: First, place a large pot of water over medium-high heat and cook the pasta per package directions, aim for al-dente. After that, drain it and set it aside.
Cook the bacon: Meanwhile, place a large non-stick skillet over medium-high heat and cook the bacon until crispy. After that, set it aside to drain on paper towels. Also, leave about 2 tablespoons of grease in the skillet.
Brown the chicken: Next, add the cubed chicken and cook it. Alternatively, use rotisserie chicken and skip this step altogether. Transfer it to a large mixing bowl.
Cook the veggies: Then, add the onion, garlic, and bell pepper to the same skillet and cook until tender. After, add them to the bowl with the meat.
Make the Sauce: Finally, let's make the incredibly cheesy sauce. For that, melt some butter into the same skillet and add the flour, make sure to stir until paste forms. After that, slowly, while still stirring pour in the milk. Next, stir in the Ranch seasoning, condensed cream of chicken soup, and cream cheese.
Add cheese: At this time, reduce the heat to low, and stir in the shredded cheese until melted. Lastly, turn off the heat, the sauce is ready!
Combine: Next, add the cooked pasta to the bowl and add the sauce. Afterward, toss gently until well combined and transfer the mixture to the prepared baking dish.
Toppings: Then, add the remaining cheese, and sprinkle the panko bread crumbs and bacon on top.
Bake: Next, bake the casserole for 20-30 minutes until the cheese is hot and bubbly!
Serve: At last, let the dish cool for 10 minutes before serving. Sprinkle some chopped green onions on top and serve.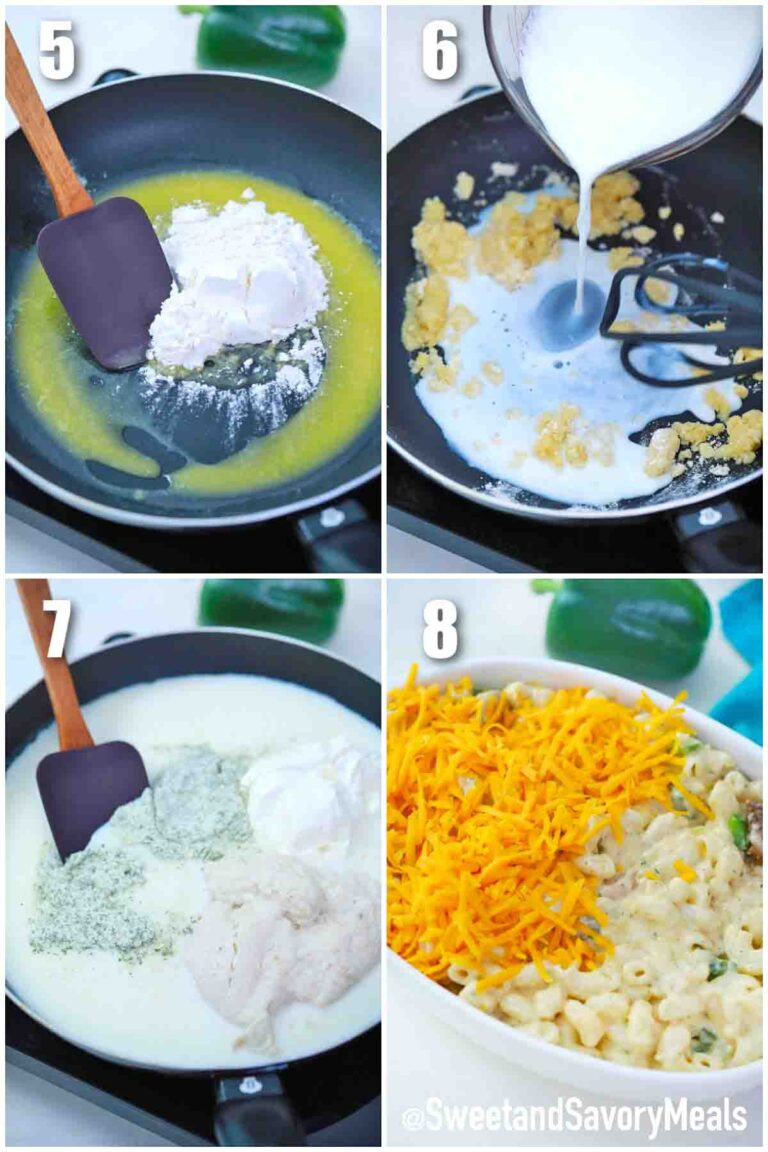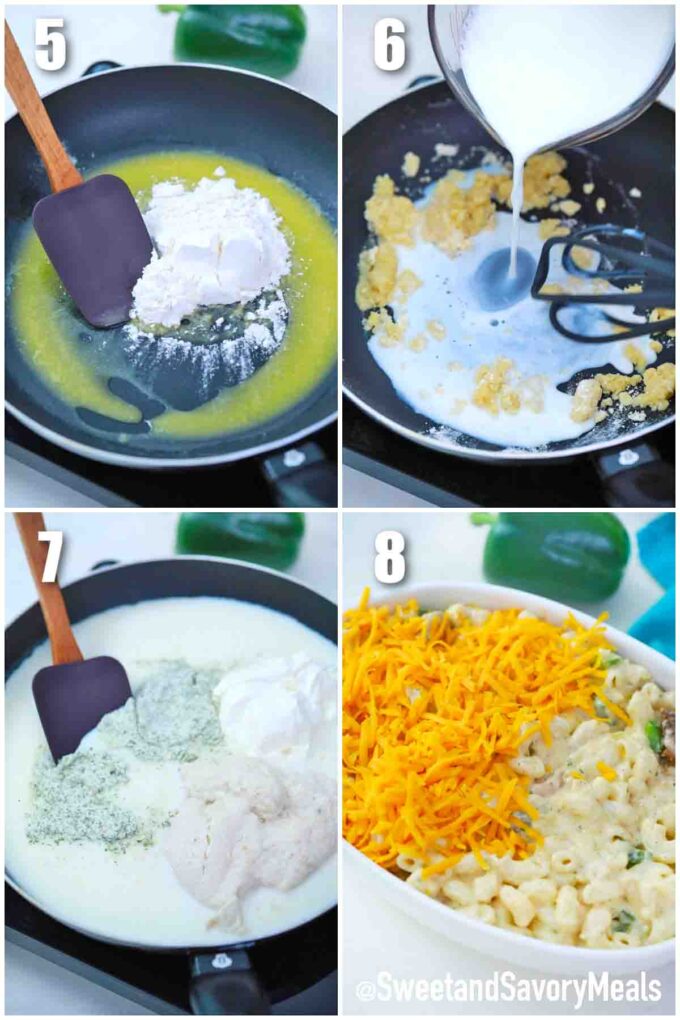 Recipe Variations:
Meat: While we cooked the meat in this recipe, you can use cooked chicken, also, leftover turkey works great as well. Another option is to use your favorite sausage, just brown it a bit.
Cheese: Alternatively, replace the cheddar cheese with Mozzarella, Provolone, Mexican blend cheese, Italian blend cheese, Gruyere, or Pepper Jack Cheese if you prefer so.
Veggies: This is a great recipe to sneak in some veggies into it, add some carrots, green peas, corn, zucchini, or mushrooms.
Seasoning: Also, if you are not a fan of Ranch seasoning, skip it or use Italian seasoning, Taco, or Cajun seasoning.
Hamburger Helper: Replace the chicken with ground beef, brown it and you have an elevated version of Hamburger Helper.
Extra Ranch: Actually for extra Ranch flavor use Ranch dressing instead of cream of chicken soup.
Slow Cooker Version:
Since many of you have asked for directions on how to make this recipe in the slow cooker, here they are!
First, you Do NOT have to cook the pasta, and also please skip the flour.
Replace the 3 cups of milk with 2

cups

whole milk and 2

12- ounce cans of evaporated milk and skip preparing the Cheesy Mixture in the skillet.

Next, follow the instructions from the recipe card on how to brown all the ingredients, including the bacon and the meat.
Add the uncooked pasta, browned chicken, and veggies to the slow cooker. Next, cube and add the cream cheese, cream of chicken soup, and shredded cheese. After that, stir all the ingredients to combine.
Then, cook on low for 90 minutes to 2 1/2 hours. However, check after 60 minutes and give the mixture a stir. After that check every 20-30 minutes and stir.
Also, if needed add more milk to the mixture when stirring and taste and adjust for salt and pepper.
Serve when the pasta is ready, and stir in the bacon right before serving.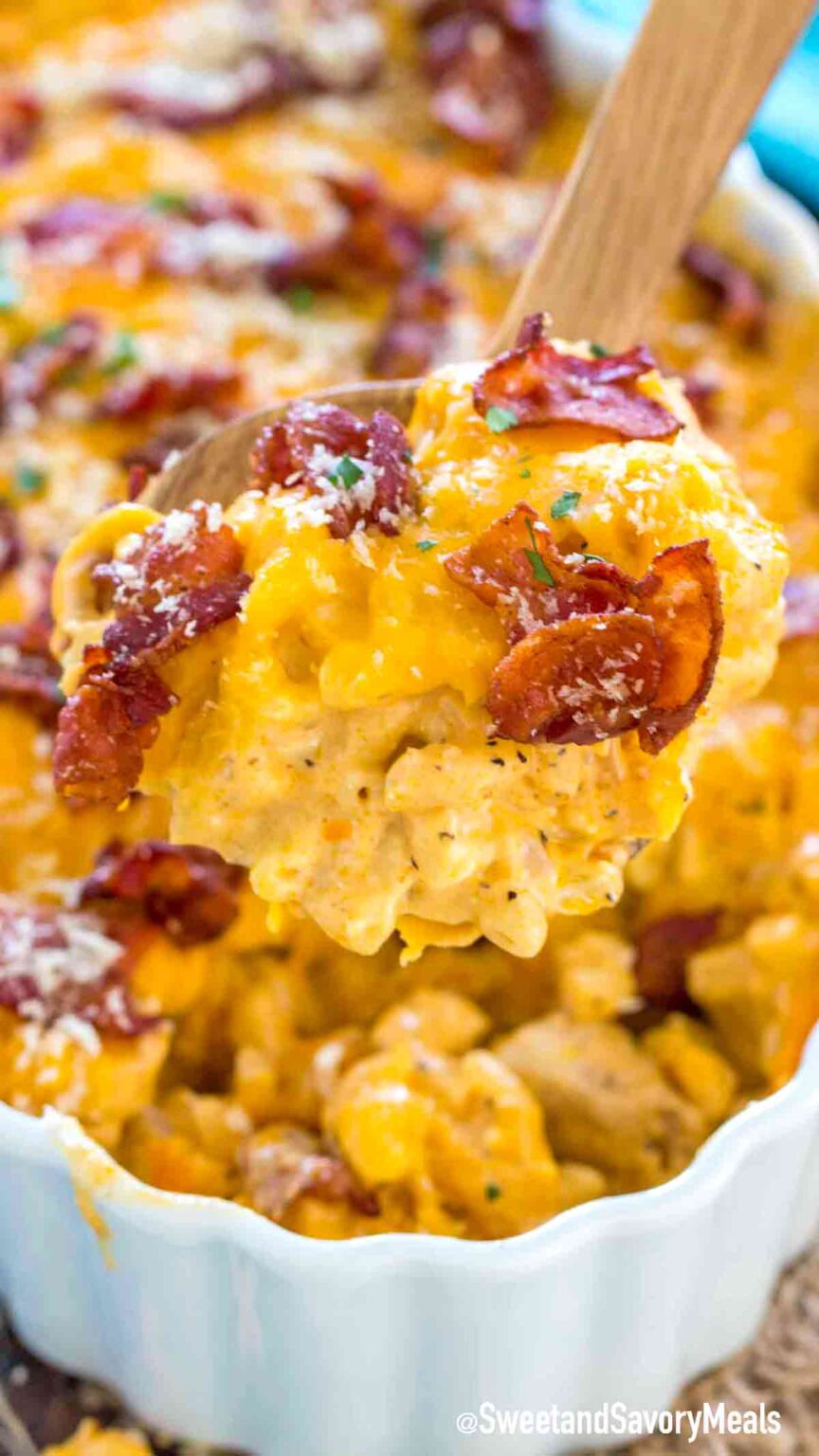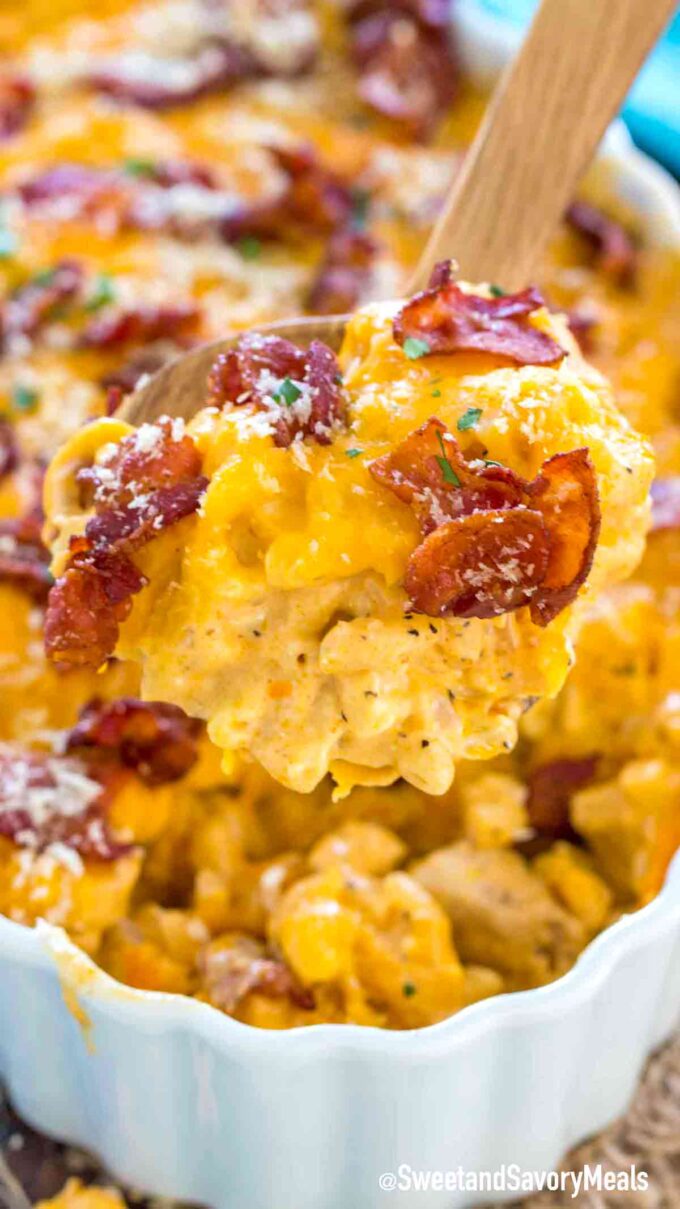 Frequently Asked Questions
Why is it called crack chicken?
While this name is obviously a bit controversial and I try to stir away from using it in recipe titles going forward, there was a time when using it was very popular. The "crack" part usually references a seasoning that was used or describes how addictively good the dish is. Actually more often it describes the combination of Bacon, Cheddar, and Ranch in a recipe.
What makes a dish a casserole?
In the US, a casserole recipe is typically a baked dish that has these five main components:
Meat – it can be chicken, fish, turkey, seafood, or any type of ground meat. Also, in vegetarian versions, you will see other types of protein, like tofu and beans.
Veggies – usually this type of food has a variety of chopped veggies mixed in as well.
Starchy binder – finally, usually there is a starch that brings the other ingredients together. It can be flour, pasta or potatoes.
Liquid – also, a liquid is incorporated to make the food saucier, usually, broth, condensed soup, wine, beer, milk, cream, or stock is used.
Topping – the dish is usually finished with a crunchy or cheesy topping.
Also, the food is usually cooked in the oven and a baking dish that oftentimes is called a casserole dish is used. Conveniently, the food can be served directly from the dish.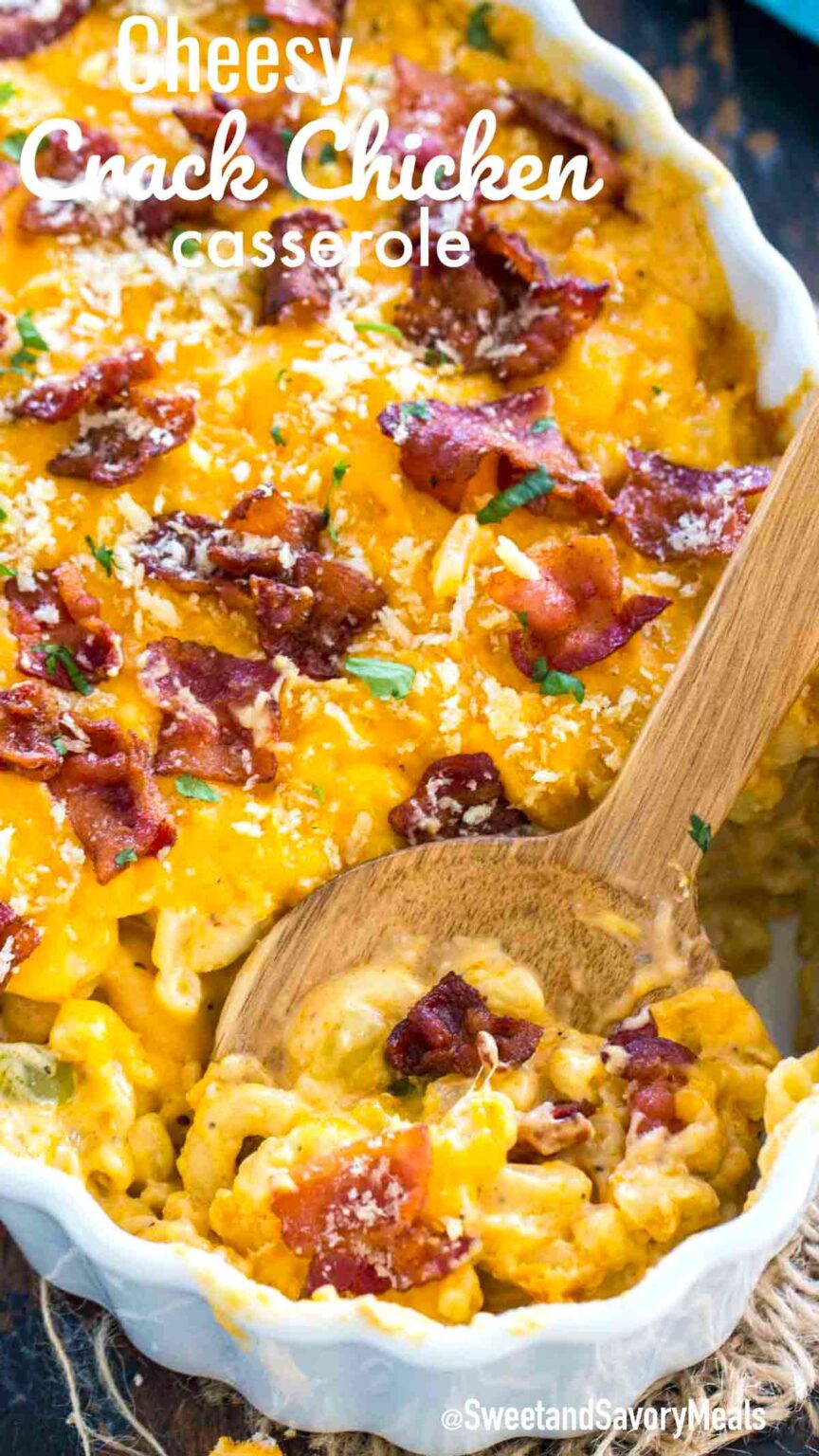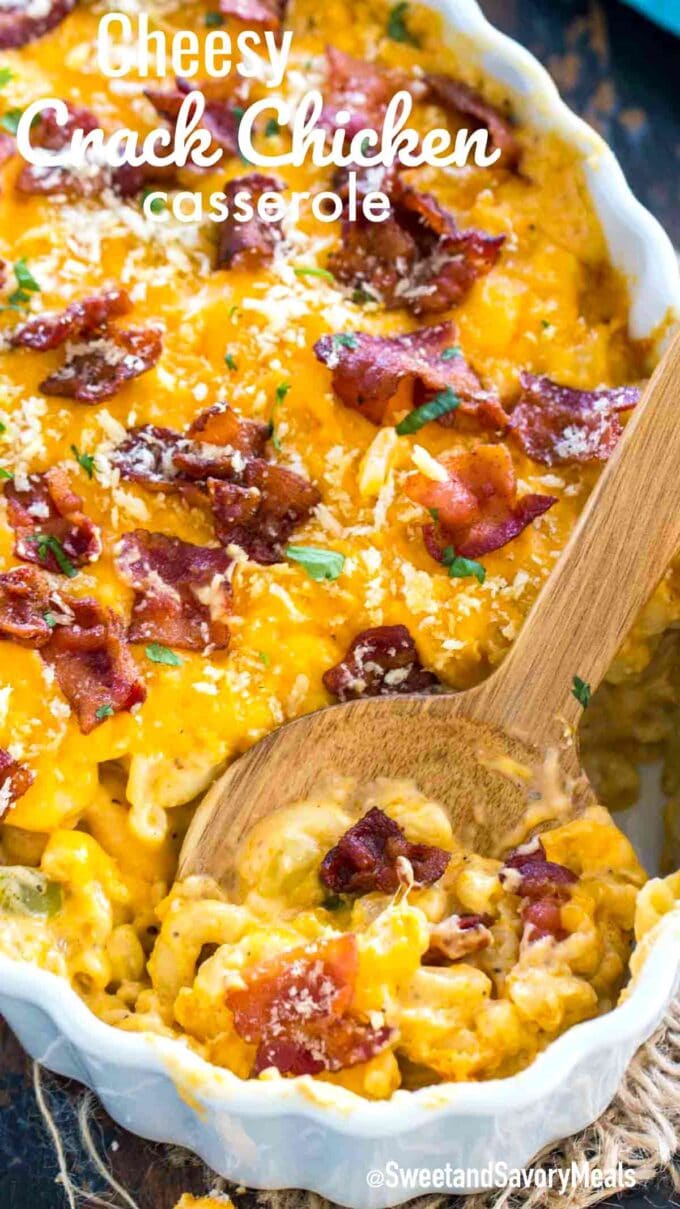 How to store and freeze leftovers:
Store: Actually if you have leftovers, first make sure to let the dish fully cool and after that either cover it with plastic wrap or transfer it to an airtight container. Then, refrigerate it for 3-4 days.
Reheat: When ready to serve, just reheat the leftovers in the microwave. Also, since the pasta will absorb more sauce after refrigeration, reheat on the stove and add some milk to make it saucier.
Freeze: Actually freezing a casserole dish is fairly easy. First, make sure that you are using a freezer-safe baking dish or container. Next, let the food fully cool. After that, if freezing in the casserole dish, wrap it tightly in plastic wrap and in a few layers of aluminum foil. Another option is to transfer it to a freezer-safe airtight container. After that, freeze for up to 3 months.
Defrost: Remove the frozen baking dish from the freezer and let it thaw in the fridge overnight. After that, reheat it in the oven. Also, keep in mind that you may have to add extra milk or condensed chicken soup, to make it saucier. Alternatively, bake it frozen and covered with foil, at 350°F, for 1 hour. But before that leave it on the counter for an hour, for the baking dish to come to room temperature, otherwise it may crack in the oven.
More Casserole Recipes:
Cooking Tips:
You do not have to cover the casserole with foil when baking.
Skip the panko bread crumbs and use this Buttery Cracker mixture for extra flavor like in this Pineapple Casserole.
You can eat this Crack Chicken casserole without baking it, just make sure the chicken is fully cooked before combining it with the other ingredients.
If you want a truly creamy texture, like unbelievably creamy, it is best to not use pre-shredded cheese. Take the extra few minutes and shred your own cheese.
You don't need to rinse the cooked pasta for this recipe especially if you will be using pre-shredded cheese, this way the starch from the pasta will thicken the sauce more.
Keep in mind that the cooking time may vary based on the size of the dish you use.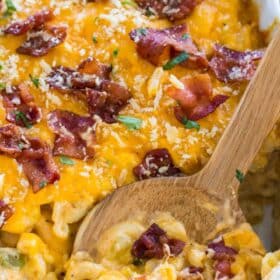 Cheesy Crack Chicken Casserole
Cheesy Crack Chicken Casserole is the perfect dish to feed a large crowd. Deliciously cheesy and loaded with tender chicken and topped with crispy bacon.
Save
Share
Print
Pin
Rate
Ingredients
3

cups

uncooked elbow macaroni
Bacon:
12

slices

bacon

(diced into 1-2 inch pieces)
Chicken:
1.5-2

lbs

uncooked chicken

(cubed)

1/4

teaspoon

salt

1/4

teaspoon

ground black pepper

1/2

tablespoon

paprika
Veggies:
1

green bell pepper

(diced)

1

medium

onion

(diced)

2

tablespoons

minced garlic
Cheesy Mixture:
3

tablespoons

butter

1/3

cup

all-purpose flour

3

cups

milk

1

package

(1oz) Dry Ranch Seasoning Mix

(optional)

1

package

(8oz) cream cheese

(room temperature)

3

cups

cheddar cheese

(shredded)

1

can

(10 3/4 oz) cream of chicken soup, condensed
Toppings:
chopped cooked bacon

1

cup

cheddar cheese

(shredded)

1/4

cup

panko crispy bread crumbs

(optional)
Instructions
Preheat the oven to 375°F.

Bring a large pot of water to boil and cook the macaroni as directed on the package. Aim for al dente, drain once done, and set aside.
Cook the Bacon:
In a large skillet, over medium-high heat, cook the bacon, stirring frequently, until crispy. Remove from skillet and set aside. Drain the grease, leaving only about 2 tablespoons in the skillet.
Cook the Chicken:
Add the cubed chicken to the skillet, and season with salt, pepper, and paprika. Cook stirring frequently, until golden and no longer pink in the center. Remove from skillet and add to a large bowl.
Cook Veggies:
Add the diced onion, diced bell pepper, and minced garlic to the skillet and cook for 3-5 minutes, stirring occasionally, until soft and tender. Remove from the skillet and add to the bowl with chicken.
Cheesy Mixture:
In the same skillet, on medium heat, melt 3 tablespoons of butter. Stir in the flour until paste forms.

Gradually stir in milk, beating with a whisk until fully combined.

Stir in the Ranch Seasoning Mix if using, condensed cream of chicken soup and cream cheese, and stir until fully combined.

Next, reduce the heat to low and add 3 cups of cheddar cheese, stir until fully melted. Remove from heat.
Combine:
To the bowl with meat and veggies add the cooked pasta and cheese mixture. Stir well to combine and transfer to a 13x9-inch (3-quart) baking dish.

Top with 1 cup shredded cheese, and the cooked bacon, and sprinkle some panko bread crumbs on top if desired.
Bake:
Bake for 20-30 minutes or until the mixture is bubbly and cheese is fully melted.

Let it cool for 10 minutes, after that serve and enjoy!
Nutrition
Serving:
0
g
|
Calories:
958
kcal
|
Carbohydrates:
58
g
|
Protein:
40
g
|
Fat:
62
g
|
Saturated Fat:
30
g
|
Cholesterol:
188
mg
|
Sodium:
1172
mg
|
Potassium:
590
mg
|
Fiber:
2
g
|
Sugar:
8
g
|
Vitamin A:
1710
IU
|
Vitamin C:
13.6
mg
|
Calcium:
577
mg
|
Iron:
2.7
mg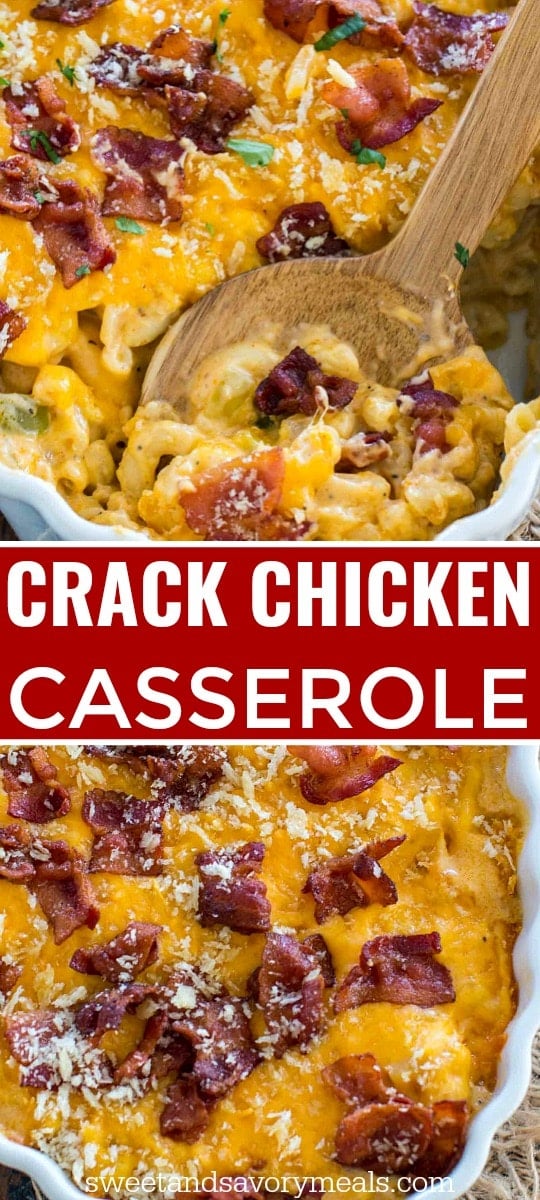 More recipes you might love