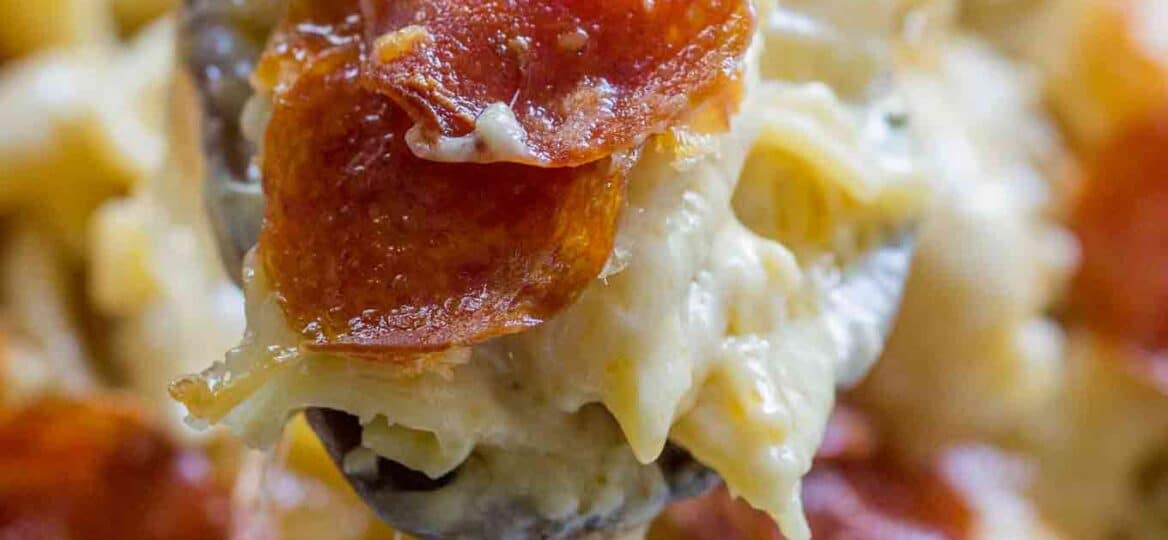 Cheesy White Pizza Casserole [Video]
White Pizza Casserole is a delicious blend of cheesy white pizza sauce, pasta and lots of pepperonis, baked to crispy perfection in a casserole dish. Check out the short video tutorial below and learn how to make the best pizza casserole!
Casserole recipes are a staple around here, they are easy to make and usually make enough leftovers that you don't have to worry about cooking dinner the next day. My other favorites are Cheesy Crack Chicken Casserole, Chicken Hash-brown Casserole. and Chicken Spaghetti Casserole.
Cheesy White Pizza Casserole
White Pizza Casserole is such a delicious dinner that is easy to make and feeds a large family. I can never say no to cheese and pasta and if it would be my way, I would probably survive on pizza and ice cream. Well, I do love greens and healthy meals, but pizza and pasta are my weaknesses.
Now, wouldn't it be great if the two were combined, by making a White Pizza Casserole from pasta? That is one delicious decision that you will not regret. This easy meal is always a hit, its cheesy, with a crispy pepperoni top, and all the flavors of a tasty pizza in casserole form. Kids will also fall in love with this casserole.
This recipe is so easy and adaptable that you can add your favorite mix-ins just like you would choose them to top a pizza. The combinations are endless, you just have to use your imagination and use the ones you like more. I am a huge fan of adding just pepperoni.
We also like this casserole with spicy jalapeños, sausage, and chicken. You can make it vegetarian by mixing in mushrooms, tomatoes and a handful of fresh spinach. Or transform into a Margherita casserole by adding 1/3 cup pesto and cherry tomatoes, top it with fresh buffalo mozzarella for the ultimate cheesy top!
Recipe Tips
Use quality pepperoni, it will make a huge difference in this dish.
If you prefer the casserole spicy add jalapenos, or add some hot sauce into mixture.
This meal is loaded with cheese, don't skip it, its what makes it so creamy and comforting.
Mozzarella cheese can also be substituted with provolone cheese or sharp cheddar. For a spicy twist, use Pepper Jack.
You can add sliced mushrooms or black pitted olives to this dish.
Can you use other meats to make this Casserole?
Absolutely! You can substitute pepperoni with chicken, turkey or bacon. The cooking time might vary as well based on each meat type.
How to freeze and thaw this Cheesy White Pizza Casserole?
To freeze, cover pan tightly with plastic wrap and foil. Freeze for up to 3 months. When ready to cook, thaw in refrigerator overnight. Remove cover and bake at 350 degrees for about 30-45 min.
Looking for more cheesy recipes? Check these out: