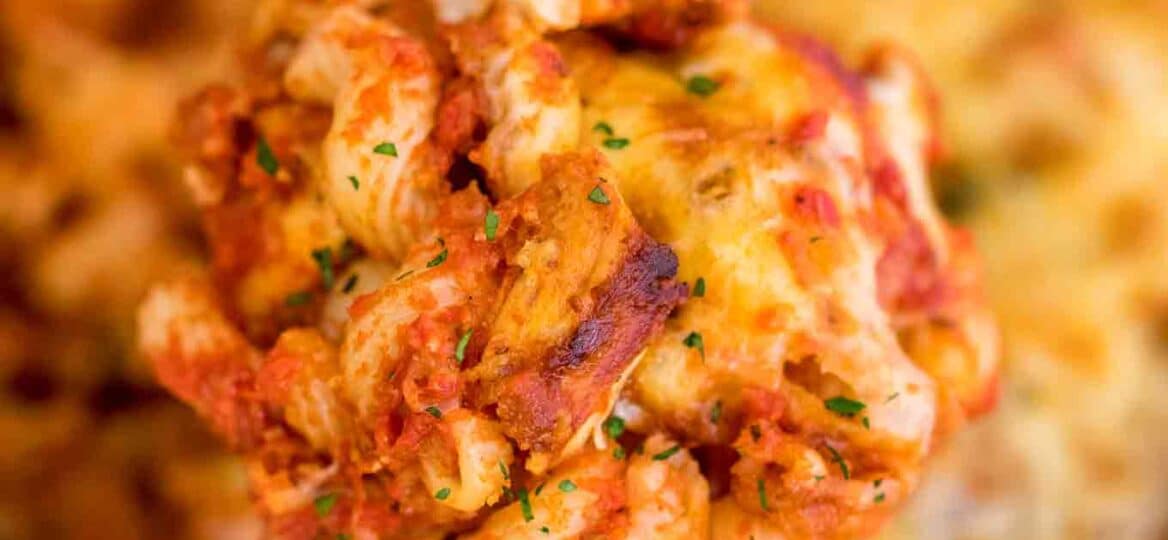 Easy Chicken Parmesan Casserole Recipe
Chicken Parmesan Casserole is a quick and easy recipe, made with leftover chicken, a combination of mozzarella and parmesan cheese, then baked in a rich tomato sauce. This dish requires minimal prep work, and you can make it 2 days ahead of time.
Homemade Casserole recipes are perfect for busy weeknights when you are short on time and also want to have great leftovers. Next time, you want something quick on your dinner table make this Crack Chicken Casserole, our Famous Sweet Potato Casserole, and the Mac and Cheese Casserole.
This is one of my favorite recipes when it comes to pasta casserole. My whole family just loves it because it is so rich, creamy, and cheesy. Made with cavatappi pasta, leftover chicken, and coated in a tangy tomato sauce.
Then, topped with panko breadcrumbs and baked till perfectly creamy and golden brown. Even picky eaters will enjoy this delicious meal.
Baked Chicken Parmesan Casserole with Pasta is full of flavors and it's so easy to prepare. Also, it is easier to make than the Classic Chicken Parm, which is another delicious dinner!
Another benefit of it is that it stores well and leftovers are just amazing. I like making a large batch and refrigerate it for later. The next day, I simply microwave it for a few minutes, and dinner is served! If you are tired of boring dinners, this one is definitely one to try. In addition, it freezes well and is perfect to feed a larger crowd.
Ingredients Needed:
Chicken: Feel free to use pretty much any meat here. I normally use either oven-baked chicken breasts or leftovers from a roast chicken. Alternatively, go with chicken tenders, or rotisserie chicken. You can even use turkey or ham here.
Pasta: Usually, I use the small type such as cavatappi or macaroni pasta.
Seasoning: Italian seasoning, paprika, garlic powder. Also, feel free to use other seasonings or fresh herbs. Some great additions would be fresh basil, red pepper flake, ranch seasoning.
Panko breadcrumbs: For a crunchy topping.
Cheese: Go with what you love. I generally use parmesan cheese and mozzarella cheese.
Marinara sauce: Homemade marinara sauce is just the best to use in any dish. If you have some extra time, I highly recommend making it and storing it for later use. If not, then use any pasta sauce you prefer or you find at the local grocery store.
How to make Baked Chicken Parmesan Casserole?
This is truly a simple and easy dish to prepare and an ideal main dish during busy weeknights. Here are the quick steps:
Preheat the oven: First, preheat the oven to 375 degrees F.
Boil the pasta: In a large pot, boil the pasta according to package instructions. Cook it al dente because it will go into the oven as well. Drain the pasta.
Assemble the dish: In a greased casserole dish layer the cubed or shredded chicken evenly. Then, add the cooked pasta on top, and sprinkled it with shredded cheese. Next, pour in the marinara sauce and sprinkle with seasoning and panko breadcrumbs.
Bake: Lastly, pop it into the oven. Bake it until golden brown, and the cheese is melted and bubbling.
What is chicken parmesan?
It is a classic Italian dish made of chicken cutlets that have been tossed in egg wash, breadcrumbs with parmesan, and after that fried to crispy perfection.
Next, the cutlets are later topped with tomato sauce and mozzarella cheese and baked until the cheese is bubbly. It is served with pasta on the side.
Best pasta to use for chicken parmesan casserole?
Feel free to use any type and shape of pasta.
Anything will work here. Some of my favorites are:
Penne pasta
spaghetti noodles
Rotini
Fettuccini
Rigatoni
Bowtie
Easy Casserole topping:
Apart from the cheesy center, you want to have the perfect finish to any casserole. That's why the topping is very important. In our case, I go with Panko bread crumbs. They are just ideal here because they add a crunchy finish to the whole dish. Some other alternatives would be:
Flavored breadcrumbs such as garlic, Italian seasoned, and parmesan are great options.
Ritz crackers
Pepperoni
Crusty bread
Pine nuts or chopped walnuts
Pork rinds
Caramelized onions
French fried onions
Can I make it dairy-free?
Even though it might sound odd, but you could definitely make this recipe dairy-free and even gluten-free. In that case, use gluten-free pasta and vegan cheese.
Do you cover the casserole with foil when baking?
I cook it uncovered, therefore I do not use aluminum foil. The main reason is that I like getting that golden brown color and a nice crispy topping.
If you cover it with foil, the dish will not get a nice brown and crunchy top. It will cause the steam to be kept inside it.
What to serve with it?
This is a complete meal as is. Therefore, I tend to serve it mostly with a side salad. Here are some great side dishes to go with it:
What else can I add to it?
You can add pretty much anything to it. Starting from fresh vegetables to various cheeses, and meats. To mix things up, try adding the following:
Broccoli
Frozen peas
Chopped zucchini
Spaghetti squash – a low carb option
Bell peppers
Mushroom
Italian sausage
How to make chicken parmesan casserole ahead?
Follow the recipe steps to assemble the dish 2 days ahead of time.
Once assembled, cover with aluminum foil and store in the refrigerator.
Prior to baking, let it sit out at room temperature for about 30 minutes.
Then, remove the cover, and pop it in a preheated oven. Bake it at 375 degrees F for about 30 minutes, until golden brown and bubbly.
How to freeze it?
First, transfer the mixture to a buttered 9-by-13-inch freezer-to-oven baking dish.
After that, cover tightly with aluminum foil and wrap in plastic wrap.
Freeze for up to 6 months.
To reheat it, pop it up in the oven frozen, and covered with foil, at 350°F, for 1 hour.
More homemade casserole recipes:
Cooking tips:
Ensure to have the evenly-sized meat pieces for uniform cooking.
Also, for a healthier take on it, use whole grain or whole wheat pasta.
Garnish the dish with freshly chopped parsley or basil.
In addition, feel free to use other mild-typed cheeses. Such as gruyere or cheddar would be a great alternative.
To save time, use leftover rotisserie chicken.