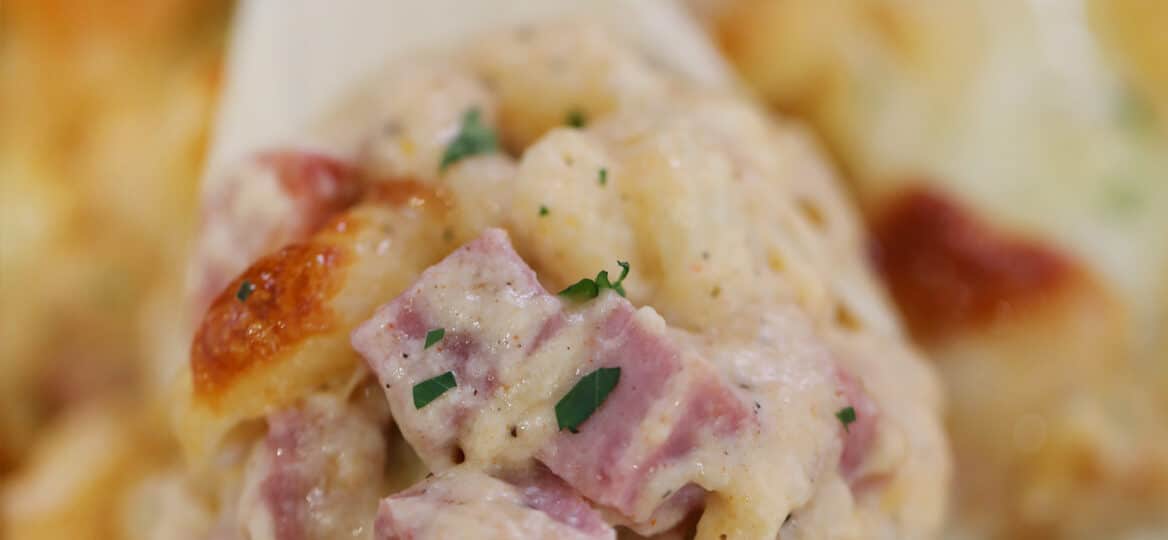 Chicken Cordon Bleu Casserole
Chicken Cordon Bleu Casserole has all the delicious flavors of the famous classic French recipe without all the fuss and prep work. Loaded with tender rotisserie chicken, pasta, swiss cheese, ham and topped with crunchy bread crumbs. This meal will quickly become a family favorite.
Casserole recipes are the perfect solution for quick and easy dinners, especially when you are short on time and also want leftovers. You should also try our Crack Chicken Casserole, our Chicken Parmesan Casserole, and the Mac and Cheese one, which is very creamy and cheesy.
This dish is pure comfort food that is easy to assemble and ready in no time. I use simple ingredients such as leftover chicken, swiss cheese, leftover ham, pasta, and bread crumbs.
Apart from being delicious, this Easy Chicken Cordon Bleu Casserole is perfect for busy weeknights because you simply dump everything together into a casserole dish, and bake till golden brown. The creamy cheese in combination with pasta and ham makes this the ultimate comfort food.
Also, this recipe is one of the best ways to use leftover chicken. And, if you are a cheese lover, you will appreciate very much the cheesiness of this dish. It is a great dinner alternative, that is low cost, easy to make, and at the same time is packed with flavor.
I have made it many times with rotisserie chicken and leftover chicken breasts. When we fire up the grill, I usually always throw some extra chicken breasts on it, that I can freeze and use later in recipes like this.
This way, the prep time is reduced, and you can have exciting and delicious dinners with no added effort. You can also make this casserole with leftover turkey. So no more boring sandwiches, when you can have a cheesy and filling warm dinner.
This recipe freezes well and it's perfect to make if you are looking to feed a larger crowd or to have leftovers. It reheats great and it tastes delicious!
Ingredients needed:
Chicken: You can use leftover or rotisserie chicken.
Ham: Similarly, feel free to use any type. Deli ham, honey ham, leftover, or ham steak, etc
Pasta: I usually make it with cavatappi pasta because it absorbs the cheesy cream sauce well. However, use whatever you like. Great alternatives are macaroni pasta, tie bow, egg noodles, etc.
Butter
Flour
Milk
Seasoning: garlic powder, paprika, salt, and pepper.
Cheese: I go with swiss cheese and mozzarella cheese but any type will work just as great.
How to make Chicken Cordon Bleu Casserole?
Preheat oven: First, preheat the oven to 375 degrees F. At the same time, grease a 9×13 baking sheet with some olive oil.
Cook pasta: In a large pot, boil the pasta according to the package. Keep it al dente, because you will bake it additionally in the oven.
Layer the meat: Then, layer chicken and ham at the bottom of the baking dish.
Make the sauce: In a large skillet, over medium heat, add the butter. Then follow the steps below to make the sauce.
Add the cheese: Next, add the layered cheese over the mixture.
Bake: Lastly, pop it in the oven and bake for about 30 minutes until bubbly and the top is golden.
Variatoins and suggestions:
Pasta: Feel free to make it with other kinds of pasta that you like, like shells and macaroni.
Other cheeses: We like to use a combination of mozzarella and Swiss cheese, but gruyere, parmesan cheese, or cheddar cheese will also work great.
Meats: While traditionally the recipe asks for chicken, you can easily make it with turkey breasts, sausage, or even pork. Chicken sausage would also work great.
Veggies: You can add your favorite veggies, we recommend bell peppers, Chopped zucchini, mushrooms, green beans, or spinach. Green peas and finely diced carrots add a nice touch as well.
Toppings: Swap the regular breadcrumbs with Panko breadcrumbs, Ritz crackers, nuts, French fried onions.
Seasonings: Again, go with what you like. Some great additions would be ranch seasoning, dijon mustard, onion powder, chili powder, etc.
Follow us on Pinterest for more delicious recipes!
What is chicken cordon blue?
It is a Swiss dish that consists of chicken that has been stuffed or rolled with ham and cheese. After that, it's dipped into an egg wash and rolled into breadcrumbs. Next, it is fried to golden perfection. It is usually served with a creamy sauce on the side.
If you are looking for the classic version, we have the perfect one for you, just follow this link.
Can I make it dairy-free?
This recipe can be adapted based on your dietary preferences. You can use vegan cheese and unsweetened non-dairy milk to prepare it. While it will not taste like the original, it will still be very good.
Can you make chicken cardo blue casserole ahead?
Absolutely! First, assemble the dish according to the steps described below. Then, fully cover it with aluminum foil, or wrap it with food wrap. Refrigerate for up to 2 days.
When ready to serve, pop it in the preheated oven at 300 degrees F, and bake.
What to serve with it?
I like serving it with a side salad or steam veggies. Here are some great suggestions:
Do you bake the casserole covered?
If you cover with foil, the dish will not get a nice brown and crunchy top. It will cause the steam to be kept inside it and the top just won't be as appealing.
More chicken recipes to try:
How to store and freeze it?
To store: First, transfer the mixture to a buttered 9-by-13-inch freezer-safe baking dish or an airtight container. After that, cover tightly with aluminum foil and wrap it well in clear wrap. Then, refrigerate leftovers for up to 4 days.
To freeze: Prior to freezing, let the dish completely cool at room temperature. Then, use a freeze-proof dish and freeze it for up to 3-6 months. We recommend 3 months, for the best results.
Reheat: When ready to consume, bake it frozen and covered with foil, at 350°F, for 1 hour.
Cooking tips:
For a creamier texture, you can add 1/4 cup of cream cheese or heavy cream to the cheese sauce.
Serve it with a dollop of sour cream on top, and some lemon juice.
In addition, for extra flavor feel free to add 2 tbsp of Worcestershire sauce along with 1/4 cup of cream of chicken soup.
Chicken Cordon Blue Casserole
Ingredients
5-6

cups

leftover or rotisserie chicken

shredded or cut into 1-inch cubes

1/2

pound

deli ham

cut into 1-inch cubes

3

cups

cavatappi pasta

cooked and drained
Cheese Sauce:
4

tablespoons

unsalted butter

4

tablespoons

all-purpose flour

4

cups

milk

1/2

teaspoon

Kosher salt

1/4

teaspoon

ground black pepper

1

teaspoon

garlic powder

1

teaspoon

paprika

2

cups

mozzarella cheese

shredded
Topping:
2

cups

Swiss cheese

shredded
Instructions
First, preheat the oven to 375 degrees F. Then, lightly grease a 9x13 baking dish with olive oil or with non-stick cooking spray. Set aside.

Cook pasta per box directions, drain, drizzle with some olive oil.

Place a large skillet over medium heat, add butter, and melt.

Once melted add flour and stir until fully combined, cook for 1-2 minutes.

Next, add the milk slowly, whisking continuously until fully mixed. Let it come to a simmer.

Reduce heat to low, add salt, pepper, paprika, and garlic powder. Stir to combine, taste, and adjust.

Turn off heat and add shredded mozzarella, stir until fully melted.

Add cooked pasta to a large bowl, add cubed chicken and cubed ham. Add cheese sauce and stir until well combined and the ingredients are evenly coated.

Transfer the mixture to the prepared pan and level the top with a spatula.

Top with the shredded Swiss cheese.

Bake uncovered in the preheated oven for 25-30 minutes, until the cheese on top is lightly golden-brown and the mixture is bubbling.

Remove from oven, let it stand for 10 minutes, and garnish with freshly chopped parsley before serving.