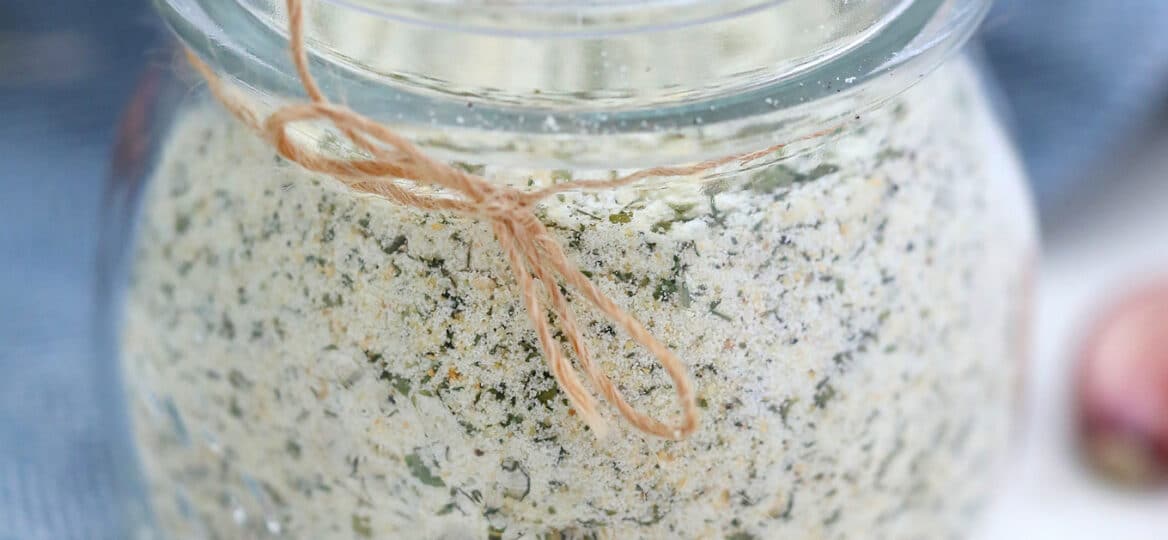 Homemade Ranch Seasoning Mix
Ranch Seasoning Mix is milky and tangy with all sorts of flavors that make everything taste better! Learn how to make it at home with just a few ingredients!
I have lots of recipes that utilize this flavor. Pasta, meat dishes, appetizers, you name it and I got it! Try my recipes for Cheese Ball, Crack Chicken and Dumplings, and Chicken Spaghetti Casserole!
Homemade Ranch Seasoning Mix Recipe
Ranch Seasoning is usually available in packets that you can easily purchase at the supermarket. But there came a time when I was using so many, that made me decide to make my own, control the sodium in it better and also be more cost-efficient.
That was when I learned how to make my version of it and I never looked back! I simply keep a stash of the ingredients in my kitchen. Since then, I was able to maximize my time and resources to make this spice mix.
I experimented and came up with a proportion that works. The flavor is close enough to the commercial version but a bit better in my opinion. And, it does not include preservatives that could be present in the commercially available ones.
So, here I am, sharing this wonderful recipe with all of you. I hope that it makes your home cooking easier and more enjoyable!
What is Ranch Seasoning made of?
It is primarily dairy as the powdered buttermilk constitutes most of it. It contains aromatics, herbs, and spices, too.
Powdered buttermilk is commercially available and usually found alongside other baking ingredients. It is because you can use it in baking, too, and it is the secret to a crunchy fried chicken. Since it is versatile, I decided to stock up and you should, too!
This specific recipe includes dill, dried parsley, and chives are the tiny bits of green that you see in the seasoning. As for the aromatics, the basic garlic and onion in powdered forms are included, too, in addition to the salt and black pepper pair.
How to Make Ranch Seasoning?
Simply mix all the ingredients in a small bowl. Once uniform, transfer it in an airtight container.
Can I use ranch dressing instead of ranch seasoning?
The answer depends on the recipe that you are using it for. If you are to eat a salad, then, the dressing should be used.
Also, what is good about this recipe is how you can turn it into a dressing. Just add the seasoning to mayonnaise, sour cream, and milk.
What can be substituted for the ranch?
If you are going to make a dressing, then, opt for a yogurt-based one. Add herbs and spices in plain yogurt that gives that little tang that ranch has.
How long does the seasoning mix last?
You will be able to use it for at least 6 months in an airtight container.
Great recipes to use Ranch Seasoning:
There are countless dishes out there where you can add this in. It just gives that tangy hint that is so refreshing. Here are my absolute favorites:
Recipe Tips:
Keep it in a cool, dry, dark place in your pantry. Through time, it may still be safe to consume but the flavors may be less intense.
Add cayenne to add heat or basil for more flavor.
This seasoning pairs well with bacon and cheese and this combination is what I typically go for.
Deliciousness to your inbox
Enjoy weekly hand picked recipes and recommendations