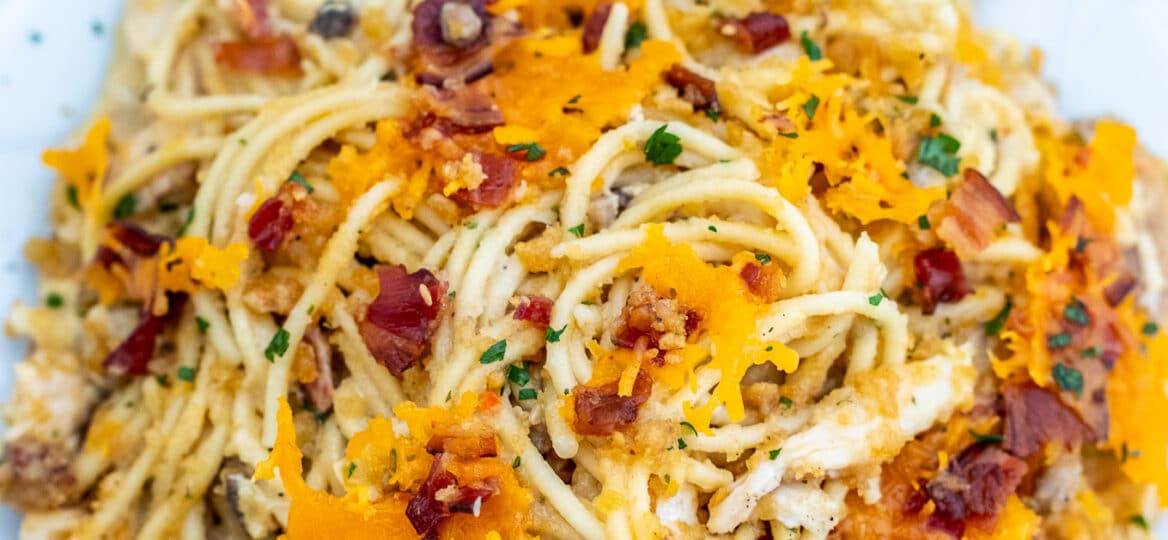 Crack Chicken Spaghetti Casserole [Video]
Crack Chicken Spaghetti Casserole is so delicious and addictive! Imagine your favorite creamy spaghetti pasta baked and loaded with the heavenly combination of chicken, cheddar cheese, ranch dressing, and bacon pieces.
If you like casseroles, make sure to check out our other recipes like the Tuna Noodle Casserole, Chicken Cordon Blue Casserole, and Asparagus Casserole Recipe.
The Best Crack Chicken Spaghetti Casserole Recipe
Crack Chicken Spaghetti Casserole is one of those meals that perfectly combine the foods we all love to eat as kids. Chicken and spaghetti have always been the ultimate perfect pairing, so were pleasantly surprised when our family discovered this recipe!
Crack chicken is kind of an odd term to describe food, but it is just a combination of chicken, ranch dressing, bacon, and cheese. In this recipe, we will combine together crack chicken and creamy spaghetti, and then bake it to perfection to achieve the best-tasting casserole dish.
Just thinking about the ingredients of this casserole makes me hungry already! What I like about this dish is that it is very easy to prepare. If you are so ready to make this meal for your family, check out our recipe and tips below.
What qualifies a dish as a casserole?
A casserole is any food or combination of food that is cooked, usually baked, as a one-dish meal. Basically, anything that is cooked and served in the same pot can be considered a casserole.
The combination usually consists of any kind of meat or fish, any kind of pasta or flour, and your choice of cheese. Many people like to add some vegetables like asparagus to the mix.
What are the advantages of serving a casserole?
Making a casserole is super easy and convenient. Since it is a one-dish meal, you can just put all the prepared ingredients together and simply bake in the oven or cook as an instant pot dish. This kind of dish is so filling it can easily feed a number of guests!
What do you need to make crack chicken spaghetti casserole?
First, you need to prepare boiled boneless chicken (you may use thighs or chicken breasts). You also need cooked chopped bacon slices, cheddar cheese, and ranch dressing. Of course, cooked pasta like spaghetti or penne is a must.
To complete the casserole ingredients, prepare the sauce ingredients – the cream of mushroom, mushroom bits, sour cream, chicken broth, garlic and onion, black pepper, and unsalted butter.
How do you make chicken spaghetti casserole?
Prepare the chicken. Bring the chicken breasts to a boil in a large cooking pot. Upon reaching the boiling point, use low heat to tenderly cook the chicken meat for 20-25 minutes. After cooking, save the chicken broth and place it in a separate bowl.
Cook the pasta. Any kind of pasta is okay to use. Make sure to check and follow the instructions written on the packaging and cook the pasta al dente. Drain and set aside.
Assemble everything together and bake. In a large bowl, combine and mix all the ingredients together – boiled chicken, cooked pasta, bacon slices, ranch dressing, cheddar cheese, mushroom cream and bits, sour cream, and other seasonings. Carefully add 1-2 cups of chicken broth into the mixture.
Bake. Transfer everything to the casserole pan or baking dish and bake it for 30-40 minutes.
How to cook spaghetti for a casserole?
Cook the pasta as you normally would! Make sure to use a pot of the right size that can contain the pasta. Bring water with salt to a boil, add the pasta and let it cook for about 8-12 minutes. Add some oil and stir occasionally so that the pasta noodles are not sticking together.
Can you make it in advance?
Yes! Make it a day or two in advance, unbaked, and just store properly in the fridge.
How to Store and Freeze a Casserole:
Don't worry if you have leftovers! It is super easy to store and freeze any type of casserole dish. Simply line the baking dish in an aluminum foil, put the crack chicken spaghetti casserole, and cover well. Add a layer of plastic wrap to ensure that it is airtight.
You can also store the dish using freezer bags. A day before serving, make sure to thaw the dish in the refrigerator. Bake in the oven at 375 degrees Fahrenheit.
More delicious casserole recipes:
Recipe Tips:
Before baking, it is ideal to mix and combine the sauce ingredients (chicken broth, condensed mushroom cream, sour cream, ranch dressing, and cheese) in medium heat and stir for about a minute or two. This is to make sure that they all melt and blend well.
Use Velveeta cheese if you want to make the dish super creamy. Otherwise, you can use any kind of cheese that you prefer.
To save time in preparing the casserole, simply use a store-bought rotisserie chicken.